The Rigatoni D is arguably the best pasta dish at Maggiano's, described as "famous" on their menu. With herb-roasted chicken, mushrooms, caramelized onions, and marsala cream sauce, you can't go wrong with this rich and decadent pasta dish.
Luckily, you don't have to make the drive to the classic Italian American restaurant every time you crave this delicious pasta dish. With a little prep and a few ingredients, you can recreate the dish at home. Keep reading to learn how to recreate Maggiano's Rigatoni D recipe to enjoy in your own home.
How to Make Maggiano's Rigatoni D Recipe
This dish isn't as difficult to make as you may think, and chances are that you already have most of the ingredients to make it. You might need to make a quick run to the grocery store for additional non-everyday ingredients, such as Marsala wine, but you'll find that all-in-all, this recipe does not require too much effort. 
Recipe makes 4 servings
Ingredients
1 pound of chicken breast cut into chunks
12 ounces of button mushrooms
1 onion, chopped
2 garlic cloves, minced
2 ounces of white wine
¼ cup of Marsala wine
2 cups of chicken stock
2 cups of heavy cream
2 tablespoons of grated parmesan
1 tablespoon of basil, chopped
1 tablespoon of butter (optional)
1 pound of rigatoni pasta
Salt and pepper to taste
Preparation Instructions
Step 1: Heat the oil in a large saucepan, and add the chicken. Cook until the chicken is brown, then remove from the pan and set aside.
Step 2: Pour more oil into the pan and add the onions. Cook until caramelized.
Step 3: Deglaze the pan with white wine and add mushrooms, garlic, salt, and pepper. Stir until combined.
Step 4: Add the chicken back into the pot along with the chicken stock and Marsala wine. Cook until reduced to about half. 
Step 5: Add the cream to the pot and bring it to a simmer. Turn down the heat and continue to let simmer. 
Step 6: Cook the rigatoni according to the instructions.
Step 7: Add the rigatoni to the creamy chicken mixture. Remove from heat and finish with basil, parmesan cheese, and butter. 
Step 8: Place the pasta in a bowl and garnish it with parmesan cheese and parsley. Serve immediately!
Frequently Asked Questions Maggiano's Rigatoni D Recipe
How much is Maggiano's Rigatoni D?
Maggiano's is an Italian American chain restaurant found in over 22 states and DC. 
The cost of the famous Rigatoni D main dish varies depending on your location, but for the most part, it is about $20.99. You can add Italian sausage, shrimp, or salmon to the dish at an additional cost.
Can You Reheat this Rigatoni D Recipe?
This easy recipe produces great leftovers, or you can make it in advance for meal prep for the week. When properly stored, it can keep for 3 to 5 days in the refrigerator, and you can reheat it in the microwave. 
Can I add to the Rigatoni D Recipe?
Of course! As much as we love how Maggiano's does it, the Rigatoni D recipe is easy to make your own. Try making it with shrimp or sausage instead of chicken or a combination of the three. Adding bacon makes everything tastier. Add these meats before you add the cream to the sauce.
You can also deglaze the pan with balsamic vinegar for a little more flavor or add some chili flakes if you're looking for an extra kick. 
Conclusion
Maggiano's Rigatoni D is one of the restaurant's most popular dishes, and it's easy to see why. You can't go wrong with creamy chicken and pasta, and the Marsala wine gives this dish a unique flavor. 
Try making this Rigatoni D recipe at home and experiment with the ingredients. There's room to add additional ingredients to make this dish more complex or add less to bring out the other flavors. In all, this is a recipe that is very difficult to get wrong!
If you loved this recipe, check out our other Maggiano's creations, including their lemon cookie recipe and pesto alfredo sauce recipe.
Maggiano's Rigatoni D Recipe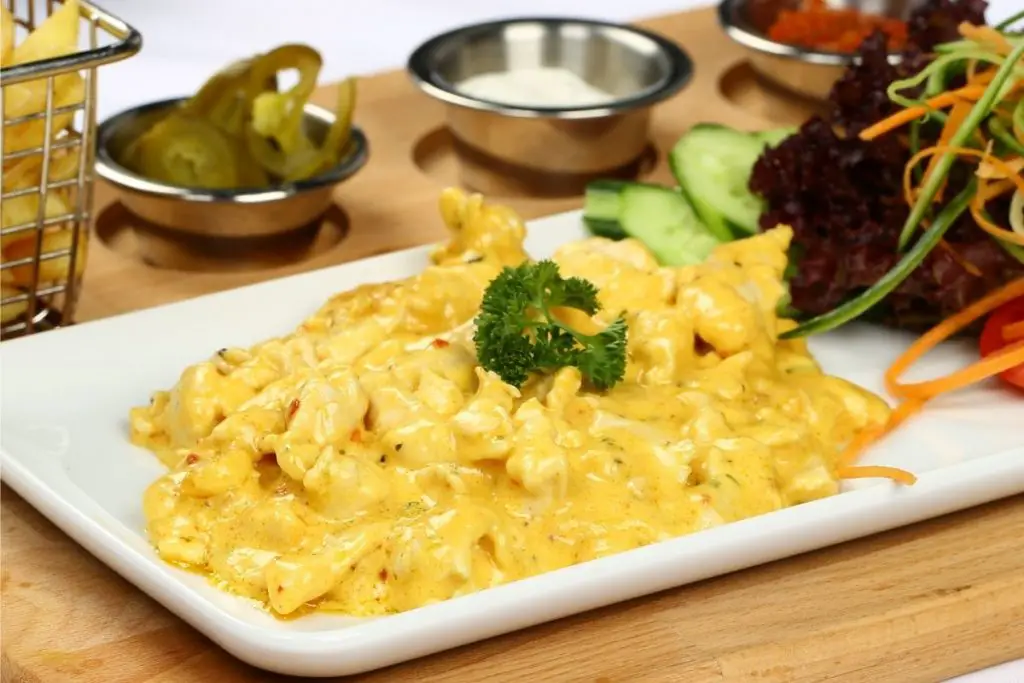 If you want Maggiano's Famous Rigatoni D but don't feel like driving to your closest restaurant, make this dish at home and customize it to make it your own!
Type: Dinner
Cuisine: Italian American
Keywords: Rigatoni D Recipe
Recipe Yield: 4 servings
Calories: 1640 calories
Preparation Time: 15M
Cooking Time: 40M
Total Time: 55M
Recipe Ingredients: Boneless chicken breast, mushrooms, onions, garlic, white wine, Marsala wine, chicken stock, heavy cream, parmesan, basil, rigatoni pasta, olive oil
Recipe Instructions: Cook chicken until brown, then caramelize onions. Add mushrooms, garlic, white wine, Marsala wine, chicken stock, and heavy cream and simmer. Add rigatoni and finish with parmesan, basil, and butter.