Cognac is a popular type of brandy named after the commune of Cognac in France. Not only is it delicious by itself, but cognac is prominent in a variety of cocktails.
Problem is, cognac isn't the cheapest cocktail ingredient. This means that buying a cocktail at a bar that contains cognac can be an expensive night out, and sometimes, it's just cheaper and easier to make those cocktails at home instead.
So, if you have a bottle of cognac in your cupboard that needs to be used up, you've come to the right place! Here are 15 delicious cognac recipes to try today.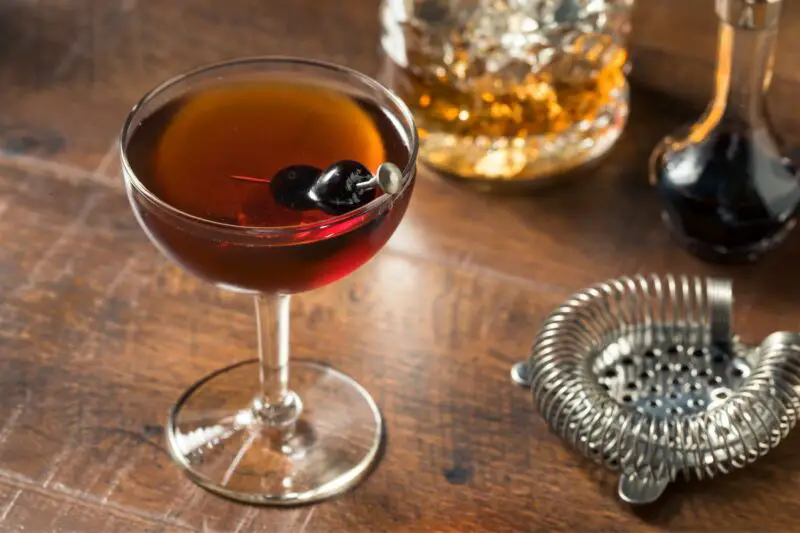 Nothing is quite as classy as a traditional Manhattan – except for a French Manhattan, of course.
While a traditional Manhattan consists of whiskey, bitters, and sweet vermouth, a French version of the classic cocktail replaces the whiskey with cognac, which works beautifully alongside an orange liqueur.
While this recipe contains more ingredients than a regular Manhattan, the results are definitely worth it.
You will need cognac, an orange liqueur (such as Cointreau), sweet vermouth, orange bitters, and a maraschino cherry as a garnish.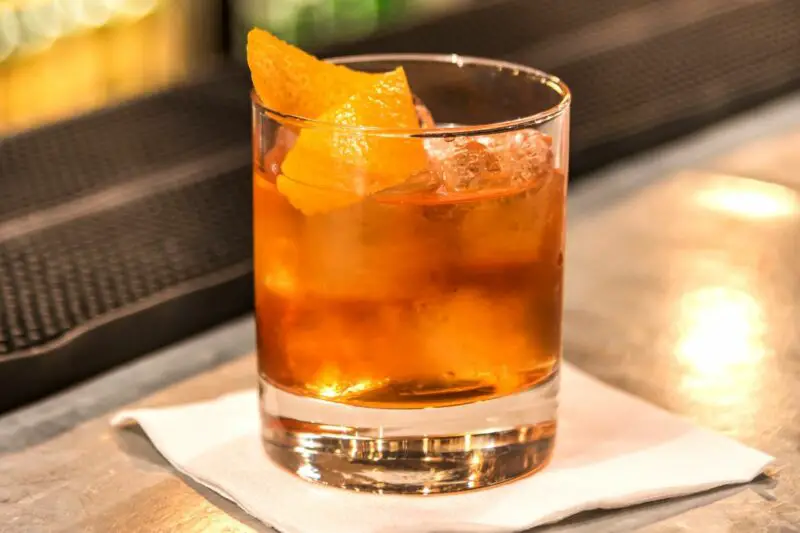 Another classic whiskey-based cocktail is the popular old-fashioned, but did you know that you can make an old-fashioned cocktail with cognac instead of whiskey?
The basis of an old-fashioned is maintained, with the mixture of sweetness and bitters with a strong liquor, just with cognac replacing the whiskey.
This cocktail consists of cognac, orange bitters, Demerara syrup, angostura bitters, and a lemon for garnish. The syrup is made by mixing Demerara sugar with water to make a paste.
Finally, garnish with a wedge of lemon (or just the peel) and serve over ice.
The Mata Hari is a sweet and tasty cocktail that was actually named after a Dutch dancer, who was sadly executed in 1917 after being accused of spying on the Germans in World War One.
Despite its fairly unfortunate name, this cocktail is bound to put a smile on your face!
Mata Hari consists of cognac, lemon juice, pomegranate juice, chai-infused sweet vermouth, and simple syrup.
It's not easy to find chai-infused sweet vermouth, but the infusions of chai work beautifully with the surrounding flavors, making for a unique and delicious cocktail. Garnish with dried rosebuds.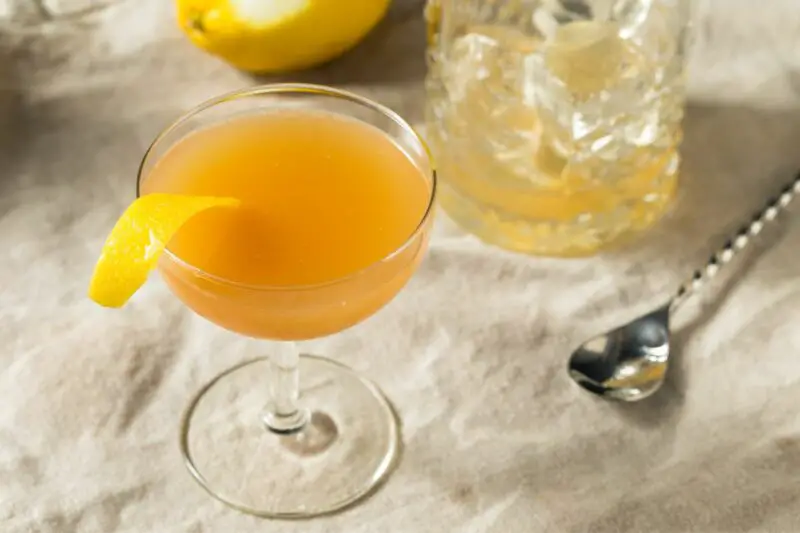 The Japanese cocktail is considered one of the oldest cocktails in the world, developed by "Professor" Jerry Thomas and appearing in his 1862 cocktail bartending guide.
This is an attractive and simple cocktail that tastes as good as it looks, with a delicious flavor combination of citrus fruits and a distinct nuttiness.
The Japanese cocktail is made of cognac, orgeat syrup, aromatic bitters, and fresh lime juice. It is most commonly garnished with lemon or lime peel.
It's not overly sweet thanks to the tartness of the citrus and aromatic bitters, making for a satisfying cocktail.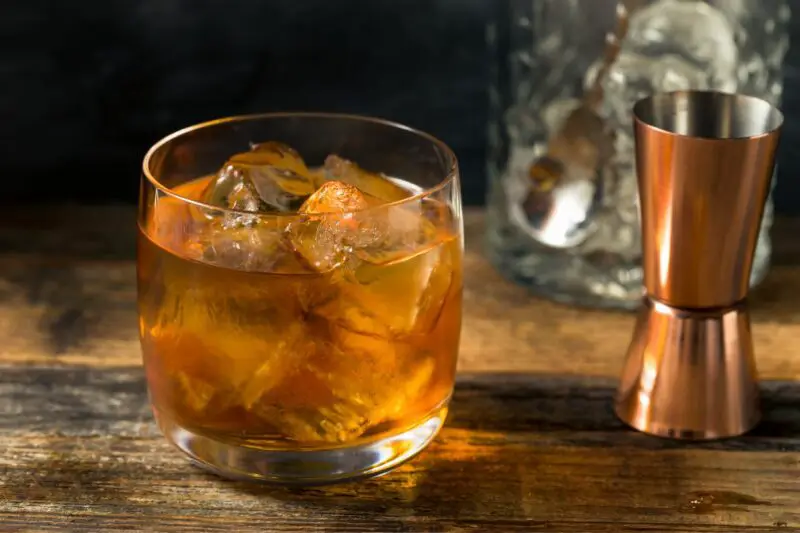 The French Connection is a fancy cocktail that combines the unique flavors of cognac and amaretto together.
While it might seem like an unlikely combination, the fruity undertones of the cognac work beautifully with the amaretto's iconic almond flavor.
The best part about this cocktail is that it's not specific about the type of cognac you use, either.
This cocktail is fairly similar to the Godfather cocktail, except with cognac instead of whiskey.
All it requires is cognac and amaretto, making this arguably the simplest cocktail on this list to make. Pour over ice and stir to mix the flavors together.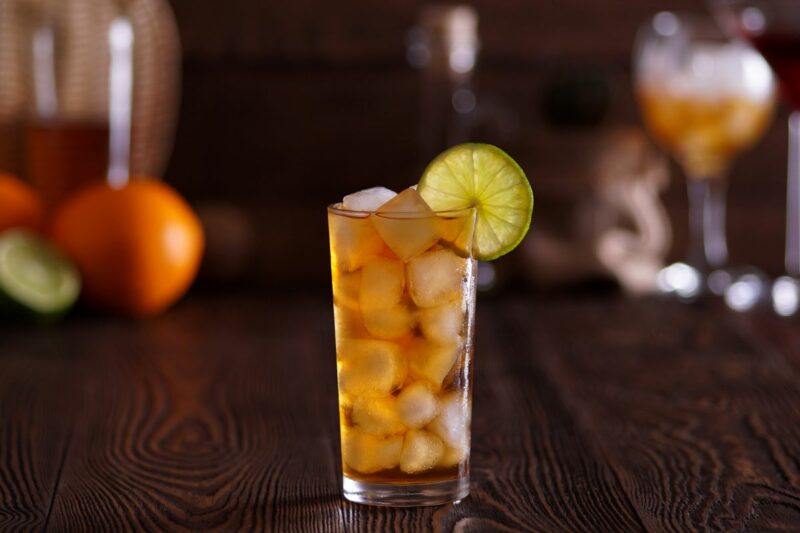 Don't go making this cocktail expecting it to be a slightly boozy iced tea. While this cocktail does contain black tea like a regular iced tea, it's certainly stronger than the iced tea you'd get in a coffee shop.
That's because this cocktail contains cognac, rum, and even Cointreau, making for a highly flavorful (and strong) drink.
The mixture of dark rum, cognac, and Cointreau makes for a distinct flavor that compliments the black tea beautifully, especially when topped with orange juice and Cola.
Serve a big pitcher of this cocktail at your next get-together, such as a grill party.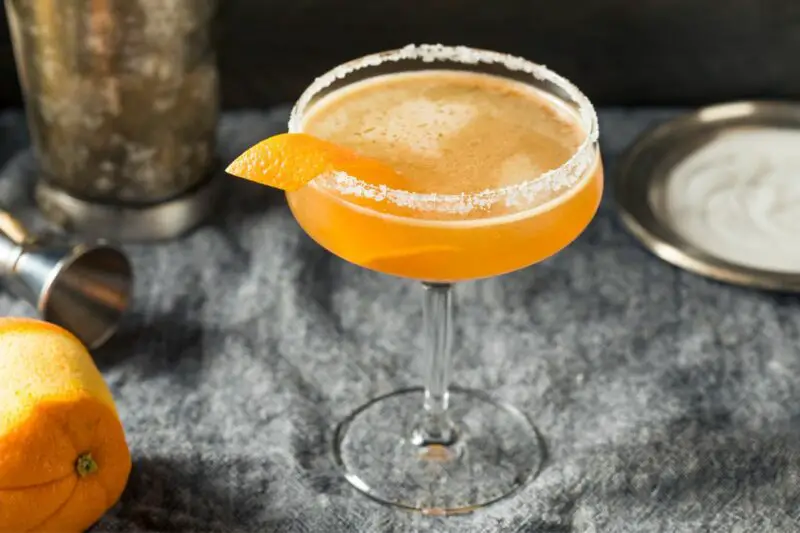 The Sidecar Cocktail is arguably one of the most famous classic cocktails featuring cognac, and for good reason.
Not only is it delicious, but it's also really easy to make, and great for impressing your friends and family at a get-together.
A Sidecar Cocktail only consists of a handful of ingredients – cognac, an orange liqueur (most commonly Cointreau), and lemon juice.
There's also the option to garnish with orange peel or sugar rum if available. If you have some of the cocktail leftover, serve it in shot glasses – hence the name "Sidecar"!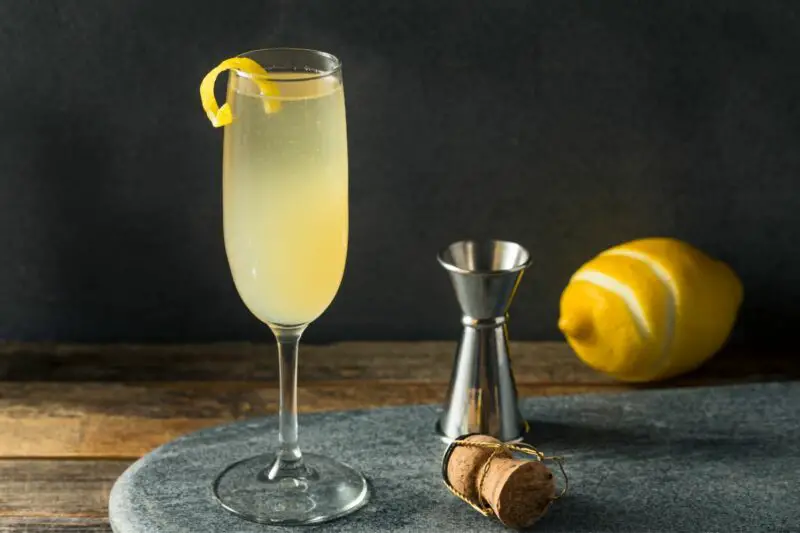 While a French 75 traditionally consists of gin, champagne, sugar, and lemon juice, did you know that the original 1920s version of the cocktail used cognac instead of gin?
Some would even argue that cognac is better than gin in this cocktail, as the mixture of cognac with champagne makes for a decadent and bubbly cocktail.
This cocktail consists of cognac, champagne, simple syrup, and freshly squeezed lemon, served in a chilled champagne flute.
It's best to make a big batch of this cocktail to use up a whole bottle of champagne, so nothing goes to waste.
The Jimmie Roosevelt cocktail was first developed around 1939, when the makers of the fine cocktail decided to create a concoction for the namesake Colonel Jimmie Roosevelt among others.
This is a simple yet effective cocktail that is traditionally served in a champagne flute without a garnish.
A Jimmie Roosevelt cocktail consists of a sugar cube soaked in Angostura, and then filled with cognac, sugar syrup, and topped with champagne and chartreuse liqueur. It's sugary and slightly fruity, but deceptively strong!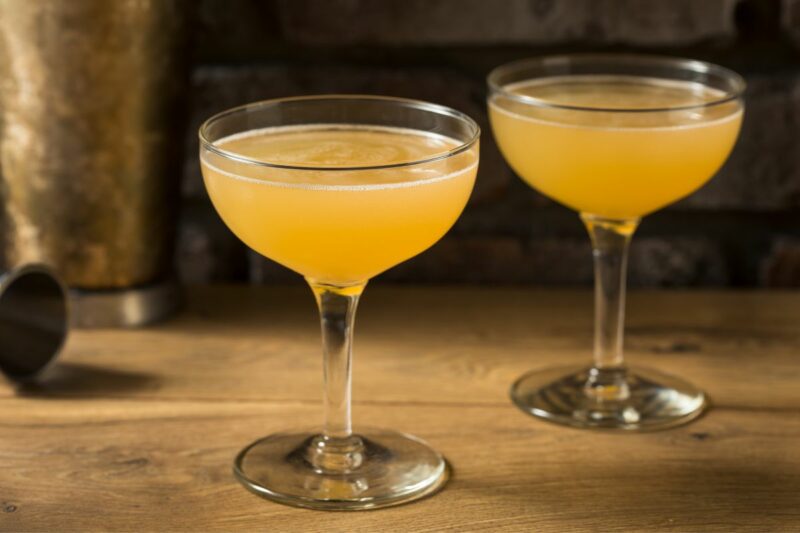 A Between The Sheets cocktail, also known as Maiden's Prayer, is a provocatively-named drink that is similar to the humble Sidecar cocktail.
Unlike a Sidecar, however, Between The Sheets consists of cognac alongside light rum, making for a tasty combination of flavors that is perfect to impress your guests with.
To make this cocktail, you'll need cognac, light rum, lemon juice, triple sec, and a garnish of lemon peel. If you want to make it more flavorful and spicy, you can always use spiced rum instead of light rum.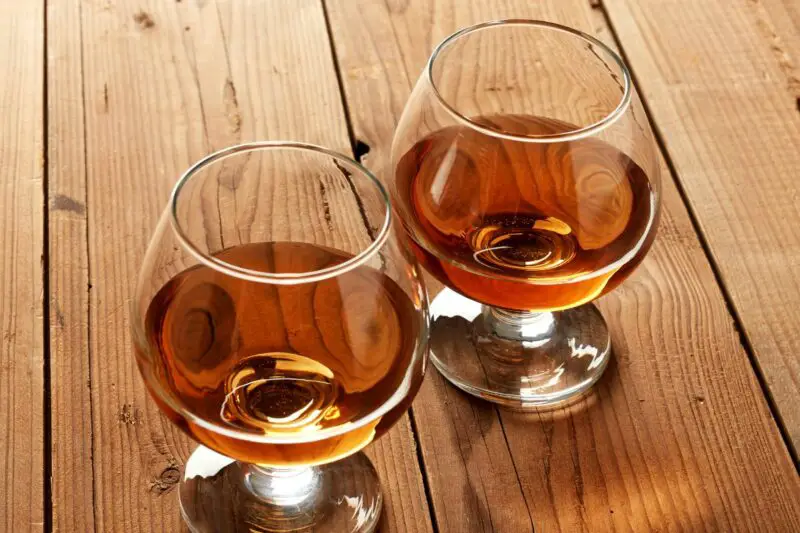 Truth is, you don't always need a bunch of expensive and complicated ingredients to make a stunning cocktail. The Beautiful cocktail is proof of that, with the proof being in the name alone.
This cocktail only consists of two ingredients, cognac and Grand Marnier, which is a mixture of cognac and an orange liqueur.
When mixed together, these spirits work together to make a simple yet flavorful cocktail.
The best part is that it takes literally seconds to make and requires no mixing. Serve in a brandy glass and enjoy.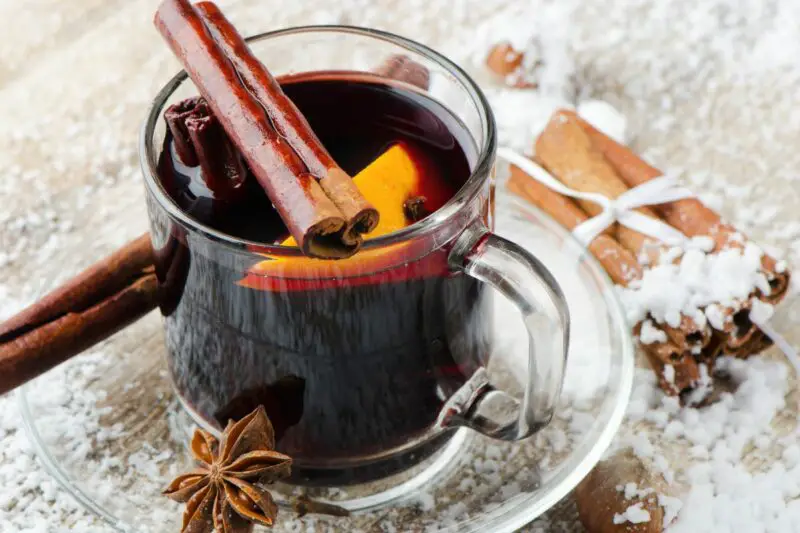 Also known simply as mulled wine, Vin Chaud au Cognac is a delectable cocktail most commonly served during the holiday season.
Mulled wine might seem like an odd drink to have on this list, but this version includes a hefty amount of cognac, making for a satisfyingly strong and flavorful cocktail that encompasses the holiday spirit.
While the ingredients list for this cocktail is fairly extensive, the results are definitely worth it. This cocktail is best served warm and with a slice of orange in each glass.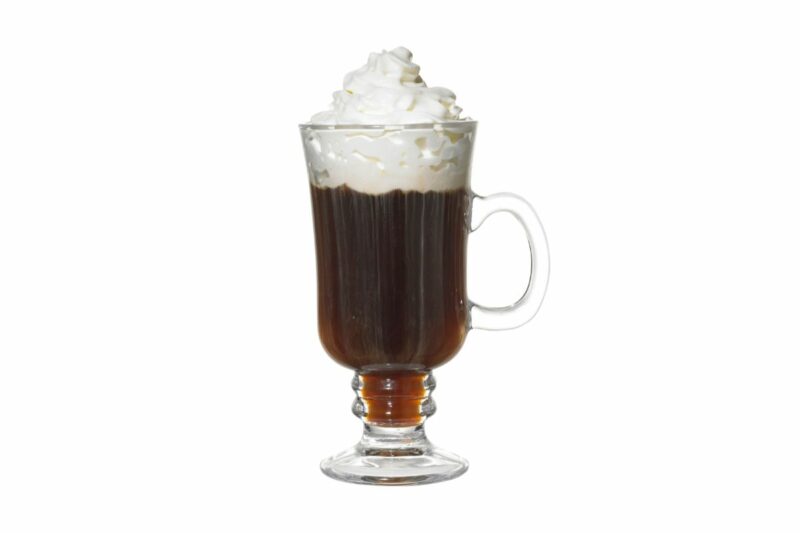 If you like hot drinks, you'll love this Café Amore cocktail. This is a hot coffee cocktail that features only three ingredients, which is surprising when you're met with a range of flavors and an overall comforting taste.
This cocktail is a brilliant dessert drink, or a warm drink to keep you feeling cozy during a cold evening.
A Café Amore cocktail consists of cognac, amaretto, and black coffee. While optional, it's best served with a topping of whipped cream and shaved almonds.
If you actually enjoy the taste of cognac (rather than cognac hidden behind other flavors in a complex cocktail), you'll like Vieux Carré.
This cocktail was created in New Orleans in the 1930s, and features a split-base technique that allows both the cognac and rye to shine.
The muscular flavors of the rye work beautifully with the fruity undertones of cognac, and is then sweetened by sweet vermouth and Benedictine liqueur.
Topped with a maraschino cherry, and you've got a boozy and satisfyingly strong cocktail.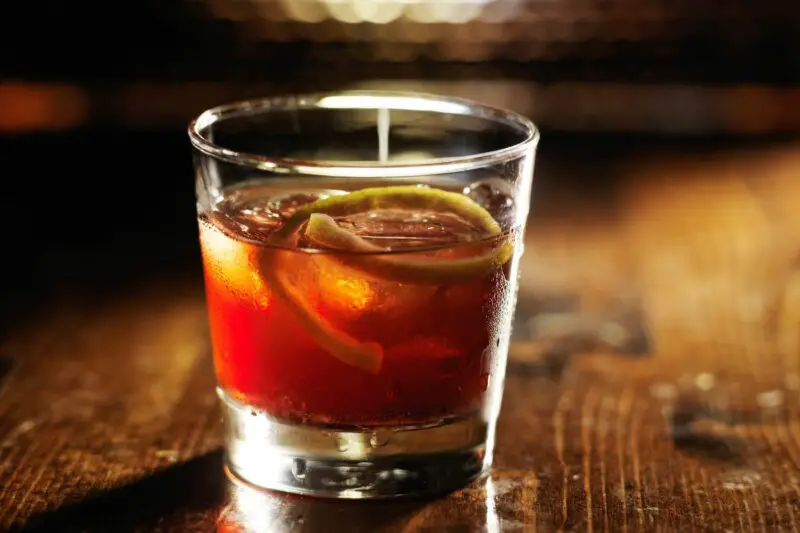 Another New Orleans' classic is Sazerac, a cocktail consisting of cognac, absinthe, simple syrup, and bitters.
Interestingly, the earliest creations of this cocktail used rye whiskey rather than cognac, but the inclusion of cognac makes for a flavorful and aromatic cocktail – especially with the absinthe.
Absinthe is obviously not a common ingredient in the average kitchen, but if you have a bottle lying around, this is a great cocktail to make with cognac.
Conclusion
So, there you have it! Hopefully, this guide has given you some inspiration for how to use that spare bottle of cognac. Happy mixing!