Looking for a great appetizer or party hors d'oeuvre that's rich, tasty, and easy to customize? Well, you've come to the right place, as you'll find the best baked talaba recipe to fulfill your craving. Even though the name may sound foreign, chances are that you're already familiar with baked talaba and may have even had it yourself. Keep reading to learn more about baked talaba and discover an easy recipe for it. 
What is Baked Talaba?
First and foremost, talaba is simply another name for oysters. So when we talk about baked talaba, we're referring to baked oysters, which probably makes this recipe more familiar to you, as you can find baked oysters on the menu of many restaurants.
Although oysters are raw with a simple combination of red wine vinegar, shallots, and black pepper (mignonette), this way of eating oysters is an acquired taste that, in all fairness, not everyone wants. In these circumstances, someone may better enjoy a baked talaba recipe that has oysters cooked with a few extra ingredients to transform them into a delicacy.
What's great about baked talaba if you're an oyster lover is that there are several different variations that you can make. Several common ingredients pair great with oysters for baking:
Preparing Your Oysters
The most difficult part of executing a baked talaba recipe is cleaning your oysters and ensuring they are of good quality. Although available all year long, the best time to get oysters is in the fall months, from September to December. When choosing your oysters, make sure that their shells are cold to the touch to ensure that the oyster is still alive. If you see that a shell is open, tap it to make sure it closes. If it doesn't close, that oyster is most likely dead, and you should not buy it.
Once you have your oysters, be sure to clean them to get all the grime off of their shells. This part can be tedious, but your oysters must be clean before you shuck them!
Now comes the hard part: shucking. For this, you need a dish towel and an oyster shucking knife. Every oyster shell has a natural hinge for opening. Once you find the hinge, hold the oyster shell in your dish towel, dig into it, and twist it open. Once it's open, release the oyster from the shell by running the knife under it. Discard the top half of the shell and leave it in the bottom half as they are deeper shells. Now you're ready to make your baked talaba. 
How to Make Baked Talaba
Once you have your oysters cleaned, shucked, and verified for quality, you're ready to make your baked talaba. Here are two baked oyster recipes to get you started.
All recipes are for 12 oysters
Oysters Rockefeller Recipe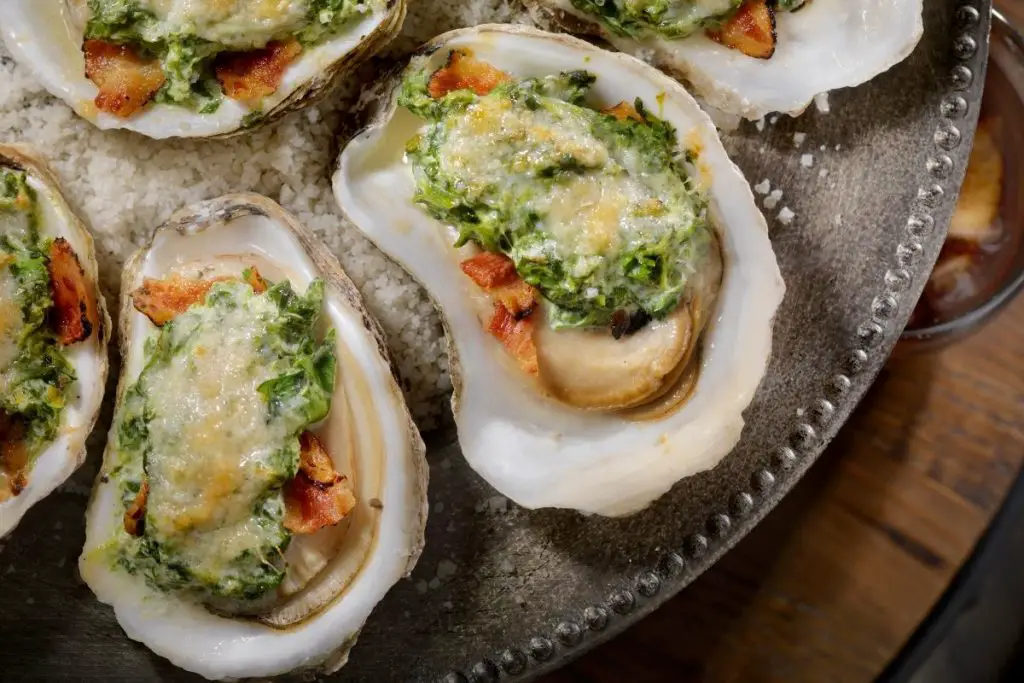 Ingredients
12 oysters, cleaned and shucked
1 shallot, chopped
Roughly 5-10 ounces of baby spinach
2 tablespoons of butter
6 ounces of heavy cream
½ cup of romano cheese
Salt and pepper to taste
Preparation Instructions
Step 1: Preheat your oven to 375 degrees. 
Step 2: Melt the butter in a large pan on medium heat.
Step 3: Sauté shallot in melted butter until soft and fragrant.
Step 4: Add spinach and cook until wilted.
Step 5: Add the heavy cream, grated cheese, lemon juice, and salt and pepper, then reduce heat and let simmer until the cream has reduced to the desired amount.
Step 6: Take your raw oysters and place about a tablespoon of the cream mixture on each.
Step 7: Arrange oysters on a baking sheet and bake in the oven until the topping is golden brown (10-15 minutes depending on your oven), then serve with a lemon wedge garnish!
Three Cheese Baked Talaba
Ingredients
12 oysters, cleaned and shucked
4 ounces or half a block of cream cheese
⅓ cup of parmesan cheese
½ cup of grated cheese of your choice (sharp cheddar is recommended)
2 cloves worth of minced garlic
Salt and pepper to taste
Preparation Instructions
Step 1: Preheat your oven to 375 degrees. 
Step 2: In a small bowl, combine all ingredients, except the oysters and parmesan cheese. Now, add additional toppings if desired, such as bacon.
Step 3: Add about a tablespoon of the topping to each shucked oyster, then top with a sprinkle of parmesan cheese.
Step 4: Bake in the oven until this cheesy baked oyster dish is golden brown, about 10 minutes, and serve.
Conclusion
Despite its fancy name, a baked talaba recipe isn't only easy to make, it's also easy to customize. If you're not sure how you want to top your baked talaba, you can never go wrong with cheese! 
If you're an oyster lover, you can even bake them with a simple combination of butter and browned garlic to complement the natural taste of this delicacy. 
Baked Talaba Recipe
Type: Appetizer
Cuisine: American
Keywords: Baked TalabaRecipe
Recipe Yield: 4 servings
Calories: 80-150 kCal
Preparation Time: 20M
Cooking Time: 10-20M
Total Time: 30-40M
Recipe Ingredients: Oysters, cheese, cream, shallots. 
Recipe Instructions: Combine the ingredients and add a tablespoon to the oysters. Bake until golden brown and serve.