Celebrity chef Gordon Ramsay has been dominating the cooking competition scene for almost two decades and has cemented several recipes as his own along the way. One of our favorite Gordon Ramsay recipes involves sea bass and an array of Mediterranean flavors. Keep reading to learn the Chilean sea bass recipe from Gordan Ramsey, and find out how you can recreate this delicious dish for a romantic date night. 
What is Gordon Ramsey's Chilean Sea Bass?
Gordon Ramsay is known for his rendition of many famous dishes, including beef Wellington and fish and mushy peas. But one of the easiest dishes that Gordon makes is sea bass. 
In this video on Gordon Ramsay's YouTube channel, you can watch him make this sea bass dish in less than 10 minutes, which isn't a surprise, considering he's one of the most famous chefs in the world, but it also demonstrates that you can also make this dish in very little time.
The dish centers around pan-fried sea bass, pan fried until the skin is crispy. The sauce is tomato-based with shallots, onions, olives, and a touch of white wine. In addition, Chef Ramsay fries up some small eggplant slices until crispy and places everything on a bed of couscous. 
How to Make Chilean Sea Bass
Although Gordon has invented and seemingly perfected the dish, there's room to make this dish your own.
For one, in the video where Gordon cooks the sea bass, he is racing the clock and only has 10 minutes. Although this dish is a quick dish to make, you should feel a little less pressure making it, knowing that you aren't on Top Chef and Gordon isn't yelling at you the whole time!
Gordon uses couscous as the base, but any grain will do, like quinoa or rice or even mashed potatoes. We chose to go with brown rice as its hearty flavor compliments the rest of the dish. Gordon also uses copious amounts of olive oil for this dish, and while we're all big fans of a good quality olive oil, we chose to use a little bit less. 
As Gordon suggests, 90% of the battle in making this dish is getting organized. For this reason, you have to make sure that you cook your brown rice first. The remainder of the components of this dish doesn't take very long, so it's a good idea to have your brown rice cooked in the pot in advance and kept warm. Likewise, have your tomatoes and eggplant sliced and ready to go so that you can drop them into the hot pan. 
Recipe for two servings
Ingredients
2 eight-ounce filets of Chilean sea bass
1 small eggplant, sliced
1 shallot sliced or chopped, depending on your preference
3 cloves of garlic sliced or chopped, depending on your preference
½ cup of cherry tomatoes
¼ cup of white wine
¼ cup of tomato puree
¼ cup of vegetable stock
¼ cup of sliced black olives
4 sun-dried tomatoes (can adjust to your taste)
Oregano
1 lemon
Olive oil
Salt and black pepper to taste
2 cups of brown rice
Preparation Instructions
Step 1: Make your brown rice and set it to the side.
Step 2: Heat a pan on medium-low with about a tablespoon of oil, and fry your eggplant. Remove and place on a towel.
Step 3: Add oil to your pan again, and add the garlic and shallots. Sauté until soft and fragrant.
Step 4: Add the sun-dried tomatoes and deglaze the pan with white wine. Then add the vegetable stock and a touch of lemon juice or lemon zest.
Step 5: In a separate pan, heat it with olive oil and add your fish to the pan, skin side down. Flip your fish after 5 minutes and cook for another 2 minutes.
Step 6: Add your brown rice to the plate and your sauce around the rice. Then add your pan-fried sea bass and eggplant. Use lemon wedges to garnish.
Conclusion
This Chilean sea bass recipe from Chef Ramsay is one recipe that everyone should try, and unlike his beef Wellington recipe, this one is simple and doesn't take a lot of time to make once all of your ingredients are prepped. 
If you like this recipe, check out Gordon Ramsay's meatloaf recipe for more inspiration from the famous chef.
A Chilean Sea Bass Recipe Gordan Ramsey Style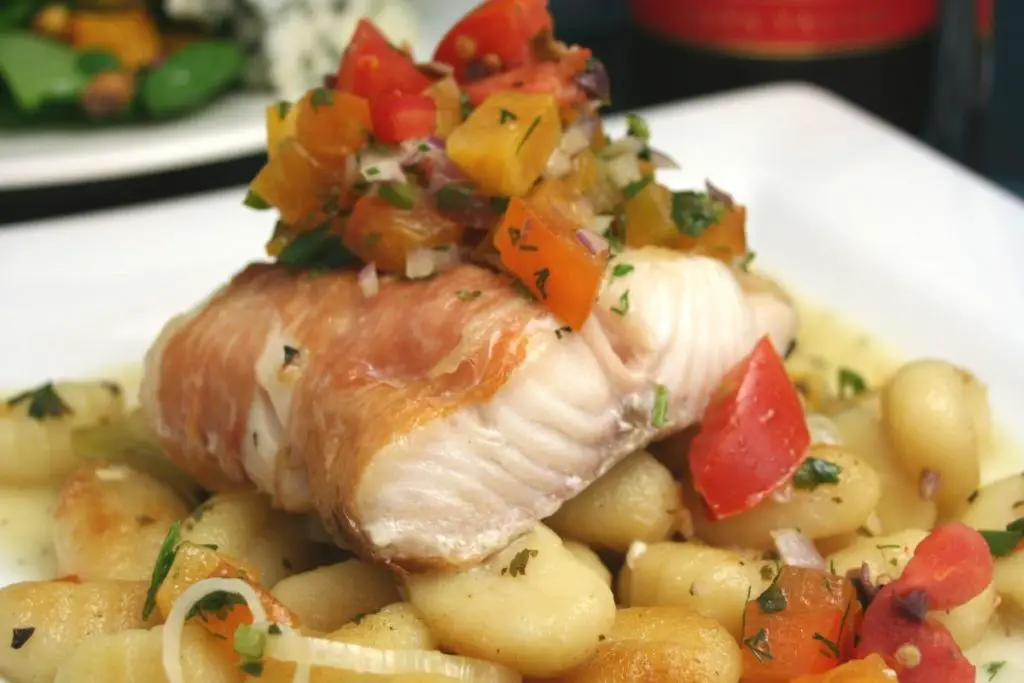 Type: Dinner
Cuisine: British/American
Keywords: Chilean Sea Bass Recipe Gordon Ramsay
Recipe Yield: 1 serving
Calories: 415 kCal
Preparation Time: 15M
Cooking Time: 10M
Total Time: 25M
Recipe Ingredients: Chilean sea bass, shallots, garlic, cherry tomatoes, white wine, canned crushed tomatoes, sun-dried tomatoes, vegetable stock, olives, brown rice, oregano lemon, small eggplant, olive oil.
Recipe Instructions:Start by making the rice. Then, fry the eggplant on both sides in oil for about a minute per side. Sauté the garlic and shallots until fragrant, and add the sun-dried tomatoes and crushed tomatoes. Add vegetable stock and a dash of white wine. Fry the Chilean sea bass skin side down. Add the rice, the sauce, the eggplant, and the fish to the plate and serve.