Welcome to our flavorful journey into the world of Gordon Ramsay's meatloaf recipes! Get ready to tantalize your taste buds with these delectable creations that are not only easy to make but will also leave you craving for more. In this article, we'll dive into two special recipes.
Gordon Ramsay Special Meatloaf Recipe
Chef Ramsay's meatloaf is renowned for its irresistible flavor. We've got his secret recipe right here, straight from his recipe bag! Prepare yourself for the best meatloaf you've ever tasted—a casual meal that combines savory vegetables, breadcrumbs, milk, and spices into a delightful blend of flavors.
Ingredient List
¼ cup butter
½ cup evaporated milk
½ cup tomato ketchup
½ pound ground pork or sausage meat
Freshly ground salt and pepper
1 large onion, finely chopped
1 green pepper, finely chopped
1 tablespoon chopped fresh parsley
1 tablespoon chili sauce
1 tablespoon Worcestershire sauce
1 ½ pounds ground beef
1 cup breadcrumbs
2 garlic cloves, peeled and chopped
2 bay leaves
2 free-range eggs, lightly beaten
4 celery stalks, finely sliced
4 spring onions, sliced
Direction Steps
Grab a large saucepan and melt some butter. Add spring onion, garlic, onion, celery, pepper, parsley, chili sauce, Worcestershire sauce, and bay leaves. Cook over low heat, stirring properly for about 5-6 minutes. The aroma will make your mouth water!
add evaporated milk and ketchup to the mixture, cooking for an additional two minutes. Remove from heat and let it cool, placing a few bay leaves on top to enhance the presentation.
Preheat your oven to 350°F (175°C) and prepare to take your culinary adventure to the next level.
Combine beef, pork, breadcrumbs, eggs, and the vegetable mixture in a large container. Season to taste and pour the mixture into an ungreased roasting dish.
Bake for 25 minutes, keeping a watchful eye on your masterpiece.
Increase the oven temperature to 400°F (200°C) and continue baking for approximately 35-40 minutes. The tantalizing aroma will fill your kitchen as the meatloaf reaches perfection.
Once this special Gordon Ramsay meatloaf recipe is ready, it's time to savor every bite. Take it out of the oven and serve. The incredible taste will leave you craving more, inspiring you to cook it again and again!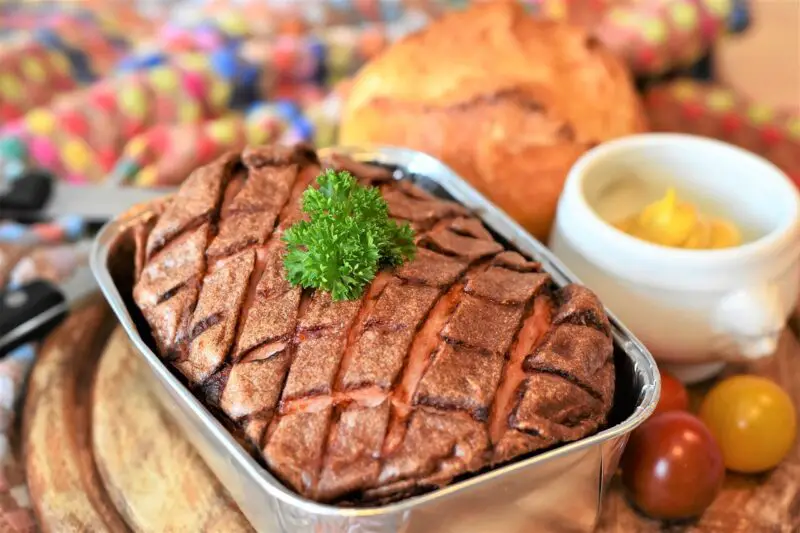 Bacon Wrapped Meatloaf Gordon Ramsay
Prepare to be transported back to the nostalgic flavors of childhood with this mouthwatering bacon-wrapped meatloaf recipe. It's like a warm hug from your mother, evoking memories of comfort and home. Get ready to experience a mind-blowing taste sensation!
Ingredient List
2 large eggs
2 cloves garlic, minced
2 lbs lean ground beef
1 cup onion, diced
1 tablespoon Worcestershire sauce
1 teaspoon kosher salt
1 teaspoon black pepper
10-12 strips bacon
½ cup rolled oats
½ cup green bell pepper, diced
Ketchup Glaze
2 tablespoons brown sugar
1 teaspoon paprika
⅓ cup ketchup
Direction Steps
Preheat your oven to 350°F (175°C). Line a 9 x 5-inch loaf pan with overlapping strips of bacon, creating a delicious bacon casing for your meatloaf.
In a medium bowl, combine bell pepper, garlic, meat, onion, Worcestershire sauce, eggs, oats, salt, and pepper. Gently mix all the ingredients together using your hands, ensuring they're evenly distributed.
Sprinkle 2 tablespoons of glass lightly over the bacon in the loaf pan, ensuring even coverage. Carefully transfer the meatloaf mixture to the pan, pressing it firmly.
Then take the pan close to your hand and pour the meatloaf mixture in it and keep pressing.
Flip the baking pan over a baking sheet lined with parchment paper. Wrap the edges of the meatloaf with bacon, sealing in the flavors.
Bake the meatloaf at 350°F (175°C) for 50 minutes. Remove the meatloaf from the oven and generously brush the top with ketchup. Keep a close eye on the internal temperature, ensuring it reaches 165°F (74°C) in the center.
Allow the meatloaf to cool for about 10 minutes, giving the flavors time to meld together. It's important to use a meat thermometer to check that the internal temperature reaches 155°F (68°C) for a perfectly cooked dish.
Once it's cooled, get ready to slice your masterpiece into mouthwatering portions. Use a sharp knife and serve, garnishing as desired.
Conclusion
Chef Ramsay's culinary skills are legendary, and his recipes have gained widespread popularity. With Gordon Ramsay's ground beef recipe and other mouthwatering creations, you too can experience the joys of cooking like a pro. Don't hesitate to try these recipes at home and savor the flavors that will leave you wanting more. Prepare to impress your taste buds and your loved ones with these delicious Gordon Ramsay meatloaf recipes.
You May like Also;