Read on for some great lean and green chicken recipes that you have to try! Chicken is a great addition to any meal and works really well as the center of the meal, as well as just an addition. Chicken meals are some of my absolute favorites. 
This one pan chicken and rice recipe is great. It is quick and easy to make and packed full of lean and green ingredients! For this dish, simply marinate the chicken in a marinade made up of honey, garlic, hoisin and soy.
Cook this with some garlic and brown rice in a one pan wonder. It is a really great one to cook in the week when you don't have much time.
It is also fantastic because you will usually have most of the ingredients in the cupboard in case you haven't planned your meals in advance. 
This chicken dish is another all-round winner. It provides you with all the same flavors as a beef stroganoff but you get all the heartiness of the chicken.
It is great when served with egg noodles and is a very quick meal to cook. It is a very satisfying meal that has lots of great flavors in it.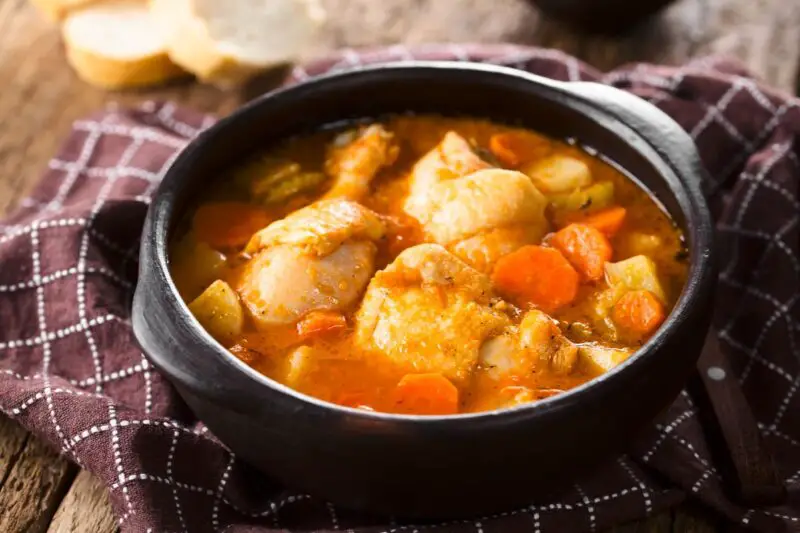 Chicken stews are super comforting and also super healthy meals.
They have loads of ingredients that are really good for you and give you a hearty meal that will keep you going.
It is great to cook a hearty chicken stew and add some dumplings in the mix. You can also opt to cook the chicken in a slow cooker to make sure it's nice and tender and not stringy.
Indian tandori chicken is an authentic Indian dish which tastes delicious when it is served with long grain basmati rice, lots of grilled vegetables and salad.
It goes well with corn on the cob as well.
This meal is versatile and you can change it up to serve it with different veggies of your choice or depending on what you have available to you.
This meal is great when you finish it off with an Indian ice-cream known as Kulfi.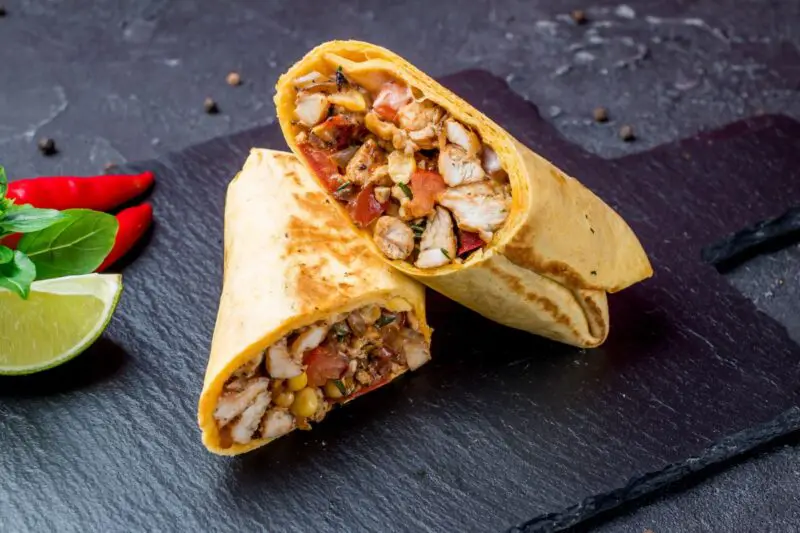 This chicken burrito is juicy and cheesy and it really will stay together when you eat it.
The worst part of a burrito for me is how it ends up falling apart in your hands, making a complete mess of your brand new t-shirt.
You don't have to worry about this with this Mexican wonder.
While it is perhaps not quite as lean as the other meals on this list due to the cheese that is included in the recipe.
Apart from this, this recipe is delicious and packed with healthy ingredients!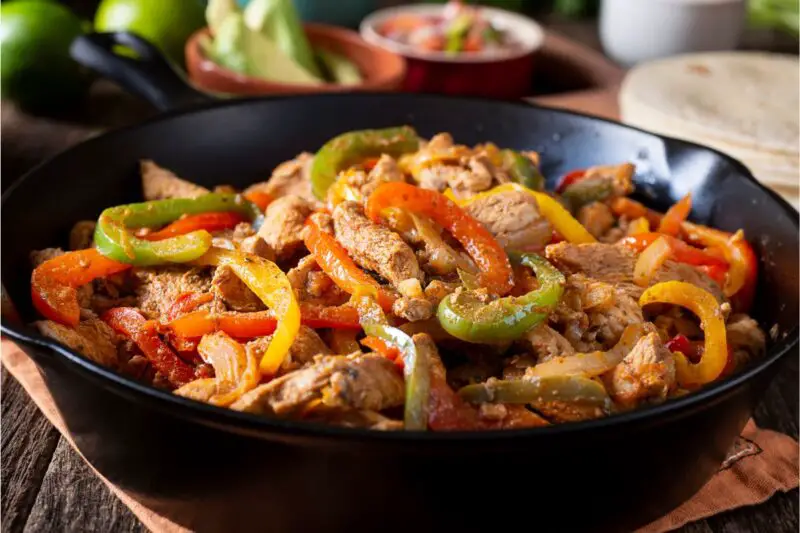 Fajitas always go down a treat. I find that they are always such a hit at dinner parties as they create a very casual vibe.
They also go very well with margaritas or mojitos to complete the dinner party vibe.
With fajitas, you can pick and choose which vegetables you want to put in them.
Peppers and mushrooms work very well. You can even make your fajita seasoning yourself if you choose to, or you can purchase this already made from any supermarket.
This includes cumin, paprika, pepper, salt, powder, garlic and blakc pepper as well as some chili powder! Serve this meal with guacamole and sour cream!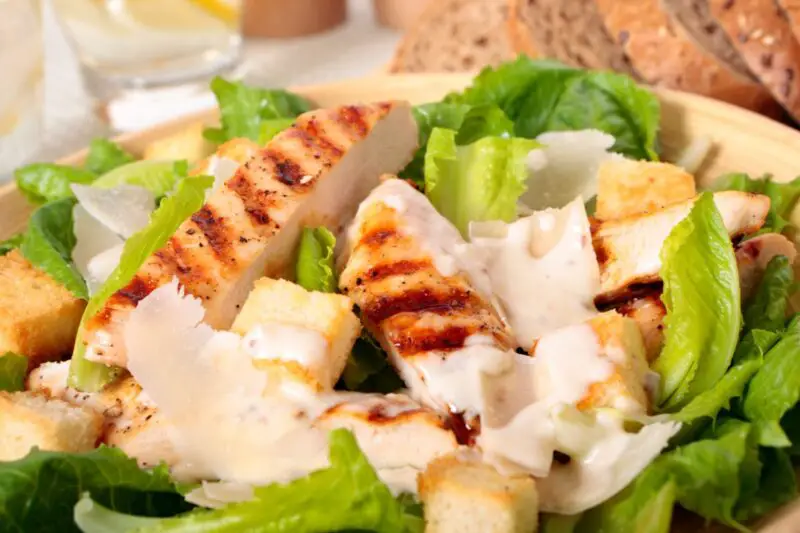 This is one of the leanest and greenest recipes on this list! This chicken caesar salad is delicious and also very healthy! It contains lettuce and a creamy caesar dressing with some tender chicken and cheese.
A caesar salad is very simple but it is completely delicious and will fill you up in no time. It is deceivingly filling.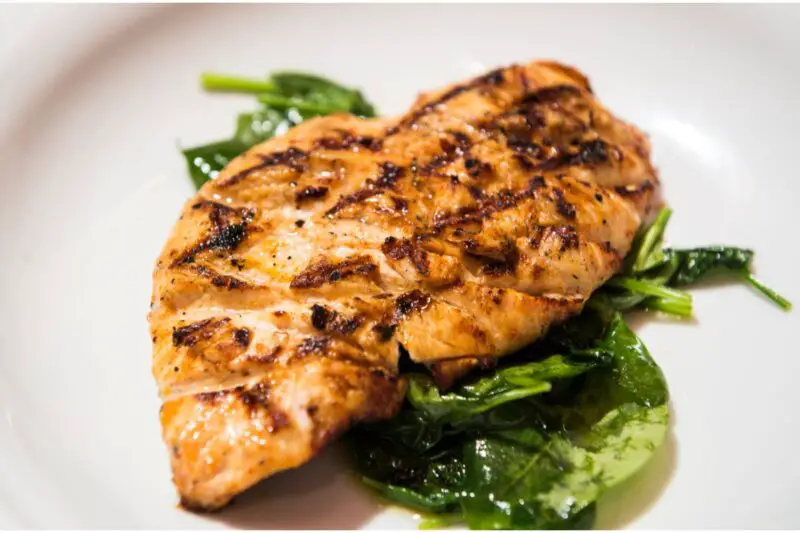 This is a great Italian dish which masquerades as bruschetta but it actually doesn't contain the bread.
This dish tastes great and is prepared in no time. If you're like me, you'll love this Italian recipe that is tomatoey and very tasty.
The chicken provides you with important proteins replacing the bread.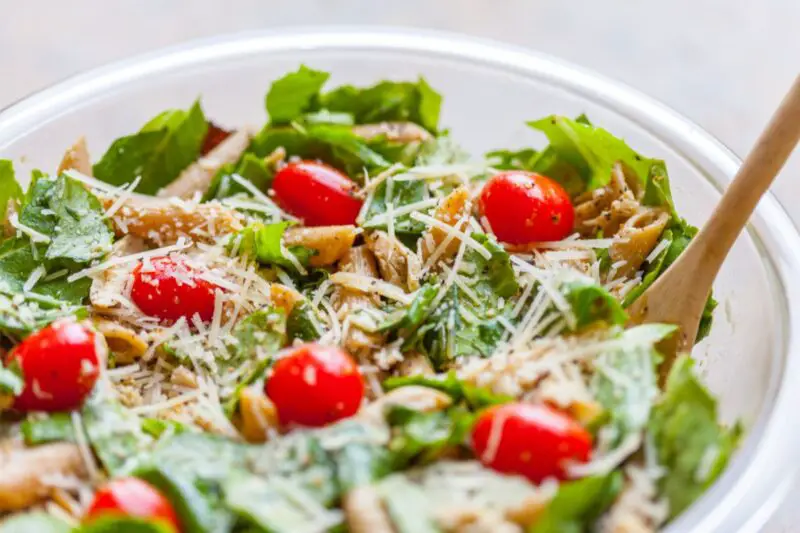 Pasta salad is a quick and easy dish which is great to make when you are using leftover chicken.
If you have salad stuff in the fridge and some leftover chicken, just throw it all together with some pasta and you have a great protein filled lunch or a very healthy dinner.
You can throw in whatever you have in the fridge that would go in the salad or you could even add some eggs!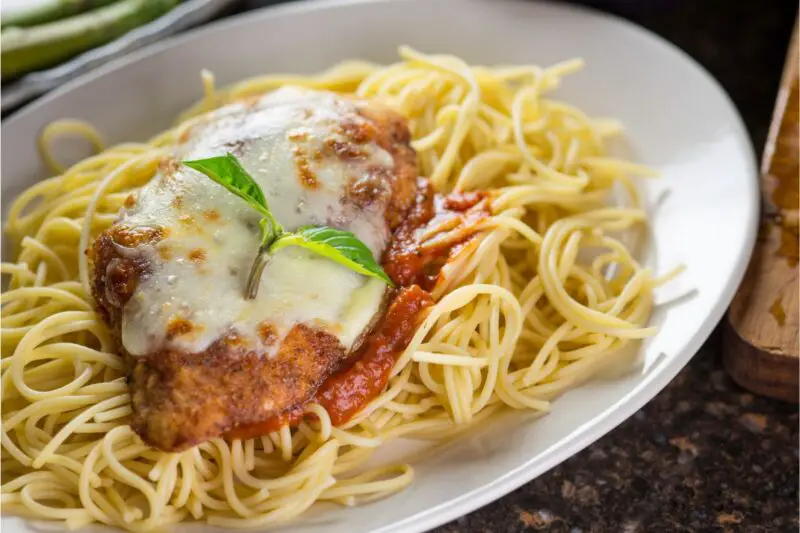 This chicken parmesan is absolutely great! When you couple it with some noodles, it is a hearty and protein rich meal that always goes down well with guests or families.
This meal is great for date night as it is a tasty treat while also being healthy and allows you to stick to your lean and green diet!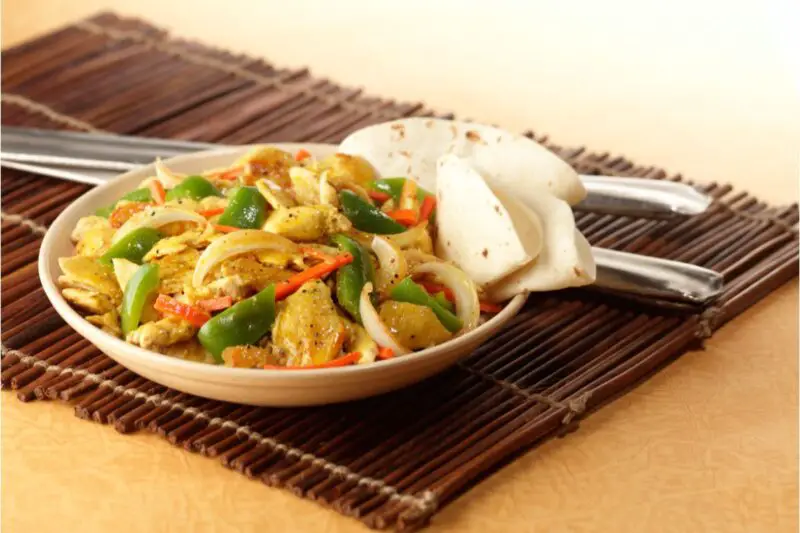 This is a very quick and easy meal that is packed with lots of healthy vegetables and the chicken brings you lots of protein.
You can add any vegetables that you have lying around.
Bean sprouts, snap peas and anything else you have in your fridge will go great with this meal that brings you a fusion of flavors.
It is really quick to make so this is a great meal to whip up on a weeknight or when you've had to work late.
You should serve this meal with rice or noodles. It goes great with white or brown rice.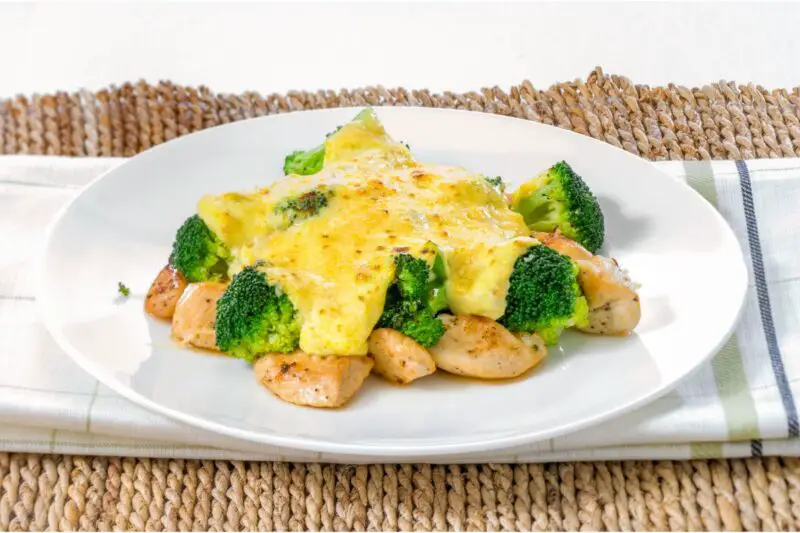 This is a great recipe and the added protein from the broccoli is great for you. This meal is great for a weeknight meal or a weekend meal.
It is an all round winner and you really can't go wrong with this one.
The mustard that is in this meal gives it a real kick which is really nice in a dish like this which can sometimes be bland.
This meal is surprisingly filling despite not having any carbs in it so it is great if you are a gym goer or you're watching what you eat!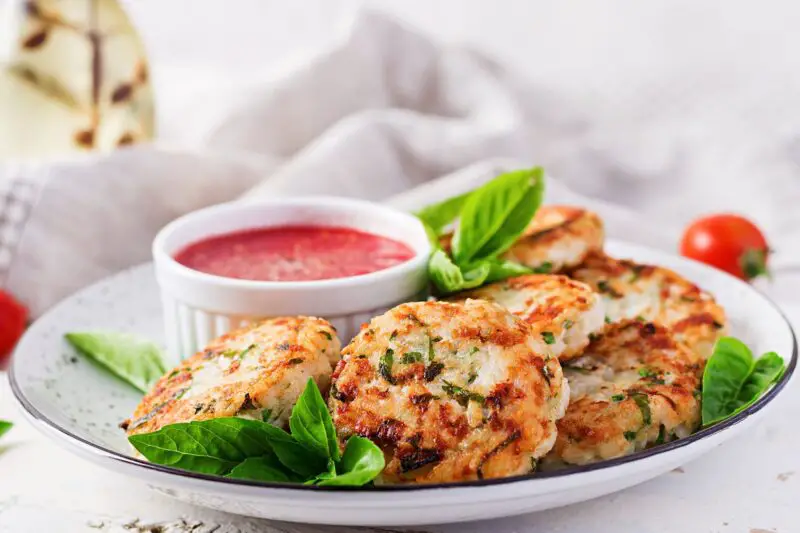 This dish is a Mediterranean disk which consists of chicken patties.
This is very different to the usual burger you might have which is more often made of beef. This is great served with a tzatziki sauce.
This is a great treat if you're looking for a more special meal. It will take a bit longer than some of the other options to cook but you really won't be disappointed with this burger! The chicken and the feta flavors compliment it well.
You can serve this meal in burger buns or you can opt to have it just on its own to avoid the carbs and calories that are in the bread.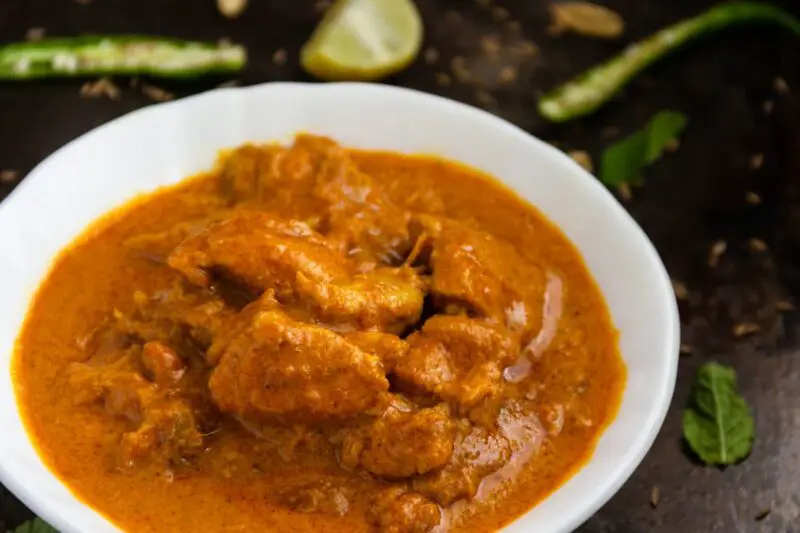 Chicken curry is another great option. Curries can be made with many other meats or kept as just vegetarian dishes, but the chicken curry is a real staple.
This can be made in many different ways but the recipe linked above is particularly good.
This particular curry is called moorgi kosha which means chicken curry).
This dish is great when followed by a sorbet to cleanse your palate after eating.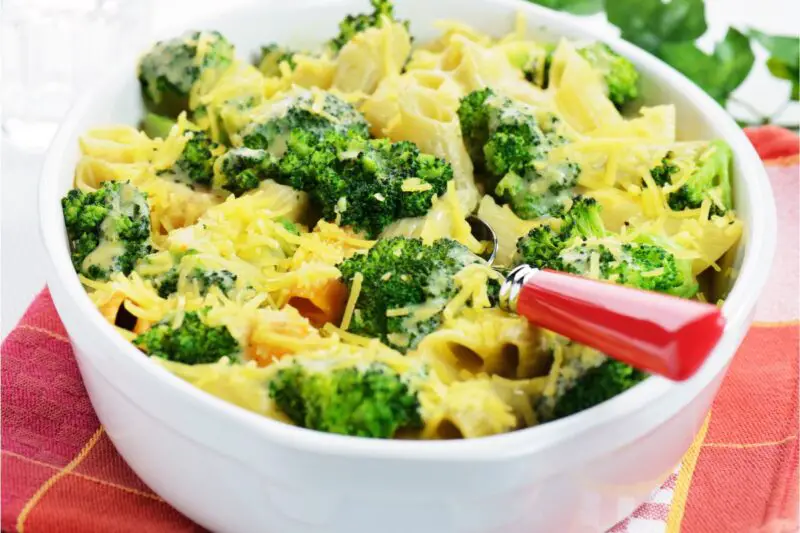 This meal is great for both protein and energy as pasta is a great carbohydrate.
Broccoli and chicken are both very high in protein. This dish is super healthy and great for athletes or gym goers.
Add in some pesto, tomatoes and some cheese to this disk and enjoy! You can enjoy this dish with some bread on the side or a salad, however it will also work as a dish on its own with no accompaniment.
This disk is great when followed by fresh fruit and yogurt for dessert for something sweet after the main.
How To Cook Chicken Safely
Chicken must be prepared properly. As it is a meat, you can get ill from it if you don't prepare it properly. Follow these steps to ensure that you are being safe. 
Firstly, ensure that you wash your hands with soap and water before you touch any of the chicken. 
Make sure the raw chicken doesn't touch any of the other food. Also ensure that you are using different knives for raw chicken. 
Wash all the utensils that come into contact with the raw chicken.
Ensure you don't eat any chicken that is partially raw. 
Make sure that the chicken is cooked all the way through. 
The chicken should be cooked until it reaches 165 degrees fahrenheit in the center. You can measure this with a thermometer just to be sure as you don't want to eat chicken that is not properly cooked.
Always cook chicken from chilled and not from frozen.
Final Thoughts 
Enjoy one of these lean and green chicken recipes! They are all great recipes and they are all definitely worth a try