Wondering what to do with those leftover chicken breasts? Why not dice them up and serve them in a completely different yet delicious recipe?
If you are in need of a great chicken recipe that can help you serve some juicy pieces of diced chicken to your guests and family, then this is the place for you.
We are going to be going through our favorite 15 diced chicken recipes. Check them out and see if any of the recipes below suit your taste buds!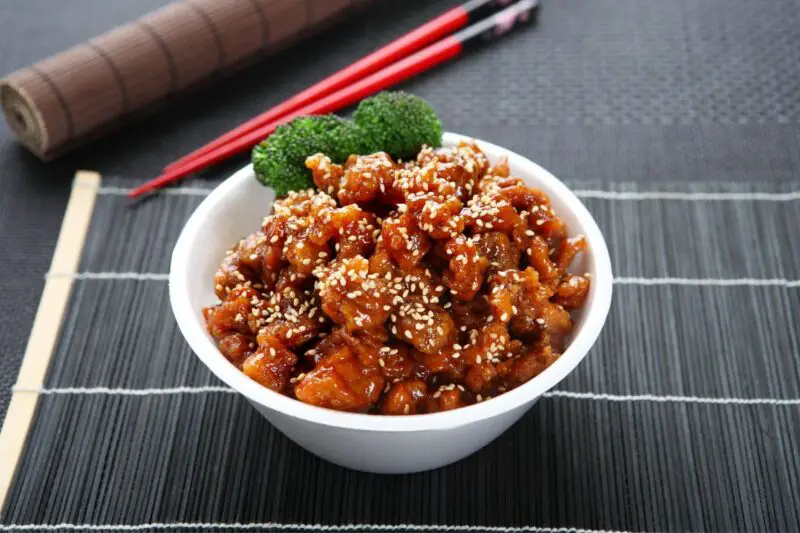 Japan is renowned for its amazing chicken teriyaki dishes, and if you want an authentic taste of this dish cooked in your own kitchen, then this is the recipe for you.
This easy recipe will leave you with plenty of sweet and sticky chicken pieces that are perfect to serve alongside salads, vegetables, or rice.
Served with a sprinkle of sesame seed, this authentic recipe will leave you feeling confident to serve this to your guests for a delicious meal.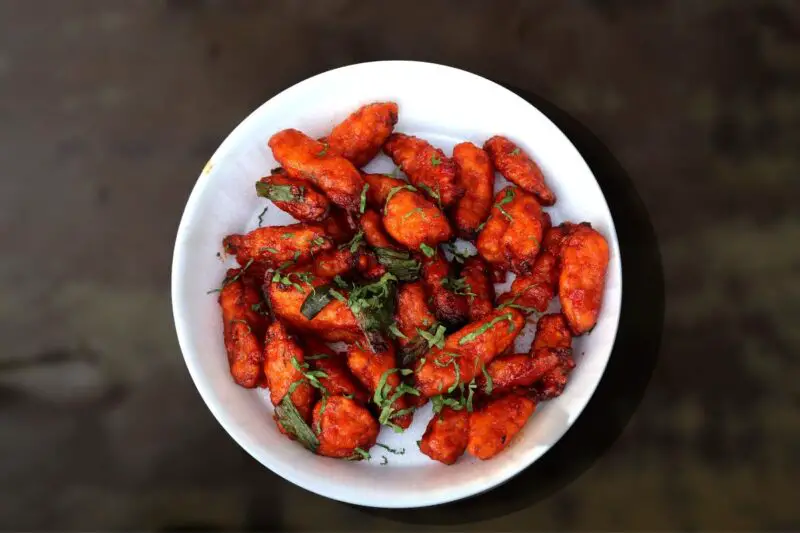 Chicken nuggets are the go-to meal to make using diced chicken but this recipe puts a unique spin by helping you to create a delicious buffalo sauce.
Fry each piece to perfection with a crispy skin and juicy center, all smothered in your favorite wing sauce.
This way, you can serve up this boneless variety of buffalo chicken wings to those who prefer their chicken off the bone.
The recipe itself is quick and easy with only a few key ingredients such as hot sauce, honey, garlic and buttermilk. So, try it out to shake up your usual chicken nuggets!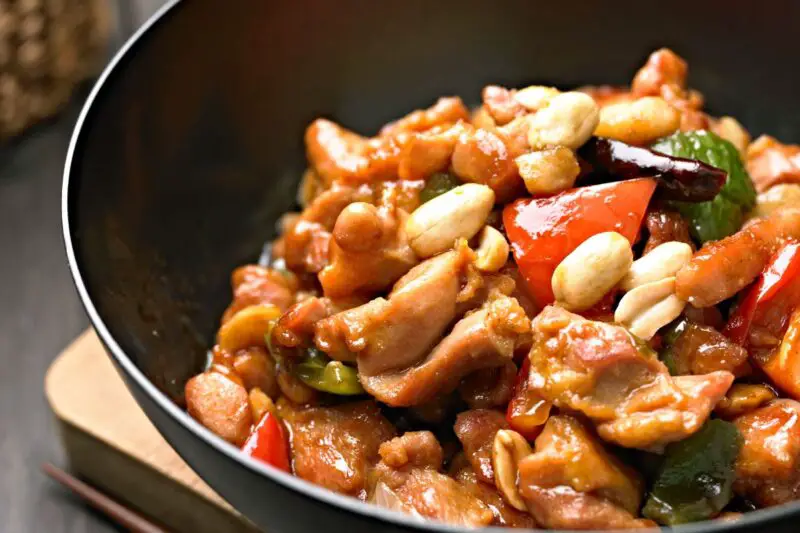 One of China's most beloved chicken dishes is Kung Pao chicken. To get the perfect version cooked in your own kitchen, then try out this recipe right here!
It will leave you with juicy yet crispy pieces of chicken swimming in a silky classic Chinese sauce.
The sauce itself is a combination of many amazing ingredients such as Chinese black vinegar, Shaoxing, dark and light soy sauce, and more.
The rest of the stir fry also contains plenty of delicious ingredients that bring some variety to the taste and texture including peanuts, scallions, peppercorns, chilies, and so much more.
So, for an indulgent classic Chinese dish, try out this recipe for Kung Pao chicken right here!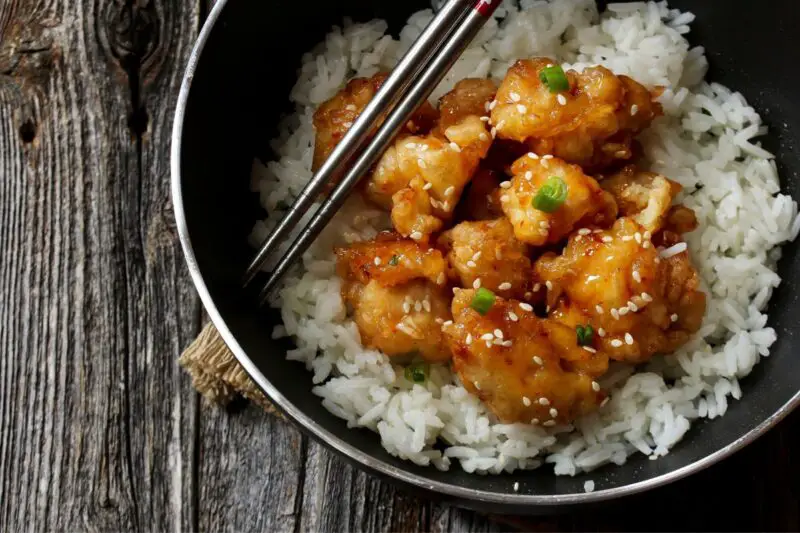 Want something really sweet? Then this recipe for honey and garlic chicken is the one for you.
You will be left with small chunks of juicy chicken that is completely smothered in a gooey, honey-based sauce that is balanced with the sharper flavors of soy sauce and hoisin sauce.
The notes of garlic also come through and provide a smokiness that combats the sweetness, enriching all the flavors present in this dish.
Served with a sprinkling of sesame seeds and green onions, this dish is perfect to be served alongside your veggies or rice for sweet helping of protein!
For a completely tropical meal that uses up your leftover chicken, this recipe for Hawaiian style chicken kebabs is the perfect dish to serve at barbecues this summer.
Each skewer is packed with different ingredients to help make a delicious meal – red onions, juicy pineapple, sweet bell peppers, and – of course – marinated chicken.
The diced chicken in this recipe is soaked in spices and juices before being lightly grilled, allowing the flavors and juices to remain while cooking it thoroughly.
So, if you are looking for something unique to serve up at this summer's barbecue, try out this recipe for Hawaiian style chicken kebabs!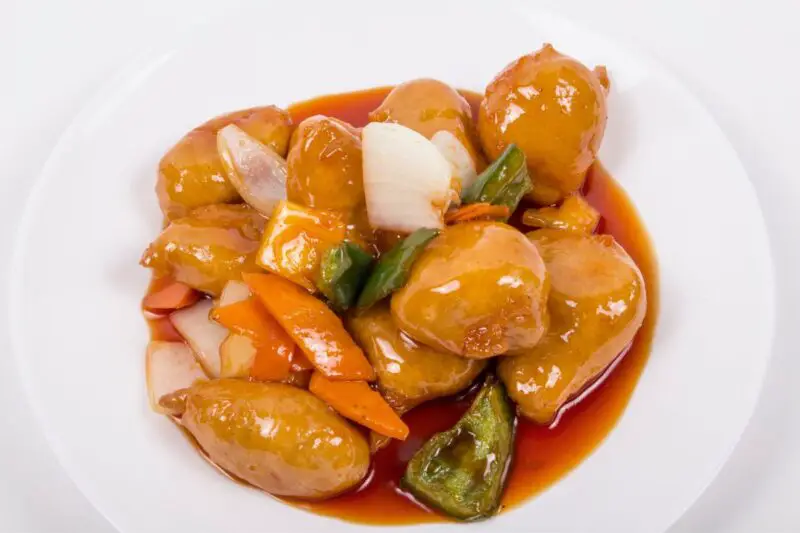 Another classic dish you can find on the menu in any Chinese restaurant is sweet and sour chicken balls.
Although this dish traditionally uses larger pieces of chicken, this recipe has adapted it to suit smaller pieces of diced chicken.
With flavors of pineapple and soy sauce, this recipe will leave you with a rich sweet and sour sauce to completely indulge your chicken balls in. Plus it's quick and easy to make for yourself!
So, with so many benefits to this one recipe, why not give it a try?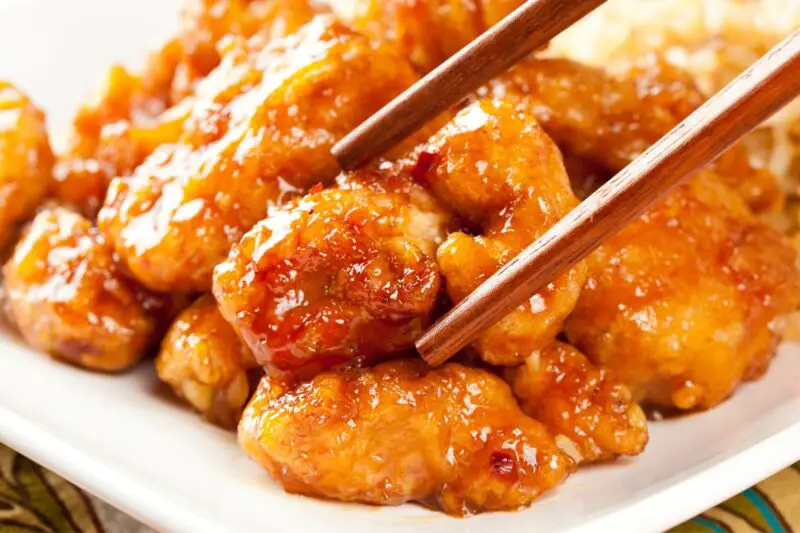 Orange chicken is an amazing juicy dish to enjoy during the summer months as it's packed with strong flavors of orange and chili.
While you can adjust the spiciness of this dish to suit your own tastes, this dish balances the fiery kick of cayenne and chili flakes with the sweetness of brown sugar and honey.
However, the flavors of citrusy orange reigns supreme and gives this dish a classic summer vibe.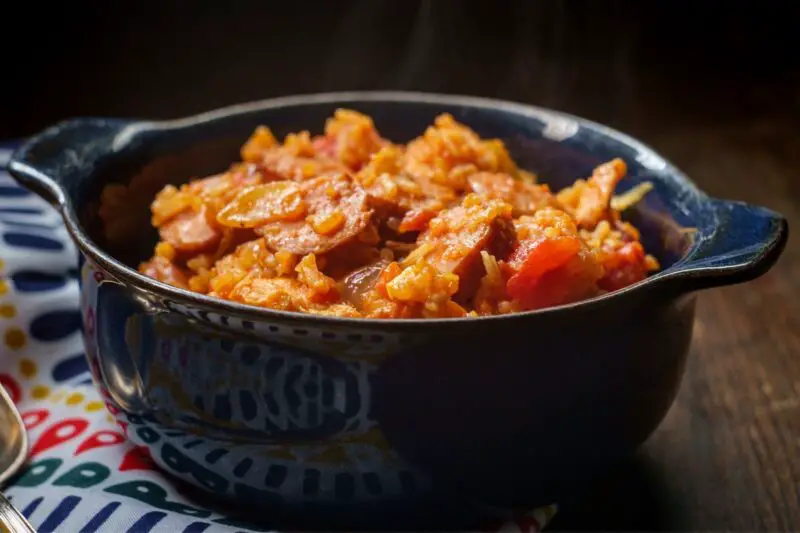 Jambalaya is one of the best dishes to come out of the US and is born from many different influences from France, Africa, and Spain.
Although most jambalaya recipes use seafoods like prawns, this recipe makes good use of small pieces of diced chicken instead!
It's a bold dish to serve at any meal due to the powerful flavors this dish contains.
Not only are there plenty of herbs and spices in this mix, but there's also onions, celery, bell peppers, and chicken sausage added to make a truly filling yet delicious meal.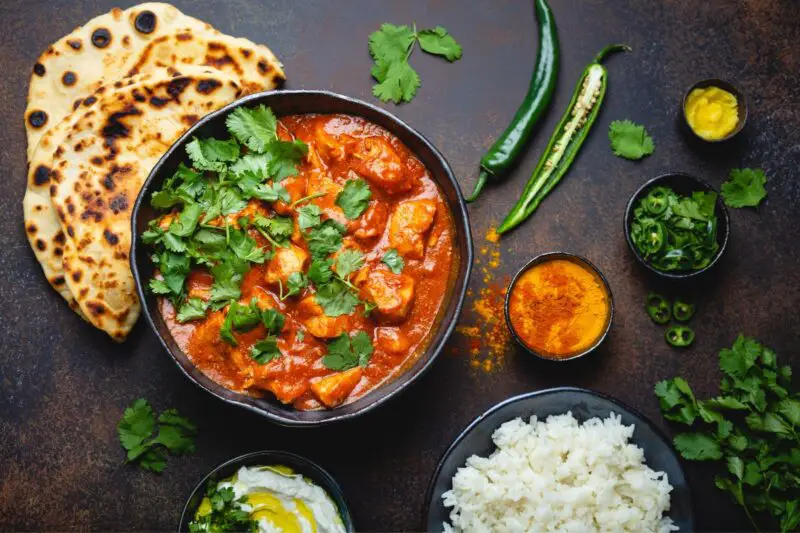 Curries are a great way to use up your leftover pieces of chicken and this recipe for a traditional tikka masala is one of the most delicious out there!
This chicken tikka masala is amazingly creamy and packed with aromatic flavor created from all the spices used in this recipe.
Ginger, turmeric, cumin, chili, garam masala – everything you possibly need in a tasty tikka masala is here so check out the recipe and give it a try!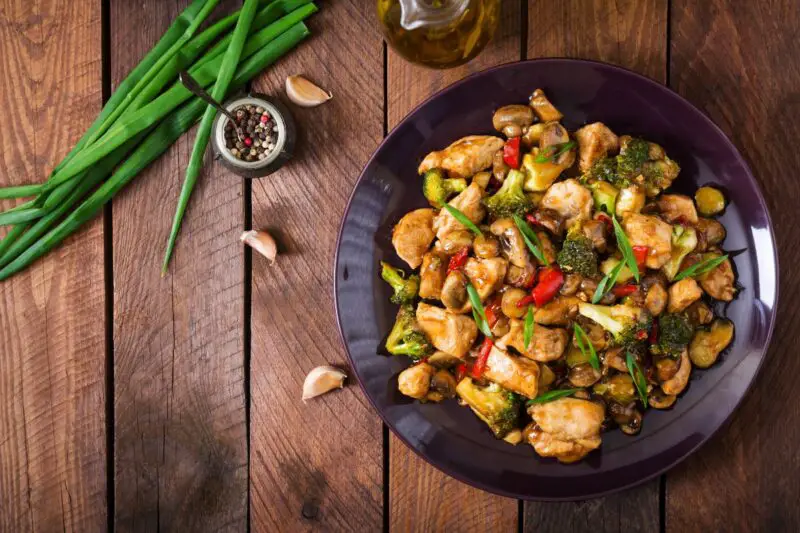 We've all probably tried chicken stir fry at some point in our lives, but this Thai inspired recipe completely changes the game by combining flavors in such a unique way.
Here, flavors of sweet coconut are paired with zesty lime and spicy chili, making a completely new creation that is delicious and adventurous.
The recipe will leave you with a perfectly saucy stir fry that coats every piece of chicken in a unique sauce.
Serve alongside some jasmine rice or noodles and you will have the perfect Thai inspired meal!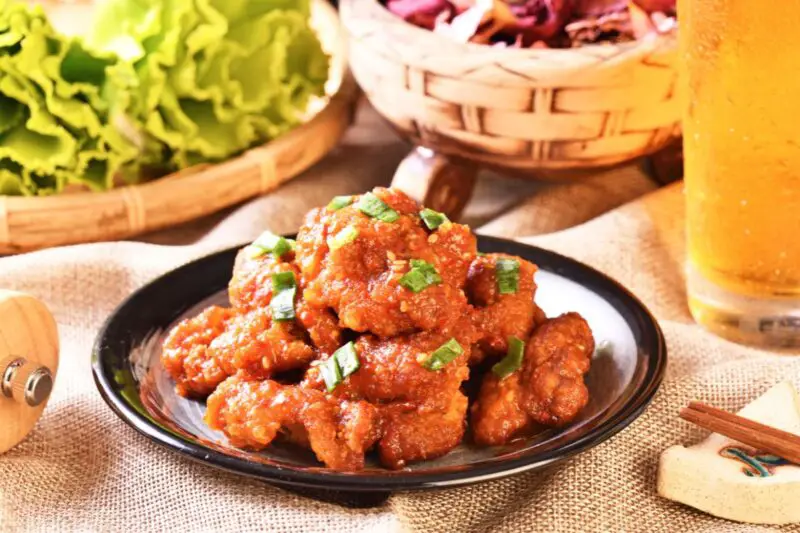 One of South Korea's most recognizable dishes is its fried chicken – so why not turn those chunks of diced chicken into small pieces of Korean fried chicken?
Juicy yet crispy, this recipe will leave you with bite size pieces of delicious fried chicken that are covered in a fiery sauce that is perfectly balanced with sweetness.
Enjoy them either as an appetizer or serve as the main meal alongside some salad or rice.
If you want to be really authentic, then the traditional pairing in Korea is fried chicken and pickled radish. Try it out!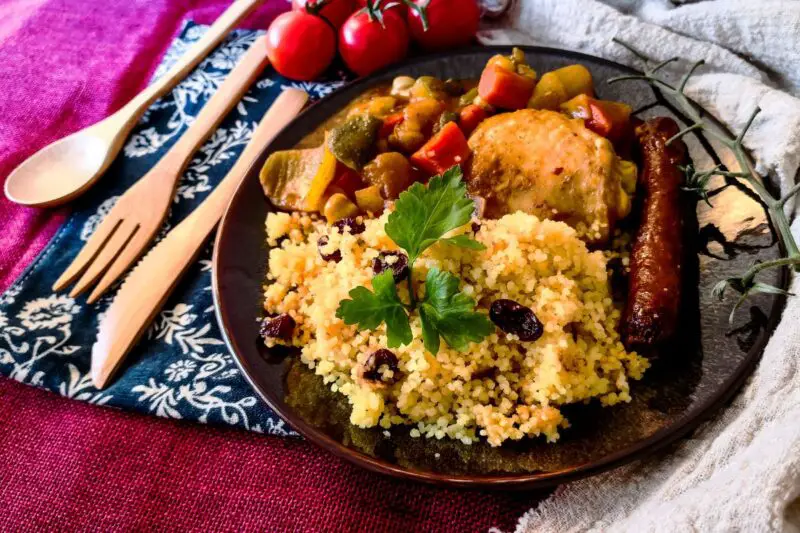 Couscous is a great alternative to many carb options and one of the best couscous recipes out there is this one for Moroccan style chicken and couscous.
It's the perfect light meal for a summer dinner as it's filled with all the nutrients you need.
Not only that, but there is a medley of spices (cinnamon, cumin, turmeric) that completely transforms this dish into something memorable.
So, try it out for a delicious yet underestimated way to enjoy diced chicken.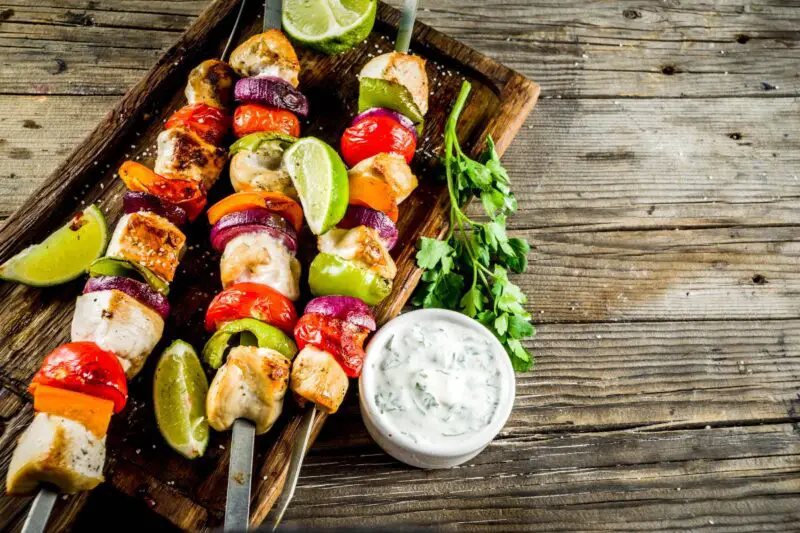 For a delicious taste of the Mediterranean, try this recipe for Greek style chicken kebabs.
Each bite of the chicken is tender and juicy, with plenty of sharp yet tasty flavors such as oregano, garlic, and lemon.
Combined with the summer flavors of red onion, zucchini, and bell peppers, this dish is packed with tons of flavor and tastes amazing when served alongside some pita bread and salad.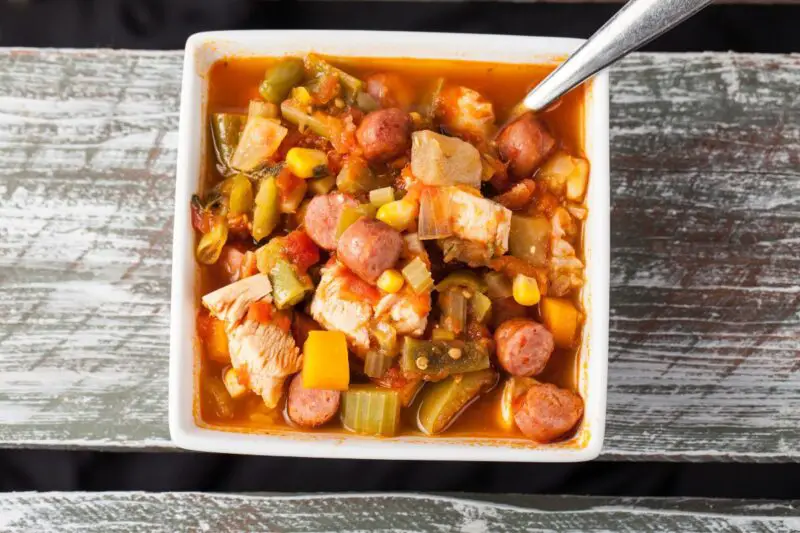 Classic gumbo is usually made using some kind of shellfish but if you don't want to eat a seafood dish, then follow this recipe for a chicken-style classic gumbo!
It follows all the rules when making this traditional Creole dish, even including the 'holy trinity' of onions, celery, and bell peppers.
This means that there is plenty of variety in taste and texture in this gumbo, making it an authentic taste of New Orleans with spicy cajun chicken.
Finally, we have reached the last recipe on our list – cajun chicken pasta!
Pasta is one of the most widely eaten dishes all around the world and adding some spicy cajun chicken to the mix can totally create a version that is bursting with flavor.
This recipe here is perfect for those who want to cook on a budget and still create enough delicious cajun chicken pasta to feed the whole family.
With plenty of spice and flavors, this recipe is sure to knock your socks off!
Final Thoughts
Did you find your new favorite recipe?
Check over the many amazing recipes above and try out a few to find your next favorite chicken recipe! Enjoy!