Find some of the best cherry juice recipes that are delicious and easy to make, and use them to increase your intake of this healthy fruit. Boost your energy with these delicious Cherry Juice Recipes. 
You might be a huge lover of anything with cherry juice but aren't quite sure of anything to put it with. Discover the best and healthiest Cherry Juice Recipes and make your time in the kitchen count.
This does not only contain cherry juice, but a variety of different fruit to enhance the health benefits and flavor. 
This is extremely easy to make in your own home and they only take 10 minutes to make and you can then keep it in the fridge and drink throughout the day. 
It also includes watermelon and plums to enhance the flavor and also increase the nutrients you are consuming.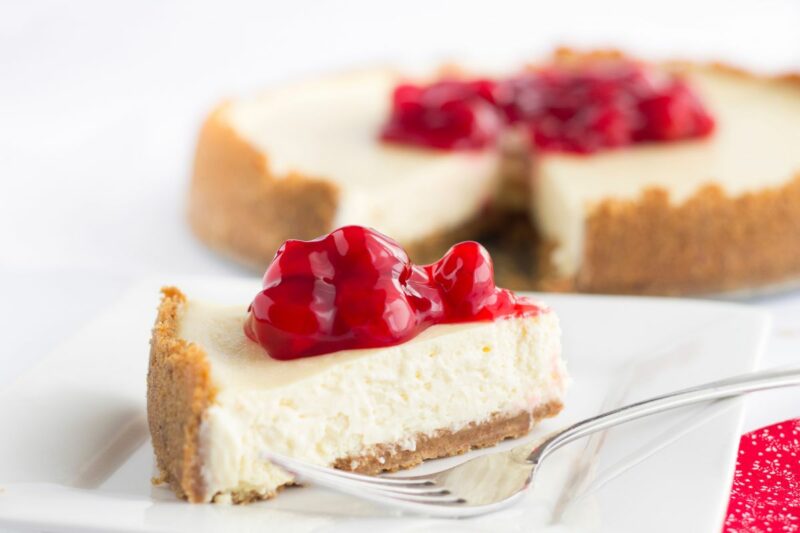 This cherry cheesecake is so good and looks so nice when served. It is made with a graham cracker crust, fresh cherries and fresh cream cheese.
The best cheesecake recipe ever! This recipe is simple, easy to make, and delicious and full of freshness. 
This simple and delicious Cherry Cheesecake is a classic favorite. The recipe is easily scaled for any number of people.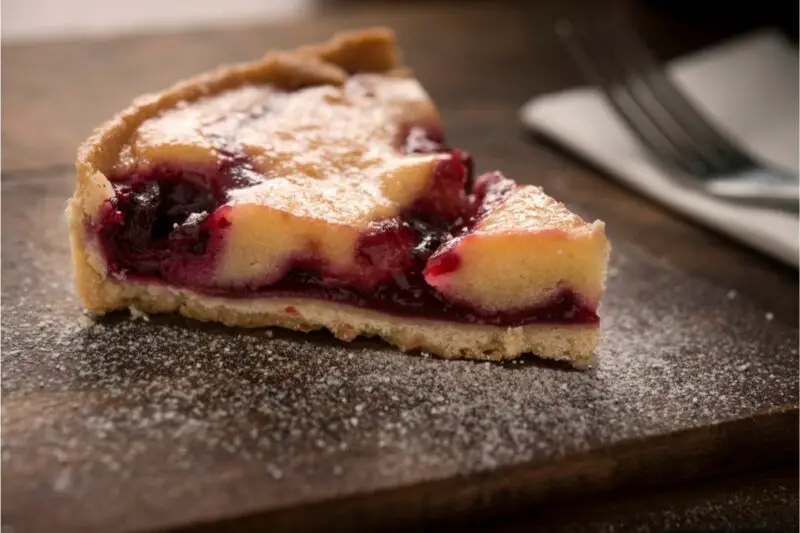 A very easy and quick to make cherry tart with a shortcrust pastry. A delightful cherry tart recipe. A traditional British dessert with a rich, deep cherry flavor, but with the added enhancement of chocolate. 
This is an easy recipe with a strong cherry taste. It is best served chilled. However, it does take four hours to make, so you will have to put a bit of time and effort into it. 
Here's a pancake recipe with a little cherry juice added. It's very tasty and suits both the sweet and the savory tastes.
These pancakes are full of cherry flavor and topped with a cherry sauce. They are delicious and very easy to make.
These pancakes are packed with the sweet flavor of cherries, and are perfect for a Sunday morning breakfast or a delicious dessert.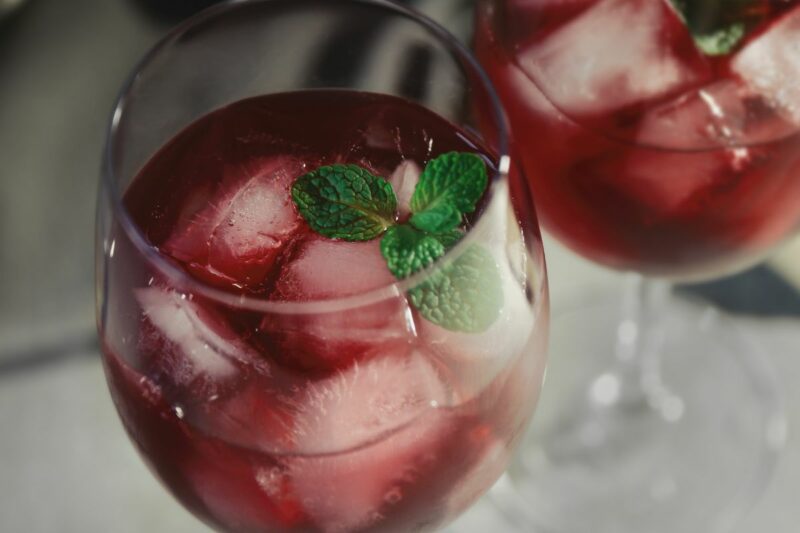 The perfect drink to make on a hot summer night. It's delicious and refreshing with a little bit of  sugar and fruit.
This delicious drink is perfect for a party or cocktail hour. It's very easy to make and the results are fun and refreshing, mixing different flavors you might not have thought about using before. Try something new with this cherry recipe.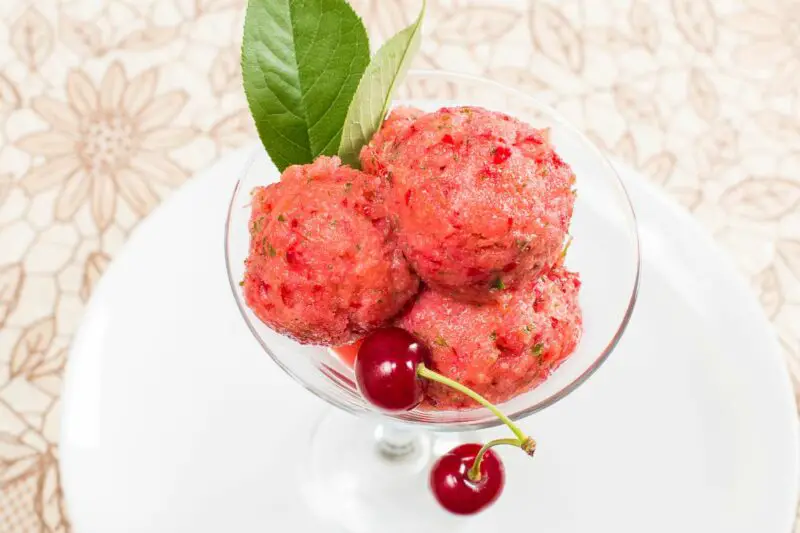 Cherry sorbet is a refreshing summer favorite that is great for parties or for a refreshing dessert when you have some leftover fresh cherries. Therefore, there is no need to waste anything when using cherries! 
It will only take you 15 minutes to make, which is ideal for most people. It is nice, quick and easy! This is also something different. When people hear sorbet, they think it is something posh, but it really isn't!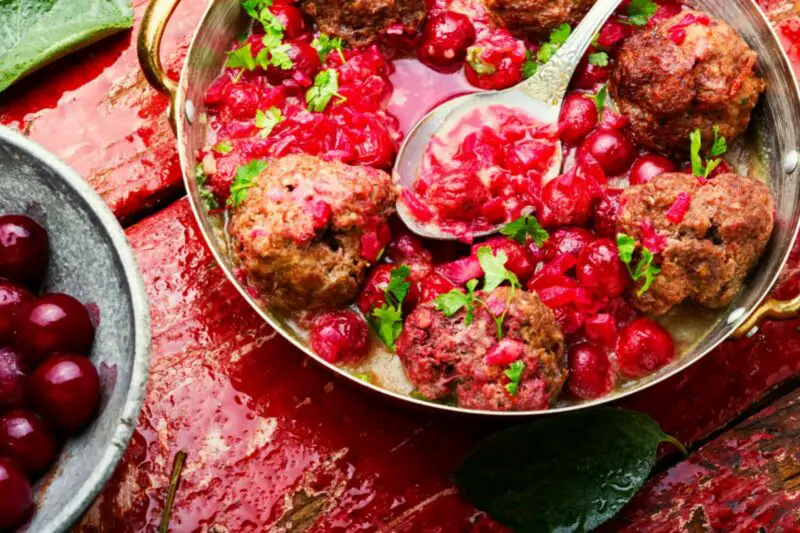 If you're looking for a beautifully made cherry sauce for your lamb, this is the one for you. It will enhance your meal massively.
It has nine ingredients you will need to have for this and it will only take 20 minutes for you to make, which might seem like a lot, but it will make a huge difference to your meal. It has a sweetness and freshness which will put a big smile on your face.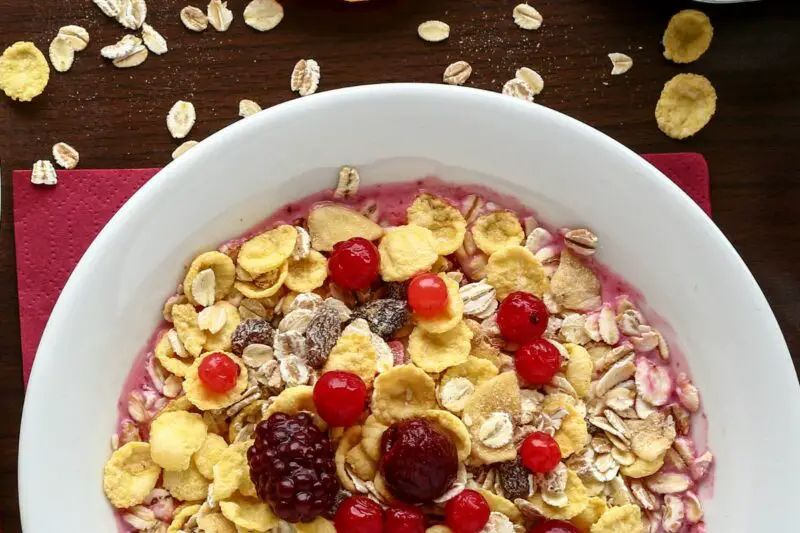 People absolutely love this recipe because it is low in calories and very good for you. It does not take too long to make, but you will need a few ingredients you might not already have in your home. 
This is something new to try in the mornings if you're looking to add more fruit into your diet and also add that extra breakfast meal into your day.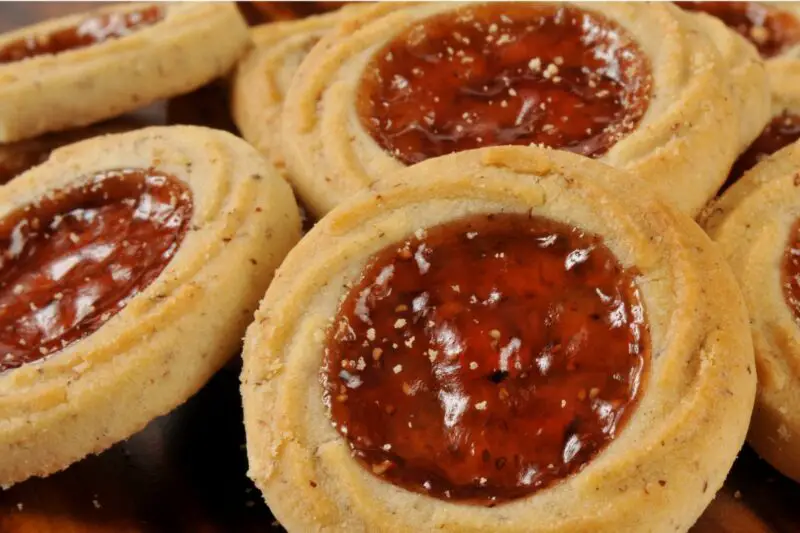 This recipe is a great project if you're looking at getting into baking. It is low in calories, but it is a sweet treat to make. 
The cherries really enhance the flavor of the cookies and give them a juiciness and reduce any dryness. 
They only take 35 minutes to make which includes the baking, so no time at all really!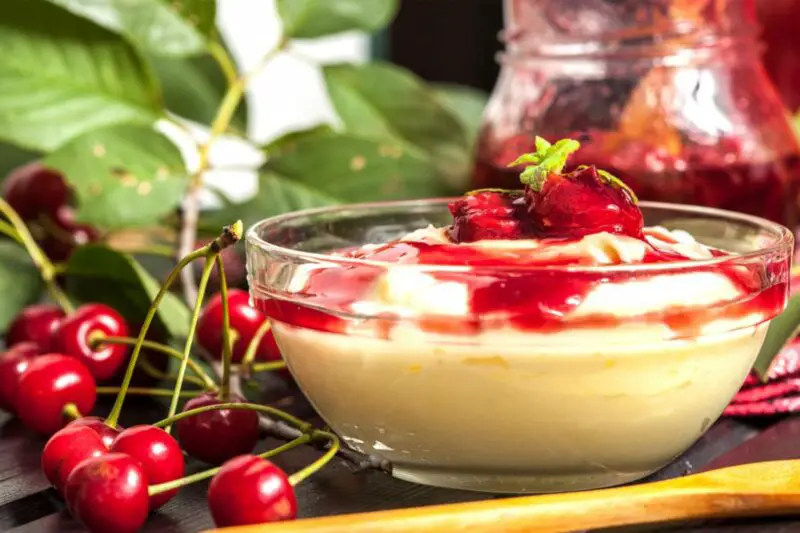 Simple but effective, this pudding is something light and fresh, but also filled with lots of different spices and flavors. 
It is a quick and easy make, but it does include ingredients like vanilla extract, nutmeg and cinnamon which you might not already have at home!
However, there are some things you can easily swap out of this recipe to make it perfect for you which is listed on the recipe.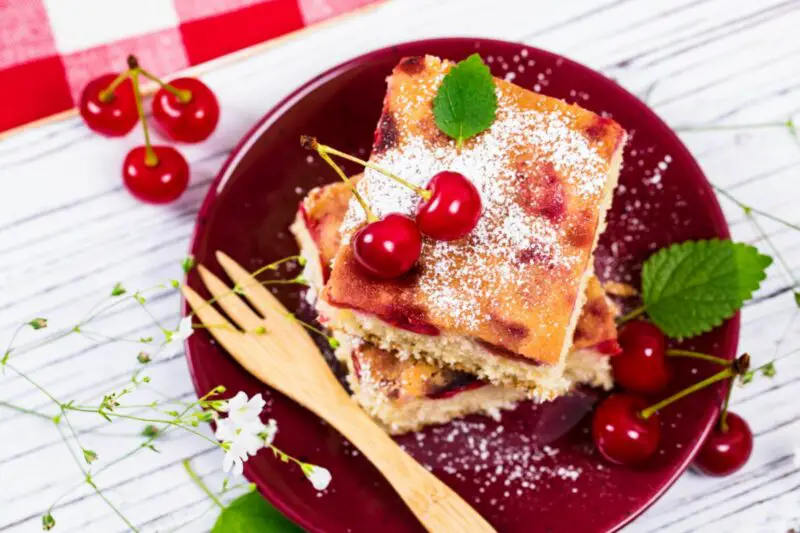 Cherry cakes are very commonly used recipes across the world because they are not too heavy and are easy to make. Most of the time, people do not want to be spending hours baking which is why this recipe is great.
It only takes 55 minutes to make overall, and only a small amount of time is the preparation. 
This is ideal because you will most likely have all of the ingredients in your house already, so you will not have to go out and get any!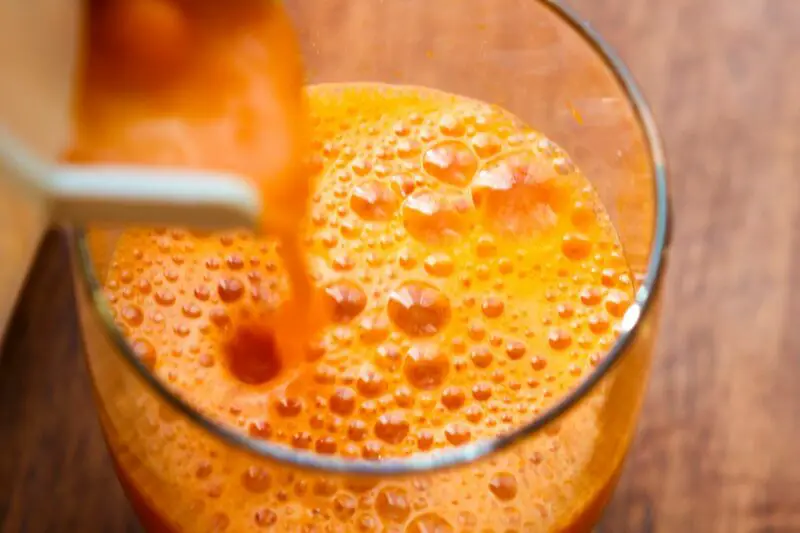 Organic Carrot,Cherry Juice Blend. Helps to boost energy, Recovers, cleanses & tones.
Carrot Cherry Juice is a low carb, keto, and sugar-free way to get the benefits of a sweet drink without all the sugar. Carrot Cherry Juice Recipe is wonderful for your body and mind.
This juice is a convenient way to get your daily dose of Vitamin C.
This is another recipe which is very easy to make and all you really need is a good blender and the right ingredients to enhance your health daily. 
An almond swirl is always a popular dessert at parties. It's so easy to make and is a wonderful way to use up cherries left over from the year before.
This delicious cherry almond swirl is the perfect healthy dessert to celebrate the coming of spring, but it can be made and enjoyed all year round. 
This is a very delicious and healthy dessert. It is very simple to prepare and very easy to make.  In this recipe, I have used a combination of almonds, cherries and almond milk to make this delicious and healthy dessert.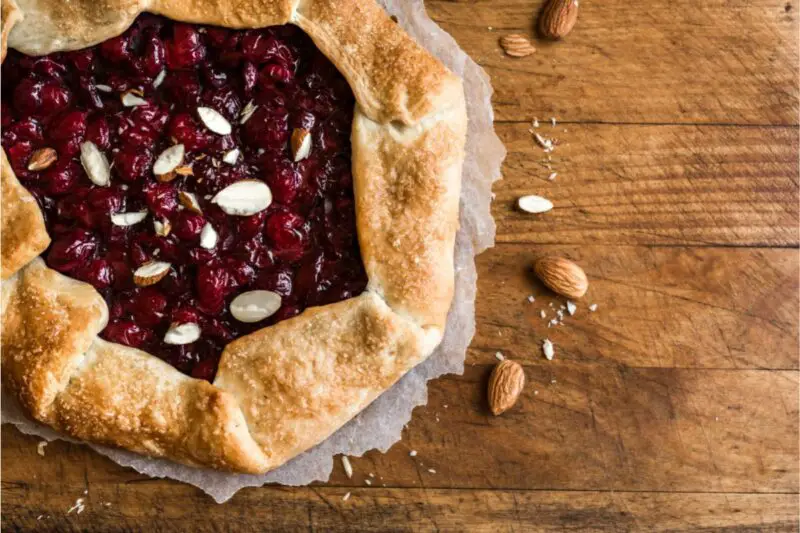 A cherry and almond galette is a simple and delightful dessert that is perfect for spring and summer.
Making a galette is like making a pie, except you can add a lot more fruit and less crust. This one has cherries and almonds in the filling.
This tart is the perfect way to celebrate the end of a long work week. It's elegant, simple, and easy to make, and is sure to become a weekend staple.
Add this recipe into your schedule because not only is it good for you, it is easy which everyone loves!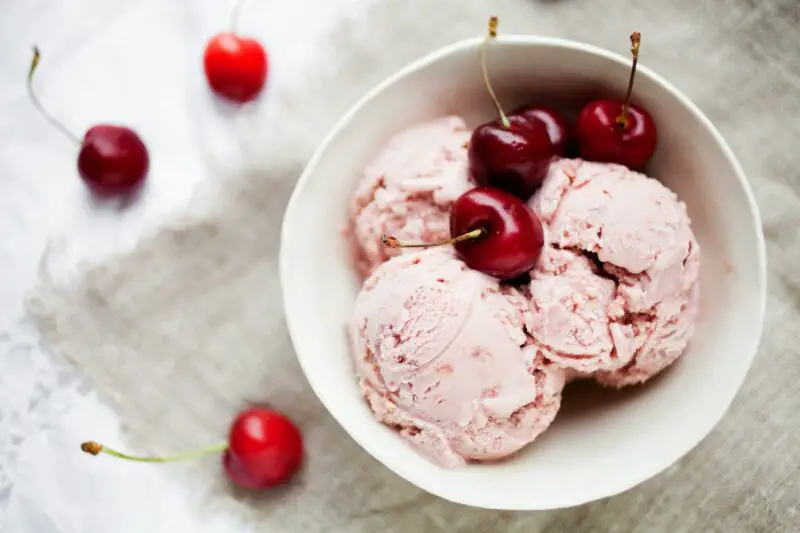 A warm and sunny summer day, a hot cherry tart, and a glass of chilled white wine…I don't know about you, but I'm ready to indulge in this easy ice cream recipe!
This Cherry Tart Ice Cream is absolutely to die for! It's a very special dessert and is a fun twist on an old classic.
A delicious recipe for Cherry Tart ice cream. This recipe is easy to make. You can serve this ice cream with cherries, chocolate or vanilla.
This ice cream is an easy and delicious way to enjoy cherries. A little bit of almond extract makes it quite special.
Final Thoughts 
Overall, you should definitely be adding at least one of these cherry juice recipes to your desserts and meals because they really can be something special.
There are several different recipes which are perfect for different times of the year and different occasions. There are lighter and heavier recipes for you to eat and enjoy. 
Hopefully this article has provided you with a variety of different recipes that all offer something new and different for your weekly recipes. There are some really good ones for people who are looking to bake a bit more.
These types of recipes will give you the opportunity to practice some of your crusts for tarts and pies and try out something that is either simple or more challenging. 
Frequently Asked Question
Does Cherry Juice Reduce Belly Fat?
We all know that the best way to lose belly fat is by reducing the calories we consume. But you can also see results by losing belly fat by adding more fiber to your diet.
However, you should not take this as an easy way to lose weight, but it will help your journey by introducing the ingredient.