While sodium is an essential mineral our bodies need, too much can be damaging to your health and can increase the risk of heart disease and strokes.
It has been recommended by the American Heart Association to only consume 1,500 mg of sodium each day.
However, this can be hard to achieve, as many pre-made meals and frozen foods contain high levels of sodium.
Therefore, the best way to control your sodium intake is to make your favorite foods at home.
This way you know exactly what is going into your meals, and you'll have some lovely, comforting meals ready!
This article will be listing 15 of the most delicious low-sodium chicken recipes that you can make yourself at home!
This salsa chicken is easy to make and full of flavor, all you need is an electric pressure cooker, and this dish is ready in 45 minutes!
All you need to do is season some chicken breasts with garlic powder, chili powder, cumin, oregano, and salt. Then, place your chicken in your instant pot along with some chicken broth.
Add some salsa to the chicken and close the lid of the cooker, ensuring it is set to 'sealing' and let it cook on high pressure for 10 minutes. Then, allow the pressure to release and turn the setting to 'venting'.
After this, you can shred it easily. This is perfect on a bed of rice, in a taco shell, or in a salad!
This one-skillet recipe is packed with flavor and will really impress your guests.
The creamy consistency comes from cashew milk (only 25 calories in each serving!), and the chicken is accompanied by an array of spices and vegetables, making this a very healthy dish.
Aside from a chopping board and a knife, you'll only have one skillet to clean up – pretty perfect if you ask me!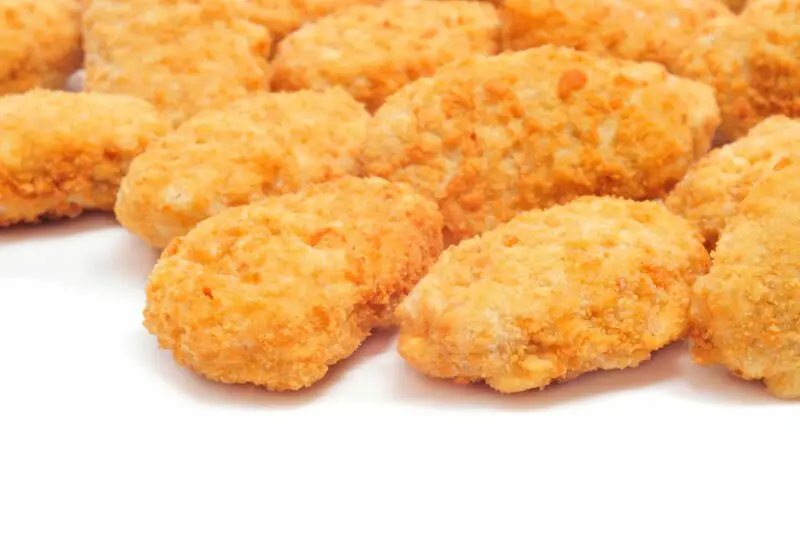 There's just something comforting about grabbing a box of chicken nuggets and warming them up in the oven and cozying up in front of the TV. Unfortunately, those frozen nuggets are likely to have a ton of sodium in them!
However, this doesn't mean you should go without! This recipe will guide you through creating your very own healthy nuggets, so you'll never have to settle for the frozen stuff again!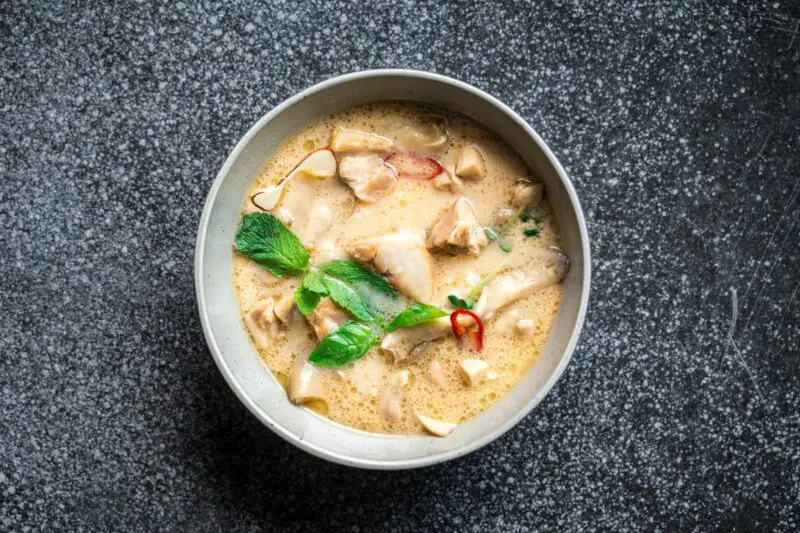 As those winter months settle in, there's nothing better than a warm bowl of soup to keep you warm inside and out.
This coconut chicken soup is made with lean chicken and delicious vegetables, along with a delicious exotic flavor!
Enjoy this comfort food that comes with a splash of exciting new flavors! You can even make a large batch and freeze it for easy access!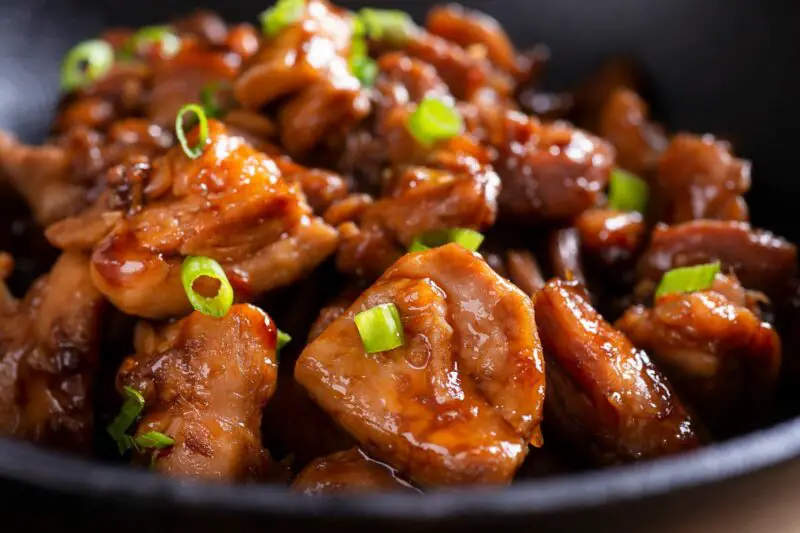 Here we have another one-skillet dish, because who wants to spend extra time on the dishes?
This bourbon chicken has a slight Asian flavor that'll remind you of your favorite take-out. Just make sure you use lower-sodium soy sauce to keep those levels low!
Serve with some rice and even a dash of sesame seeds and voilà!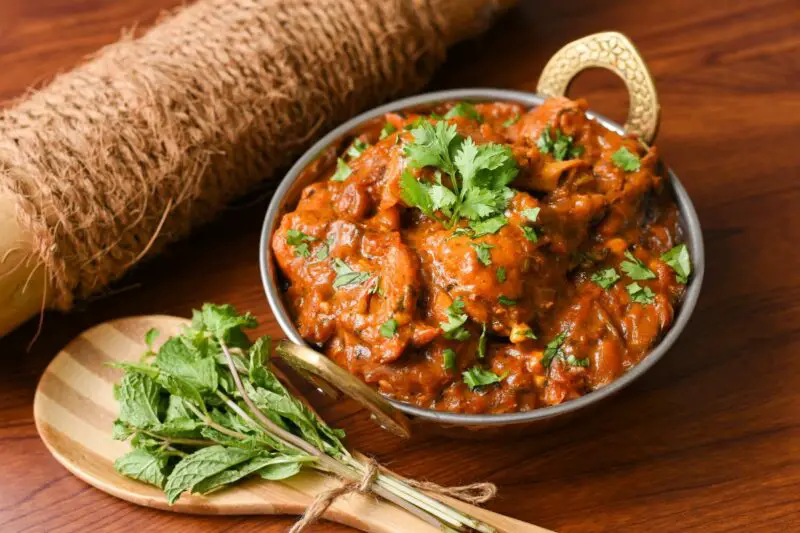 This Indian-inspired dish is deliciously creamy and rich, and when paired with some fluffy rice, it makes for a delicious and wholesome meal.
While the preparation isn't the simplest, the end result is worth it, and you get to enjoy experimenting with a new kind of recipe!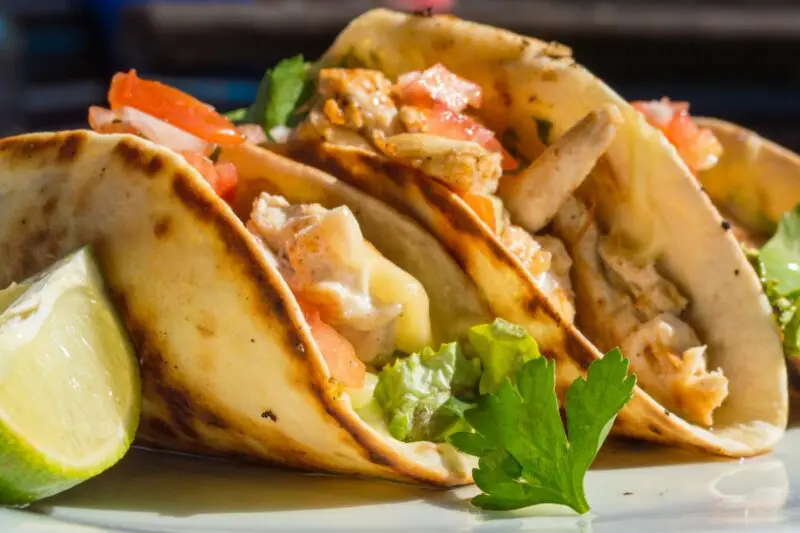 If you make chicken tacos with the pre-made taco mix and flour tortillas, they'll end up being pretty high in sodium.
However, this recipe will have you making your own salt-free seasoning and uses corn tortillas, which are much lower in sodium.
Enjoy a Mexican-inspired night with this delicious recipe.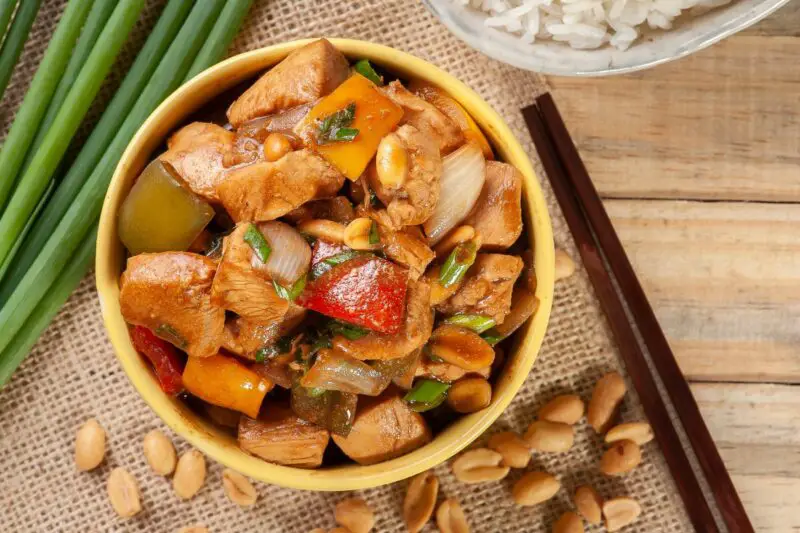 Regular King Pao chicken can have as much as 900 mg of sodium in it. This recipe, however, only contains 57 mg of sodium, due to the low sodium soy sauce used!
It is equally delicious and packed with flavor, so much so that you'll never reach for that takeout menu again!
Serve with some rice, and gobble it up with your favorite chopsticks!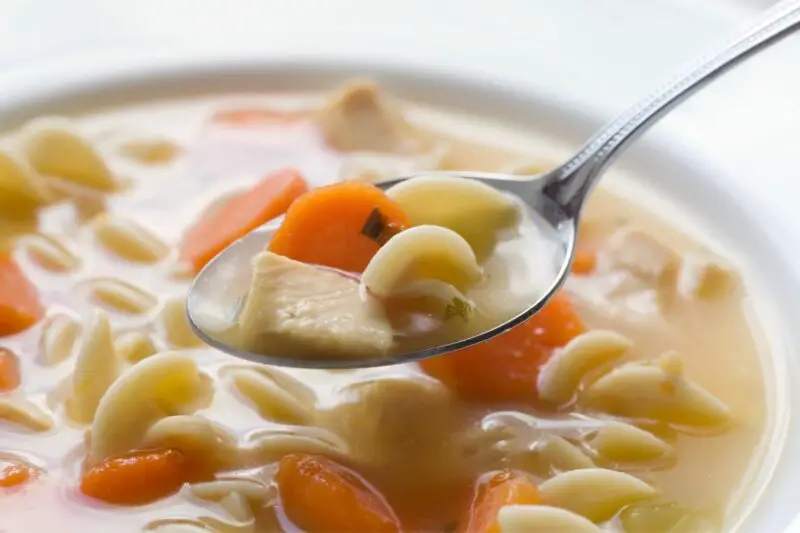 As tempting as it is to reach for that can of chicken noodle soup, you'll be way better off making it yourself at home, and it'll have way less sodium.
The lack of salt is barely noticeable with the blend of different herbs and spices in this recipe. Get ready to cuddle up with your favorite blanket, and this delicious bowl of goodness.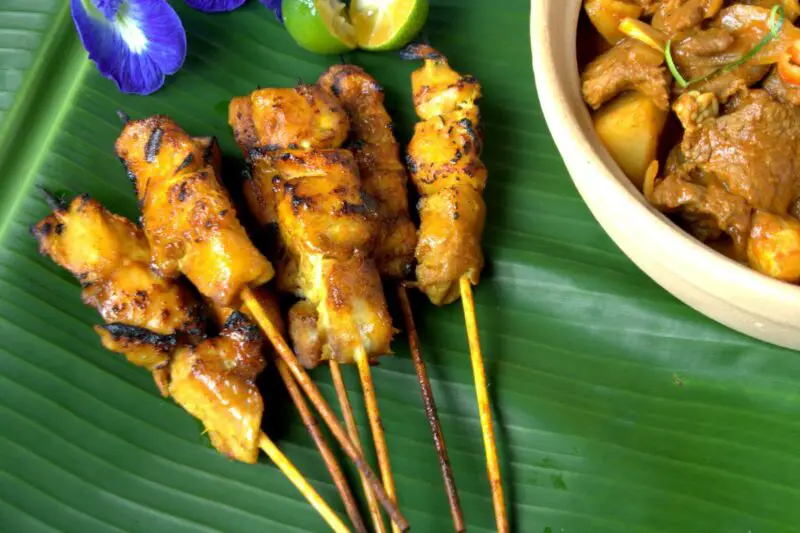 While Thai food is delicious, it tends to be very high in sodium and sugar. Chicken satay is a popular Thai dish, and this recipe will guide you through making a low-sodium, healthy version!
This is the perfect dish to take with you to any barbecue or dinner party you're invited to, and it will seriously impress all your friends.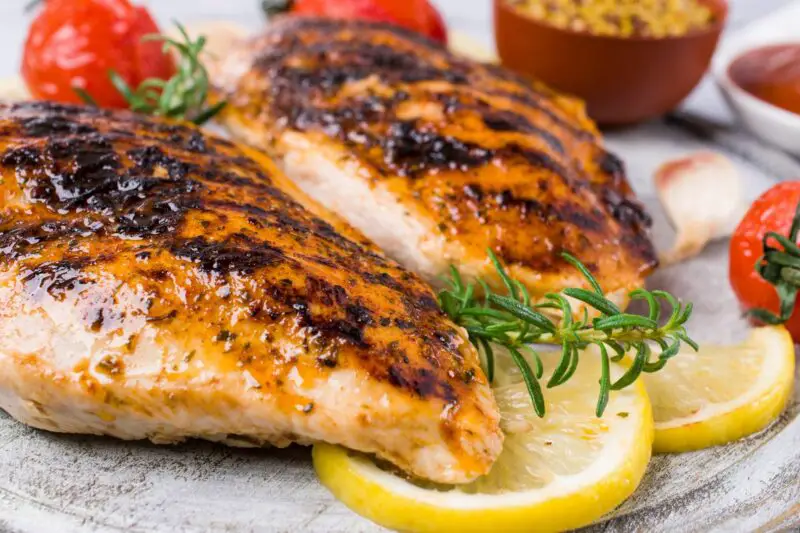 Garlic and butter are a match made in heaven, and cooking some juicy chicken breast in it makes for a delicious meal.
This recipe only contains 66 mg of sodium per serving, and 284 calories, making it a very healthy, low-sodium, no calorie meal.
The garlic butter also helps keep the chicken tender, as well as giving it a delicious flavor.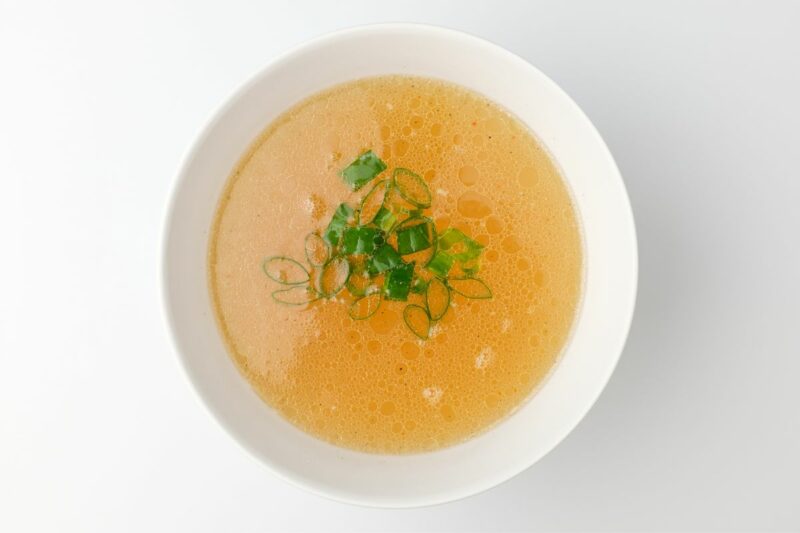 Learning how to make your own chicken stock will be your new secret weapon, and you'll never want to return to the store-bought stuff again!
Making it yourself also ensures that it is low in sodium, and you can add any flavors and spices you want, customizing it to your liking!
You can make a large batch and freeze it in portions, thawing it as and when you need it.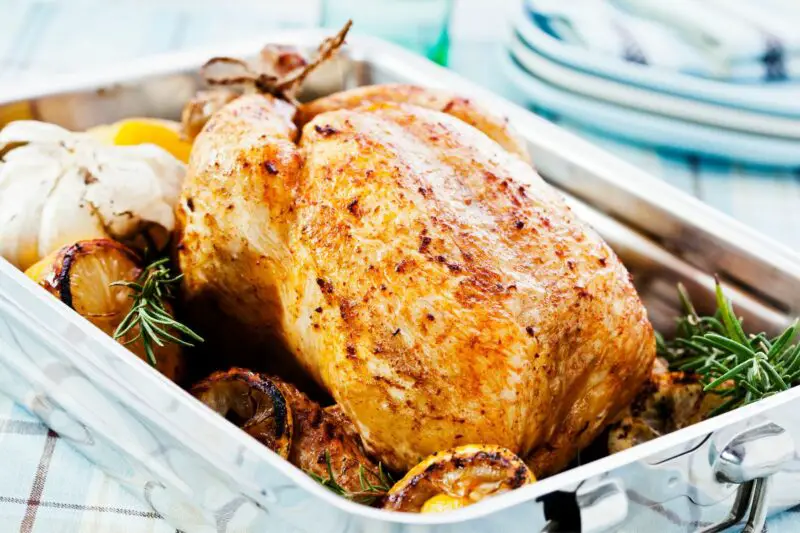 Taking you back to those Sunday dinners from your childhood, this roasted chicken will bring you nothing but feelings of comfort.
It is seasoned with nine different herbs and spices, so you definitely won't be missing the salt.
The preparation time is around 20 minutes, and cooking time with vary from 90 to two hours.
Serve with some roasted potatoes, and you've got yourself a hearty, healthy meal!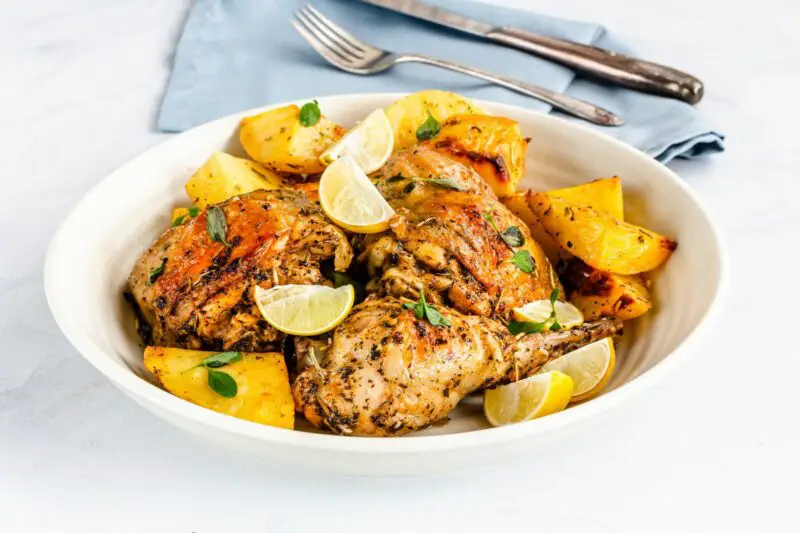 This super quick and easy lemon oregano chicken is the perfect weeknight dinner. It is light and refreshing, and only contains 133 mg and 191 calories in each serving.
Serve on a bed of rice with some crunchy green vegetables, and you've got yourself a very healthy and wholesome meal!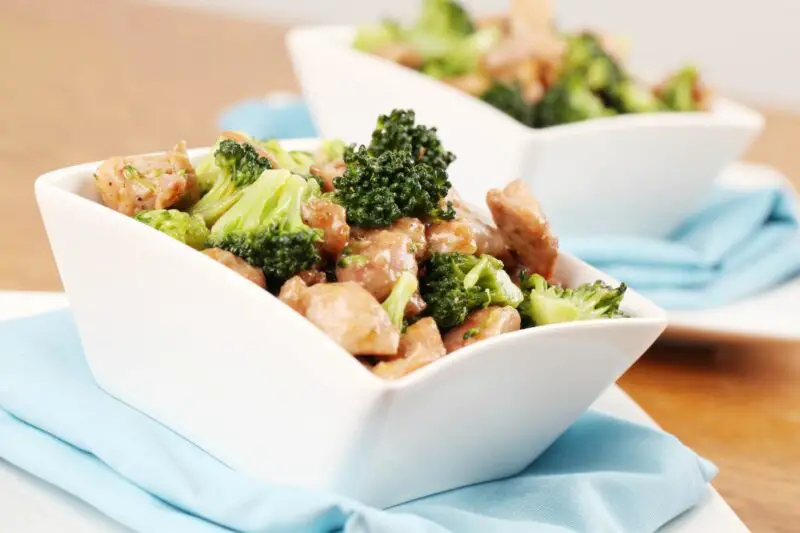 This healthy stir-fry uses fresh broccoli and boneless chicken breast. These are seasoned with ginger, garlic, and a little dash of hot sauce for extra flavor.
This is the perfect easy recipe for those weeknights where you don't have the energy to cook for a long period of time.
If you're following a low-carb diet then you can eat it on its own, or you can serve it with some quinoa, couscous, or rice!
You can also use it as a filling for some tacos or a burrito wrap. It is a super versatile option, and is very healthy and low in sodium!
Frequently Asked Questions
Does Chicken Breast Contain Sodium?
There is sodium in chicken naturally, but there is only a small amount of it. Each serving of chicken breast contains around 60 to 75 mg of sodium.
A lot of chicken that you find in groceries can contain more sodium than that, and in large amounts, so you should always read the label before buying some. Look for 'organic' chicken, as this is likely to contain less sodium.
Why Do We Need Sodium In Our Diets?
We all need some sodium in our bodies. It is important for contract and relaxing muscles, and restoring the balance of water and minerals in our body.
What Happens If You Have Too Much Sodium In Your Diet?
If there is too much sodium in the blood, the kidneys have trouble keeping up with this and the body will then hold onto excess water.
This then increases the volume of blood and fluid around the cells, and this means more work for the heart, and more pressure on blood vessels.
This can lead to high blood pressure, strokes, and heart attacks over time.
Final Thoughts
While the body needs some sodium in order to thrive, being mindful of your intake will only benefit you further, as too much sodium in your body can lead to serious illnesses.
Ensuring you are eating home cooked food is a good way to manage your intake, as many pre-made meals and packaged foods contain a lot of sodium as it is a good preservative.
This article has provided you with 15 delicious and easy low-sodium chicken recipes that will satisfy your tummy, and also leave you feeling nourished and healthy.
We hope this article has inspired you to get back into your kitchen and try out some of these delicious recipes.