There is nothing quite as humble as a delicious chicken recipe. Except, maybe, a delicious egg recipe.
While there are many recipes that involve chicken or eggs as the main protein component, there aren't too many recipes online nowadays about eating these two together.
However, that is something that we should and plan to change, as these two humble ingredients from the same bird have been used together in recipes in different cultures for thousands of years.
In fact, even today, many places still salivate over the prospect of having a delightful chicken and egg dish for their dinner tonight.
But what are some of these recipes? Well, today we are going to bring you 15 different chicken and egg recipes, we hope you'll enjoy them.
Fried rice is one of those dishes that can be made with almost anything.
But making it with an egg, makes it something special. You can go one further though and add chicken to the mix as well.
Egg fried rice is a dish that is the perfect example of "less is more".
No need to add too many ingredients when a few good ingredients will do the trick perfectly.
A few scallions, maybe a couple of mushrooms, or peas and voile, a delicious quick dish with chicken and egg.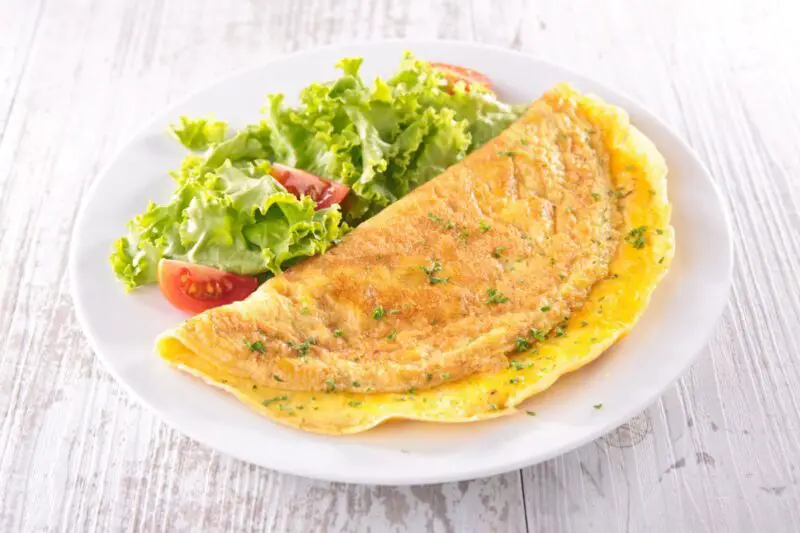 Omelets are great! You literally throw some whisked eggs into a frying pan, add your selection of ingredients to the middle, fold it over, cook on both sides, and you are done.
As such, there is no reason not to add chicken to the mix.
The one issue with a chicken omelet is the chicken needs to be precooked and so can be a little dry.
Therefore, adding a sauce should help with this. Either that, or you could put the chicken in the egg mixture before it is cooked, which would stop it drying.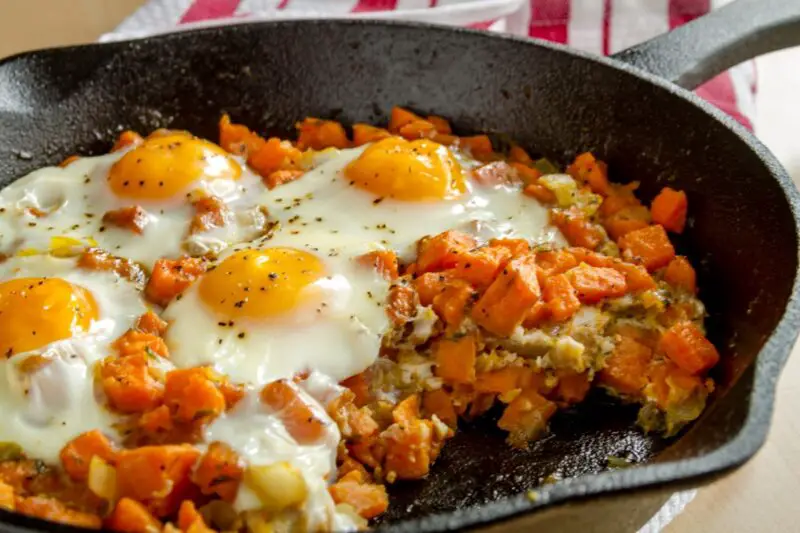 This is one of those classic dishes that is loved by many people around the world for its simplicity and because you can get rid of all your leftovers in one go.
Normally, you would use chopped red meat, potatoes, onions, and make some divots to fry some eggs into the hash.
However, if you replace the meat with chicken, you've got yourself a dish that is hearty, delicious, and satisfying. It is also one of those meals that can be enjoyed for breakfast or lunch.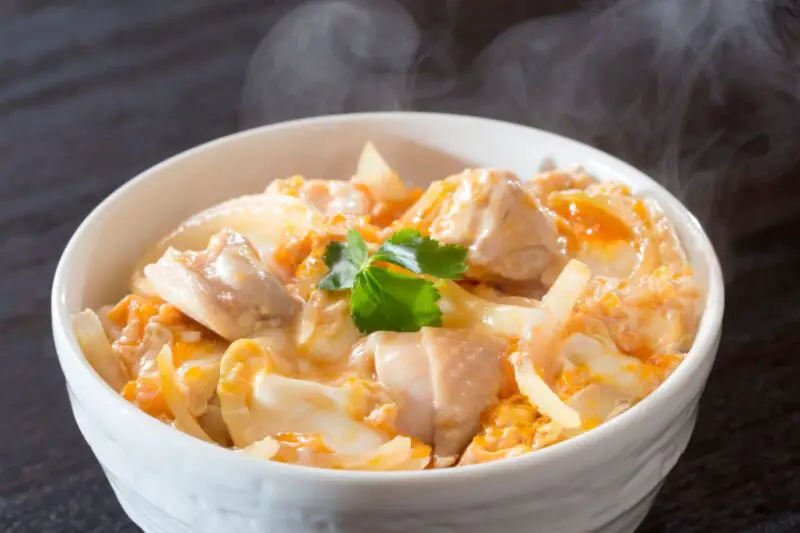 Oyakodon (parent and child donburi) is a Japanese dish that is a combination of chicken and eggs and is beloved in its native country.
Chicken, eggs, scallions, and whatever other ingredients you want are mixed together and simmered in a stock and soy sauce soup, before being served over rice.
The result is a filling, rich, and incredibly delicious meal that satisfies even the most hungry punter. The recipe is surprisingly easy, it just takes a little patience.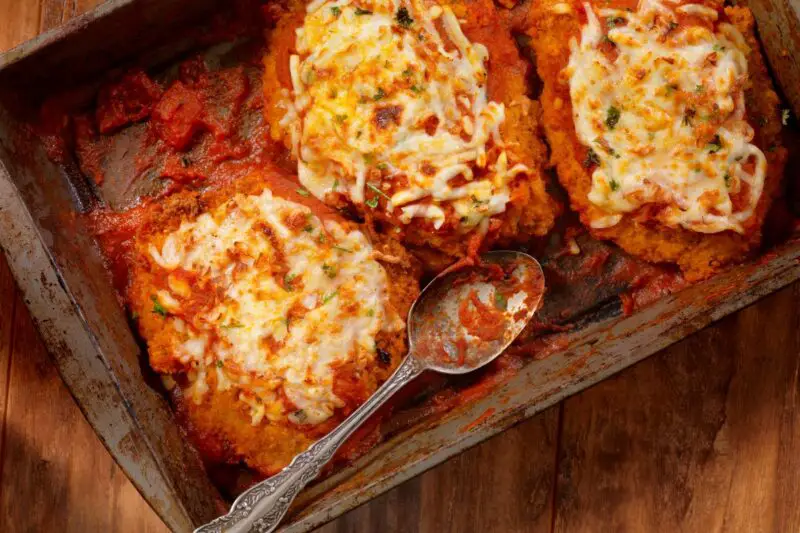 A truly Italian-American dish, chicken Parmesan, was created in response to a deep love of cuisine and food by Italian immigrants to America when realizing that America was quite limited in the ingredients they used back home.
As such, they created dishes using what they had. The result was Chicken Parmesan.
Although this dish is mostly chicken, eggs do form the key factor in making the crispy crust that defines the meal. It is easy, simple, and a perfect way to end the day.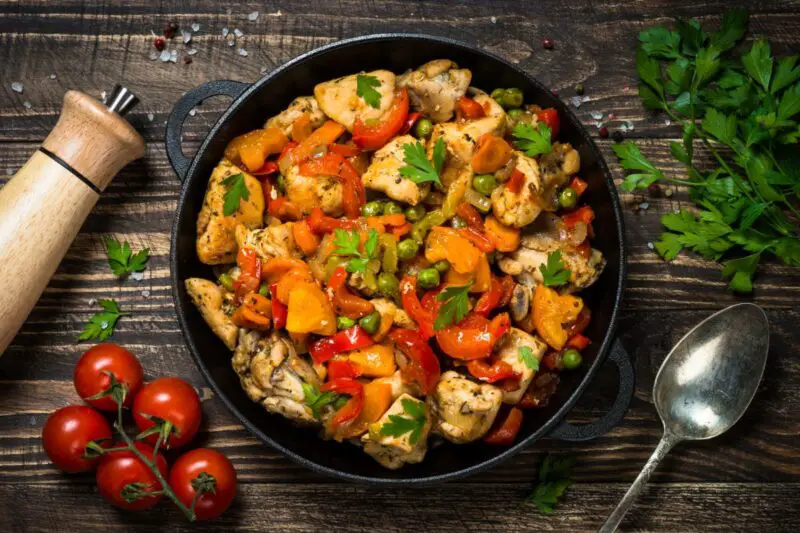 A good stir-fry is one of those dishes that can be eaten for lunch or dinner and make for an excellent weekday meal.
As with the egg fried rice, It is quick and easy to make, making it a perfect choice for busy people.
However, with stir-fry, you can add as many ingredients as you wish, just make sure you cook the eggs a little on the side of the wok before mixing it into the stir-fry.
It will give it a wonderful consistency and a diverse set of flavors.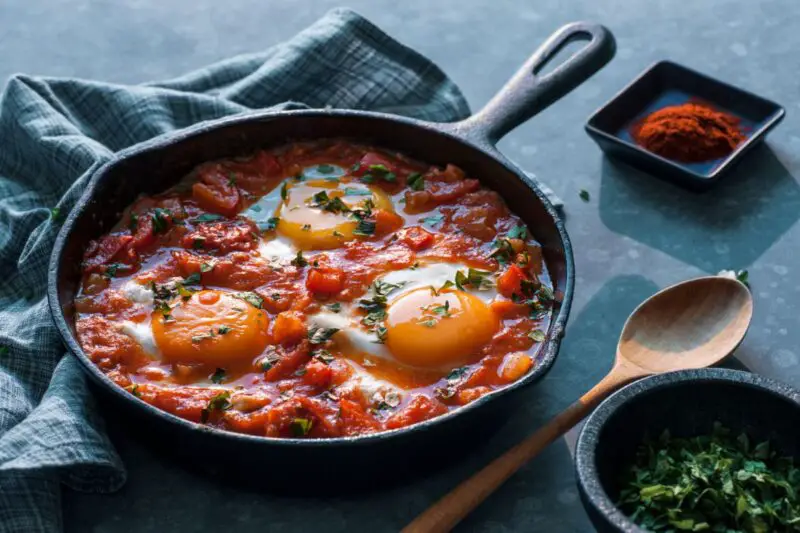 Shakshuka is one of the mainstay breakfasts of the Mediterranean region, stretching from the Maghreb in the west to Turkey in the east.
It is a heavily seasoned and flavored dish that involves poaching eggs in a sauce made of tomatoes, olive oil, peppers, onions and garlic.
The only difference with our version is that you fry off a little chicken beforehand and make the sauce on top of the chicken.
This dish is absolutely wonderful and needs no improvement, but should you have some leftover chicken, you might as well.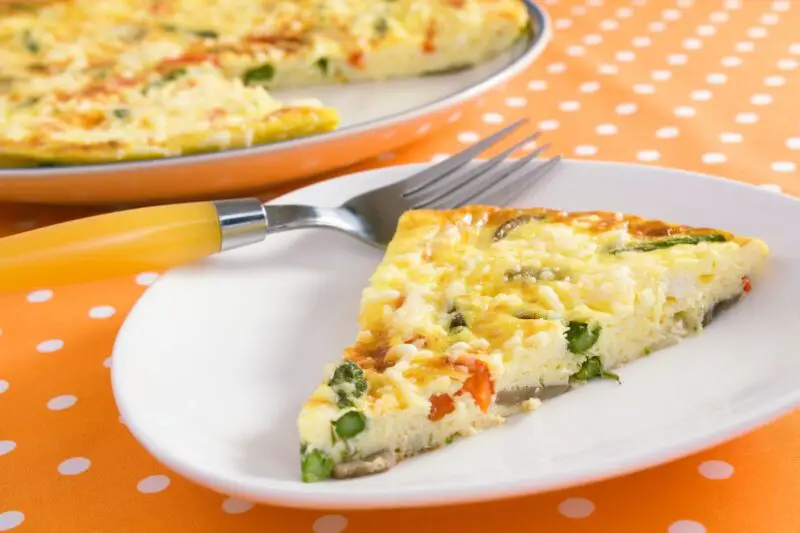 A frittata is an Italian dish that has many variations and uses many ingredients.
At its core are eggs, which act as the crust and binding agent of all the fried ingredients in the dish.
By adding chicken as one of the ingredients with a healthy dose of sun dried tomatoes, olives, olive oil, and peppers, you create an amazing dish that can be enjoyed in the cool shade on a hot day.
The frittata is a great dish to enjoy for breakfast or lunch. It is easy to make, and you can prepare it in as little as a few minutes.
Frittatas also make for a great snack and are great for parties since they can be made ahead of time and reheated.
Chicken Cordon Bleu is a classic dish that is enjoyed mainly for dinner.
It is a rich and delicious dish that has a type of meat wrapped around a cheese filling, the meat is then breaded and pan fried or even deep-fried.
Chicken is the most common meat used with ham or bacon, often chopped and put inside the cheese filling.
To bread and fry the bacon, you need eggs to act as a binding agent, but you could also make scrambled or an omelet of the remaining egg mixture and drape it over the top, making this meal incredibly decadent and rich.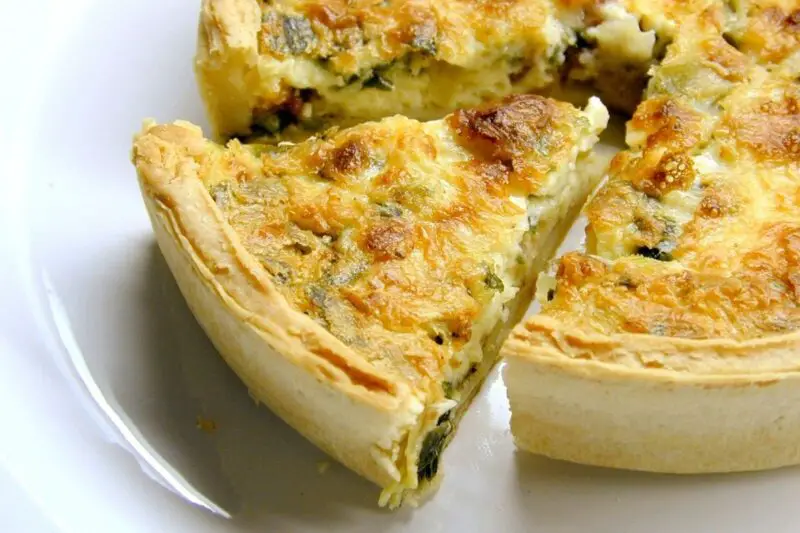 Everyone loves Quiché. It is the perfect side for a sunny afternoon.
Most of the time when Quiché is made, ham and cheese are added. But by adding chicken instead of ham, you open yourself to more flavor opportunities.
Chicken does not overpower other flavors like ham does, so you can add other things to mix.
If you want to make it rich, add a lot of cheese, or if you want to make it a more Mediterranean flavor, add olives. Make it a Quiché you want.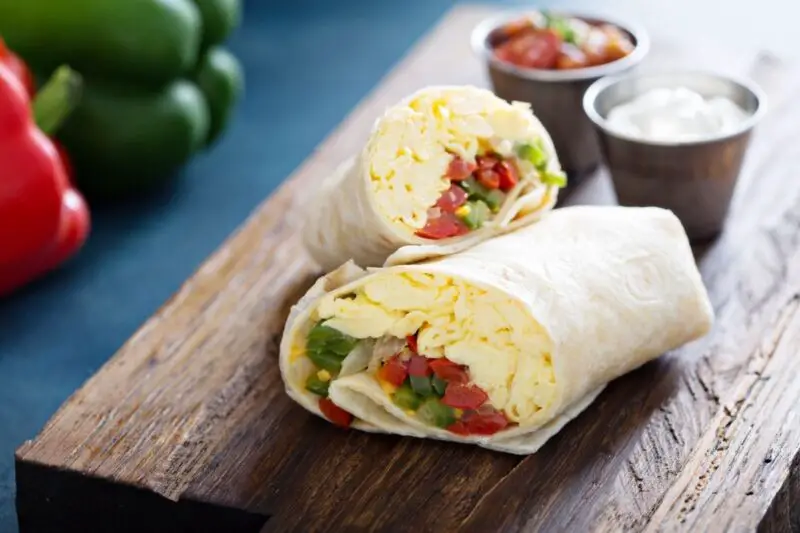 Burritos! The best handheld food around. Normally, you would have the protein be beef with rice and vegetables.
But, if you instead make it chicken, increase the spices slightly, and add an egg, then this makes a delicious dish.
All you have to do is whisk a couple of eggs, throw them in a frying pan, and put a tortilla wrap on top of the mixture before it fully cooks.
The egg will then stick to the wrap, and you can carefully turn it over and start adding the ingredients to it before rolling it up.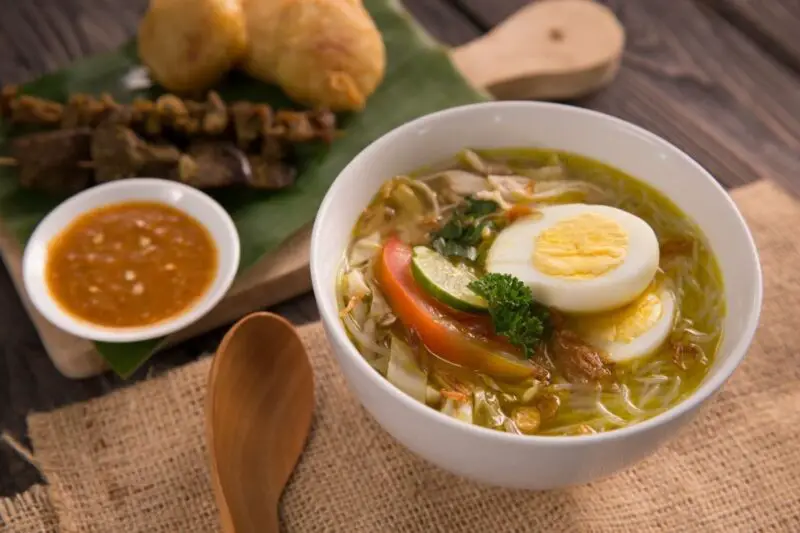 Chicken soup is the western food of medicine, like congee is in China.
It is supposed to make us feel better when we are sick, and often does so.
You don't need to change anything with this one, we are just using a little eastern flair to improve the dish.
In this instance, just add a hard-boiled egg without its shell and cut it in two to a bowl of soup and there you have it, a delicious chicken soup with a little extra.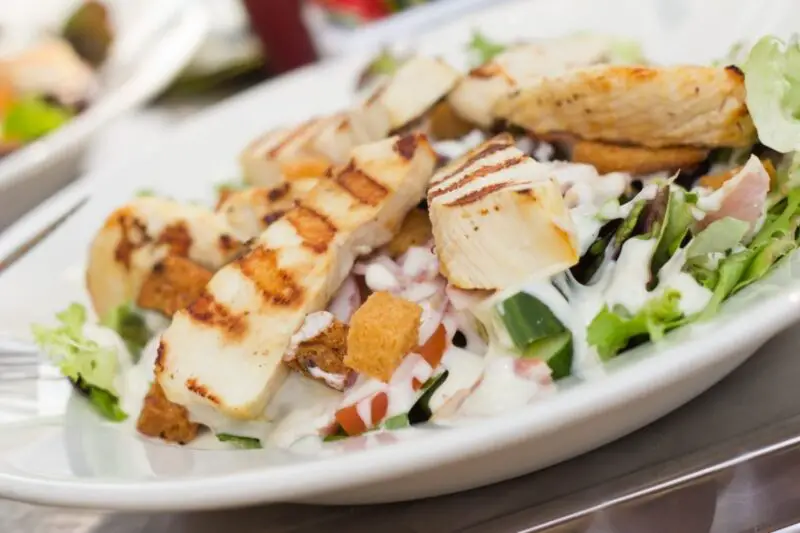 Niçoise salad is a classic Mediterranean dish that is made with tomatoes, hard-boiled eggs, olives, and anchovies or tuna and dressed with olive oil.
However, many variations include spinach or asparagus or lettuce as well.
In our variation, you can replace the fish with roasted chicken, or you can take away the tuna but have anchovies with chicken, creating a nice little juxtaposition between flavor and texture.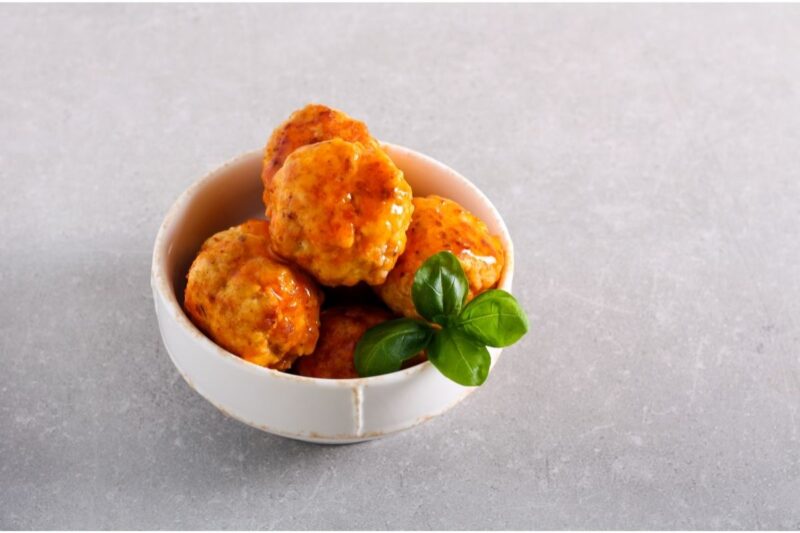 Meatballs are one of the most common and beloved types of food in the world.
They're easy to make, and they can be served as a snack, an appetizer, or a full meal.
Most meatballs are made with beef, but you can substitute them with other meats as well
Chicken meatballs are a nice lean alternative and by using an egg coating to keep them together, you can create a wonderful meal for the whole family without affecting your diet.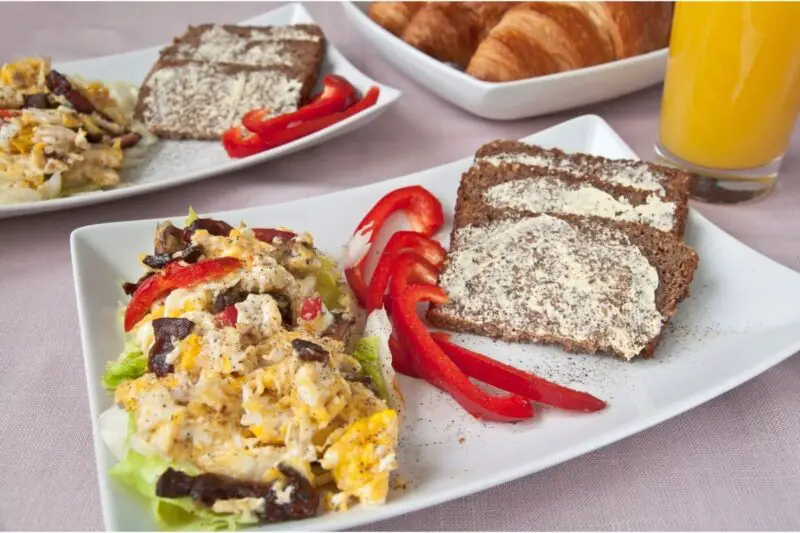 The last one is not necessarily a full recipe, but something we enjoy here.
Roasted chicken with herbs and lots of oil is absolutely delicious and decadent.
If you add fluffy, pillowy scrambled eggs to the mix, then you create a difference in flavor and texture that works really well together.
Adding vegetables to the side will help to not make this too protein rich, but consider your vegetables first.
If you want to keep the theme going, then add crunchy vegetables to oppose the soft eggs and juicy chicken.
Conclusion
We hope you enjoyed reading these 15 tasty chicken and egg ideas.
We definitely did. They range from classic dishes to fun new variations that everyone can enjoy trying.