The vast majority of Thai desserts will use wonderfully fresh fruit, sweet syrups and coconut milk.
While these desserts are notably sweet, they are also incredibly low in calories and fat.
Many of them are also gluten free and thus, you will definitely find a dessert option to suit you from the recipes that I have listed below.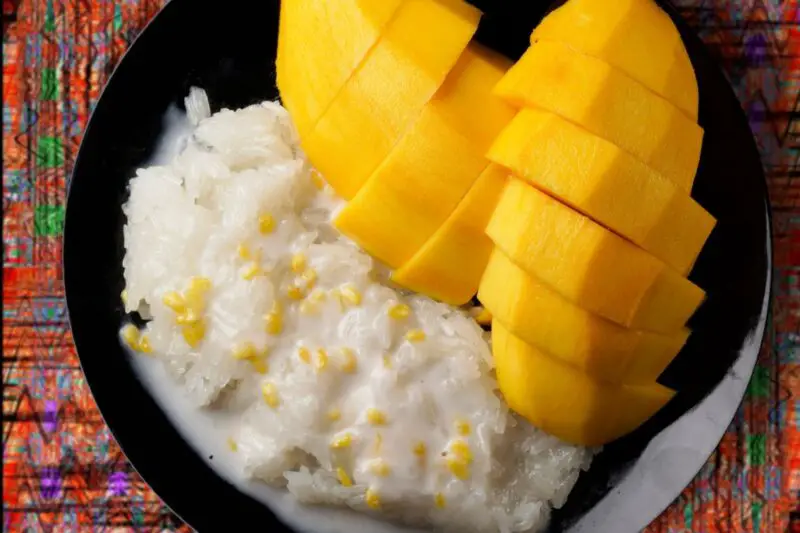 If you are seeking a classic Thai dessert, then you should definitely make your own Thai mango sticky rice.
This is an infamous dish across the world and is one of Thailand's most popular dessert dishes. 
The amalgamation of tropical flavors contained within this dish is beyond heavenly and thus, you will only need to source three key ingredients.
The rice itself is sweetened using coconut milk and served with mango cubes. Coconut sauce can also be drizzled on top of the rice in order to add more intensity to the dish. 
Coconut milk and mangos are also the main ingredient in this wonderful dessert.
Instead of a sticky pudding, this dessert carries a silky, jiggly texture.
It is as stunningly crafted as it is tasty, and thus, it is guaranteed to reach your heart.
The luscious yellow color showcases the vibrancy of the mangoes whilst the coconut milk ensures that the dessert remains nutty, creamy and rich. 
This gorgeously red dessert is otherwise known as Tub Tim Krob. Red rubies are a popular Thai dessert and this dish is incredibly easy to make.
Each bite you take will provide you with an abundance of nutty taste and texture via the watery chestnuts that have been infused with lashings of coconut syrup.
This dish is served with crushed ice which also makes it perfect for hotter days. 
This pudding is naturally gluten free and vegan. It uses non-dairy milk which means that you can enjoy this dish even if you are lactose intolerant.
Thus, it is one of the most inclusive dishes on this list.
The ripened mangoes bring an abundance of fresh flavor whilst the coconut milk and syrup mixture ensure that the pudding remains wonderfully creamy.
The tapioca pearls add a slight chew to the dish, ensuring that you savor the flavors accordingly.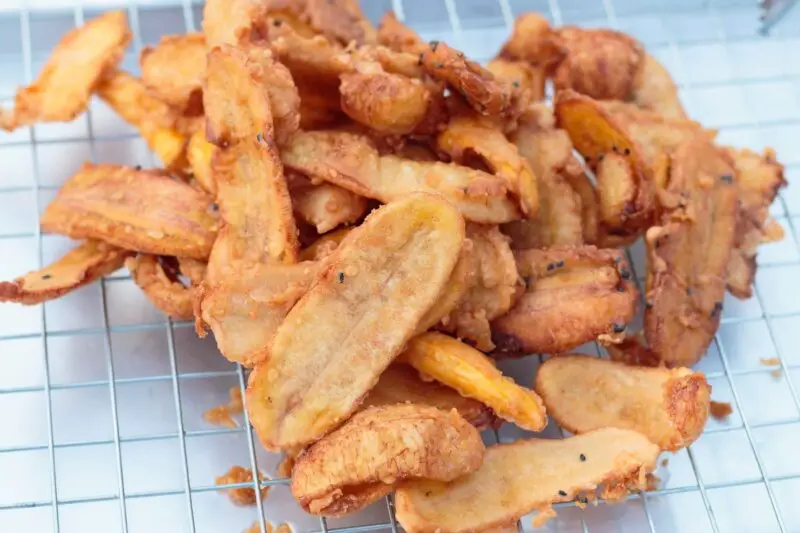 Another healthy, scrumptious recipe is Thai Fried Bananas.
These bananas are thoroughly and consistently coated with coconut flakes and sesame seeds, making them wholly delicious and crispy.
They can either be enjoyed on their own, or alongside coconut ice cream, which is ideal for children.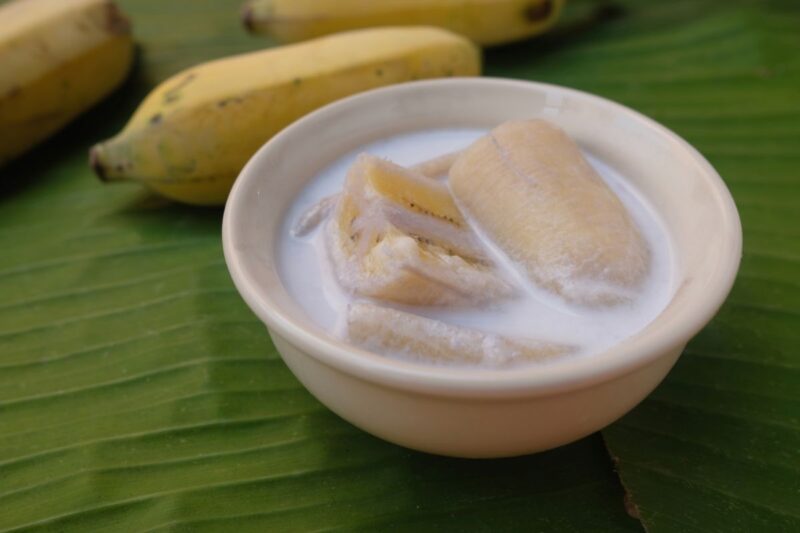 If you tend to eat bananas, this is the best recipe for you. In order to ensure that you cook your bananas correctly, you should make sure that you do not overcook them to avoid them turning mushy.
If you want to make the dis crunchier, then you merely need to top it off with seeds.
Your dessert will be ready within 15 minutes and can be served as a dessert or as a snack. 
This easy-to-make ice cream base requires only two key ingredients.
The best part is that you will not need to make standard ice cream as the mixture is merely placed onto a baking tray prior to being frozen and rolled up.
This desert is great when served with additional toppings including crushed Oreos, Nutella, diced berries, and more.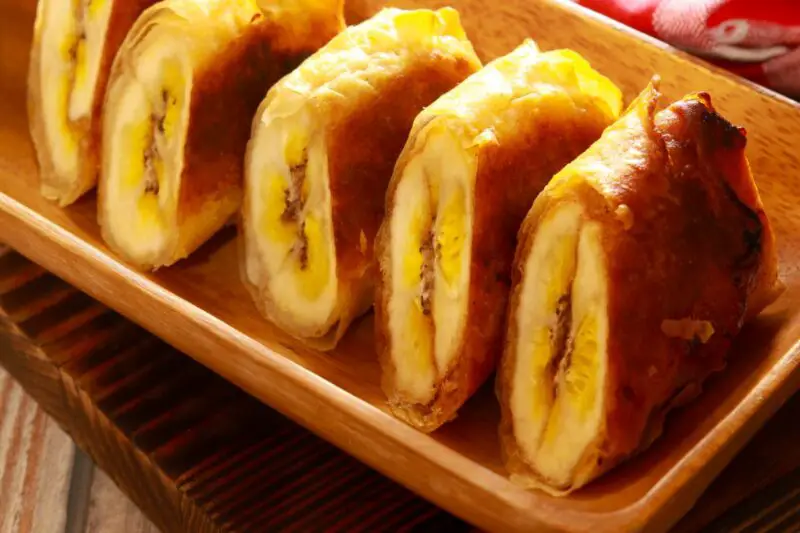 These deliciously more-ish, golden treats are crafted from spring roll wrappers and Saba bananas, making them one of the simplest things to make.
This sweet recipe is renowned within the Philippines where it is known by the name Turon.
To brown your spring rolls further, you can pan-fry them using butter and oil.
These can be enjoyed on their own or alongside a hot drink.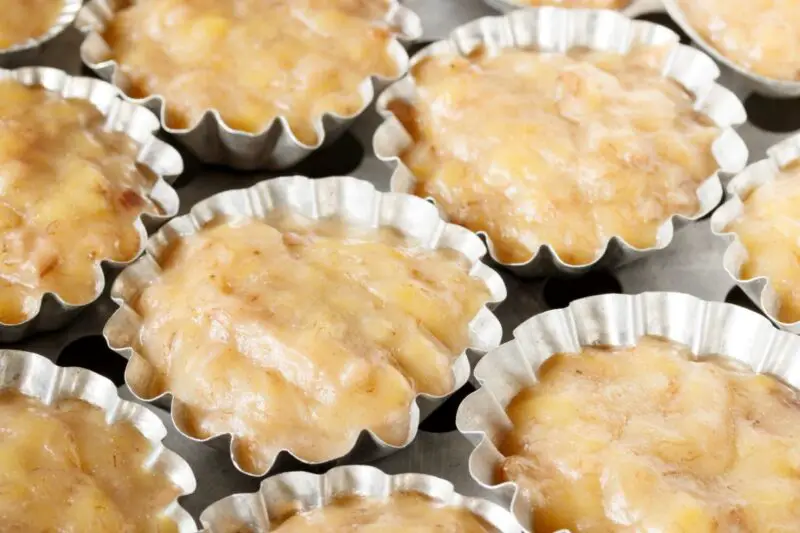 Thai steamed banana cakes are Vegan-friendly and beyond delightful to indulge in.
Most importantly, they are incredibly easy to make and require only a few ingredients.
If you already know how to mix and mash, you will have these made within 30 minutes.
All you need to do is combine coconut cream, potato flour, shredded coconut and sugar with mashed banana before steaming them on a high heat until they have become like jelly.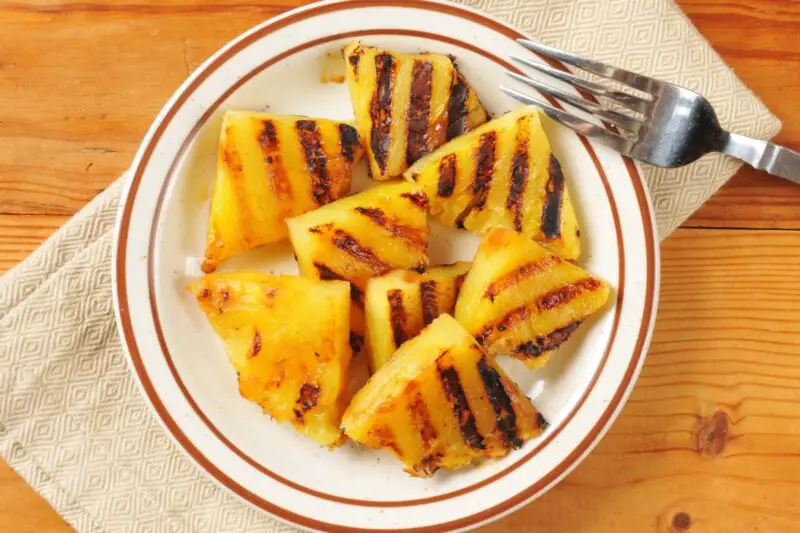 This is definitely one of the simplest Thai desserts that I have listed. You merely need to coat your pineapple slices in butter, lemon juice, and palm sugar in order to create a fresh flavor after you have grilled them accordingly.
Grating some coconut on top or adding some flavored yogurt is also a great addition to this dessert.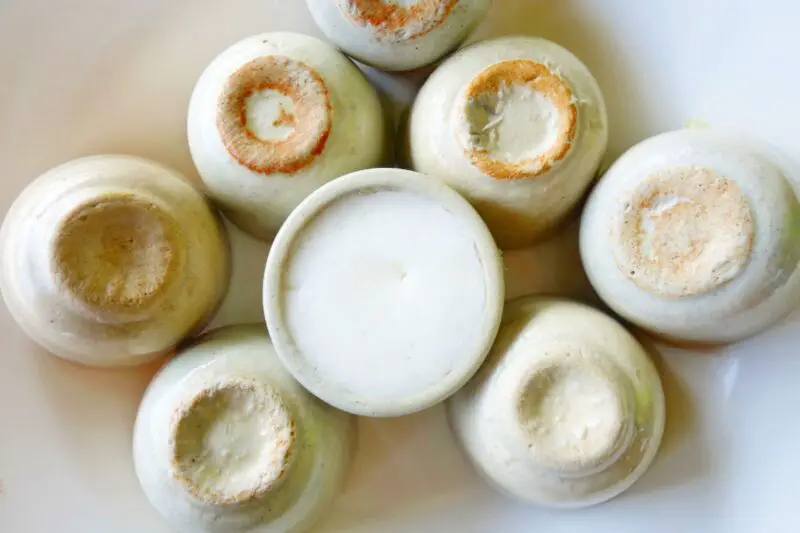 This recipe is incredibly easy to make and whilst it may not be the most attractive option on this list, it is undoubtedly creamy and delicious.
This dessert takes less than an hour to make and you will end up with a custard and macaroon amalgamation with an abundance of coconut flavor. 
These rice cakes are perfectly crisped due to them being deep-fried using vegetable oil until the kernels have been thoroughly puffed up and everything has browned to perfection.
You should also thoroughly utilize the sugar drizzle with this dessert as this will provide you with the utmost sweetness.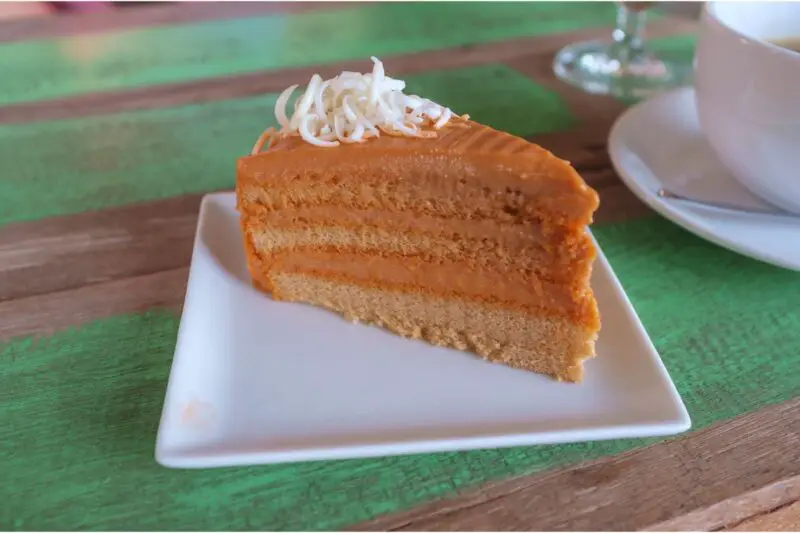 This recipe utilizes a tea-flavored cheesecake with a wholesome biscuit base that is guaranteed to crumble perfectly in your mouth.
Everything can be made in 45 minutes before being served cold, alongside a single scoop of ice cream. This is undoubtedly one of the best tea cakes ever!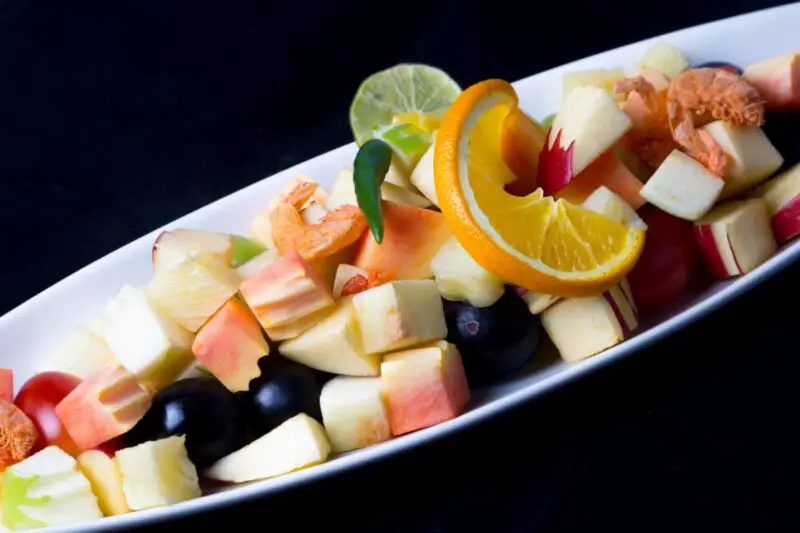 This dessert recipe is one of the most simple on this list and the Thai version of the fruit salad is both scrumptious and decadent.
This recipe requires all of the main tropical fruits that you adore including mangoes, bananas, and pineapples. Starfruit is also a must in order to add an aesthetic punch. 
All of the fruit is then mixed within a sweet dressing of lime juice, sugar and coconut milk.
If you are serving this fruit salad for a party, you may also wish to use a pineapple boat in order to make it stand out.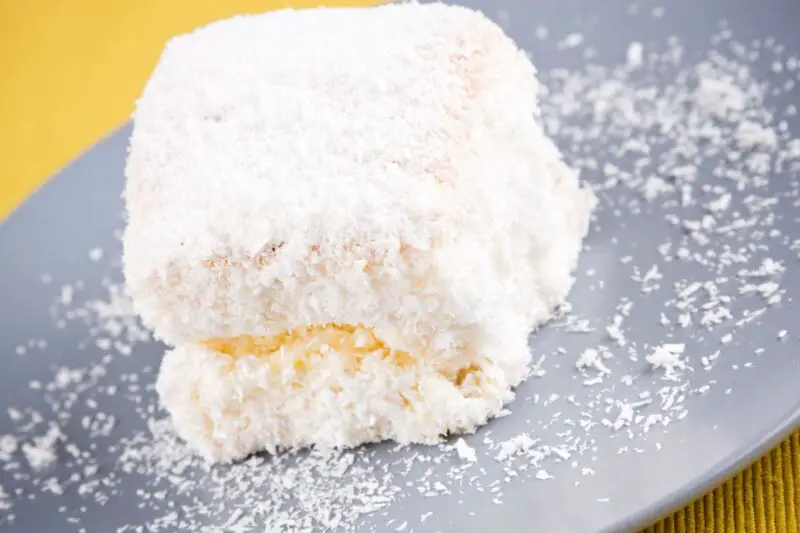 This cake has wonderful layers of texture that coexist within a crunchy top and a moistened center. Thus, this cake is guaranteed to leave you in awe after taking each bite.
The best part is that it is not too sweet like many other cakes and it fuses its delightful coconut flavor with fresh, coconut milk.
You can also spruce things up by adding coconut flakes and whipped frosting.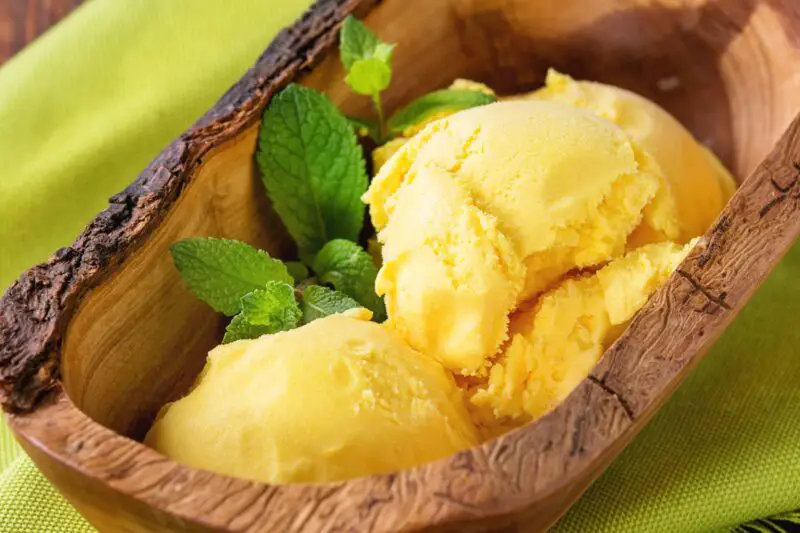 If you have tried mango cake and enjoyed it, then you will definitely love Thai mango ice cream.
Add some fresh mango pieces and drizzle some coconut sauce or rum on top for additional flavor. 
Conclusion
To conclude, these fifteen Thai dessert dishes are guaranteed to make you salivate and satisfy your palate with the utmost perfection.
Irrespective of whether you are a vegan, gluten-free or lactose intolerant, you are guaranteed to find the right dessert to suit your individual needs in the list above.
The best part about making Thai desserts is that they do not tend to require an abundance of ingredients, these dishes are simplistic yet more-ish and you can amalgamate their natural abundance of flavor with syrup-based additions or coconut flakes. 
In this sense, these dishes are easily able to be made, even if you are an inexperienced cook.
This is because they do not require the utmost skill to prepare, and instead rely on their natural flavor to do most of the work. 
As always, it is important to source the most natural and freshest ingredients that you can find in order to bring the abundance of flavor contained within each dish to the forefront.
The same applies irrespective of whether you are working with bananas or not. 
Mixing mashed bananas that are older may be easy but it will not provide you with the same fresh taste.
Thus, it is always important to use the freshest ingredients regardless of what that ingredient is. 
One of the key ingredients that has been outlined in the Thai dessert dishes listed above, is mangoes.
Mangoes are a great source of vitamins and these are the perfect fruit to indulge in during the summer season. 
Pineapple is another ingredient that is commonly used within Thai dessert dishes and this is because these fruits are arguably some of the sweetest fruits available.
Ensuring that you are sourcing the freshest mango and pineapple will provide you with an abundance of flavor that is unmatched. 
Overall, you are guaranteed to find a thai dessert option that suits you in this list and I have that you have enjoyed reading this article.