Nothing gets a party started as well as shots. You can never go wrong with a shot of tequila, but if you want to make it a little more interesting, impress your party guests with this Mexican candy shot recipe. Keep reading to learn how to make this shot for good times with your friends!
What is a Mexican Candy Shot?
A Mexican candy shot is best described as a flavorful shot that tastes complex but is simple to make. Although its origins are unknown, it's inspired by a spicy Mexican watermelon candy called lollipops and is said to taste like these delicious treats. Much of the flavor from these sweet and spicy drinks comes from the contrast of the spice with the sugar-rimmed glass. 
As you may guess from the name, the base of this shot is tequila. Because of the sweet and spicy flavor of this shot, you can choose any tequila you wish. For the best Mexican candy shot flavor, you want to go with good quality tequila. If you want a stronger flavor, seek tequila with higher alcohol content. 
Although watermelon is the typical juice used to make this drink, you can choose any fruity flavors you like. Better yet, don't be afraid to experiment with different juice bases to make different variations of the Mexican candy drink for your guests to try and choose their favorite!
Popular options include:
Strawberry juice
Fruit punch
Raspberry juice
Grapefruit juice
Guava juice
You can also experiment with other fruit flavors, like pineapple or mango juice; however, if you want to keep the traditional look of a Mexican candy shot, we recommend that you choose a fruit juice with a red or pink color, no matter the flavor. 
A Mexican candy shot recipe isn't complete with the heat factor, and the secret ingredient that gives this shot that kick is hot sauce. Choose your favorite hot sauce, one with a mildly acidic flavor that's still spicy. We find that Tabasco has the perfect blend of flavor and spice level for this shot.
Other ingredients you need for a Mexican candy shot include:
Now that you know all about this fun party shot, you're ready to gather all of your ingredients and learn how to make your own. 
Mexican Candy Shot Recipe
Making a Mexican candy shot is quite simple and doesn't take a lot of time or preparation. Chances are that you already have all of the ingredients for this shot in your kitchen!
Recipe makes 10 shots
Ingredients
4 ounces of tequila
6 ounces of the fruit juice of your choice (watermelon, guava, strawberry, fruit punch)
4 limes, cut into wedges for serving
Sugar for the rims (about 2 tablespoons)
Hot sauce to taste
Ice cubes 
A cocktail shaker
10 cocktail glasses
Mexican Candy Shot Recipe Preparation Instructions
Step 1: Make sure all your ingredients are prepped and gathered together. 
Step 2: Pour the sugar on a small plate. Take one of your lime wedges and rub it along the rims of each glass. Then dip the rims of the glasses into the sugar.
Step 3: Add the remainder of the ingredients except for the lime (tequila, juice, hot sauce, and ice) into the cocktail shaker and shake well. Taste after a few shakes. If you desire a sweeter taste, add additional sugar to taste and shake again until the sugar is dissolved.
Step 4: Strain the drink into your chilled shot glass and serve with the lime wedge. 
Mexican Candy Shot Recipe Tips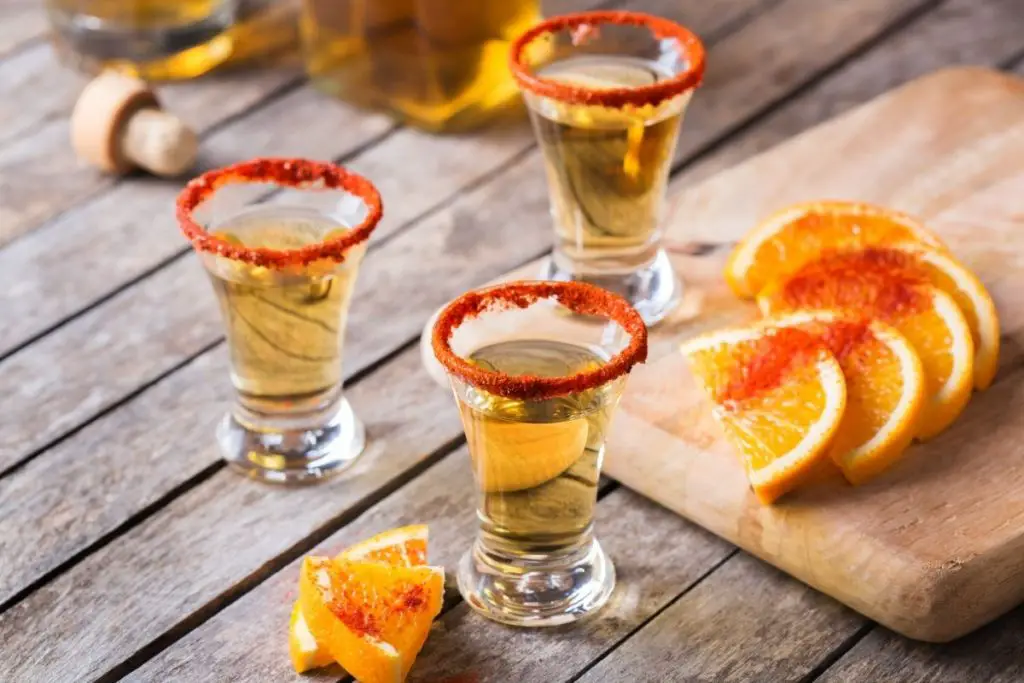 This shot is straightforward enough to make, but there are a few changes you can make to it to make it your own. Here are a few additional tips to switch up this Mexican candy shot recipe.
Adjust the ratio of tequila to juice. This recipe uses a 2:3 ratio, but you can use a 1:2 ratio if these shots are too strong. Of course, you can also make it stronger by adding more tequila than juice!
If you use watermelon juice, try using watermelon as a garnish instead of lime. Likewise, you can switch out the sugared rims for tajin or chile powder to give this recipe some extra spice!
Try this tasty shot as its own alcoholic beverage! You can easily turn this Mexican candy shot into a cocktail by adjusting the amount of juice and tequila, adding other ingredients to taste, and garnishing with a watermelon piece. Considering that you won't take it as a shot, you may want to add more sugar and less tabasco sauce to make the taste more palatable. 
Try a mix of juices, such as mango and strawberry, to get even more of a unique flavor. If you use a freshly squeezed or natural juice, you may need to add more sugar to the shot. 
Conclusion
If you want to serve your party guests a shot that they'll be talking about for days to come, this Mexican candy shot recipe will ensure just that.
Easy to make with a unique flavor, you can adjust this shot to suit your taste buds and make it your own. If you're daring, add a few extra dashes of tabasco sauce just before taking the shot!
If you prefer a vodka-based fruity flavor shot, check out this Fruit Loop Shot Recipe.
Mexican Candy Shot Recipe
This easy Mexican candy shot recipe is sweet and spicy. It's bound to be the star of any party!
Type: Drinks
Cuisine: Mexican American
Keywords: Mexican Candy Shot Recipe
Recipe Yield: 10 servings
Calories: 34 Kcal
Preparation Time: 2M
Cooking Time: 3M
Total Time: 5M
Recipe Ingredients: Tequila, juice, lime, sugar, hot sauce, ice. 
Recipe Instructions: Rim the shot glasses with sugar and combine all remaining ingredients in a cocktail shaker. Serve in sugar-rimmed shot glasses.