Say goodbye to mundane red tomato sauce! Alfredo sauce is a game-changer for food enthusiasts seeking a new taste adventure. Brace yourself for a divine blend of creamy butter and tantalizing cheesiness that sets this recipe apart from the ordinary. And here's the kicker: imagine homemade, mouthwatering ravioli crowned with a generous drizzle of Alfredo sauce, creating the ultimate snack sensation. Today, we're diving into the realm of Maggiano's pesto Alfredo sauce recipe, where culinary magic awaits.
This delectable ravioli recipe has won the hearts of food lovers across all generations, thanks to its heavenly flavor combinations that never disappoint. The best part? Preparing the Pesto Alfredo sauce and crafting the ravioli at home is a breeze, as the methods are delightfully simple. So, when your snack cravings hit, this marvelous meal is guaranteed to satiate your appetite.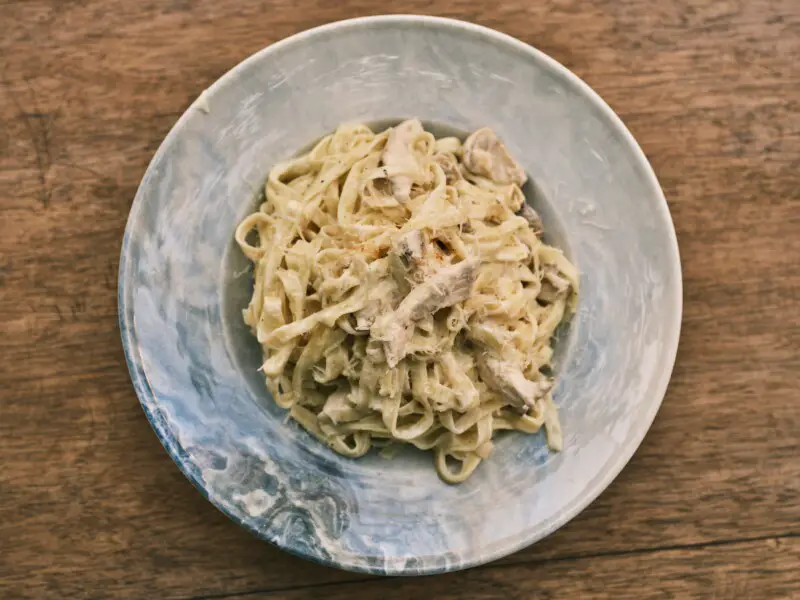 Four Cheese Ravioli with Alfredo Sauce
Now, picture this: luscious layers of cheesy ravioli infused with the extraordinary Alfredo sauce, elevating the entire dining experience to new heights of indulgence. Ready to embark on this flavor-packed journey? Let's dive right into the step-by-step preparation and gather the essential ingredients for creating Alfredo sauce and Cheese Ravioli Alfredo.
Ingredients:
For the Alfredo Sauce:
1 ½ cups of cream
1 cup of shredded cheese
2 sticks of butter
2 cloves of minced garlic
½ tsp of salt and pepper to taste
For the Ravioli:
1-package of four-cheese ravioli
2 sticks of butter
2 cloves of minced garlic
2 cups of cream cheese and heavy cream
½ cups of Parmesan cheese
½ tsp of salt and black pepper
Methods of Preparing Step by Step:
Step 1:
To prepare the upper Alfredo Sauce topping, pour melted butter sticks, cream, and minced garlic in a saucepan. Start to heat over medium flame and sauté to make a smooth cream. Then add shredded cheese and sprinkle salt and pepper.
Step 2:
Cook the sauce mixture for 10-15 minutes and then set aside. Meanwhile, let's start the Ravioli recipe. Take the packed four-cheese ravioli in salted boil water and cook until it gets tender. Then drain the water and keep it aside.
Step 3:
Now let's make the saucy gravy texture for the ravioli. In a skillet, melt the butter sticks and add cream cheese. When a smooth melted mixture of cheese and butter appears, add heavy cream to the skillet and stir for a few minutes.
Step 4:
After that, sprinkle salt, pepper, and minced garlic along with Parmesan cheese while mixing. Then close the lid of the skillet and cook the mixture to get a thicker gravy sauce.
Step 5:
Finally, take the prepared ravioli in a serving bowl and then toss the upper layer with warm Four Cheese ravioli sauce and Alfredo sauce on top.
Then the mouth-watering Maggianos Four Cheese Ravioli is ready to be served.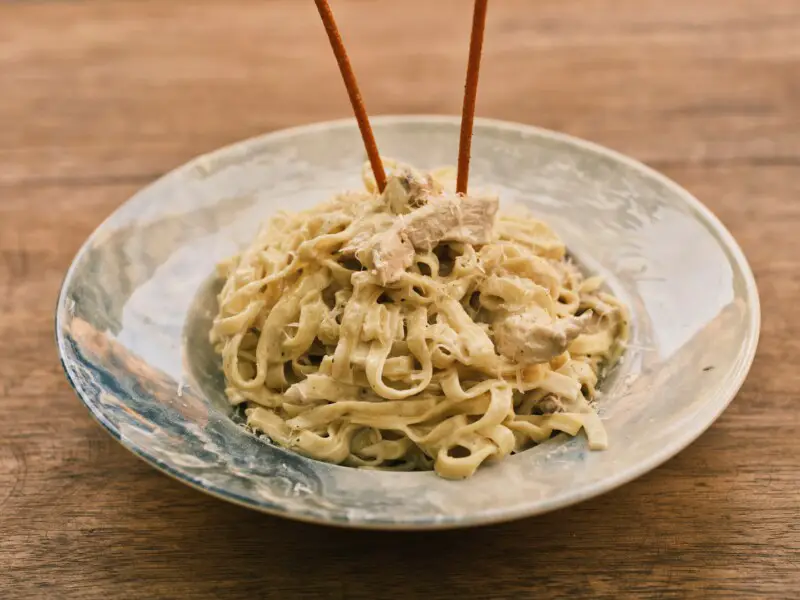 Conclusion
Prepare to tantalize your taste buds with the irresistible combination of Alfredo sauce and Cheese Ravioli. This divine dish is perfect for serving as a snack, at outdoor gatherings, or even as a delightful surprise for unexpected guests. Each bite will transport you to a realm of creamy cheese bliss, leaving you craving more.