Get ready to experience the epitome of deliciousness with McAlister's Fire Roasted Vegetable Soup Recipe. It's time to unlock the secrets of this flavorful delight, packed with a medley of perfectly chosen vegetables and a sprinkle of aromatic spices.
Weekend nights are eagerly anticipated in my family, solely for the joy of indulging in this special soup. So, enough chatter, let's dive right into the recipe and discover the magic!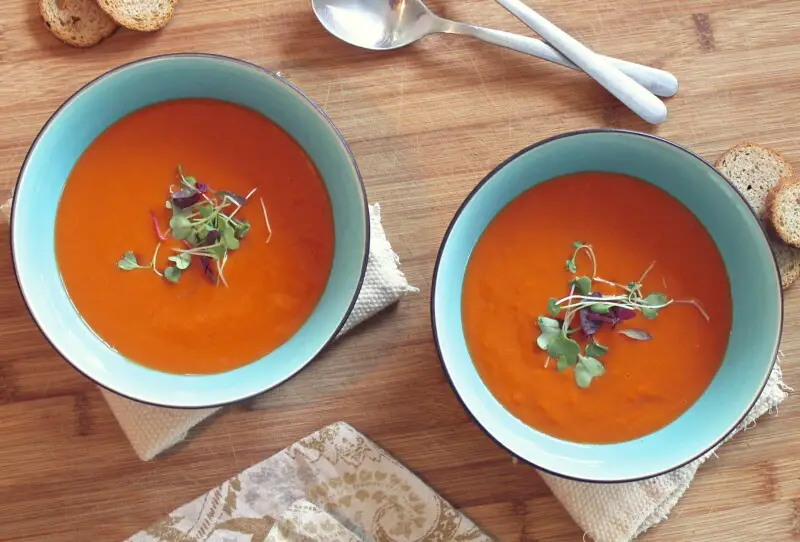 Roasted Vegetable Soup Recipes
Prepare to be amazed by the incredible taste explosion of this grilled vegetable soup. Crispy sweet onions, the irresistible allure of garlic, and the smoky touch of roasted paprika will dance on your taste buds with every spoonful. Brace yourself for the harmonious blend of carrots, zucchini, and paprika that unveils itself in each delightful bite.
Here is the list of ingredients and the directions. 
Roasted Tomato Vegetable Soup Ingredients:
2 Tbsp of Extra Virgin Olive Oil
2 Cups of Zucchini, Finely Chopped
2 Cups of Carrots, Finely Chopped
1 1/2 Tsp of Smoked Paprika
1 Cup of Frozen Whole Kernel Corn
2 Cups of Tomatoes, Fire Roasted Diced and Undrained
5 Cups of Water
10 Oz of Tomato Paste
1 Cup of Sweet Onion, Finely Chopped
2 Tbsp of Finely Chopped Garlic
1 Tsp of Kosher Salt or to Taste
½ Tsp of Freshly Ground Black Pepper or to Taste
¼ Tsp of Red Pepper Flakes (Optional)
Methods of Preparing Fire Roasted Vegetables Soup Step by Step:
Step 1: At first, prepare 2 cups of fire roasted tomatoes or use canned tomatoes from the store.
Step 2: Now, take out an electric air fryer and heat 2 tbsp of extra virgin olive oil in the Electric Air Fryer. 
Step 3: Saute 1cup of sweet onion and 2 tbsp of chopped garlic for about 10 minutes. 
Step 4: Now add the remaining vegetables: 2 cups of zucchini, 2 cups of carrots, and 1 cup of whole kernel corn in order to the sauté pot.
Step 5: Gently pour your Fire Roasted Tomatoes in the pot and cook for 2 minutes to 3 minutes.
Step 6:  Now, pour 4 cups of water, 10 oz. of tomato paste, 1 tsp of kosher salt, ½ tsp of freshly ground black pepper, ¼ tsp of red pepper flakes, and 1 ½ tsp of smoked paprika together in the sauté pot.
Step 7: What you need to do now is to cook the soup in the electric pressure cooker using the soup setting option. In my pressure cooker, it takes 10 minutes to prepare the soup. In your case that may differ. 
Finally, let the Electric Pressure Cooker release on its own. Remove the soup from the cooker and spoon to the serving bowl hot.
Conclusion:
If by some miracle, any of this delectable soup remains, simply store it in a container and pop it in the refrigerator. It will stay fresh and scrumptious for up to a week. Trust me, once you've experienced the magic of this recipe, it's destined to become a star on your special occasion menu. So, let the excitement fill your kitchen as you embark on this not-so-difficult culinary adventure. Chop, chop, and let the electric pressure cooker work its wonders. Get ready to savor every spoonful of pure deliciousness!
You May Also Like: