Ice cream is a universally loved dessert! It is also one of the most versatile. There really is an ice cream out there for everyone. But have you ever tried to make your own? 
Our no-churn Moose Tracks ice cream recipe will show you how!
Moose Tracks ice cream is a delicious and fun beginner-friendly recipe for the entire family.
What Is Moose Tracks Ice Cream?
For those of you who don't know, Moose Tracks ice cream originated in 1988 at a Michigan ice cream shop. It is a delicious vanilla ice cream littered with yummy peanut butter cups and chocolate fudge swirls. 
If you love peanut butter and chocolate, this one's for you!
What Does No-Churn Ice Cream Mean?
You might think you need a fancy ice cream maker to make homemade Moose Tracks ice cream, but that couldn't be further from the truth! 
There are plenty of no-churn ice cream recipes out there. This easy Moose Tracks ice cream recipe is one of them. 
No churn recipes are best for ice creams that don't need eggs. It is also a much easier way of making ice cream than using an ice cream maker.
Our Delicious No-Churn Moose Tracks Ice Cream Recipe
Our yummy homemade Moose Tracks ice cream recipe is perfect for a hot summer's day. It is also a fantastic dessert to offer ‌dinner guests.
Our homemade Moose Tracks ice cream recipe is super easy and ideal for newbie chefs, teens, and kids! 
All it takes is four easy steps, a few easy-to-find ingredients, and 10 minutes of prep time. This recipe calls for peanut butter cups, chocolate fudge sauce, and a refreshing vanilla base.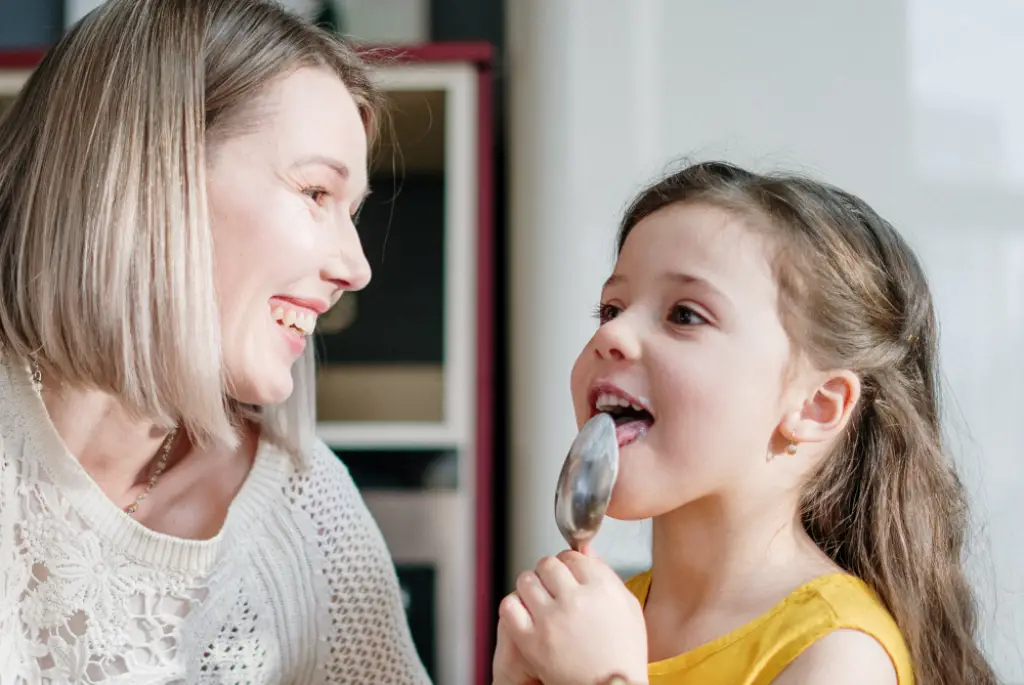 The Fudge Sauce
Chocolate fudge sauce adds a delicious sweetness to your ice cream and is perfect if you have a sweet tooth. Here is our recipe for quick and easy chocolate fudge sauce.
Ingredients
One of the critical aspects of real Moose Tracks ice cream is the fudge sauce. You can make it from scratch or get some from the store. 
If you're keen on trying your hand at some fudge sauce, here's what you'll need:
4 ounces of dark chocolate (chopped)
⅓ cup of heavy whipping cream
The Recipe
Contrary to popular belief, making a yummy chocolate fudge sauce is as easy as pie! Here's what you need to do!
Add your heavy cream and your chocolate to a microwaveable bowl. 
Microwave your mixture for 1 – 2 minutes until the chocolate melts when stirred. 
We recommend you heat the mixture slowly. Try 30-second increments to avoid burning the cream and chocolate. If you end up overcooking the chocolate, it'll become grainy and lose its delicious texture and taste. 
Stir your mixture carefully until the chocolate and cream combine into a smooth fudge sauce.
Set your sauce aside and allow it to cool to room temperature. 
Here's a quick tip: If you want a thicker chocolate fudge sauce, add a cup of mini marshmallows to the mixture. The marshmallows also add a touch more sweetness to your homemade ice cream. 
The Ice Cream
Ice cream is an incredibly versatile dessert. When making it homemade, you can use a simple base recipe and customize it to your preferences. 
Our ice cream recipe is a vanilla base, but you're more than welcome to try a strawberry or chocolate ice cream base if you want to spice things up!
Ingredients
You can quickly and easily find the ingredients you need at your local grocery store. Here's what you'll need to make our refreshing vanilla ice cream:
2 cups of heavy whipping cream
1 (14 ounces) can of sweetened condensed milk
1 tablespoon of vanilla extract 
1 cup of Reese's peanut butter cups (chopped)
With these ingredients, you'll be able to make about 2 quarts of ice cream. If you'd like to make more, just double the ingredients! 
This recipe is a fantastic base. However, you're more than welcome to make alterations. We recommend adding more peanut butter cups if you're looking for more bursts of sweetness.
The Moose Tracks Ice Cream Recipe
This recipe is quick and easy. It should take you around 5 – 10 minutes to complete. In fact, the longest step is freezing the ice cream overnight to set it. Here's what you need to do:
Take a large mixing bowl and whip your cream at high speeds for around 3 minutes. You want to beat it until it forms stiff peaks. 
Gently fold in your sweetened condensed milk and vanilla extract. 
Add your Reese's peanut butter cups (or a brand of your choice) to the mixture and gently combine. 
Scoop your mixture into a container. You could use an ice cream tub or a loaf pan. 
Add your chocolate fudge sauce, alternating the drizzle to create a lovely swirling pattern. 
Use your spoon and gently swirl the fudge sauce into the mixture. Be careful not to over-mix the fudge into the ice cream. You want a swirling effect. You risk losing what makes Moose Tracks ice cream special by thoroughly blending the fudge. 
Wrap up your mixture and freeze overnight. 
Scoop out your creamy vanilla ice cream and enjoy!
What makes this recipe great is that, if stored correctly, the ice cream will last you up to 1 month!
Toppings
Adding toppings to your Moose Tracks ice cream is a great way to add a personal touch to this recipe. There are a plethora of toppings to choose from! The possibilities are endless. 
Our favorite topping for Moose Tracks ice cream is mini peanut butter cups, but you could also add some mini marshmallows. 
Here is a list of our favorite toppings:
Chocolate chips
Crushed peanut butter cups
White chocolate chips
Sea salt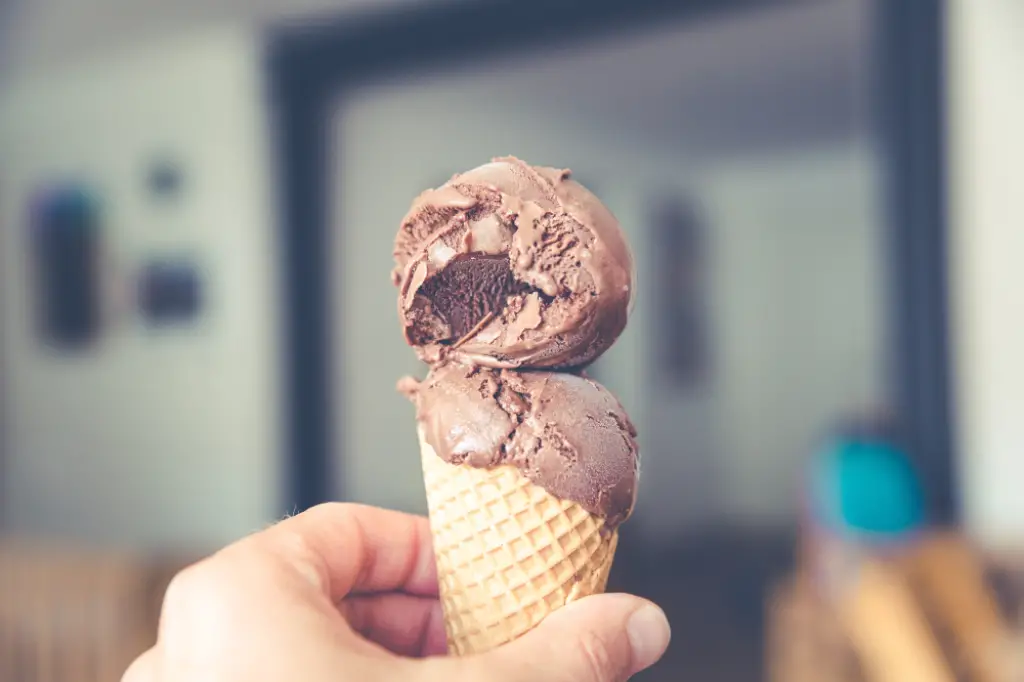 Moose Tracks Ice Cream Tips And Tricks
We've added our favorite tips and tricks to help you make the most out of our ice cream recipes. 
Use a metal container: Using a metal container to freeze your ice cream will make it freeze much faster. Reducing the time you need to freeze your ice cream allows you to enjoy your frozen treat in no time!
Do not substitute: Ice cream is very customizable, but we strongly advise you not to mess with the core ingredients. Substituting the core ingredients could change the taste and texture of your Moose Tracks ice cream. 
Use a wet ice cream scoop: This might sound like a no-brainer, but we think it is worth mentioning. Using a damp ice cream scoop makes scooping much more manageable and smoother, especially when making ice cream cones. 
Our Favorite Ice Cream Recipes
If you're looking for more fun and easy ice cream recipes, check out our list of favorites!
Fair warning, some of these recipes might need an ice cream maker, but we have a ton of no-churn recipes available. 
The Wrap-Up!
Making ice cream doesn't need a fancy ice cream maker or high-tech kitchen equipment. You don't need to fork out a ton of cash on ingredients with our recipes, either! 
Our Moose Tracks ice cream is quick and easy to make, so why not try your hand at it!