If you're looking for a tasty Sex In The Driveway drink recipe, you're in the right place!
The Sex In The Driveway cocktail is the Millenials answer to the popular Sex On The Beach cocktail. Sex In The Driveway is different because of its striking blue color and fun-filled fruity flavors! 
Follow our easy recipe to make this tasty cocktail!
What Does A Sex In The Driveway Drink Taste Like?
This delectable, aphrodisiac drink seamlessly brings together the flavors of lemon-lime, orange, and peach in a burst of fun-filled flavor. It's a bit on the sweeter side of life, with delicious blue Curaçao as the favored cherry on top.
On the other hand, you'll find that the Sprite lends an excellent lemon-lime acidity while the soda bubbles give it a light, refreshing feel.
The ice keeps it chilled, and the bubbles provide a slight pop when you listen closely. We doubt you would have time for that since the exotic flavors will charm you!
How Strong Is A Sex In The Driveway Drink?
Sex In The Driveway tastes good, is simple to make, and looks stunning.
It's light enough for casual get-togethers and dates. However, like most drinks containing alcohol, we recommend that you always enjoy it responsibly.
Sex In The Driveway is strong enough for habitual drinkers to enjoy without causing you to loosen your tongue too much. Unless you keep drinking more, in which case, please don't say we didn't warn you!
Since we prepare it in a tall cocktail glass, it should take some time to consume unless you're trying to drown your sorrows over a lost love. 
The tall glass also means the alcohol is more spread out or diluted in the glass, making it less potent if you are drinking it slowly.
As a result, this cocktail is more a lengthy, thirst-quenching delight than a drink that will knock you off your feet. 
It is tasty enough to appreciate while passing the time and simply going with the vibe. You can enjoy it while waiting for your date, friends, or having a night out by yourself.
It's also a drink that keeps you hydrated compared to other alcohol-filled drink recipes. 
You probably don't want to use it to replace your post-workout drink, though. However, it is a good pick for a busy night of dancing and shaking, or a lazy day at the pool.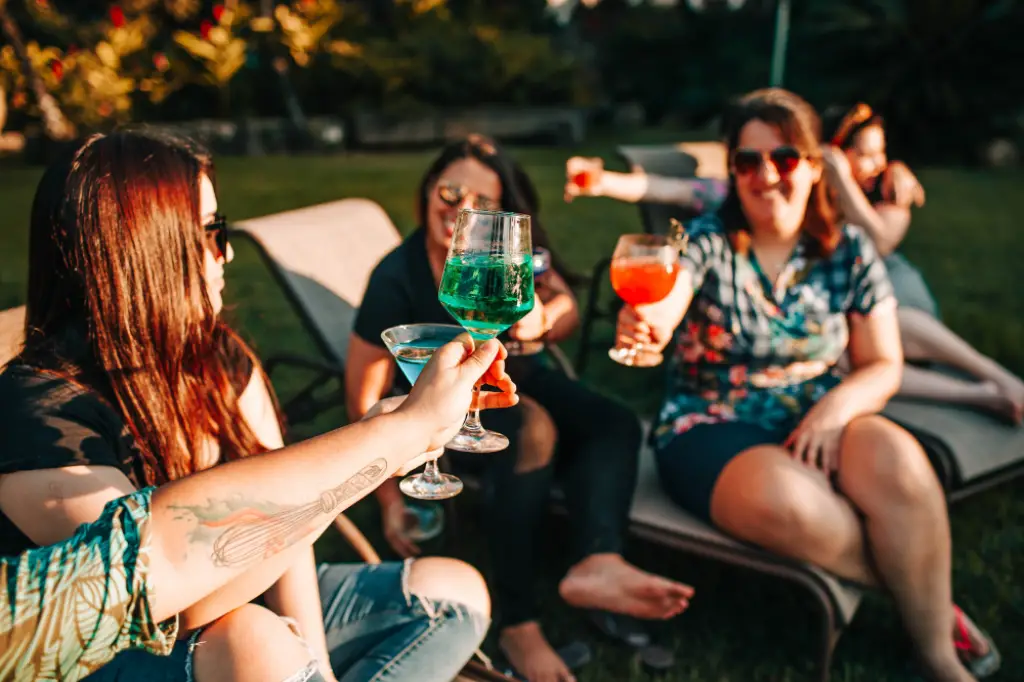 Sex In The Driveway Drink Recipe
When you follow our Sex In The Driveway drink recipe, you can quickly make a delicious mixed cocktail that is perfect for night-out gatherings! 
Here's our Sex In The Driveway drink recipe. This easy recipe will make one serving.
Ingredients
30ml / 1 ounce Blue Curaçao
Crushed ice
Garnish of choice
30ml / 1 ounce Peach Schnapps
100 ml/ 3.4 ounces Sprite or other lemon-lime soda
60ml / 2 ounces Vodka
Directions
Fill a cocktail glass or a tall glass with crushed ice.
Fill the glass halfway with Sprite.
Combine the Schnapps, Blue Curaçao, and vodka in the glass.
Top it off with a garnish of your choice.
How To Drink A Sex In The Driveway
This cocktail is an excellent drink on a hot day. It has a refreshing taste because of the citrus flavor and carbonation.
Its primary flavors are fruity citrus and peach. These flavors complement a wide range of dishes. As a result, it goes well with nearly anything, including heavy and oily dishes.
How To Make A Low-Carb Sex In The Driveway Drink Recipe
If you're a calorie counter, you could still enjoy this tasty cocktail. It's easy to make a low-carb version of the Sex In The Driveway cocktail.
Simply use vodka, sugar-free Sprite, and a few drops of electric blue water enhancer to make it low-carb. If you can find sugar-free peach syrup or a water enhancer, use it.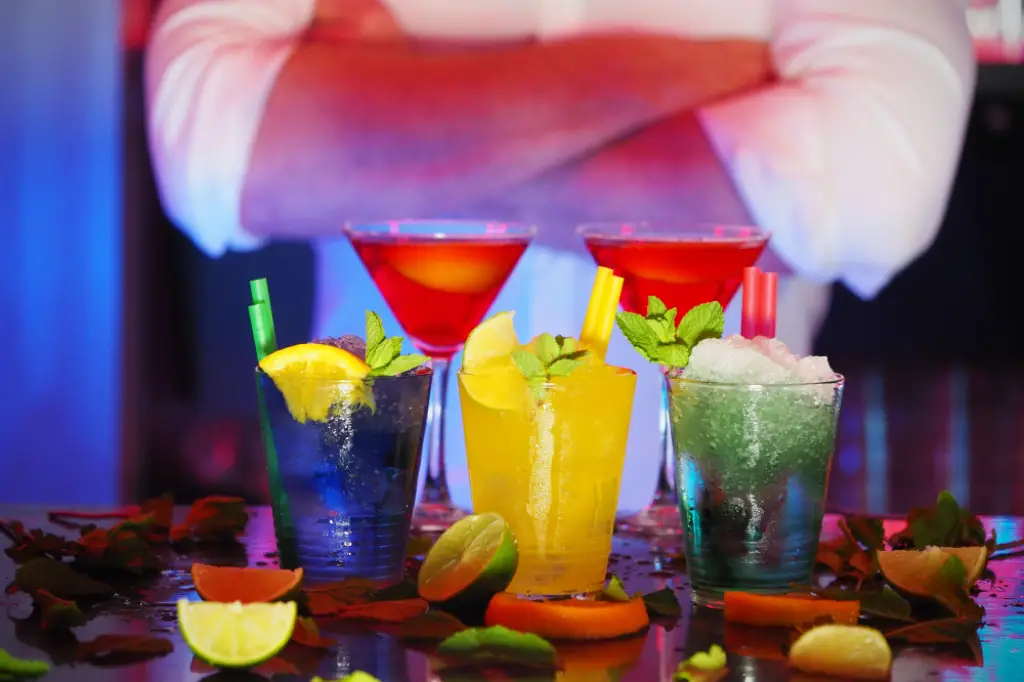 Extra Tips For Making A Tasty Sex In The Driveway Drink
Our Sex In The Driveway drink recipe is easy to customize to suit a variety of lifestyles. Here are some extra tips to make it truly unique:
If you find this fruity mixed drink overly sweet, try substituting club soda. You get a lovely color and delightful bubbles but no added sweetness.
Prepare this ahead of time and store it in pint jars with lids for parties. 
Seal the jars and place them in an ice-filled container. Your drinks will stay cool and bubbly. You'll be able to enjoy your party in style!
This recipe makes a delicious slushy drink if you have an ice cream maker! Alternatively, you can use a margarita machine!
The Wrap-Up!
It's difficult to dislike our Sex In The Driveway drink recipe. Anyone will quickly fall in love with this tasty cocktail. Remember, enjoy it responsibly, and don't be afraid to experiment by substituting ingredients.