Boredom-Busting, Lockdown-Loving, Chicken-Stuffing Madness:
Ruth's Chris Stuffed Chicken Recipes You Can't Resist
Alright, lockdown's got us all feeling like a bunch of caged hens, amirite? And if you're a foodie and chicken aficionado like me, you've been itching to break out and peck at some restaurant-quality grub. But when life gives you lockdown, it's time to turn your kitchen into your personal Ruth's Chris Steak House.
That's right, folks! Today, I'm serving up not one, but TWO lip-smacking, hilarious, and dare I say… cluck-tastic Ruth's Chris stuffed chicken recipes that'll make you forget all about those fancy restaurants you're missing.
Recipe 1: Ruth's Chris Stuffed Chicken à la Quarantine
This recipe's so easy, even a cooped-up chicken could make it. Gather the usual suspects from your local supermarket and let's get clucking!
Ingredients:
2 thick skinless and boneless chicken breasts
1, 8 oz package of cream cheese
1/2 cup shredded sharp cheddar cheese
2.5 tablespoons dry hidden valley ranch seasoning
1/2 teaspoon pepper
1 teaspoon Worcestershire sauce
2 sprigs of thyme leaves
Salt & garlic powder 
Paprika for color
olive oil
How to make Ruth's Chris stuffed chicken step by step:
Step 1: Preheat that oven to 450°F like you mean it. We're looking for soft, crispy, and juicy chicken, folks!
Step 2: Cream cheese party! Mash it up with some dry hidden valley ranch seasoning, thyme, shredded sharp cheddar cheese, salt, and pepper. Be prepared to bask in the heavenly smell wafting from this cheesy concoction.
Step 3: Chicken time! Cut a pocket into two thick, skinless, and boneless chicken breasts. Stuff those bad boys with your cheesy mixture and use toothpicks to keep the treasure inside.
Step 4: Lay your chicken soldiers on a baking sheet greased with olive oil, season with salt, pepper, garlic powder, and paprika. Bake those babies for 35 minutes.
Step 5: Try not to drool while waiting for your chicken to cook. Once it's done, dig in and enjoy the crispy, creamy, and cheesy goodness that is Ruth's Chris stuffed chicken.
Recipe 2: Ruth's Chris Stuffed Chicken with a Spicy Twist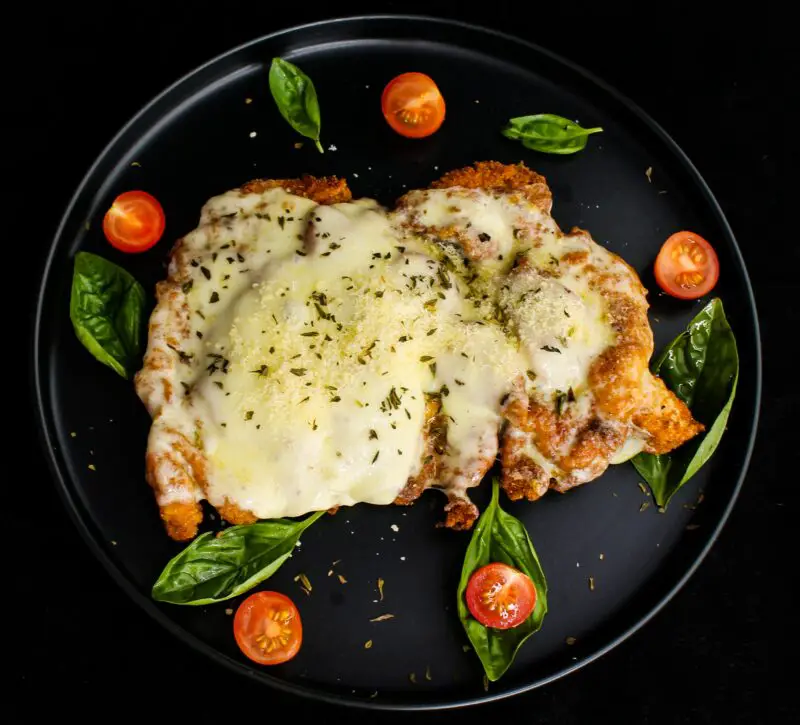 Now that you're a stuffed chicken master, it's time to mix things up and turn up the heat with this spicier version. Get ready for some finger-licking-good stuffed chicken with a kick!
Ruth Chris Stuffed Chicken Breast Recipe 2: A Spicy Sequel That'll Make Your Taste Buds Dance 🌶️💃
Ladies and gents, gather 'round for the much-anticipated encore of Ruth Chris stuffed chicken! My friends popped by for a visit, and I just HAD to share this culinary delight with them. But this time, we're kicking it up a notch with a spicier rendition that'll make your taste buds cha-cha! 💃🌶️
🔥 Ruth Chris Chicken Recipe: Step-by-Step to Spicy Bliss 🔥
Ingredients:
1. Chicken breast 4 pieces
2.1,8 oz package of cream cheese
3. Onion powder ¼ tablespoon 
4.1/4 tablespoon Worcestershire sauce
5. Chunky garlic (a pinch of) 
6. Pinch of cayenne pepper
7. Pinch of lawrys
8.1/2 tablespoon ranch dressing
9. Pinch of parsley flakes
10.2 tablespoon butter
11. Pinch of dill
12. Green& red peppers
13. Onion 1 piece  
14. Olive Oil
15. 1/2 cup shredded sharp cheddar cheese
🔥 Ruth Chris Chicken Recipe: Step-by-Step to Spicy Bliss 🔥
Step 1: The Spice Awakens 🌶️
First, let's grab red & green peppers and an onion. Chop 'em up like you're a karate master 🥋 (use a chopper, not your hands, safety first!). Melt 2 tablespoons of butter at a steamy 120°C (just kidding, °Fahrenheit, please). Once the butter's melted, mix in your peppers & onions. Wait 3/4 minutes, and BAM! Your kitchen smells like Heaven's bistro.
Step 2: A Cheesy Situation 🧀
Grab a bowl, toss in some creamy cheese, and mix it up like you're DJ-ing at a cheese rave 🎧. Now, let's layer on the flavor with ½ cup shredded cheese, ¼ tablespoon Worcestershire sauce, a pinch of chunky garlic, cayenne pepper, Lawrys, ranch dressing, and parsley flakes. Mix 'em up like a boss. Top it off with paprika, onion, and garlic powder.
Step 3: Heat Things Up 🔥
Preheat your oven to 450°F and get ready for the magic to happen.
Step 4: Chicken Pocket-ology 🍗
Time to cut some chicken! Grab 4 pieces, and slice 'em up to create pockets (this is where all that cheesy goodness will live). Chicken part: ✔️
Step 5: Cheesy-Peppery Matrimony 🧀🌶️
Combine your buttery peppers & onions with the cheese mixture from Step 2. It's like a beautiful culinary wedding.
Step 6: Operation Stuff-the-Chicken 🥄
Brush a baking sheet with olive oil. Fill those chicken pockets with cheesy-peppery love, then lay them on the sheet. Sprinkle garlic & onion powder, paprika, and salt on top (paprika makes everything better). Toothpicks are a must to keep the pockets closed. Optionally, you can drizzle melted butter on top (because butter, duh).
Step 7: Bake, Wait, Drool 🤤
Pop your chicken into the preheated oven and cook for 30 minutes.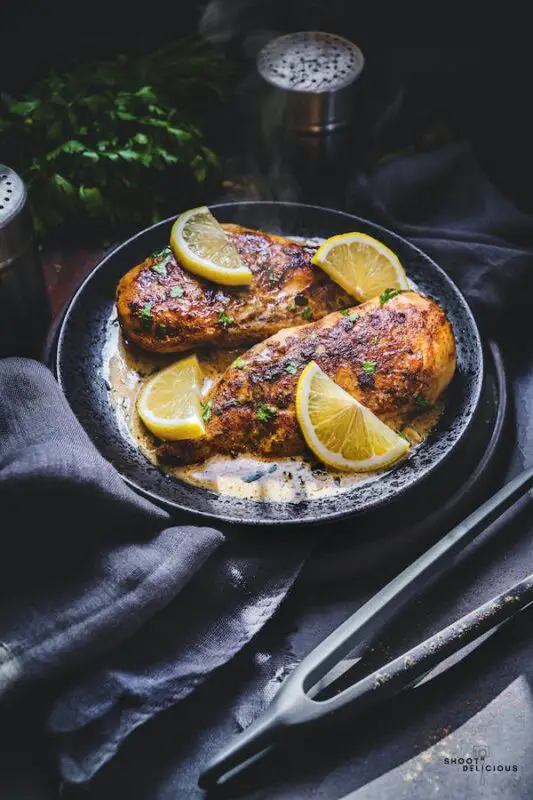 Stuff Your Face with Answers: The Ultimate FAQ on Ruth's Chris Stuffed Chicken
How much is Ruth Chris stuffed chicken?
How much does Ruth's Chris stuffed chicken cost, and does it require a small loan? At the swanky Ruth's Chris Steak House in Madison, USA (fancy-pants central), you might need to sell a kidney to afford a complete platter—over 80 US dollars! But fear not, their stuffed chicken is slightly more wallet-friendly. For a mere 29 clams (prices subject to change, depending on demand and chicken availability), you can indulge. Add-ons and toppings may cost you an extra 5 to 10 bucks, but hey, who's counting?
Why does Ruth's Chris make me feel like I'm paying for a 5-star vacation?
Steak houses like Ruth's Chris don't just charge for the food—oh no! The skyrocketing cost of red meat is just one part of the puzzle. Add in their luxurious interiors and top-notch customer service, and you've got a recipe for an unforgettable, albeit pricey, experience. Basically, they're the Kardashians of steakhouses.
How do I keep my stuffed chicken breast closed without resorting to duct tape?
Securing your stuffed chicken is a delicate art that requires finesse and skill. Overstuffing is a no-no (save that for Thanksgiving), and be careful not to make the opening too large, or you'll have a chicken inferno on your hands. Use a toothpick or some culinary-grade thread to seal the deal, just remember to remove them before serving, unless you're into choking hazards.
What are my toothpick-free options for securing stuffed chicken?
 If you're anti-toothpick, fret not! Culinary threads can be used to stitch up your poultry masterpiece, but make sure they're thick enough for easy detection and removal. Alternatively, try using uncooked spaghetti sticks, which are not only edible but also stealthy. Your guests won't even know they're there—sneaky, huh?
How do I keep the cheese from escaping my stuffed chicken like a culinary jailbreak?
The secret to cheese containment is patience. Let the chicken rest for a few minutes after cooking so the cheese can firm up. Frozen cheese is another option, as it's less likely to stage a gooey breakout. Chefs have also turned to breadcrumbs to keep cheese prisoners in line. Pick your method, and let the deliciousness ensue.
How do I reheat Ruth's Chris chicken without turning it into charcoal?
Reheating is an art! Start with a medium-hot steak plate or pan, gradually increasing the heat and flipping the chicken every couple of minutes. When the pan reaches max temperature, channel your inner ninja and flip every 30 seconds. Once the chicken resembles its freshly cooked brethren, remove it from the heat and let it bask in the pan's residual warmth. Serve immediately, but remember, we're going for toasty, not torched.
In conclusion:
When I served this Ruth's Chris stuffed chicken to my friends, they practically begged for more and promised to visit often (or just move in). So flex your culinary muscles and give this recipe a whirl at home. Who knows, you might become the next hot spot in town!"
See all of our Chicken Recipes
You May Like Also: