Chicken Chesapeake is a delicious dish that is combined with chicken breasts and seafood. It is one of my favorite dishes and a classy meal for dinner. When you arrange a party at home or a small gathering, this meal goes perfectly. The combination of chicken, crabmeat, sauce, all spices, etc makes a delicious texture that anyone cannot help licking his/her fingers.
The flavor of lemon juice and heavy cream cheese features a juicy, tangy texture. The chicken Chesapeake recipe is on good demand worldwide. So, in my article, I'm going to share some chicken Chesapeake recipes with you.
Chicken Chesapeake Crab Recipe:
When you are going to prepare chicken Chesapeake, you need to gather some ingredients and prepare according to the recipe step by step. 
Ingredients:
Chicken breasts (skinless and boneless) about 4 pieces
Sliced thick-cut bacon strips about 5 pieces
Old Bay seasoning about 1 tbsp.
Shredded sharp cheddar cheese about 4 ounces
Kosher salt about 1 tsp
Soften cream cheese about 3 ounces
Sour cream about 1 tbsp.
 Worcestershire sauce about 1/4 tbsp.
Jumbo Lump crab meat about 4 ounces
Kosher salt about 1/2 tsp
Lemon juices about 1 tbsp.
Black pepper to taste
Directions:
Step 1: At first, you have to preheat the oven to 400 degrees F.
Step 2: Take the baking dish out and lightly oil the baking dish with a cooking brush. 
Step 3: Now, take a large skillet and place the sliced thick-cut bacon strips into the large skillet.
Step 4: Start cooking the bacon over medium-high heat.
Step 5: Cook the sliced bacon for 5 minutes or until they get crispy. 
Step 6: After removing the bacon from heat, drain them on kitchen tissue or towel to soak extra oil from bacon.
Step 7: Let the remaining bacon oil or grease be in the skillet.
Step 8: Bring a medium glass bowl.
Step 9: In the glass bowl, pour 3 ounces of cream cheese, 1 tbsp. of sour cream, 1/4 tbsp. of Worcestershire sauce, 1 tbsp. of lemon juice and 1/2 tsp of Kosher salt. Stir all the ingredients well so that they can mix all together like a smooth mixture.
Step 10: Now add 4 ounces of Lump crab meat in the bowl and mix gently so that the crabmeat doesn't get smashed.
Step 11: Now time for seasoning the chicken breasts. Sprinkle the old bay seasoning over the 4 pieces of chicken breasts. Make sure you do seasoning on both sides.
Step 12: Cut a pocket like a hole into the center of chicken breast with a sharp knife for stuffing with crab meat.
Step 13: Take approximate 2 tablespoons of crab meat mixture and start stuffing into the pockets of chicken breasts.
Step 14: Don't forget to do tucking the back to secure the mixture to stay in the pockets. I use toothpicks for tucking.
Step 15: When the filling process is done, heat the remaining bacon oil. Put your skillet on medium heat for one minute.
Step 16: Place the stuffed chicken breasts in the skillet and cook over low heat for 5 minutes each side. You will notice the golden brown color of chicken breasts when they are done. 
Step 17: Turn off the stove and place the cooked chicken breasts into oiled baking dish.
Step 18: Sprinkle some thoroughly sliced cheddar cheeses. 
Step 19: Add the crispy bacon on the top of the chicken breasts.
Step 20: Put the baking dish in the preheated oven and bake for 30 minutes. 
Step 21: To check the chicken is fully cooked or not, place an instant-read meat thermometer into the chicken. The result should be shown to 165 degrees F.
Step 22: Transfer the chicken Chesapeake into a casserole dish and let it cool.
For a little garnish, you can use fresh parsley leaves. Enjoy your dish with beer or your favorite side dishes and drinks.
Variations of Chesapeake Ingredients: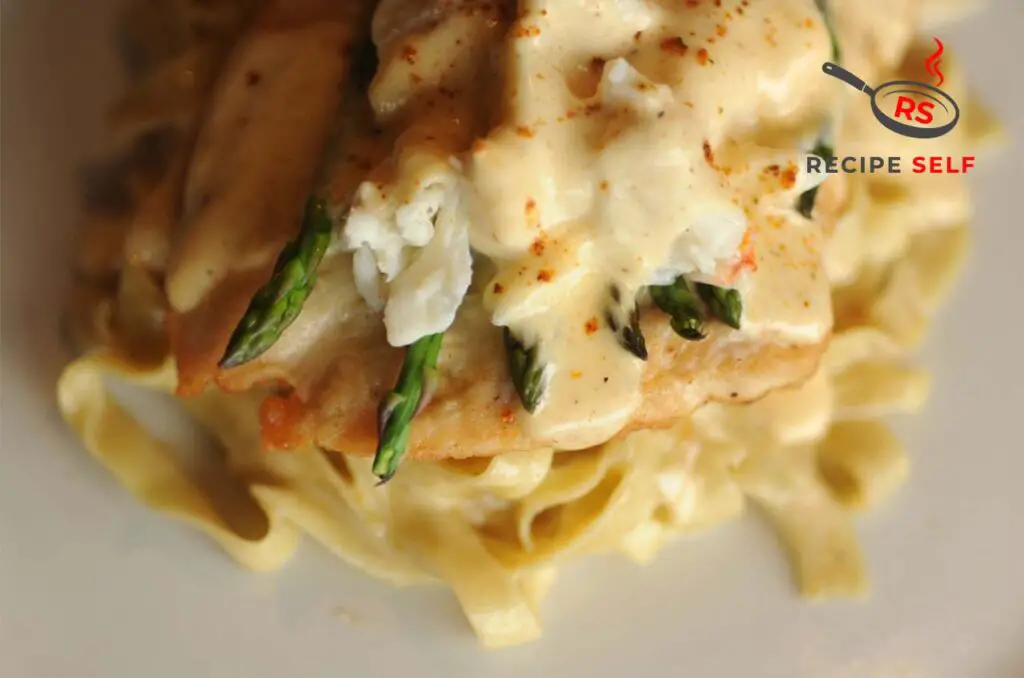 You must have heard of the chicken Chesapeake with imperial sauce recipe. Now the question is "What is the imperial sauce". The imperial sauce makes the crabmeat more gravy. In our previous recipe, I used Chesapeake sauce with cheese, sour cream. But if you don't want to buy these ingredients then you can use this imperial sauce instead of those ingredients. All you need to do is whisk the ingredients well.
Ingredients for Imperial Sauce:
Hellman's Mayonnaise about 1/2 cup
Sugar about 1 tsp.
Old bay seasoning about 1 tsp
Finely chopped parsley about 1 tsp.
Egg about 1 piece, large
Lemon juice 1 tbsp.
Directions:
Step 1: Take a bowl and add the large egg. Beat the egg lightly.
Step 2: Now add 1/2 cup of mayo, 1 tsp of sugar, 1 tsp of old bay seasoning, 1 tsp of parsley, and 1 tbsp. of lemon juice in the bowl.
Step 3: Whisk all the ingredients well and make it like a puree.
Your imperial sauce is ready. Mix the imperial sauce with Jumbo lump crab meat or any kind of crab meat while preparing your chicken Chesapeake. 
Again, if you don't have old bay seasoning and you don't want to buy them from store or markets. It's totally fine. You can prepare the old bay seasoning at home. The ingredients are all available in your kitchen. If you prepare it for once, you can use it for up to 6 months without any trouble. Here is the recipe of old bay seasoning.
Ingredients:
1 tablespoon of celery salt
2 teaspoons of ground bay leaves
2 teaspoons of smoked paprika
1 1/2 teaspoon of ground black pepper
1/4 teaspoon of cayenne pepper
1/4 teaspoon of cinnamon
1/4 teaspoon of nutmeg
1/4 teaspoon of powdered cloves
1 teaspoon dry mustard
1 pinch nutmeg
1 pinch cinnamon
1 pinch ginger
Directions:
Mix all the ingredients in a bowl.
Pour them in an airtight container and store up to 6 months
Conclusion:
In this article, you have learned about the chicken Chesapeake recipe and its variation of ingredients. Also, the recipe of imperial sauce and old bay seasoning. Try the recipe at home and let us know how helpful this recipe was! Have a nice day with a happy stomach.
You May Read Also: