Summer's creepin' up like an awkward first date, folks! You know what that means: time to cool down with a drink that's as nostalgic as my childhood insecurities. I'm talkin' Fruit Loops shot, people! I whipped one up earlier, and let me tell ya, it's like my taste buds took a trip down memory lane, and everyone was on board!
Now, I'm no bartender, but I think you ought to know how to make this Fruit Loop shot. It's got flavor, it's (somewhat) healthy, and it's diet-friendly. Who needs kale when you've got cereal-inspired booze? I'm rambling, I know. It's just that good! Let's jump into the recipe.
Fruit Loops Shot Recipe: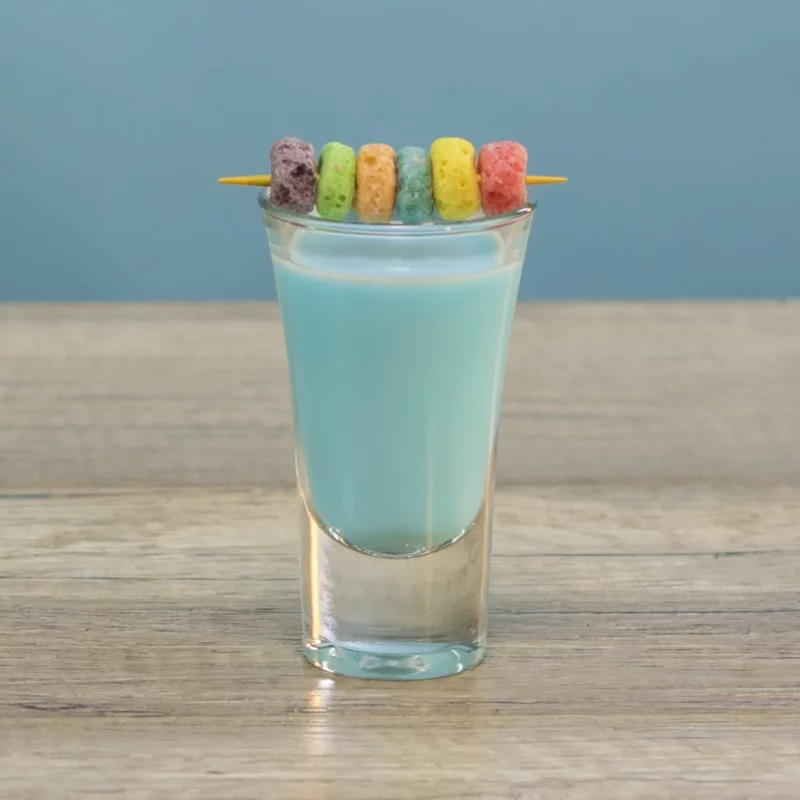 Alright, folks, it's time to make some magic happen. Buckle up, 'cause we're about to dive into a step-by-step guide on crafting the perfect Fruit Loops shot.
It's so simple, even your Aunt Susan could make it – and she still thinks "LOL" means "lots of love."
Ingredients we Need: 
1 part fruit loop vodka
1 part Blue Curaçao
1 splash of pineapple juice
1 splash grenadine syrup
Ice cubes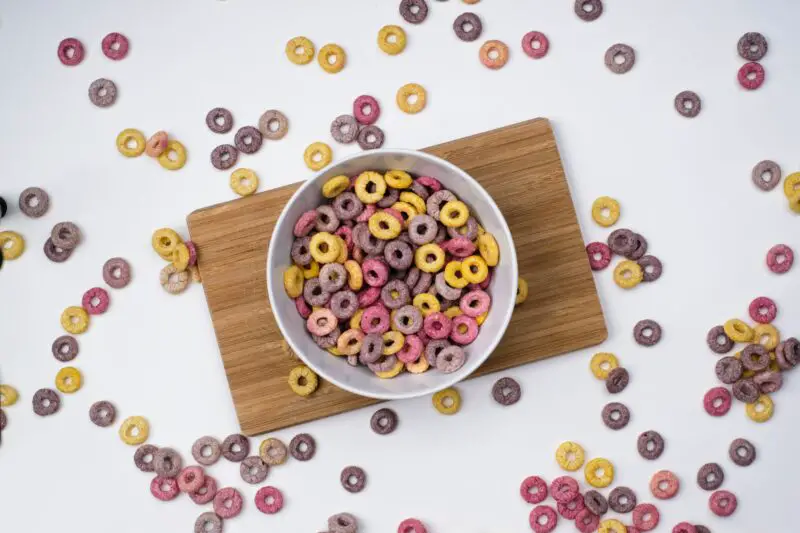 How to Make Fruit Loops Shot Step by Step:
Step 1: Grab your mixer or shaker and assemble your motley crew of ingredients. Toss 'em all in there with some ice, but don't go overboard with the frozen stuff – you don't want your drink colder than your ex's heart. Just enough to chill the flavors, not drown 'em.
Step 2: Now, get your groove on and shake it like you're at a Zumba class. Once you're confident everything's mixed and mingled, strain that liquid nostalgia into shot glasses like a pro.
Boom! Easy as pie. Or cereal. Serve those Fruit Loop shots in style, and feel free to throw in some extra ice cubes if you're feeling fancy.
Want to impress your friends? Pop a lemon slice on the top edge of the glass – your inner child's all grown up now.
As for decorations, the sky's the limit! Go wild, channel your inner Picasso, but remember: it's about the shot, not the presentation.
So, clink glasses with your partner, or your cat (we don't judge), and prepare to be amazed.
Conclusion:
This Fruit Loops shot recipe makes two shots – perfect for sharing or, you know, not.
But if you've got company, don't worry! Just multiply the ingredients and make enough for the whole gang. It's the ideal drink for entertaining guests or just treating yourself after a long day.
The strength of this drink is medium, making it suitable for all sorts of taste buds. Even if you're the kind of person who thinks ketchup is spicy, you'll love this shot.
So, gather 'round, raise a glass, and toast to the simple joys of life – like a cereal-inspired cocktail that brings back memories while making new ones.