So, you're the proud new owner of an Oster ice cream maker and are looking to take it out for a spin. Or, maybe you're in the market for one, and you're wondering if it's worth the price tag. 
Either way, you're sure to find the value of owning an ice cream maker with our quick and easy Oster ice cream maker recipes. 
In this post, we'll be giving you a brief rundown of what makes Oster ice cream makers a fantastic investment. We'll also be listing our top homemade Oster ice cream maker recipes!
Why Are Oster Ice Cream Makers So Special?
If you haven't invested in an Oster yet, you might wonder what the hype is about. 
Oster ice cream makers are incredibly reliable and are beginner-friendly. 
So, if you've never used an ice cream machine before, this one is a fantastic option. The Oster machine is also relatively affordable compared to other high-quality ice cream makers. 
The best feature by far has to be the cycle time. A cycle could take around 30 minutes. The length of the cycle depends on how much ice cream you're making and the size of your machine. 
On average, a 4 quart Oster ice cream maker has a cycle time of 30 minutes. That's pretty fast compared to the average homemade ice cream recipe.
Our Favorite Oster Ice Cream Maker Recipes
The recipe that we'll be covering is arguably the most important. If you know anything about making ice cream, you know that having a delicious ice cream base is essential. 
There are thousands of ice cream flavors out there, but they all have in common that they're essentially just variations of vanilla ice cream. We know! That sounds criminal, right? But, it's true!
A homemade vanilla ice cream recipe is the base of any good ice cream. 
Once you've mastered that, you really can make it all! A few tweaks are all it takes to turn a vanilla ice cream base into a strawberry explosion or a chocolate coma!
Here is our favorite Oster ice cream maker recipe!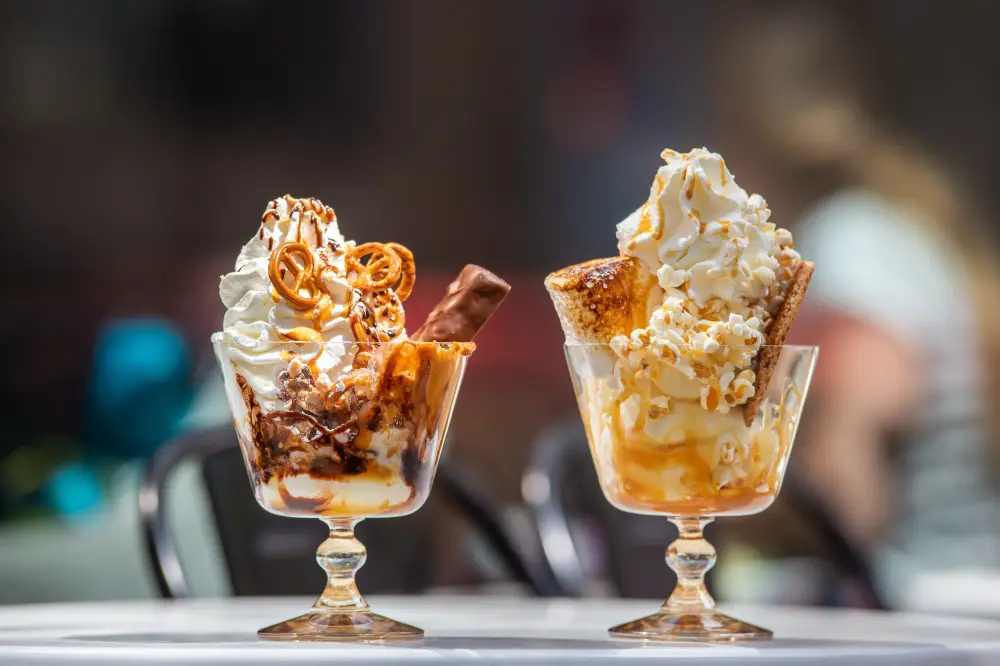 Homemade Oster Ice Cream Base
Our homemade vanilla base is super simple to make and only takes around 15 minutes of prep time. With the number of ingredients listed, you can make enough vanilla ice cream for 4 people. 
If you'd like to make a bigger batch, just double up!
Ingredients
2 cups of heavy whipping cream
2 cups of half and half
1 cup of sugar
1 tsp of vanilla extract (or a vanilla pod, if you're feeling fancy)
Ice
Salt
Instructions
The first step is to combine your whipping cream, the half and half, sugar, and vanilla extract into the cream canister. We recommend placing your canister in the freezer the day before you'll be making the ice cream. By doing so, you'll speed up the freezing time. 
Next, you'll want to put the freezing cover on and place the canister into the ice bucket. 
Add 1 cup of cold water to the ice bucket and layer ice cubes around the canister. A 1-inch layer should get the job done. 
Sprinkle around ⅓ cup of salt on the ice cubes. 
Continue layering ice and salt until you've made your way to the top of the bucket. 
Once you've gotten to the top, add another cup of cold water. 
Remove the freezing cover and insert the peddle. Then, you'll want to add the mixing cover and ice bucket cover. 
Select a speed setting found on the recipe center base and turn on your machine!
Ideally, it should take you around 15 minutes of processing to reach the perfect consistency! 
While these steps are pretty simple, it is possible to get confused. Luckily, Oster ice cream makers have easy, intuitive instructions to help if you get stuck.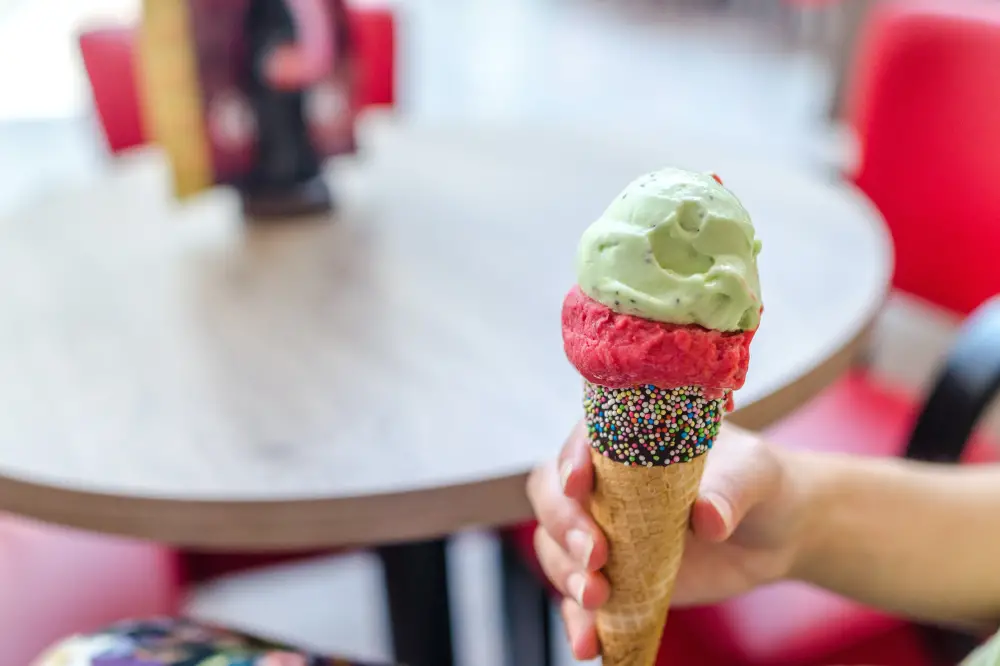 Oster Ice Cream Variations
There are thousands of ice cream flavors, and while they might seem complicated, they are all variations on a vanilla ice cream base. 
Add a few ingredients here and there, and boom! You might have invented a new flavor! 
Here is a list of our favorite flavor variations: 
Strawberry: To turn your vanilla base into a delicious strawberry ice cream, all you need to do is add strawberries. You can either add fresh strawberries or strawberry syrup. We recommend fresh strawberries if you want a flavor explosion!
Chocolate:  To make chocolate ice cream, add your favorite chocolate flavoring or cocoa powder and some chocolate bits! 
Broccoli: If you want to try something different, why not check out our broccoli ice cream? All you'll need is some banana, cocoa powder, chopped broccoli, and some cashew nuts!
Our Favorite Ice Cream Recipes
Feel like experimenting? Why not try out a few of our favorite ice cream recipes?