Let's talk chicken and beef, folks! We've got two distinct proteins here, each with its own quirks and perks – like that odd couple you met at a party once.
When you mix these culinary classics in the same dish, something magical happens.
It's like combining peanut butter and jelly or Batman and Robin – a match made in food heaven.
Think stir-fries, stews, soups, and more – dishes that pack a protein punch and will leave your taste buds tingling for days.
So, buckle up and let's dive into the world of chicken and beef together recipes, where flavor combinations are limitless and your dinner plate becomes a canvas of culinary creativity.
How to Make Chicken and Beef Stir Fry?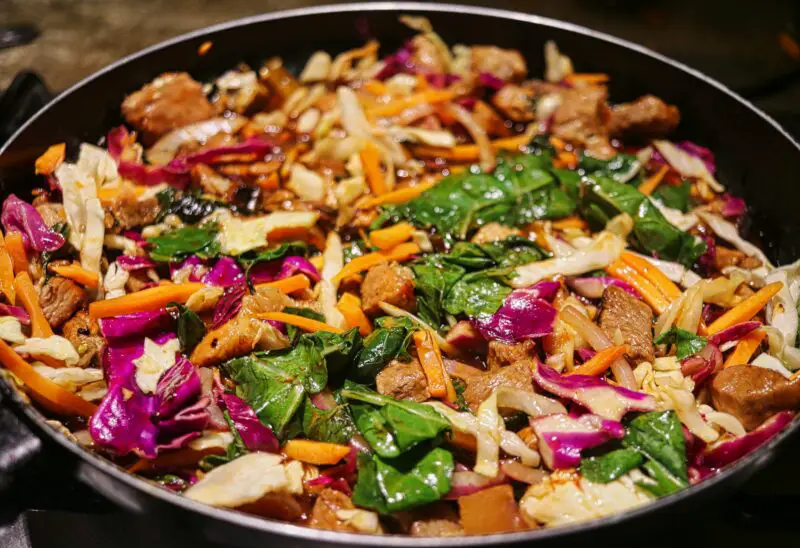 Ah, stir-fry – the culinary equivalent of a quick dance in the kitchen. It's fast, it's fresh, and it leaves you satisfied. This chicken and steak stir-fry, featuring the season's freshest veggies, will have your dinner plate looking like a masterpiece straight out of a food magazine!
But hey, variety is the spice of life, right? Sometimes, you might feel the urge to switch it up and whip up a Chicken and Beef Vegetable soup instead. Let your cravings be your guide!
Now, let's take a gander at the ingredients needed to make this delectable chicken and beef stir-fry.
Ingredients You Need to Make Chicken and Beef Stir Fry:
Vegetable Oil for Pan
3 Cloves Garlic, Minced
1 Tablespoon Ginger Minced
1 Piece of Boneless Short Rib Meat or Small Steak of Choice, Thinly Sliced
1 Small Boneless Skinless Chicken Breast, Thinly Sliced
1 Cup Baby Carrots Cut in Half, Lengthwise
¼ Head of Cabbage Cored and Sliced
½ a Green Bell Pepper Cut into Strips
2 Scallions Green Parts Cut into 2″ Strips, White Parts, Sliced Thinly
Salt and Pepper to Taste
Sesame Seeds for Garnish Optional
For the sauce:
1 Cup Chicken Broth, Low in Sodium
1 Tablespoons Low-Sodium Soy Sauce
1 Tablespoon Cornstarch
1 Tablespoon Hoisin Sauce
1 Teaspoon Chili Garlic Sauce
1 Teaspoon Agave Nectar or 2 Teaspoons Sugar
Method of Preparing Chicken and Beef Stir Fry Step by Step:
Step 1:
Alright, first things first: clean that chicken and beef like a germaphobe in flu season. Set 'em aside, then wash and chop your veggies for the stir-fry. Keep them in a separate bowl like two feuding family members.
Step 2:
Grab a bowl and mix in your chicken stock, soy sauce, cornstarch, hoisin sauce, chili garlic sauce, and agave nectar. It's like a flavor party in there! Set that saucy goodness aside.
Step 3:
Time to heat things up! In a large pan, add some vegetable oil, minced ginger, and garlic. Make sure the oil's cold – this isn't a race, folks. Place it over medium-high heat and cook until those aromatics are translucent and fragrant, but not browned. Nobody likes burnt garlic!
Step 4:
Toss in your sliced meat, seasoned with a little salt and pepper. Cook until it's almost done – we're talking slightly undercooked, like that one guy's steak at a BBQ. Scoop it onto a plate or bowl and set aside.
Step 5:
Veggie time! Add them to the pan, starting with the crunchiest, like carrots, and ending with the tender ones, like scallions. Lightly season with salt and pepper – we can fine-tune the flavor later. Cook until they're crisp-tender, like a perfectly al dente noodle.
Step 6:
Bring back the meat and let it finish cooking with the veggies. Give the sauce a quick whisk (cornstarch loves to stick, you know?), and pour it into the pan. Cook until it thickens up, then toss everything together like a culinary mosh pit.
Give it a taste and adjust the seasonings as needed. Sprinkle with sesame seeds and serve that scrumptious chicken and beef stir-fry over rice or pasta. Dig in and enjoy!
How to Make Beef Stir Fry Meat Tender: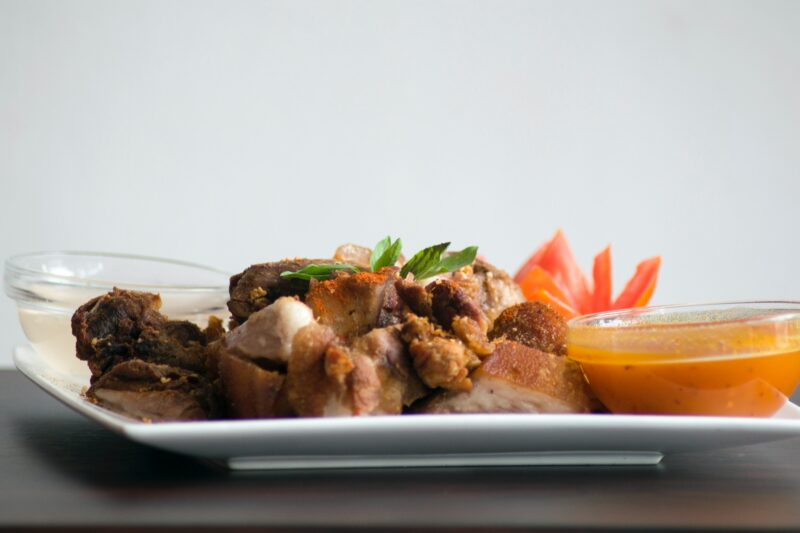 Beef's like that cool kid in school who doesn't need to try too hard – it's got a unique flavor that doesn't demand a ton of seasonings.
Want to make your Beef Stir Fry tender and mouthwatering?
Just season that bad boy with salt and pepper for half an hour, or go all out and let it chill in the fridge for 24 hours.
Patience is a virtue, my friends.
As for the veggies, pick your favorites like you're drafting a fantasy sports team. Now, let's make a grocery list for our scrumptious, tender chicken and beef stew. No more dilly-dallying – let's get to it!
Ingredients Need for making Beef Stir Fry Meat Tender:
1 Lb. Beef Flap Sirloin Tips, , Skirt Steak, or Sirloin
1.5 to 2 Tbsp Coconut Aminos (as a Substitute for Soy Sauce) or Soy Sauce
½ to 1 Tbsp Red Boat Fish Sauce
1 Tsp Toasted Sesame Oil
⅛ Tsp Ground Black Pepper
1 Tsp Arrowroot Starch
¼ to ½ Tsp Baking Soda
Ingredients for Garnish:
1.5 to 2 Tbsp Avocado Oil
Chopped Scallions
Sesame Seeds, Toasted
Dry Red Chili Flakes
Method of Preparing Homemade Beef Stir Fry Meat Tender Step by Step:
Step 1:
First, slice that beef against the grain, aiming for just over 1/8 inch thick. Season it with your go-to spices or just stick with the classics: salt and pepper. Swap out cornstarch for arrowroot starch and add a pinch of baking soda to get the meat tender and juicy. Mix it up, then stash it in the fridge for 15-20 minutes or, if you're playing the long game, up to 24 hours.
Step 2:
Get a 10-12 inch stainless steel skillet heated up over medium heat – like it's sunbathing at the beach. Test the temp with a ½ tsp of water. If the skillet's ready, you'll see one or two bubbles popping up like they're at a party. If it's too hot, take it off the heat and let it cool down like it's sipping a cold drink.
Step 3:
Add oil and lay the beef in a single layer like sunbathers on a crowded beach. Cook for about 2 minutes or until the beef turns a beautiful golden brown. Keep the slices separate so they cook evenly and don't get too chummy.
Step 4:
Grab a trusty spatula and flip those beef slices, cooking for another 30 seconds. Remember, overcooked beef is a culinary sin – keep it tender and crisp. Transfer the cooked slices and their juices to a separate bowl.
If you're adding veggies, cover the bowl to keep the beef warm while you work on the rest of the dish.
Step 5:
Time for the finishing touches! Garnish with scallions, sesame seeds, and a sprinkle of dry chili flakes, if you're feeling a little spicy. Enjoy!
Conclusion
Merging chicken and beef in a single recipe is like bringing together two culinary superheroes.
The dynamic duo of white and red meat, mixed with a colorful cast of veggies, creates a taste sensation that'll leave your taste buds cheering.
So go ahead, give it a whirl and impress your guests with this culinary tag team!