There are numerous benefits that come with getting high-quality cookware. With the right set, you get to enjoy the cooking experience and quality of your dishes free of harmful substances among other benefits. If you want to partake of all these among other advantages, then you need to get yourself one of the best hard anodized cookware sets, and rest to enjoy your culinary art and mastery.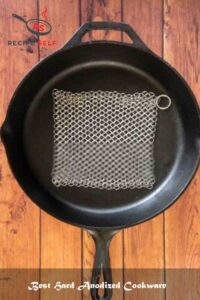 What Features Should You Consider Before Buying the Best Hard Anodized Cookware?
We will get into the details of each product brand that we have picked. But before, you need to be enlightened on some few insights that you should have in order to make your decisions right. Among the key considerations to make prior to your purchase include the following:
Nonstick features
This is a matter of great concern for any culinary master or chef. You want to have your dishes cooked, browned, or seared well without getting stuck in the pan. That is where nonstick quality comes in. Apart from just checking whether the cookware has nonstick coating or not, you should also check the coating quality, durability, and reinforcements. 
Material quality 
All the brands here are hard-anodized but made from different material types. You will find some hard or reinforced and toughened aluminum that are even stronger than stainless-steel. Therefore, it is a matter of concern to check on the type of materials that makes up the cookware, including the base, the handles, and the lids. 
Number of pieces and composition 
You should also know what is composed of a set, item by item. This will help you get the right items that you want to have in your kitchen. In addition to that, you should know the right number of cookware items or pieces that come with the pack.
Ease of cleaning
Cleaning is an inevitable activity and you should get your cookware cleaned after every use. To make that easy, there is a need to get the best cookware that you can clean with ease. You should check on this feature and also whether your set is dishwasher safe or not. 
Induction compatibility 
Some sets of cookware are not made for induction. Therefore, before buying any other set, and if you are using an induction cooktop, you should confirm whether it works with induction cooktops or not.
What is The Best Hard Anodized Cookware Set?
There is no right or wrong on the list. What we have is different brands of the same product competing in value and with different specs and pricing. With this, and based on the numerous reviews from the market, T-Fal Hard Anodized Cookware, has received tremendous support and is reliable and the best overall on our list. 
This review brings a list of the best anodized cookware sets from different brands and with different designs, features, and other invaluable specs and nonstick qualities. The list also comes with pros and cons of each product to make it easy to find the right choice of cookware without spending much time.
Top 9 Best Hard Anodized Cookware Reviews
Type of material:

Aluminum & stainless-steel triple-layer

Oven safe?:

Up to 400 degrees F, except lids
The list below comprises different brands of cookware sets that have been selected after analysis and comparison, and all stand to be among the reliable options that you can buy with confidence depending on your taste and preference.
T-Fal Hard Anodized Cookware Set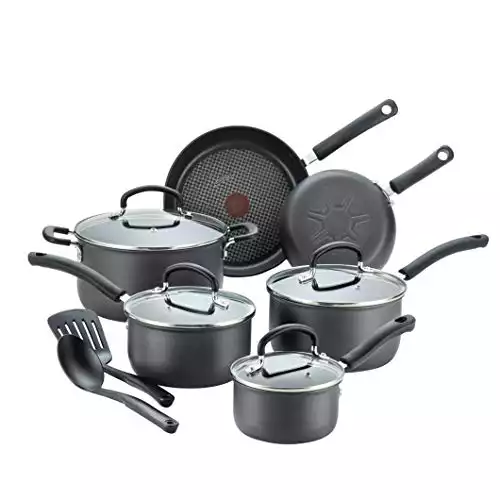 This 12-piece cookware basically comprises pots and pans among other few kitchen appliances. Among the set are fry pans, Dutch ovens, and saucepans of different sizes and with lids. The whole pack also comes in affordable price and with the hard-anodized aluminum material, they are of great value when it comes to heat retention and distribution. 
Material design 
Built with hard-anodized aluminum material, T-Fal Hard Anodized Cookware is a valuable set to have for healthy cooking. The nonstick feature is reinforced with titanium and is durable and doesn't scratch hence will always be a healthy cookware to use for everyday cooking needs. 
Other features 
One of the features that is hardly found with other cookware is the thermo spot indicator. This shows when the pans are well-preheated and ready to be used. The riveted silicone handles are the other features that you ought to know with this T-Fal Hard Anodized Cookware since they enhance comfort when cooking.
Pros
Scratch-resistant and durable nonstick quality
Easy to cook with and to clean
Riveted silicone handles enhance safety and comfort
Dishwasher and oven safe
Good for versatile cooking
Even heat base for better heat distribution
Cons
Not compatible with induction ranges or cooktops
Expert opinion: T-Fal Hard Anodized Cookware Set is a great and durable set of pots and pans suitable for any home or restaurant, and is worth the value for money.
Rachael Ray Nonstick Cookware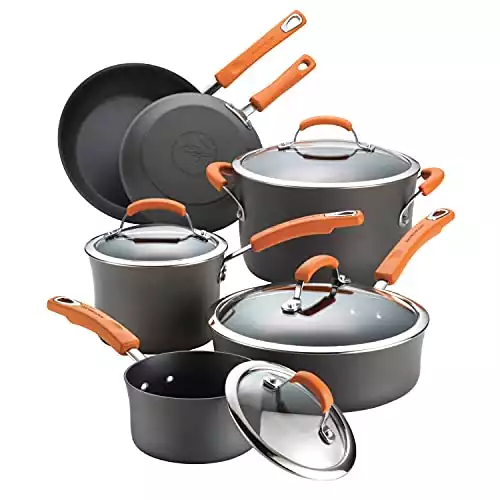 This 10-piece set is just what will add value to your kitchen. Rachael Ray is a reputed brand with this valuable anodized aluminum cookware made to last and to offer a healthy cooking experience. The pots and pans with this Rachael Ray Nonstick Cookware doesn't get hotpots and yields the best results with your dishes. 
Handling and comfort 
Rachael Ray Nonstick Cookware features easy to grip handles coated with silicone. It is, therefore, safe and secure to use the handles and also adds some classy taste to your kitchen as it looks elegant with the colorful silicone. 
Cleaning and other features 
The interior of the pans and pots are nonstick and the exterior is clear-coated to enhance cleaning as well. Rachael Ray Nonstick Cookware is also dishwasher safe and that enhances cleaning for this unique set. The heating due to excellent construction materials is even and thus results in quality dishes.
Pros
Durable and long-lasting performance
Heats swiftly and evenly
Secure and easy to grip cool handles
Shatter-resistant glass lids for viewing while cooking
Oven and dishwasher safe
Reliable food release with durable nonstick coating
Looks attractive and elegant
Cons
Low oven safe limit of 350-degrees Fahrenheit
Expert opinion: This is a great set if you are looking for the best anodized aluminum cookware for your new kitchen. It is also a good replacement if you want modern kitchen cookware that is versatile to suit a variety of cooking needs.
Ninja Premium C38000 Cookware Set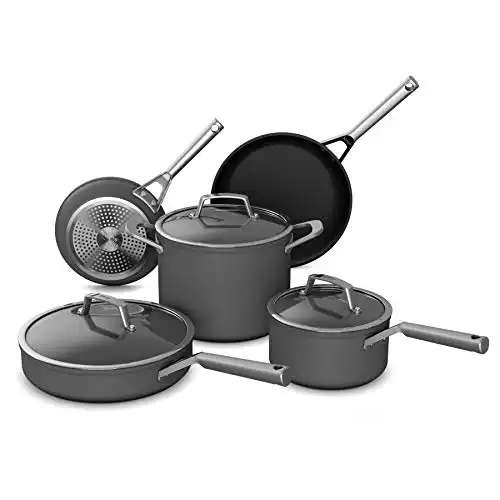 Ninja Premium C38000 is a unique 8-piece cookware that is versatile and useful for baking, boiling, steaming, roasting, deep and shallow fry among other cooking methods. This cookware set is made from valuable materials including aluminum base and exclusive coating that is super-heated for long-lasting performance. 
Heat retention and distribution 
Ninja Premium C38000 is made from forged aluminum material and with 4.5mm base for even heating and better cooking results. The scratch-resistant hard-anodized exterior enhances the durability of this cookware, and the quality is just comparable to that of stainless-steel. 
Handles and lids 
This set comes with cast stainless-steel handles and are oven safe for up to 500-degrees Fahrenheit. The handles are also long and double-riveted to make them strong and easy to use. On the lids, Ninja Premium C38000 comes with rimmed stainless-steel tempered glass lids that are also oven safe to 500-degrees Fahrenheit.
Pros
Long stay-cool comfortable handles
Oven safe rimmed tempered glass lids
Forged aluminum and heavy-gauge base for better heat retention
Durable nonstick coating
Hard-anodized scratch-resistant exterior
All ranges capable stainless-steel base
Cons
Takes long time to preheat
Expert opinion: Ninja Premium C38000 is an efficient cookware set that are made to offer a long-lasting performance. It is all range compatible and a recommendable set suitable for any kitchen.
Cuisinart Chef's Hard-Anodized Cookware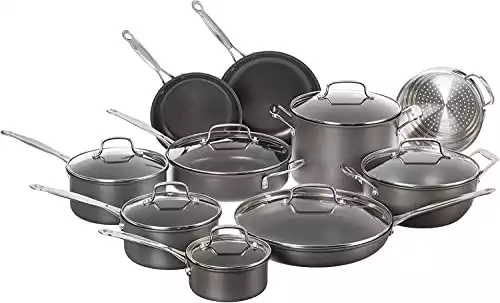 Cuisinart Chef's Hard-Anodized Cookware is a good starter set for a new kitchen. It is also recommendable for students who want to get all the cookware in one pack. With all the 17-pieces of cookware items, you get them still at an affordable price. 
Material design and quality 
Cuisinart Chef's Hard-Anodized Cookware features a hard-anodized exterior that is wear-resistant and durable, much more than that of stainless-steel. It also features a nonstick coating that has been reinforced with titanium and would last long. With the quality nonstick coating, you can even cook without or with less oil just perfectly. 
Handles and other features 
handles form a huge part of any cookware and determines whether the comfortability of use. Even before that, this set comprises saucepans, Dutch ovens, and skillets of different sizes. The handles of these items are made of riveted stainless-steel material and would always stay cool.
Pros
Shatter-resistant durable glass lids
Wear-resistant hard-anodized exterior
Titanium reinforced nonstick coating
Stay cool riveted stainless-steel handles
Excellent food release with less or no oil
It is safe to use in the oven
Cons
Cannot be cleaned in the dishwasher
It is not induction capable
Expert opinion: Cuisinart Chef's Hard-Anodized Cookware is a great set that you can acquire for a new kitchen. It works with all stovetops except induction, and comes at an affordable price.
All-Clad E785SC64 Cookware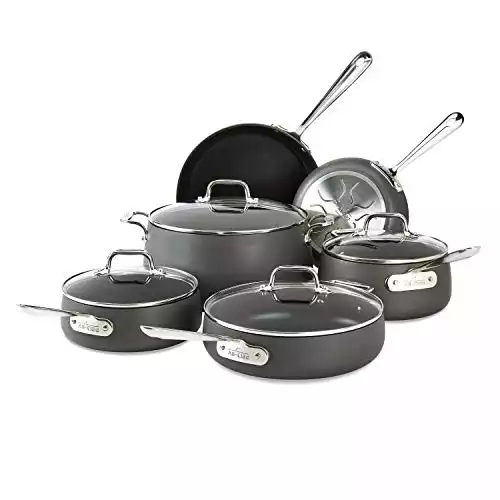 All-Clad E785SC64 Cookware is a 10-piece set that comprises saucepans, sauté pans, and stockpot with lids. They are of great design and quality hence a great addition for any home. On safety, the set is made of materials that are non-toxic, PFOA-free, and healthy for cooking. 
Material design and quality 
All-Clad cookware brands are made of hard-anodized aluminum material and that comes with numerous benefits. One of the advantages with aluminum is that it cooks faster and evenly. In addition to that, All-Clad E785SC64 Cookware features a stainless-steel base that is well-optimized for induction. 
Compatibility and other features 
This cookware set is all range capable. Therefore, you can use it with any heat source be it gas, electric, ceramic, halogen, or induction. 
All-Clad E785SC64 Cookware also features scratch-resistant and durable nonstick coating that works to enhance the cooking experience. The ultimate food release, and the ability to cook with less or no oil is the value that comes with this nonstick quality cookware. This also makes the cookware easy to clean.
Pros
Safe and PFOA-free materials
Scratch-resistant nonstick coating
All range capable
Easy cleanup by hand or dishwasher
Riveted and comfortable stainless-steel handles
Enhances quality and healthy cooking
Oven safe to 500-degrees Fahrenheit
Fitting glass lids for easy checking
Cons
The lids are not safe in the oven
Expert opinion: This is a great brand to consider if you want durable cookware for effortless cooking and cleaning. All-Clad E785SC64 Cookware is also compatible with all ranges or cooktops including the induction cooktops.
Anolon Hard-Anodized Nonstick Cookware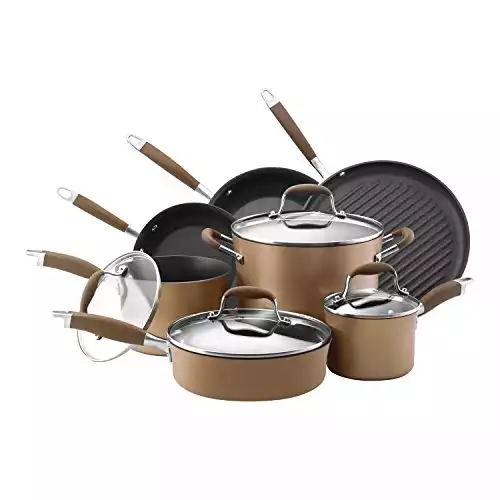 Here comes another durable cookware brand that is made from hard-anodized aluminum and with nonstick quality. It is a set of 11 pieces of cookware items including pots and pans of different sizes and design. Therefore, if you are looking for durable quality cookware, then you should check out on this brand choice. 
Material design and quality 
The premium nonstick quality is one of the features that make Anolon Hard-Anodized Nonstick Cookware reliable for cooking different types of dishes. The hard-anodized aluminum enhances heat distribution and even heating for quality cooking results. 
Other features 
Anolon Hard-Anodized Nonstick Cookware also comes with glass lids that are durable and shatter-resistant. The glass lids also enhance viewing and monitoring of progress when cooking. The set also features Sure-Grip dual riveted and comfortable handles that you can handle with confidence. 
In addition to the features that we already mentioned, Anolon Hard-Anodized Nonstick Cookware is oven safe to 400-degrees Fahrenheit.
Pros
Efficient and even heat distribution
Safe with metallic utensils
Effortless cleaning just by hand
Comfortable grasp dual-riveted handles
Durable shatter-resistant glass lids
It is safe to use in the oven
PFOA-free and healthy materials
Cons
Not safe for a dishwasher machine
Expert opinion: All-Clad E785SC64 is a great and modern cookware set that delivers the best in cooking different kinds of dishes. It is a recommendable option if you want a set made from stainless-steel material and with attractive bronze finish.
GreenPan Hard-Anodized Nonstick Cookware
Amazon product
GreenPan Hard-Anodized Nonstick Cookware is an 8-piece set of pots and pans that come in different designs and sizes, and with glass lids. They are healthy to use as they are made of excellent quality materials including the ceramic nonstick coating. 
Material design and quality 
The first thing to note about this cookware is that they are made of excellent quality hard-anodized aluminum with ceramic nonstick coating that is healthy and safe. With this set, you can cook with confidence without the fear of overheating the pans or pots. This is so because of the nontoxic coating derived from the sand. 
Other features 
The cookware is safe in the oven for up to 320°F and the handles safe up to 280°F. In addition, this cookware set can wipe clean with ease. It is also dishwasher safe for convenience when you want to use the machine.
The most important feature that we may not want to omit here is that the nonstick coating is reinforced with diamond making it last longer than you can expect.
Pros
Oven safe glass lids
Diamond reinforced nonstick coating
Free of all toxic and harmful substances
Comfortable grip stays cool wood finish handles
Safe for the dishwasher machine
Forged thick base for even heat distribution
Cons
Not suitable for induction stovetops
Expert opinion: If you need a set of pots and pans with wood and nylon slotted spoon and turner, then you got this GreenPan Hard-Anodized Nonstick Cookware that is safe and healthy with diamond reinforced nonstick coating.
Le Creuset Nonstick Pro Cookware
Amazon product
Le Creuset Nonstick Pro Cookware is an awesome choice to get for your precious modern kitchen. This 10-piece set comprises pots and pans, and is a durable and reliable set that can serve for a lengthy period. What is worth mentioning about this brand is that it is 4x stronger than similar models due to the triple reinforced surface. 
Material design and quality 
This cookware is made from aluminum and stainless-steel base and is suitable for use with any cooktop. It is toughened and with a textured interior that is easy to clean. With the nonstick coating, this Le Creuset Nonstick Pro Cookware delivers exceptional quality results for any dishes, and especially for browning and searing. 
Other features 
You can move this cookware comfortably and with confidence when cooking with the ergonomic stay-cool handles. The tempered glass lids are oven safe and reliable for securing the cookware while preserving moisture of the contents.
Pros
All ranges or cooktop compatible
Hard-anodized aluminum core and stainless-steel base
Conducts heat evenly and faster
Safe to use with metallic utensils and dishwasher
Oven safe tempered glass lids
Quality nonstick and textured interior good for searing and browning
Cons
Highly expensive compared to similar models
Expert opinion: This toughened cookware set is worth the value for your money. It comes with exceptional quality features that are rare to find with other brands, and is a recommended choice for any kitchen.
Gotham Steel Hard-Anodized Cookware Set
Amazon product
From the look of things, this modern set is a reliable cookware to have in your kitchen, especially if you are starting off your new kitchen, or want to renew old school kitchen cookware. With the 13-piece items that you get with Gotham Steel Hard-Anodized Cookware Set, you are good to enjoy a versatile cooking for any kind of dish. 
Material design and quality
Gotham Steel Hard-Anodized Cookware features hard-anodized aluminum exterior and the nonstick interior that is reinforced with ceramic and titanium. Therefore, you get a quality cooking surface that delivers exceptional results for any kind of dish and mode of cooking. 
Other features 
Before we delve into other details, this Gotham Steel Hard-Anodized Cookware Set can do more than your expectations. With it, you can cook, stir fry, brown, sear, deep fry, and braise among other methods. 
The break-resistant glass lids enhance monitoring of food in progress while cooking. Gotham Steel Hard-Anodized Cookware Set also features stainless-steel stay cool handles, and are dishwasher and safe for oven.
Pros
Safe and free of all harmful substances
Durable and stronger materials
Ceramic and titanium reinforced nonstick interior
Hard-anodized wear-resistant and nonporous exterior
Cooks perfectly without oil
Oven and dishwasher safe
Durable break-resistant glass lids
Cons
Handles are not coated and can get hot
Expert opinion: If you are looking for a hard-anodized frying pan, this set comes with three pans of different sizes among pots and pans. It is a great quality cookware set that would fit any kitchen needs.
Hard Enamel vs Hard Anodized
There are a number of similarities that exist between hard enamel and hard anodized cookware. In this regard, both serve to enhance the strength and quality of the cookware, and also durability. 
Hard enameled is where a coating is applied, normally to make the cookware nonstick. It is also called porcelain enameled and this serves to enhance the performance of the cookware. Hard anodizing is whereby a layer of oxide is applied to aluminum to make them non-reactive and that way, it won't react with food ingredients. 
Over time, a plain aluminum would also react with oxygen and develop the same layer that also makes it non-reactive. 
Hard enamel normally focuses on making the cookware non-sticky, and mostly done on the interior but can also be done on the exterior to make the cookware strong. This toughens the cookware for longevity and performance. 
Anodization hardens aluminum hence making it look stronger even compared to stainless-steel. Porcelain enamel also enhances the durability when the right quality materials are used for coating.
If you were to choose between anodized aluminum pan and enameled pan, you may need to go further into the quality of coating and durability of the latter. Therefore, we can say both are durable, but yields different results, depending on the quality of enameled coating for the enamel type.
How to Choose the Best Hard Anodized Cookware?
Narrowing down, it is now easier to make a choice and pick the right product than you would imagine. With all the information above regarding the specs and features of each product, pros, and cons, we can sum up by narrowing our search based on the following:
Best overall 
T-Fal Hard Anodized Cookware is the best overall product on our list based on different factors that we took into account. This includes the quality of the products' features and specs, pricing, and the reviews and ratings from other users of the product. Therefore, T-Fal Hard Anodized Cookware is a reliable and the best choice if you want the best in overall performance. 
Best price 
Cheap in price does not mean cheap in quality. If you are looking to have an affordable cookware set, you may consider Rachael Ray Nonstick Cookware Set since it comes with a competitive and relatively low price compared to similar brands. GreenPan Nonstick Cookware is also another affordable brand to consider based on price. 
For new kitchenA new kitchen would require almost every item or appliance. Therefore, you need to have the right set that comes with most kitchen appliances that are basic for every starter. For that matter, Cuisinart Chef's Cookware Set is the ideal choice with 17-pieces of cookware items that are essential for a new kitchen.
Conclusion
You can choose any of the cookware sets that match your expectations and value. You have more than what you need to buy a good quality set that will always satisfy your cooking. You just need to make some few considerations and compare the advantages and disadvantages of one product from the other, and surely, you are good to go.
You May Like Also: