A chicken casserole is one of those go to dishes that you know the whole family will love.
When you are so busy but need to feed everyone in a hurry this is a great way to minimize time in the kitchen while giving your family a filling and delicious dinner.
There are so many variations and ways that you can mix up the recipes so that you don't get stuck making the same casserole every time.
We hope you enjoy choosing from our 15 scrumptious chicken casserole recipes. Read on and enjoy!
This casserole is so well named, it really does taste like a million dollars!
Who could deny that chicken, cheese and cream make for a truly scrumptious meal.
Add the topping of Ritz crackers, and you have arrived at the million dollar taste tag.
This is a super midweek supper dish. It only takes 10 minutes to prepare as you can use a rotisserie chicken.
Pop everything in your casserole and bake for 30 minutes. What could be easier? Go on, give it a try!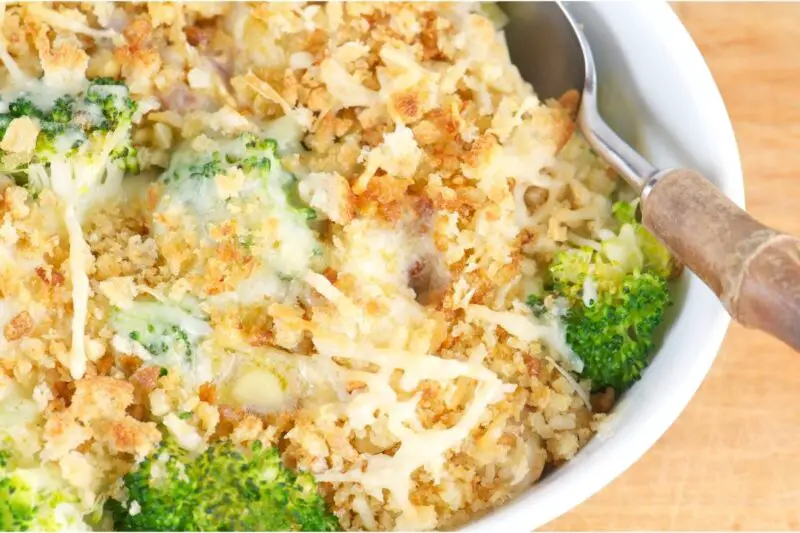 We all appreciate what it was like to eat grandma's cooking, it always tasted so good! Just like this chicken casserole from Betty Crocker.
Using a cooked chicken makes preparation super quick, and the cream of chicken soup is another speedy ingredient.
Add some butter, cheese and crispy breadcrumbs, and you're done! It's also great if you have left over holiday turkey.
Creamy chicken topped with crispy breadcrumbs, a scrumptious, midweek meal filled with old-fashioned goodness.
Serve with some green beans or broccoli for added fiber.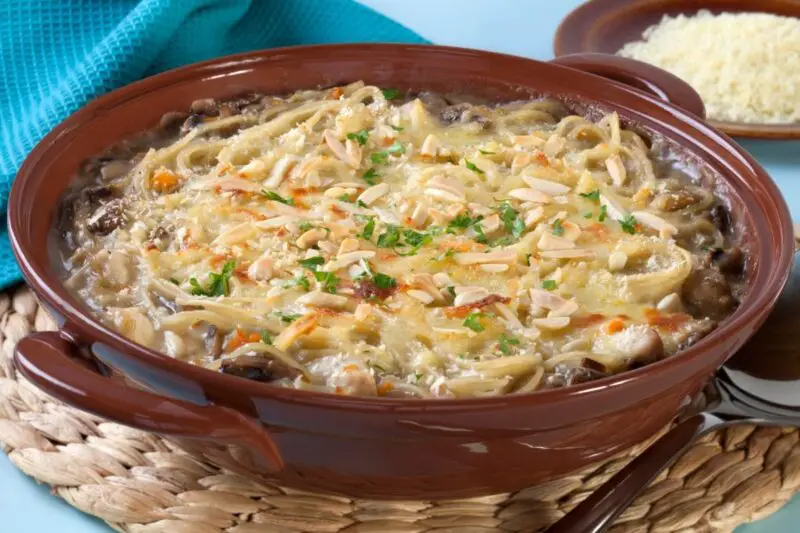 This chicken casserole recipe takes a little bit longer to cook, but it is totally worth the extra effort.
Tasty egg noodles, delicious mushrooms, savory pearl onions and healthy celery are just some of the mouth watering ingredients in this fabulous casserole.
Aromatic herbs, heavy cream and dry white wine add to the incredible flavors while the Gouda cheese provides the perfect, decadent topping.
Preparation takes only 10 minutes and cooking time is 40-45 minutes. But this dish is very much worth the wait.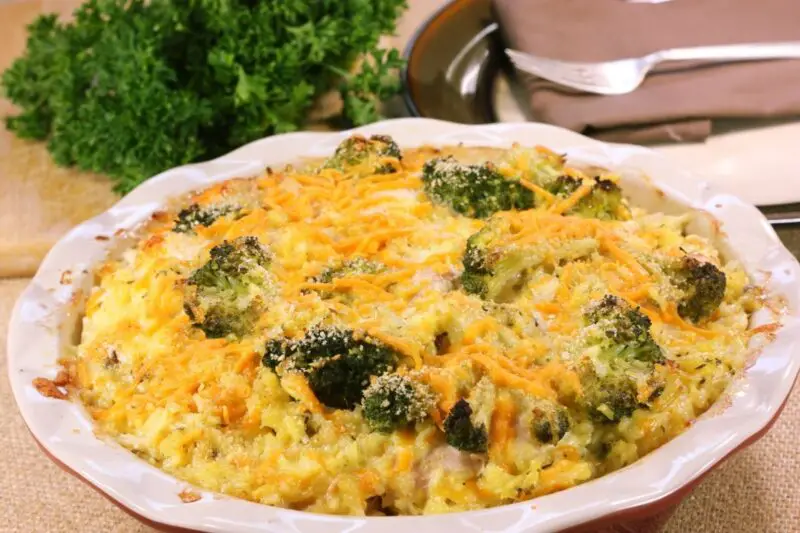 A hectic weeknight is the perfect time to crack out this luscious recipe from Pillsbury Kitchens.
So quick and simple to make, this is a chicken casserole that you will come back to again and again. And everyone will love it!
The condensed chicken soup, ranch dressing and cheddar cheese combine to make a wonderfully tasty coating for the pre-cooked chicken.
Tangy green onion adds to the great flavors. Frozen potatoes are added for speed and convenience, coming out golden and crispy.
This casserole is a minimal preparation recipe that is easy to make and very healthy. But it also has tons of appetizing flavors.
All of the ingredients are combined in the casserole dish, so there is less cleaning up to do afterwards. Perfect for when you are in a hurry.
Classically southwestern black beans, corn, onion and salsa combine with white rice and chicken to produce this mouth watering dish.
Topped with tempting cheddar cheese, it's a recipe that the whole family will love.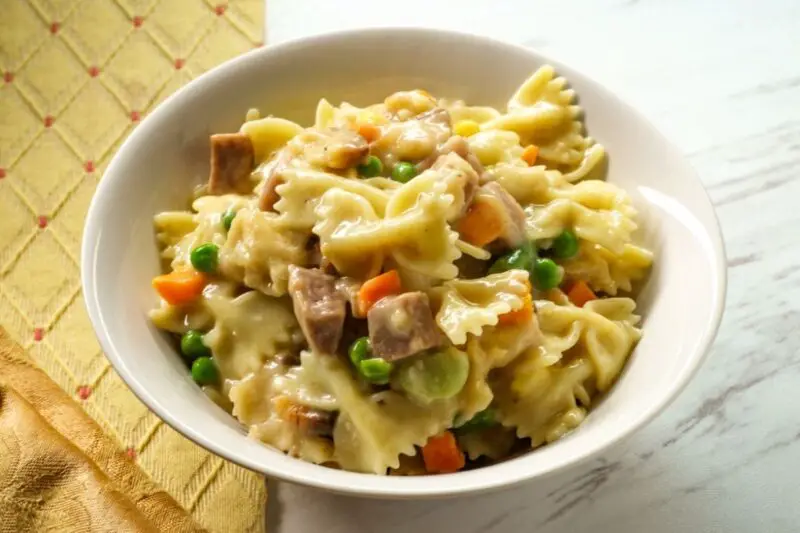 Taste of Home's Chicken Potpie casserole has got to be one of the best comfort foods around.
A deliciously creamy mix of chicken and vegetables topped with scrumptious biscuits, heavenly!
Add in the sweet flavor of pimentos, and you're on to a winner.
Preparation takes around 40 minutes, but the casserole is baked in just 15 minutes.
And you could always use premade biscuits if you're short of time.
This is a wonderfully warming supper for chilly autumn evenings and will be a firm family favorite.
We all recognize that time of day when you get home and everyone is hungry. You need to get the family fed and quickly!
This is an ideal recipe for those busy evenings. Chicken, noodles, vegetables and a creamy sauce, what's not to love?!
Preparation time is only 10 minutes, which is helped by the pre-cooked chicken, canned soup and frozen vegetables.
Pop it all in a casserole dish and cook for 30 minutes, keeping a foil lid on top to stop everything from drying out. Sprinkle with parsley and enjoy!
Pasta, chicken and tomatoes, yum! Not only is this chicken casserole extremely tasty, but it also uses healthy ingredients.
Skinless chicken, reduced fat milk and cream as well as low sodium broth. So this is not just a tasty dish, it's good for you too.
Fresh tomatoes, basil and mozzarella hint at a caprese salad enjoyed on lazy days and the balsamic vinegar gives a sweet sharpness.
Quick to put together and to cook, this tasty dish will become a firm favorite for all the family.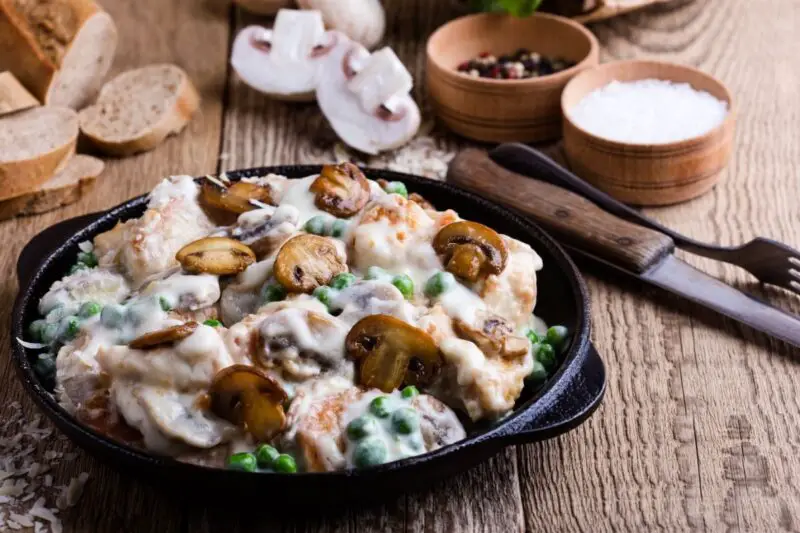 A chicken casserole for special occasions, this dish takes a little longer to cook, but you won't regret it.
Flavored with aromatic herbs such as sage and parsley, the chicken is cooked in butter while the shallots and mushrooms are cooked with garlic and sherry.
Long grain and wild rice and Parmesan cheese make this a filling meal.
Baked in the oven for 30-35 minutes, it is topped with sliced, toasted almonds for a finishing touch.
A delicious and elegant dinner dish for your family.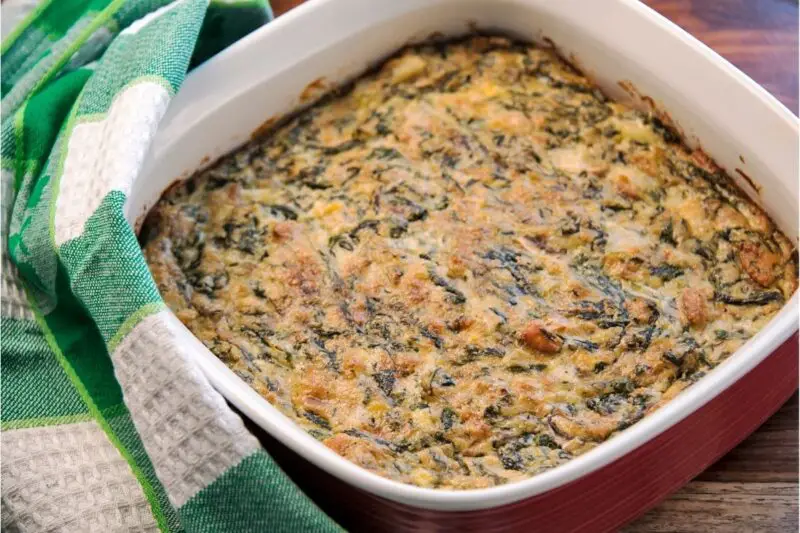 Did someone say cheese?!
This chicken casserole has two types of luscious cheese for a mouth watering dish you will want to make again and again.
It is so easy to make and an ingenious way of coating the chicken makes the whole process very quick too.
The cream cheese is spread on the marinated chicken and braised spinach is put on top.
Finally shredded mozzarella is added and the dish is then baked for 20-30 minutes in the oven.
A mid week treat everyone will enjoy.
This healthy dish combines baked chicken with rice and vegetables.
Any combination of your favorite vegetables can be used and for speed you can use a store bought teriyaki sauce.
What could be better for a busy weeknight meal? Just ten minutes of preparation is needed for this appetizing supper dish.
The teriyaki chicken is baked in the oven for 30 minutes, then shredded and added to the stir-fried rice and vegetables. Simply delicious.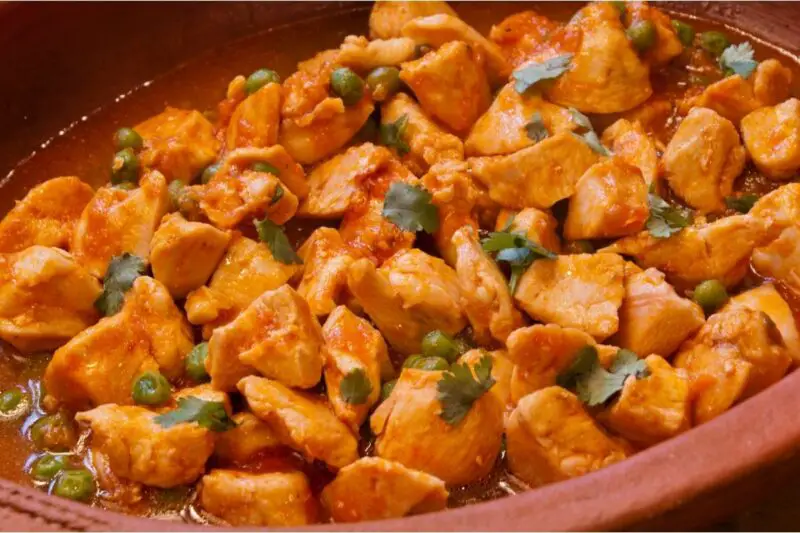 For chilly winter nights this chicken casserole from Good Housekeeping is just the thing to keep the cold at bay.
Moist chicken and chunky healthy veg provide a warming dish that the whole family will appreciate.
The casserole takes just 15 minutes to prepare.
Cooking time is just one hour which means you can pop it in the oven, set the timer, put your feet up and relax until it is ready.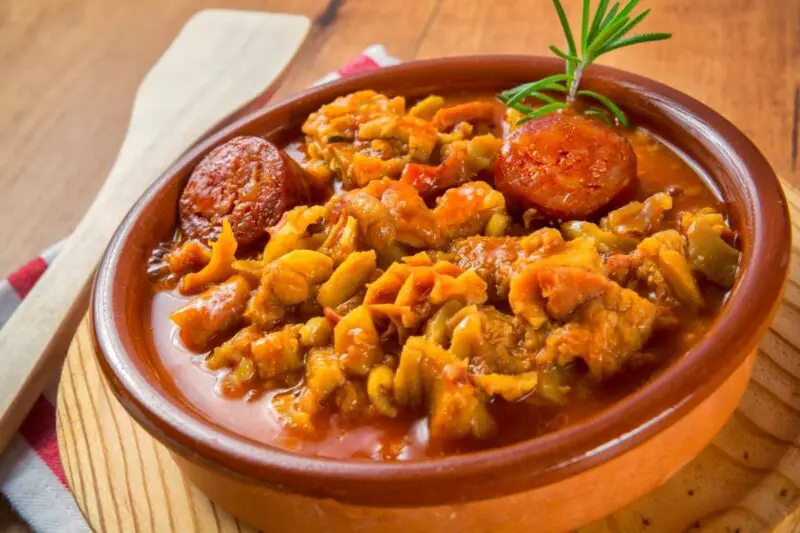 A wonderful recipe for making use of any leftover roast chicken.
Add some chopped tomatoes, diced chilies and taco seasoning for a Tex-Mex flavor.
You can also use instant rice for a quick mid week meal. A topping of cheddar, or Monterey Jack makes this dish absolutely irresistible.
But the best thing about it is that this casserole is ready for the oven in around 5 minutes. Half an hour in the oven and it's fiesta time!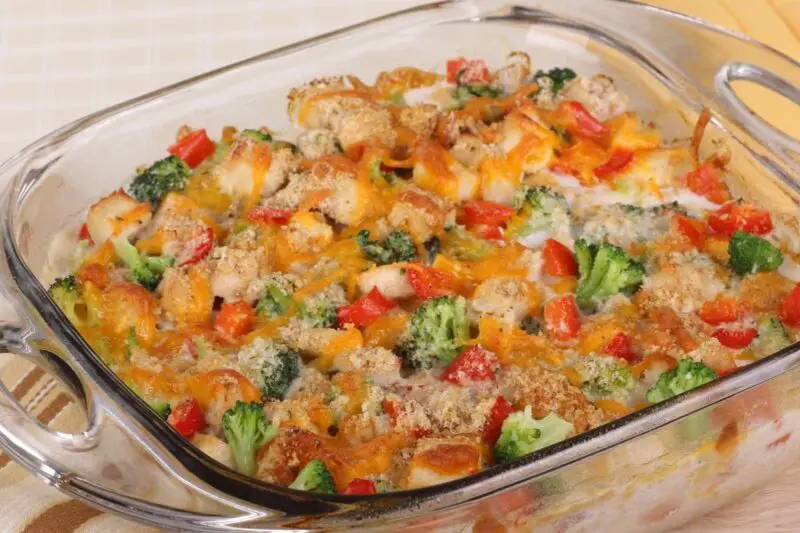 This colorful, chicken casserole is not only a deliciously nutritious meal but is also a feast for the eyes.
A mixture of kale, red onion, corn, red bell pepper, it has earned its name of Confetti Chicken casserole.
Add the chicken, bacon, mayonnaise and cheese and you know this is going to be a family favorite.
Preparation time is just 15 minutes and the casserole is baked in the oven for 30 minutes. Your kids will love it!
For speed and convenience you can't beat this BBQ chicken cornbread bake.
When you are in a hurry and have hungry kids to feed this is a sure fire winner that they'll want again and again.
The majority of the ingredients are mixed together and baked together in the oven for 30 minutes.
The barbecue sauce coated chicken is then put on top.
Sprinkle it with cheese and bake for another 15 minutes. Absolutely scrumptious!
So now you have a whole host of wonderful chicken casseroles to choose from without having to hunt for recipes when time is short.
The beauty of a casserole is that everything is cooked in one pot.
Not only does this save time but there is less cleaning up afterwards too. That has got to be a bonus for you!