The festive season is such a joyous time. You get to spend time with your loved ones, whether that be family or friends, and you get to show them how much you truly appreciate them with wonderful gifts.
You get to give thanks for everything that has happened to you in the past year, and you get to eat delicious food. And with delicious food, of course, comes delicious drinks.
The holiday season is the perfect time to share a cocktail with your friends, and there are a long list of festive drinks that you can whip up for the occasion.
So, if you want to find out 15 festive holiday drink recipes that your friends will love, then keep on reading!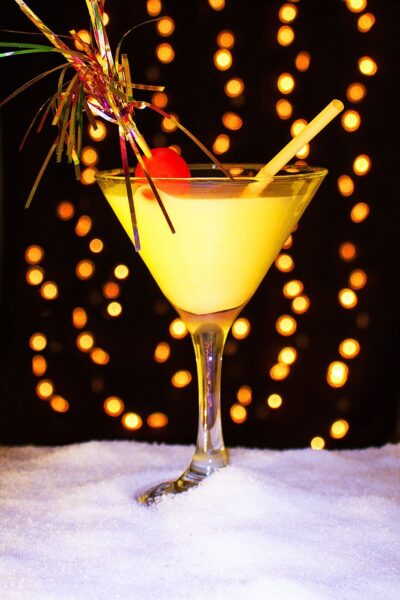 First up, we have the snowball. There are lots of different festive cocktails out there, but none are quite as famous as the snowball.
This is the traditional Christmas cocktail, and it is the perfect option for getting yourself in the festive mood.
Not only does the snowball taste great, but it is super easy to make. With just 4 ingredients, you can prepare this drink quickly, allowing you and your friends to relax and enjoy in just moments. So, this festive season, you have to share a snowball with your friends!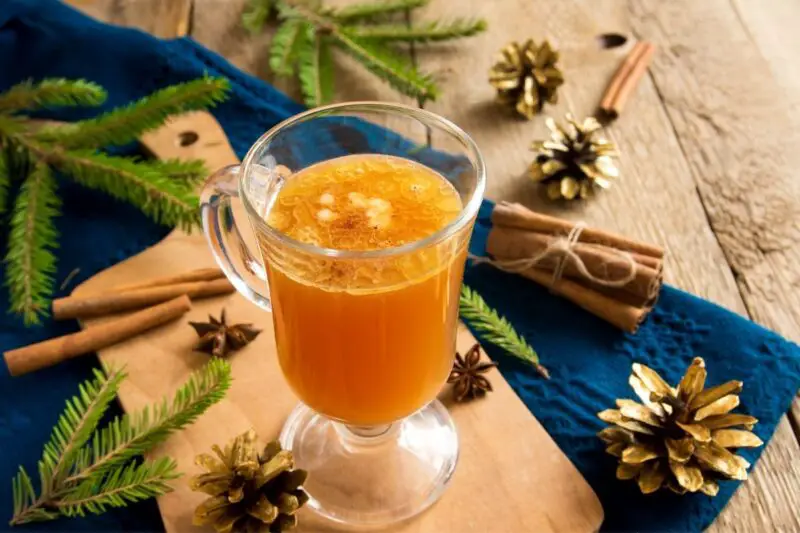 There's nothing that shouts winter quite like a hot cocktail. Throughout the rest of the year, hot cocktails are almost unheard of, but when the festive season rolls around, there are lots of options to choose from. None are quite as special as hot buttered rum.
This is another simple drink to prepare, with just a handful of ingredients required.
Simply heat up your pineapple juice, and mix the rest of the ingredients together in a heatproof mug. Pour your warm pineapple juice on top, finish with a pat of butter, then enjoy!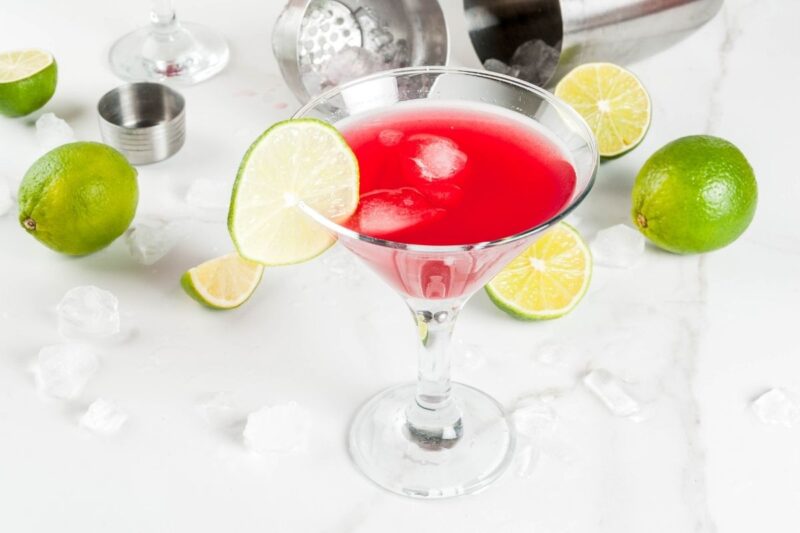 If you are somebody whose go-to cocktail is the cosmopolitan, then this Christmas Cosmopolitan recipe is made for you!
This recipe takes the traditional cosmopolitan, and makes it festive, allowing you to enjoy it while also getting in the festive spirit.
It is straightforward to make, and absolutely delicious! Once you taste this Christmas Cosmopolitan, you won't be able to look at a regular cosmopolitan the same again. It is simply one that you have to try.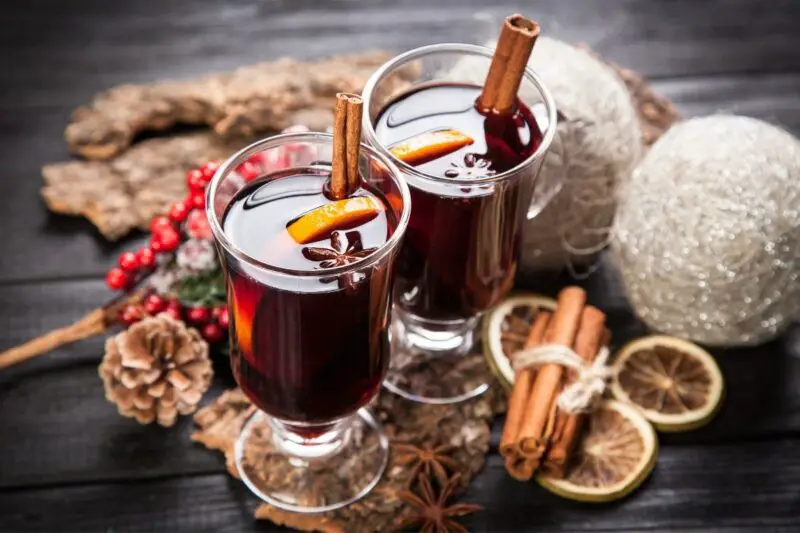 Another Christmas classic is mulled wine. This is another hot cocktail that is packed with all the classic seasonings and flavors that we associate with the holiday season.
Mulled wine is up there with the snowball when it comes to Christmas classics, and it just isn't the festive season unless you drink one. So get out your saucepan ready to make this classic drink for your friends.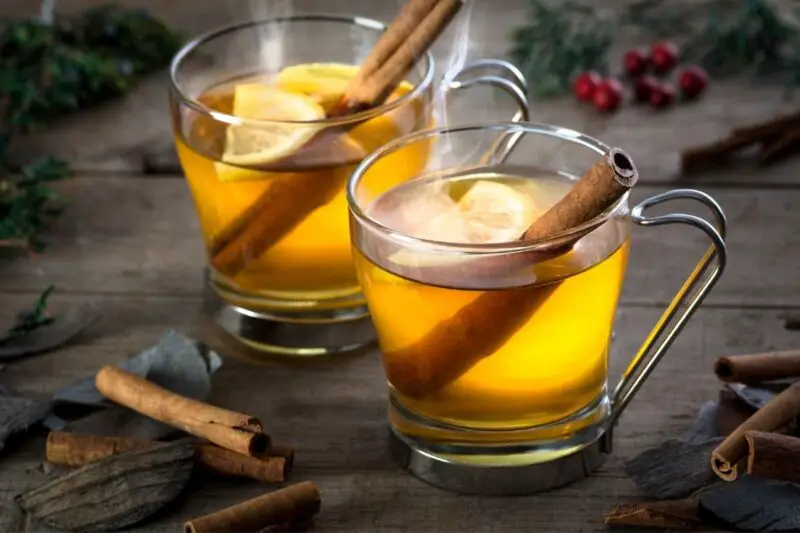 Alternatively, if you want a whiskey based cocktail that will keep you warm this holiday season, then look no further than the hot toddy.
Whiskey, lemon, cloves, and cinnamon are heated together to create this drink that is guaranteed to warm your insides.
It is straightforward to make, and guaranteed to be a hit with your friends. So, this is definitely a drink to add to your holiday menu.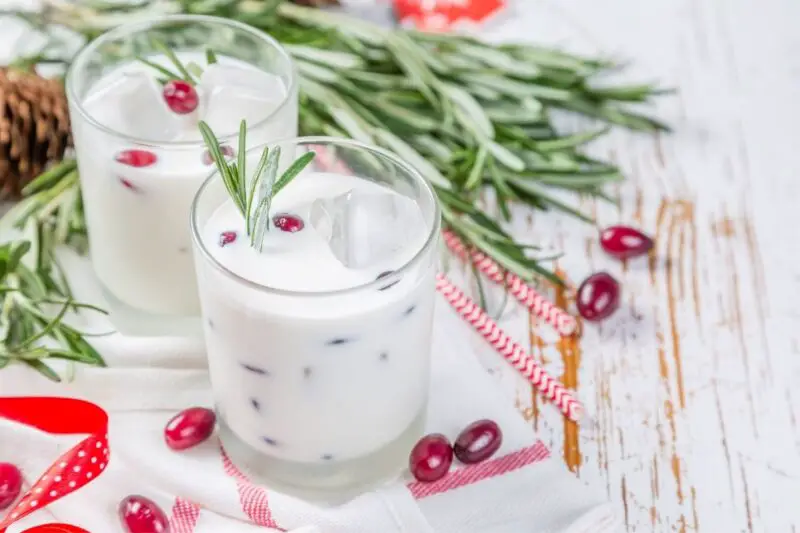 There is no denying that the margherita is a summer drink, but you can make this cocktail Christmassy by following this recipe.
This recipe combines the classic margherita with Christmas flavors to make a drink fit for the holiday season.
This recipe is one of the more complicated on this list, so it is definitely one to make at the start of the evening.
But, once you get started, it is a lot easier than you might expect. No matter whether you find it easy or difficult to prepare this drink, the hard work is worth it once you taste the finished result.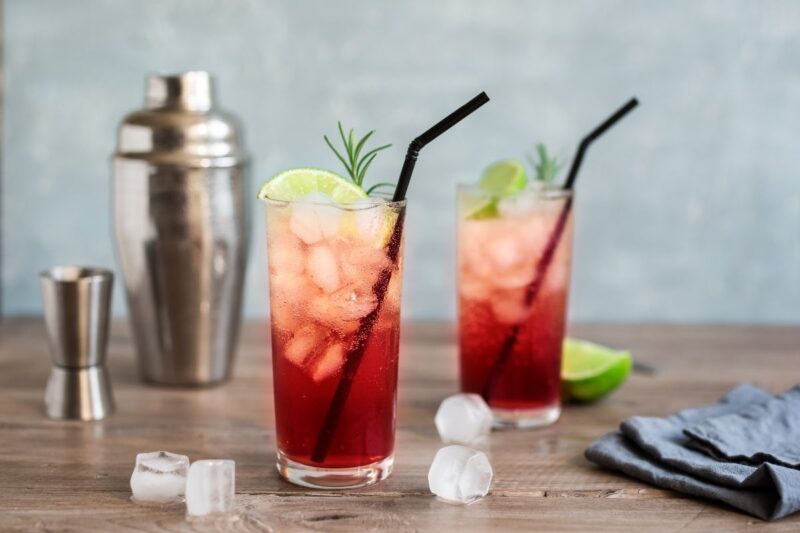 Gin is a spirit that has boomed in popularity in recent years, and this spirit can get you in the holiday spirit with this recipe.
Sloe gin is an acquired taste, but once it is mixed with lemon, blackberries, and sparkling water, it is transformed into a cocktail that even the fussiest people out there will love.
Serve in champagne flutes for ultimate luxury this holiday season.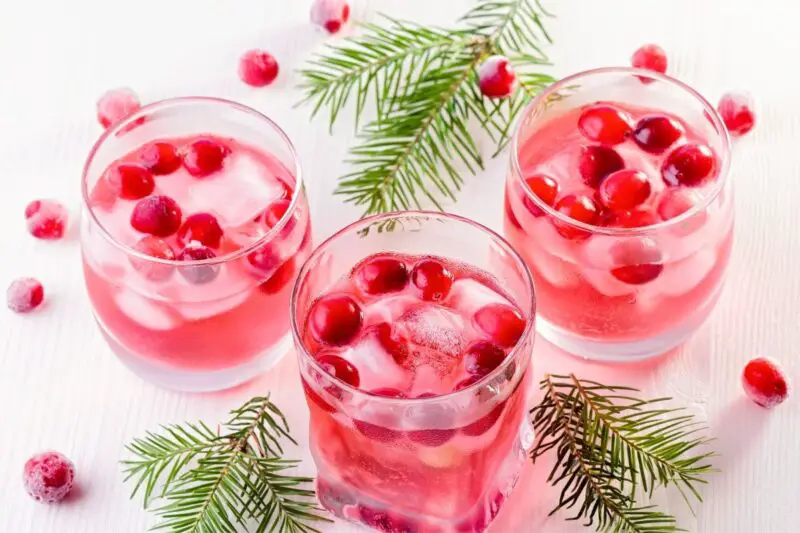 Let's wrap up the alcoholic section of this list, with a drink that can be made either alcoholic or alcohol-free, depending on your preference.
Holiday punch is something that you have to enjoy during the festive season. It simply isn't the holidays if you don't share a glass with friends.
If you want the best of both worlds, make the alcohol-free version of this punch and serve in a punch bowl.
Then leave white rum, spiced rum, whiskey or vodka beside it, so those that fancy a little tipple can easily add it to their glass.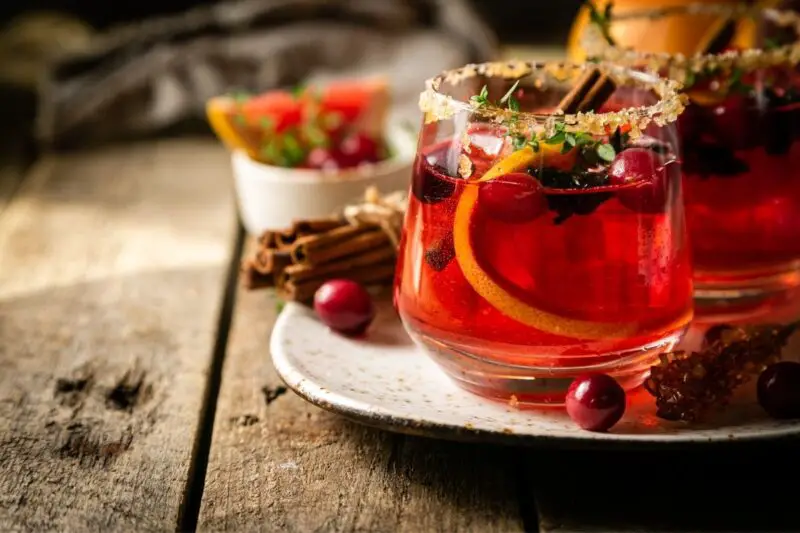 The holiday season isn't exclusive to Christmas, and it actually begins upon Thanksgiving. This is the perfect drink to share if you are spending Thanksgiving with friends, and it is non-alcoholic too.
Festive drinks don't have to include alcohol for you to get into the holiday spirit, and this recipe is a testament to that.
So, if you want a large bowl of punch, but want a recipe that is alcohol-free, this is the perfect drink to enjoy with your friends.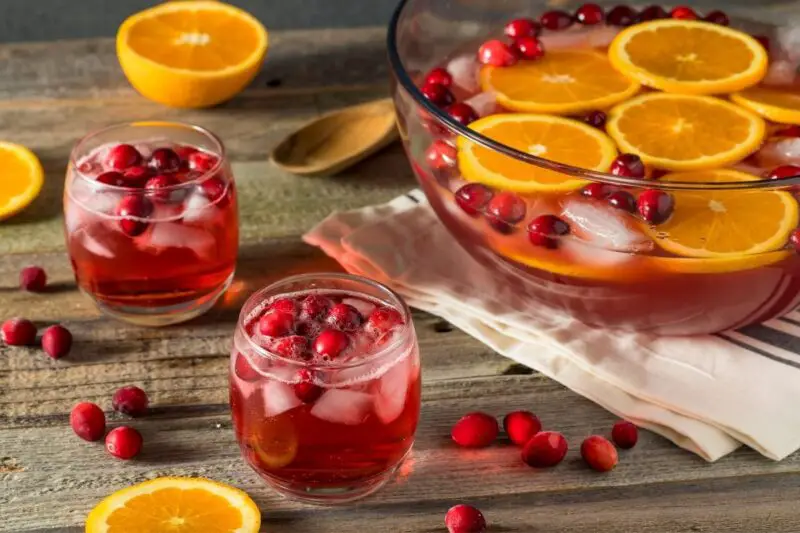 Another great punch recipe to check out is this Cranberry-apple cider punch. This is another alcohol-free punch recipe as it uses apple cider rather than hard cider.
So, if you or your friends have children, this is a festive holiday drink that can be enjoyed by all.
The best thing about punch is that it is incredibly simple to prepare. It is a cocktail (or mocktail) that tastes great, but doesn't require any hard work to get there.
So, if you want something that you can easily throw together, this is the perfect recipe for you.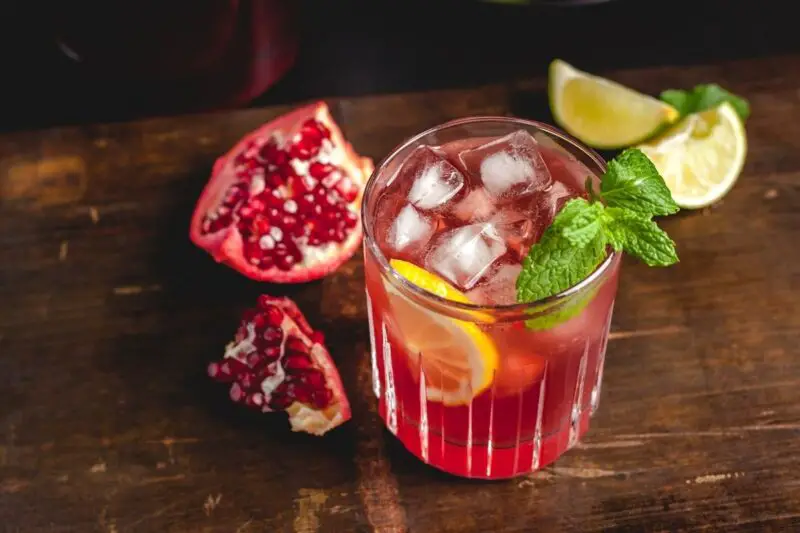 Although, in the festive season, you might want to push the boat out, and make something a little special.
If you and your friends don't drink alcohol, this is the perfect recipe to get you feeling festive, without having to consume any spirits.
Mojitos are a summer drink, there's no denying that, and you might expect the pomegranate in this recipe to make this drink feel even more summery. But, this isn't actually the case.
The flavor combination is perfect if you want a taste of summer, while also acknowledging the festive season. It is another delicious mocktail that you simply have to try to appreciate.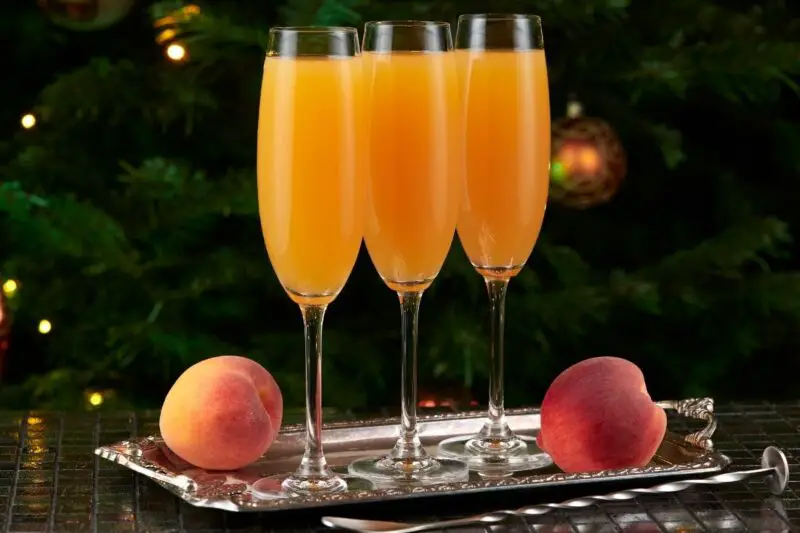 In the United Kingdom, Bellini's are the go-to festive drink, except they call it Buck's Fizz over there.
This might seem a little strange because Bellini cocktails are mainly enjoyed during the summer months in the US, but don't knock it till you try it!
This baby Bellini recipe is alcohol-free, making it suitable for people of all ages. It is straightforward and simple to make, meaning minimal effort for maximum results.
There's no denying that Bellini's are moreish, and with this recipe you don't need to worry about how much you drink. It is definitely one to try this holiday season.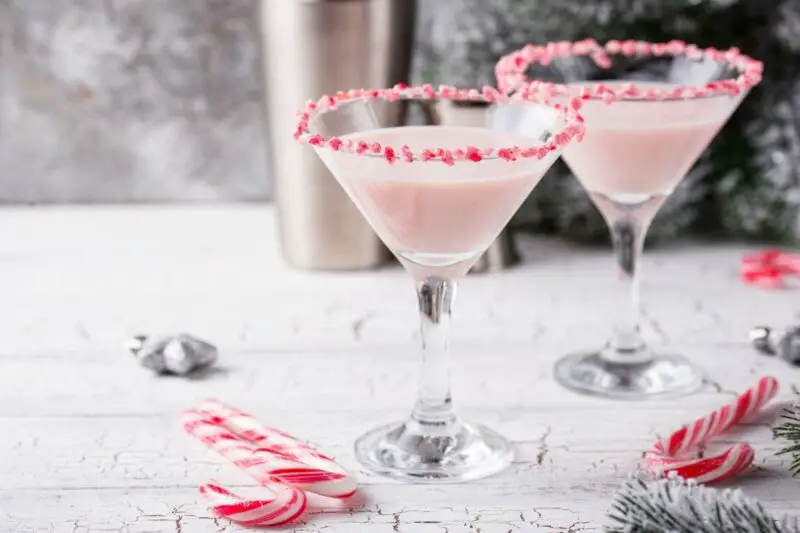 However, if you want a mocktail that will mentally throw you into holiday mode, then this Candy Cane Christmas mocktail is the one for you.
Nothing screams the holidays more than candy canes, and in this drink recipe, they are front and center.
If you love sweet things, and you love the flavor of candy canes, this mocktail is perfect for you.
Due to its sweetness, it isn't one that you could drink a lot of, but it is one that you are guaranteed to enjoy.
Serve in a cocktail glass, and cover the rim of the glass in crushed candy cane for a luxurious holiday drink that is alcohol-free.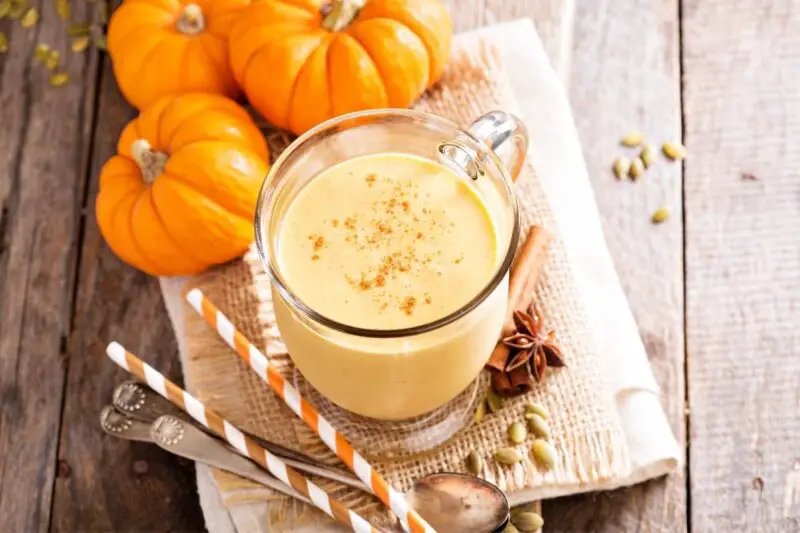 However, festive holiday drinks don't need to be fancy to get you into the holiday spirit. There are some flavors that just scream the holidays, and pumpkin is one of them.
If you love a pumpkin spiced latte, then you will love this pumpkin smoothie.
This drink is served cold, like all smoothies are, but it has all the flavors that you know and love from a pumpkin spiced latte. It is definitely one to try, especially if it is early in the holiday period.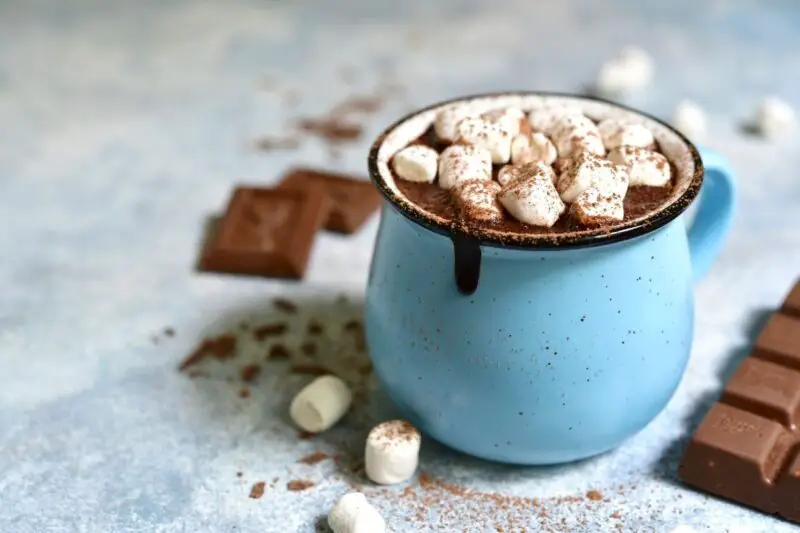 Finally, let's wrap this up with hot chocolate. When winter comes around, there is nothing quite as nice as a warm cup of hot chocolate – especially when it is snowing out.
This slow cooker hot chocolate recipe is absolutely delicious, and it is really simple to make too.
It is the perfect recipe to make in the morning, ready to enjoy in the afternoon when your friends come round this holiday season.
Summary
In this guide, we have taken a look at 15 different festive holiday drink recipes that your friends will love.
We've included both alcoholic and alcohol-free recipes, so there is something in here for everyone.
Thank you for reading!