Christmas is a time for family gatherings, feasting, and lots of fun. And drinking is definitely part of the festivities.
From mulled wine to eggnog, these festive drink recipes will help you celebrate the holiday season.
Whether you prefer red or white wine, these festive drink recipes include both options. They also feature a variety of ingredients from spices to fruits, nuts, and even chocolate!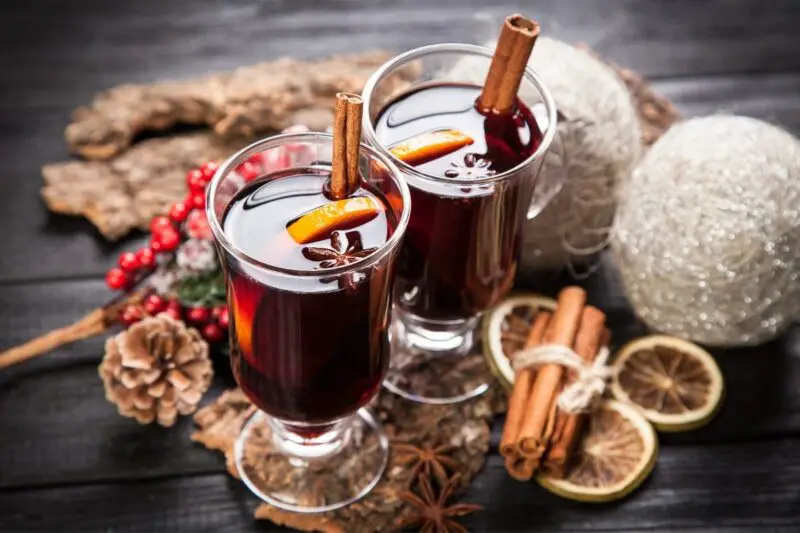 This spiced wine recipe is perfect for any occasion. It's easy to make and can easily be made ahead of time.
Add all the ingredients into a large pot and bring to a boil over medium heat. Reduce the heat and simmer until reduced by half. Serve warm or cold.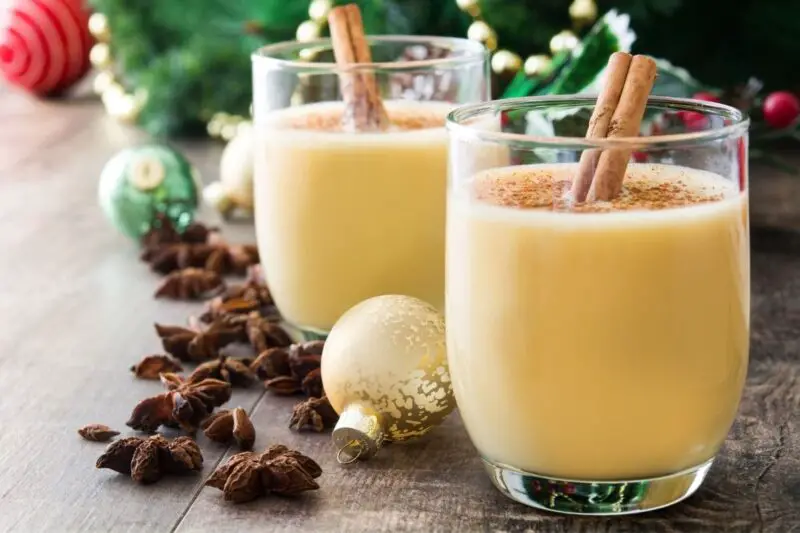 Eggnog is one of those drinks that has become synonymous with the holidays. This eggnog recipe is simple to make and tastes delicious.
In a blender combine eggs, milk, sugar, vanilla bean seeds, and salt. Blend on high speed until frothy. Add the alcohol and blend again.
Pour through a fine mesh strainer into a bowl or pitcher. Cover and refrigerate overnight. Serve chilled.
Mulled cider is another great drink to serve at parties. You can use apple juice instead of cider if you don't have access to hard cider.
Combine mulling spice mixture in a small saucepan and cook over low heat for 10 minutes. Set aside to cool completely.
Combine the remaining ingredients in a large pot and bring them to a boil. Remove from the heat, add the mulling spice mixture, cover, and let sit for 30 minutes. Strain out the spices before serving.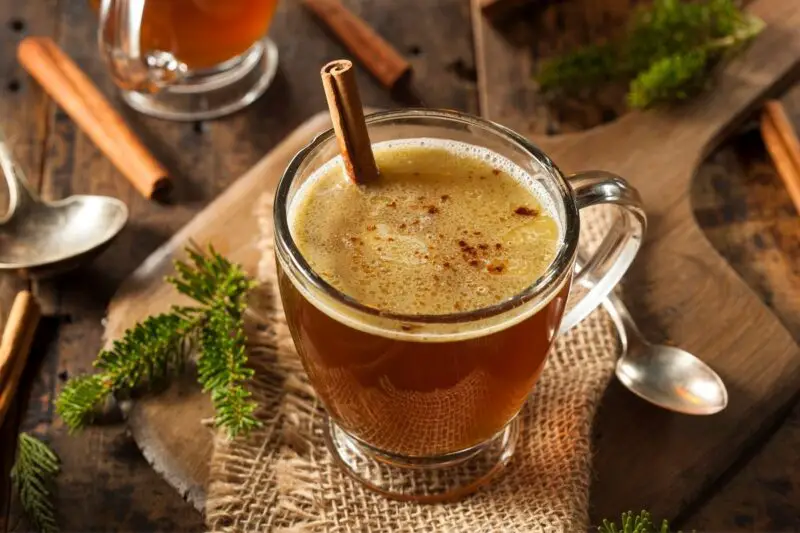 Hot buttered rum is a classic cocktail. If you like this drink, it's easy to create your own version using different flavors. Try adding other herbs such as mint or rosemary.
Heat rum, butter, and sugar in a small pan over medium-low heat. Stir occasionally until the sugar dissolves.
Remove from the heat and stir in the lemon juice and cinnamon stick. Let stand for 15 minutes. Serve warm or cold over ice.
This punch is very similar to mulled cider but without alcohol. Instead of using apple cider, try making this punch with apple juice.
Bring apple juice, apples, lemon juice, cinnamon stick, nutmeg, cloves, allspice, and mace to a simmer in a large stockpot. Reduce the heat and simmer for 20 minutes.
Transfer the apples to a food processor and purée. Return the purée to the stockpot and add the remaining ingredients.
Simmer over medium heat for about 45 minutes, stirring frequently. Cool slightly then strain through cheesecloth. Serve cold.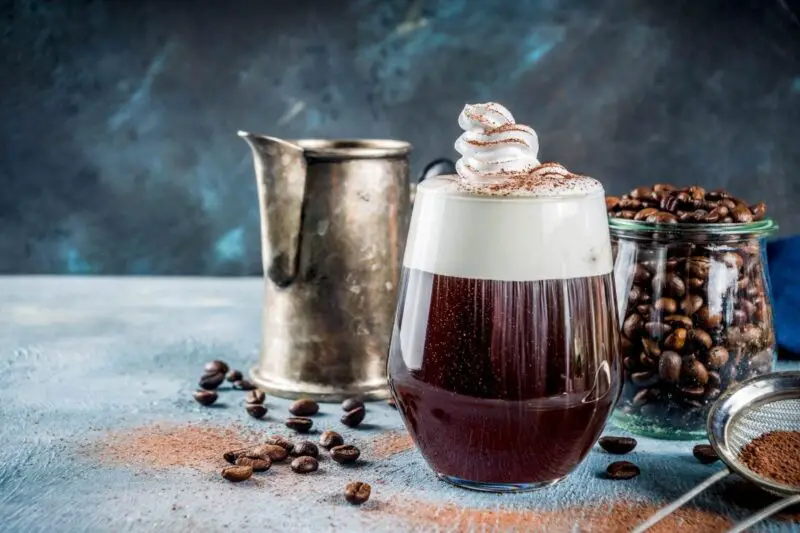 Irish coffee is one of my favorite drinks. It's delicious when made with strong coffee and served with whipped cream on top. This recipe uses Bailey's Irish Cream liqueur instead of whiskey.
In a bowl, combine espresso powder, powdered milk, and Baileys. Add the heavy cream and mix well. Scrape the seeds from the vanilla bean into the bowl and whisk to blend. Pour the mixture into a pitcher and refrigerate overnight.
Before serving, remove the vanilla bean and discard it. Just before serving, pour the chilled mixture into an ice cream maker and churn according to the manufacturer's instructions.
When the ice cream has finished churning, transfer it to a freezer container and freeze for at least 4 hours. Serve frozen.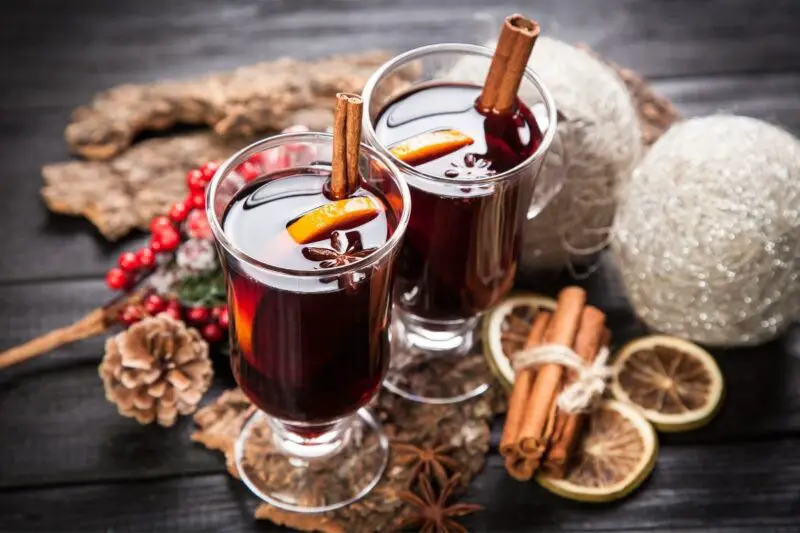 Mulled wine is a traditional winter beverage that can be prepared year-round. But during the holidays, I like to make mulled wine as a warming drink. It's easy to make and tastes great hot or cold.
Combine wine, orange slices, cinnamon sticks, sugar, and cloves in a saucepan. Bring to a boil, reduce the heat, cover, and let simmer for 10 minutes.
Add the brandy and cognac and cook for another 5 minutes. Remove the pan from the heat and let cool completely.
Strain the liquid into a storage container and chill thoroughly. Store in the refrigerator for up to two weeks.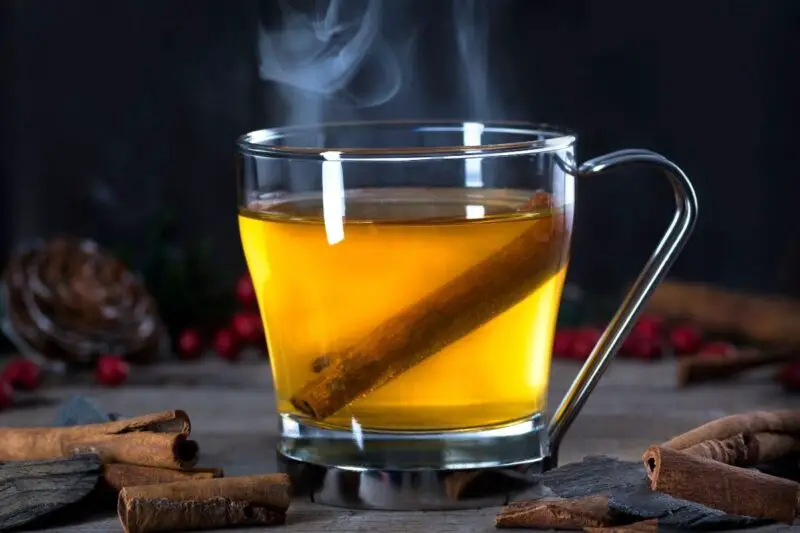 Hot toddies are a popular holiday drink in Scotland. They're traditionally made with whiskey, but you can use any type of alcohol. My version includes honey, ginger, and spices.
Add whiskey, honey, ginger, cinnamon, cardamom, clove, and star anise to a saucepan.
Bring the water to a boil, then reduce the heat and simmer until reduced by half (about 15 minutes). Remove from the heat and let sit for 30 minutes. Strain out the solids and serve warm.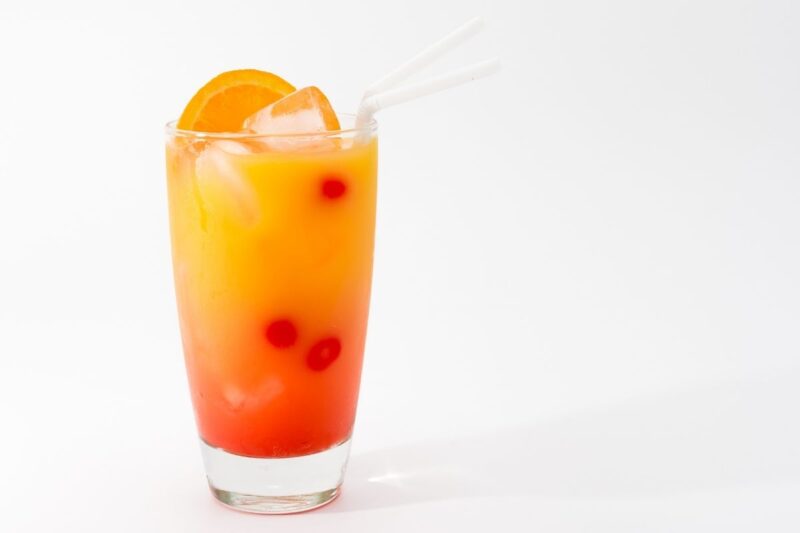 This punch is festive without being overly sweet. It's perfect for entertaining because it doesn't require much time to prepare.
Place all ingredients except the cranberries in a large pitcher. Stir well. Refrigerate for several hours. Add the cranberries just before serving.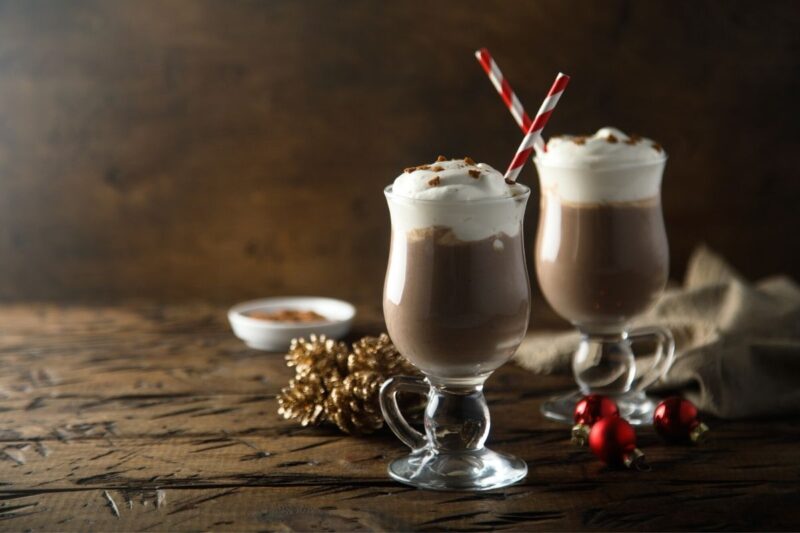 Gingerbread latte is a delicious way to enjoy your favorite coffee drink on a chilly day. This recipe uses gingerbread spice instead of molasses. You could also add some whipped cream if desired.
In a small bowl, stir together coffee, almond milk, ginger syrup, and lemon juice.
Transfer the mixture to a blender and process until smooth. Divide among four mugs. Top each mug with a scoop of ice cream and drizzle with the gingerbread spice. Enjoy!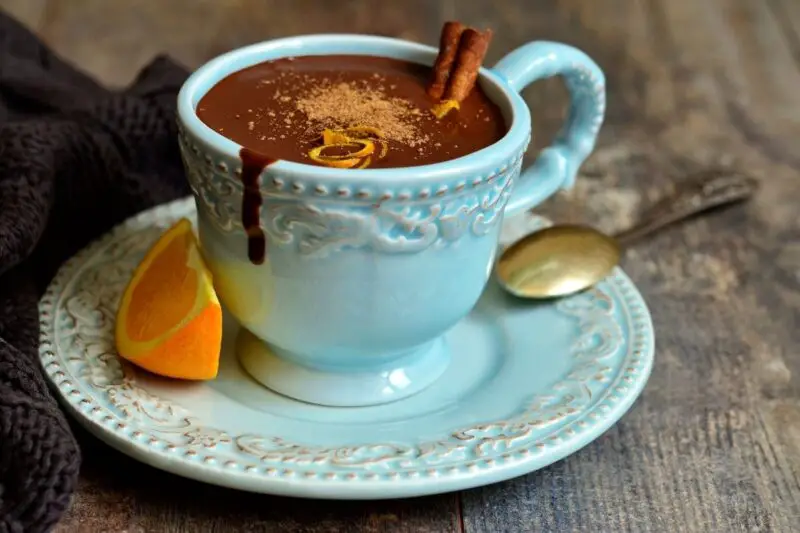 A classic combination of flavors makes this hot chocolate special enough to serve at a holiday party.
Combine cream, milk, cocoa, cinnamon, sugar, and orange peel in a medium saucepan over medium heat.
Scrape the seeds from the vanilla bean and add them to the pan. Cook the mixture, stirring occasionally until it begins to thicken, about 5 minutes.
Whisk the cornstarch into the hot milk mixture and continue whisking until thickened, about 5 more minutes. Serve immediately.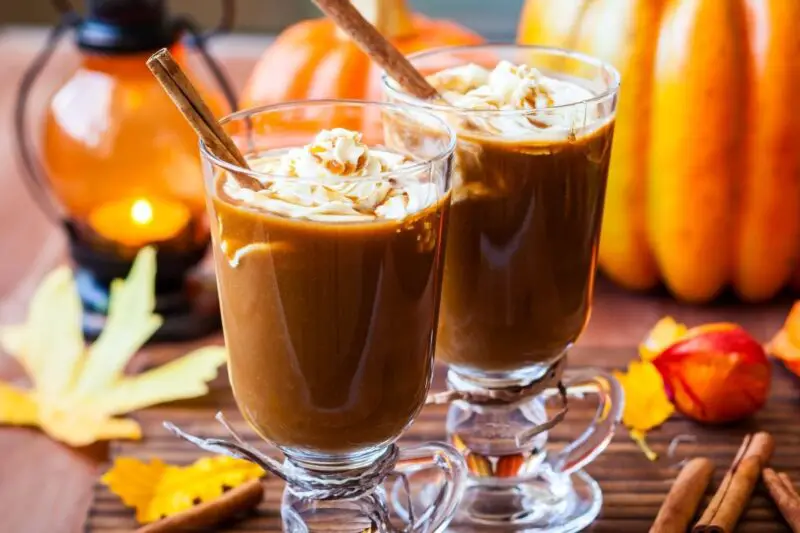 If you love pumpkin pie, you will love this coffee beverage. It is best served warm or cold.
Pour the ground coffee beans into a fine-mesh strainer. Rinse under running water until the water runs clear.
Combine the brewed coffee with the spices and pour into a jar or container. Keep refrigerated and use within two weeks.
Cocoa is always a welcome addition to any dessert. But when combined with chocolate and orange, it becomes something truly magical.
If you don't have access to bittersweet chocolate, try semi-sweet chocolate chips instead.
Mix the butter and sugar in a microwave-safe bowl. Melt the butter and sugar together on high for 30 seconds. Stir until completely melted. Pour in the eggs and beat until light and fluffy.
Slowly add the flour and mix until incorporated. Fold in the chocolate chips and nuts. Spread batter evenly onto a greased cookie sheet. Bake at 375 degrees F for 10-12 minutes.
Cool completely. Cut into squares and top with a dollop of whipped topping and an orange slice.
This drink is perfect for fall parties. It can be made ahead of time and kept chilled in your fridge.
Add apple cider, apple brandy, cinnamon stick, star anise, cardamom pods, and whole cloves to a large pot. Bring to a boil, then reduce to a simmer and cook for 20 minutes.
Remove from heat and let sit for at least 30 minutes. Strain liquid into a pitcher, discarding solids. Chill thoroughly. To serve, stir in honey and ice cubes.
Finally, what would the festive season be without a little snow in a glass? OK – so this isn't technically snow, but it's one of the most famous Christmas drinks going.
This is also something that is incredibly easy to make! Simply mix together lime juice (or cordial if fresh limes are hard to come by), advocat, and sparkling lemonade along with some ice.
Once shaken up, pour into a glass and serve. You can get really creative with your garnishes here as well.
A cherry is traditional, but if you really want a festive twist why not add some Christmas-themed cocktail decorations, a sprig of spruce, or even decorate your glass with some festive stickers!
Final Thoughts
The holiday season is full of wonderful traditions and memories. Whether you are hosting a family gathering or attending one, these festive recipes will help create memorable moments.