Desserts are such a lovely treat to have after a main course.
I know my group of friends will always favor dessert over starters when there's a 2-course deal on.
But you don't have to spend big bucks for a delicious dessert – you can make some amazing desserts right at home.
And desserts don't always have to be laden in fat, sugar, and calories – there are a great many dessert recipes out there that are packed with vitamins and minerals, and are lower calorie versions of their less healthy counterparts.
So if that sounds good to you, please read on for our shortlist of the 15 best healthy dessert recipes across the net.
Spoiler alert – your mouth may start watering as you browse!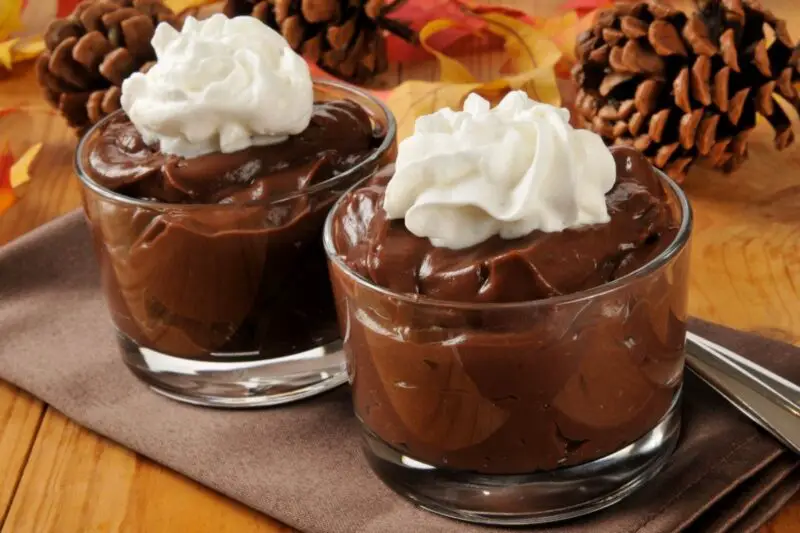 Chocolate flavors are such people pleasers, and this dessert is really rich, chocolatey and creamy – I think you're gonna love it!
It's super simple to make, and requires very few ingredients.
You can use a milk of your own choice (I love it with coconut milk) and your own choice of sweetener (artificial sweetener will be lowest in calories).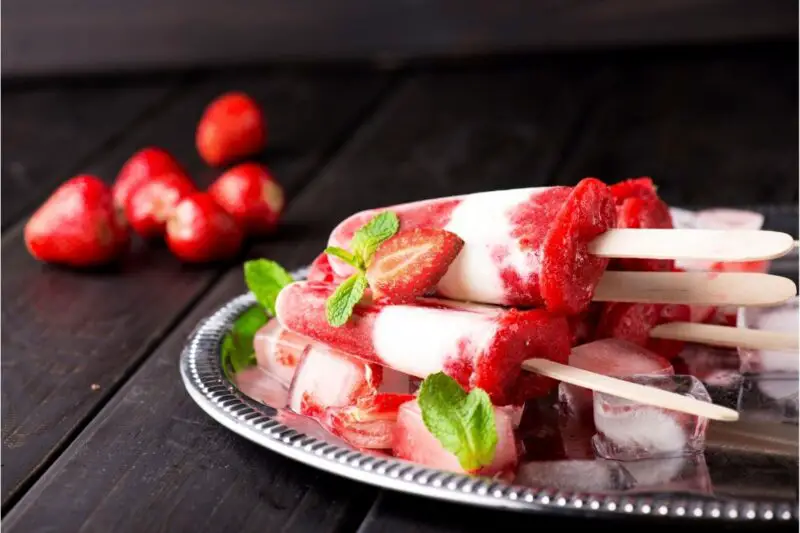 If you're a sucker for frozen popsicles, you're gonna love this recipe…
It requires very few ingredients, namely plain yogurt, fresh strawberries, some honey, a squeeze of lime juice and a little water.
It's super simple to make, and each serving comes to a mere 57 calories.
And to make it even healthier, you can use fat free yogurt. It tastes like strawberries and cream and really goes down a treat!
This is probably one of the healthiest on our shortlist, made with banana and dark chocolate chips, which pair together perfectly with their contrasting flavor profile.
And it's very simple to make.
You slice up the bananas, freeze them, melt the chocolate, dip the banana slices in, top them as you wish, and return them to the freezer.
You could use regular sprinkles on top, or your favorite crushed nuts for extra crunchy texture. (I love them with hazelnuts!)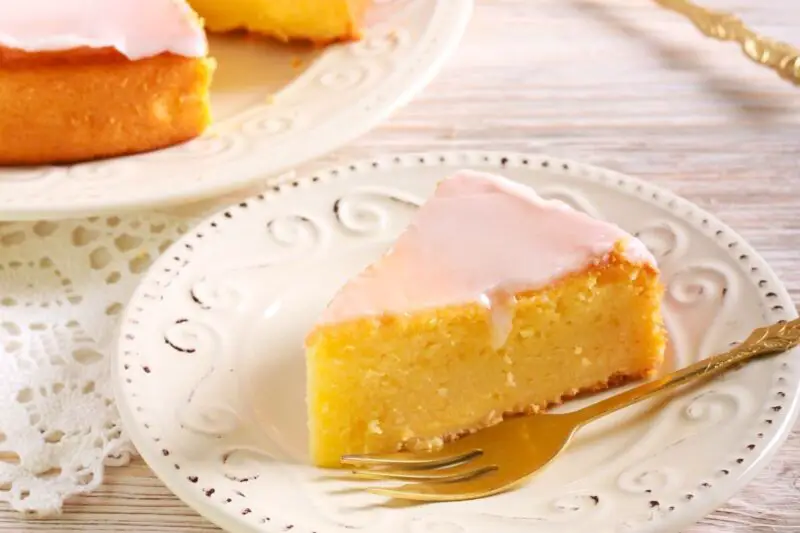 If you love citrus flavors, I promise you, you will adore this dessert!
It uses healthy ingredients, including the likes of coconut sugar, spelt flour and low-fat Greek yogurt, and lemon juice for the cake itself.
And there's a matching recipe for a delicious lemon syrup to drizzle on top, made with lemon juice and fresh lemon zest – yummy!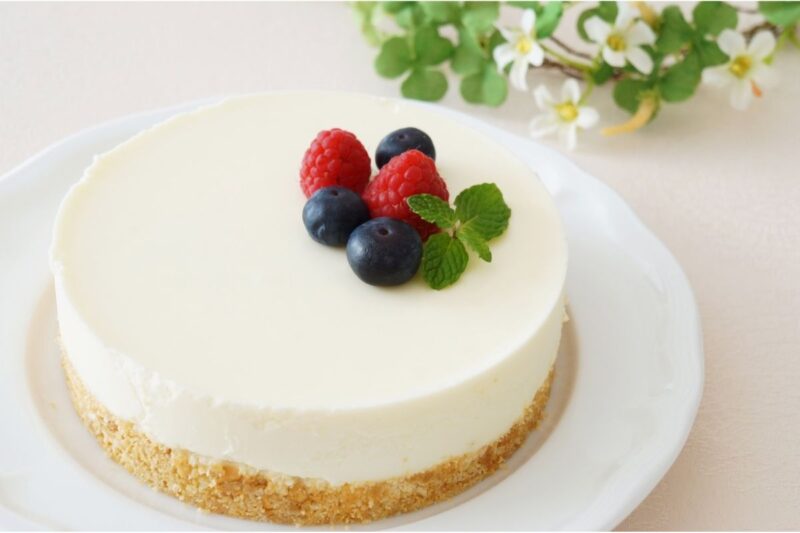 Who doesn't love cheesecake, right? So decadent and indulgent. But this version is surprisingly healthy…
One of the things I love about this particular recipe is how you only really need 3 ingredients for the filling, namely cream cheese, honey (or maple syrup) and vanilla extract.
And just 4 ingredients for the oat crust, including oats, honey (or maple syrup), coconut oil, and cinnamon.
Then you can add your favorite topping – I like it with sliced strawberries!
And believe it or not, each serving comes to under 100 calories!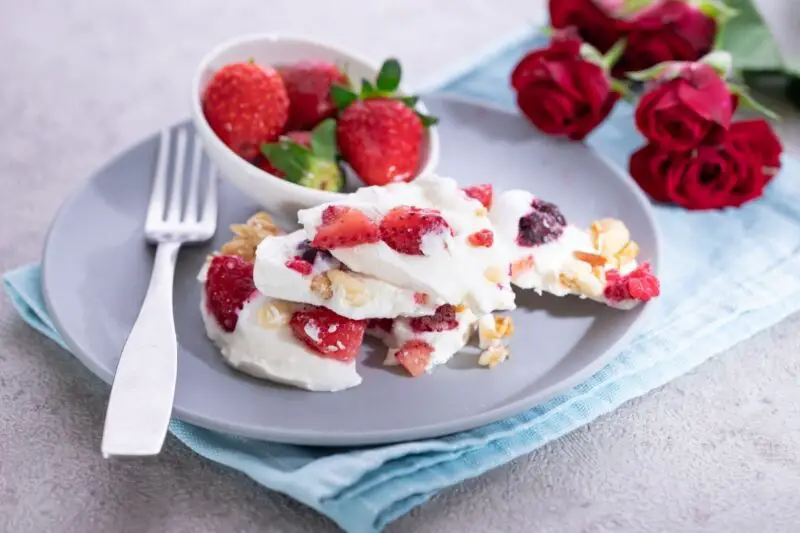 I just love the sheer simplicity of this recipe – not to mention its uniqueness.
Frozen yogurt doesn't always have to have a yogurt or ice cream like texture, you can make it into a kinda bark, as per this recipe.
The primary ingredient is Greek vanilla yogurt, but you can also add your choice of toppings.
I like to add my favorite cereal and some diced strawberries and blueberries.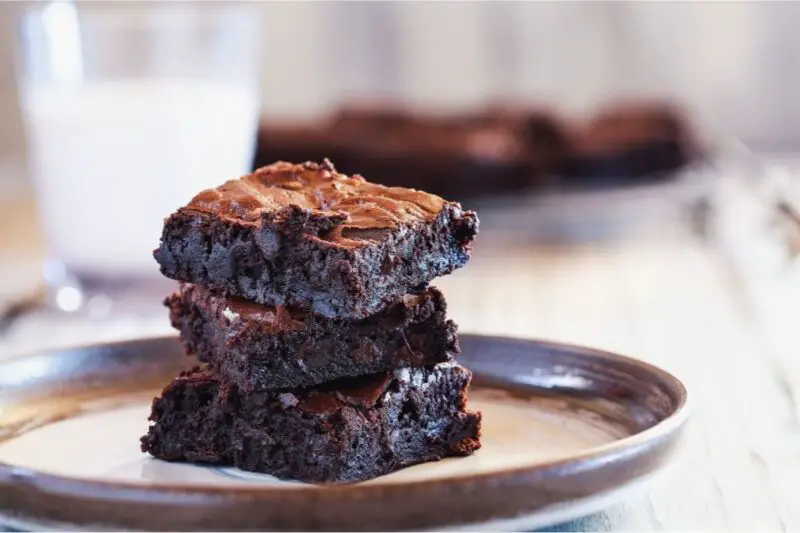 I bet you never thought that decadent chocolate brownies could ever be healthy – well here's a recipe to prove you wrong!
It's quite a straightforward recipe – anybody can do it.
And even though it doesn't feature a lot of sugar, and the cocoa powder used is unsweetened, this doesn't at all take away from the delicious taste – absolutely scrumptious!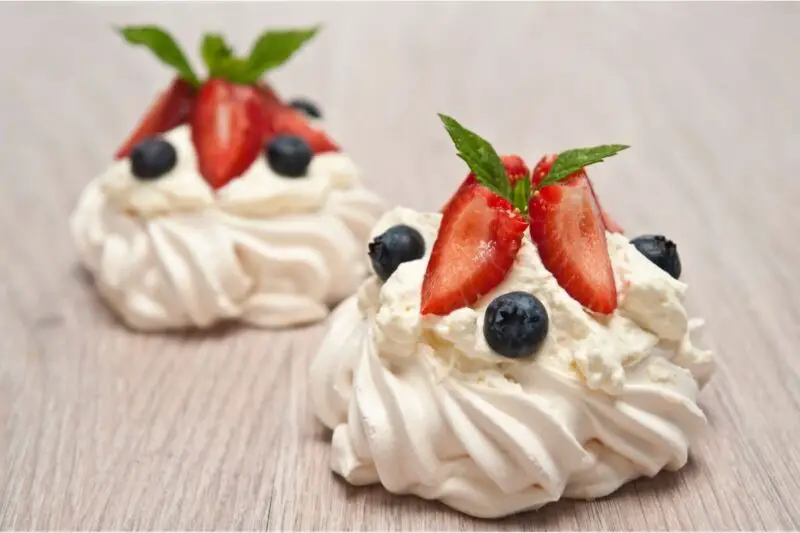 If you like to while away the hours in your kitchen, this is an excellent recipe to make on a weekend.
And even though it has lots of ingredients and takes some time to make, each serving comes to a mere 257 calories.
It features a cake base, cream that you whip yourself, and you can top it off with your choice of sweet fruits. (I love it with slices of kiwi!)
In this stunning recipe, Shannon Harley gives us her healthy take on that ever popular Italian dessert, Tiramisu, where refined sugar and cream gets swapped for healthy chia seeds, prunes and cacao.
But trust me, it tastes just as good, and it's still got the likes of Marsala wine in there, together with freshly ground coffee and half a cup of espresso.
It's easy to make, and the recipe can be used to make a total of 4 servings. Heaven!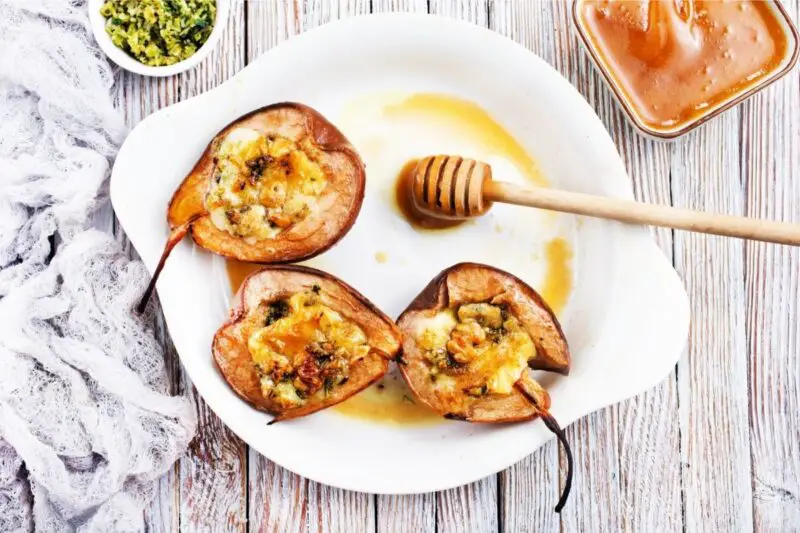 I don't know about you, but I just adore the taste of amaretti biscuits – and they pair beautifully with baked pears (please excuse the pun)!
This recipe requires very few ingredients, just ripe pears, ricotta cheese, amaretti biscuits, clear honey, and cinnamon.
It's very quick and easy to make. The recipe provides 4 servings altogether, and each serving is a mere 198 calories. Not bad hey?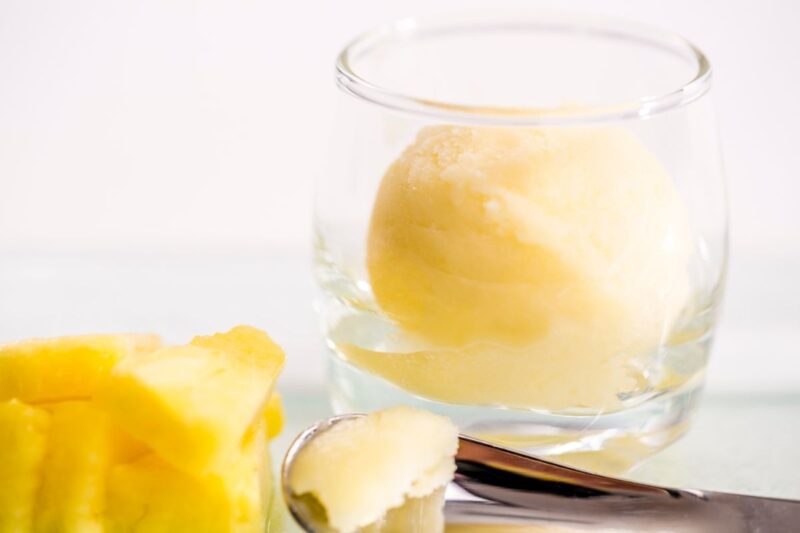 Now, this is hands-down the most refreshing dessert I've ever had the pleasure to come across…
It's also super simple to make, since there are only 2 ingredients involved.
The key ingredient is a can of pineapple chunks, which is packed with healthy vitamins, namely vitamins A, B6, and C. So good for you.
First you freeze the pineapple chunks, then you blend them to get that refreshing sorbet texture, before throwing on some fresh mint leaves to serve – divine!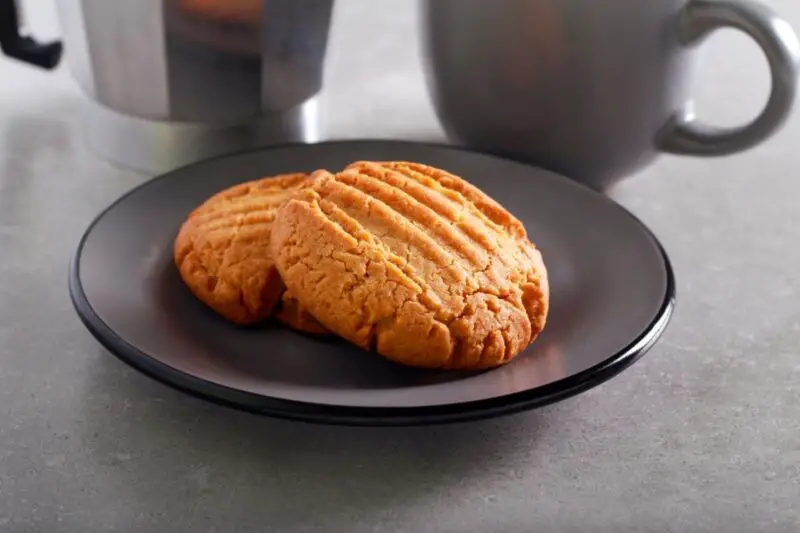 Now this is a healthy cookie recipe that everyone can enjoy – it's not only 100% vegan, but it's also 100% vegan, so your vegetarian friends can enjoy it too.
The recipe uses a mixture of white and brown sugar, and it uses almond flour and almond (or oat) milk to make it vegan.
You will also have to use a vegan brand of peanut butter.
It only takes 10 minutes to prep, followed by 10 short minutes to cook, followed by 5 minutes where you allow it to rest, ideally on a cooling rack.
The recipe can make between 20 and 24 cookies in total.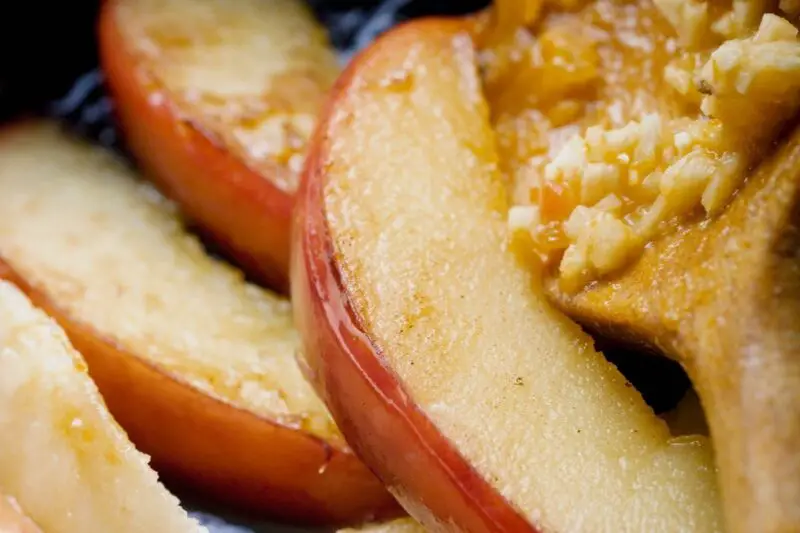 As they say, an apple a day keeps the doctor away. And with this recipe, you only need 3 apples to make enough servings for 4 people.
And as the title of the recipe suggests, you need to sauté the apples (in sliced form) in a skillet.
But before you do, you need to stir the apple slices in a flavorful mixture made up of brown sugar, granulated sugar, cinnamon, ginger and nutmeg.
Yet despite all the sugar added, each serving comes to a mere 188 calories altogether.
The recipe suggests serving the sautéed apples with a dollop of ice cream, but to be even healthier, you can swap out the ice cream for some delicious frozen yogurt.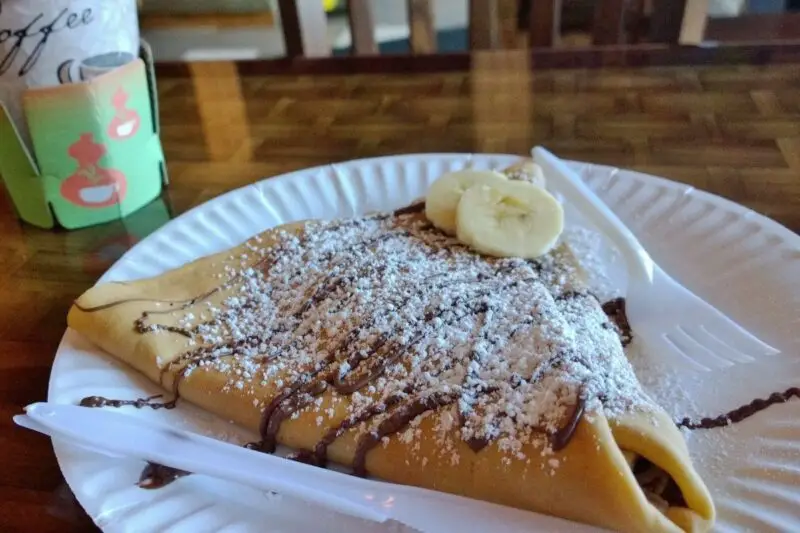 If you love the famous chocolate and hazelnut spread known as Nutella, you can rest assured that you are not alone!
It's a decadent treat that pairs superbly with the fresh banana slices used in this recipe.
The recipe yields enough banana and Nutella crêpe to serve up to 4 people in one sitting.
And better yet, each serving is a mere 260 calories. You wouldn't think it, would you? Definitely good news though!
The recipe even tells you how to make the crêpes yourself, but if you prefer, you could go for store bought ones instead.
We've all heard of chocolate coated strawberries, right? Well, this is a tasty twist on a similar idea…
First, you melt some chocolate chips, before stirring in some coconut oil.
Then you peel and divide 5 mandarin oranges, and dip these segments into the mixture.
Then you garnish them with flaky sea salt, and refrigerate for 20 minutes until firm – absolutely delicious!
Wrap Up
So as you can see, there are all sorts of healthy dessert recipes waiting to hit your taste buds.
And remember you can make lots of dessert recipes healthier just by substituting some ingredients for others, for example artificial sweetener in place of sugar and margarine in place of butter.
Basing your recipe around fruit is also a great idea, since they are not only yummy, but they're also packed with healthy vitamins and minerals.
Bon appétit!