When cooking for the family, it can be tricky to find recipes that everyone will enjoy.
Kids and teens can often be very picky eaters, and are usually reluctant to try anything too different to what they would normally eat.
However, the recipes shown here are ones that they're sure to love. What's more, they all feature everyone's favorite meat, namely chicken.
The recipes focus specifically on chicken thighs, which is a relatively cheap meat to buy and easy to source.
The beauty of these recipes is how even if the outer skin is nice and crispy, the inside is tender, juicy, moist, and just yummy – here goes!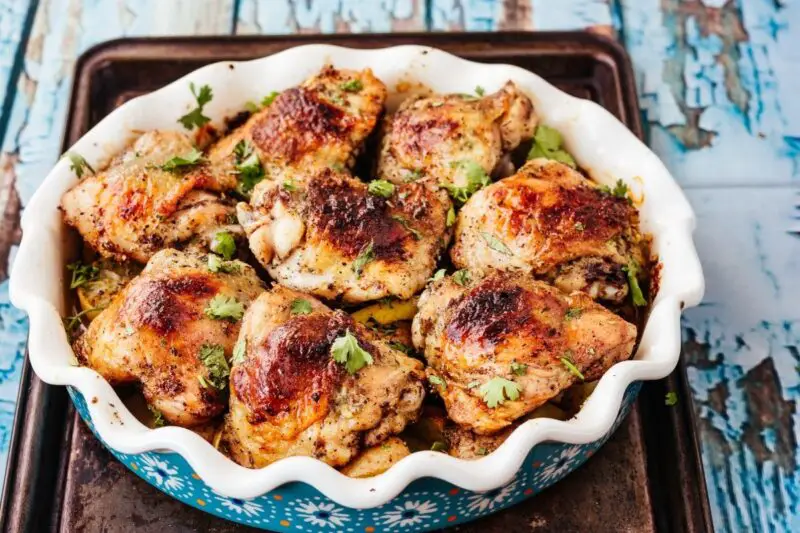 We decided to make this the number one pick in our shortlist due to its sheer easiness and simplicity.
It only requires 3 ingredients in total, namely the chicken thighs, some olive oil, and some seasoning.
It tastes amazing, and it goes great with just about any side you can think of.
The recipe is enough to serve 8 people, but you can easily halve the portions for a family of 4.
If you click on the link provided, you will also see some really nice variations of the recipe.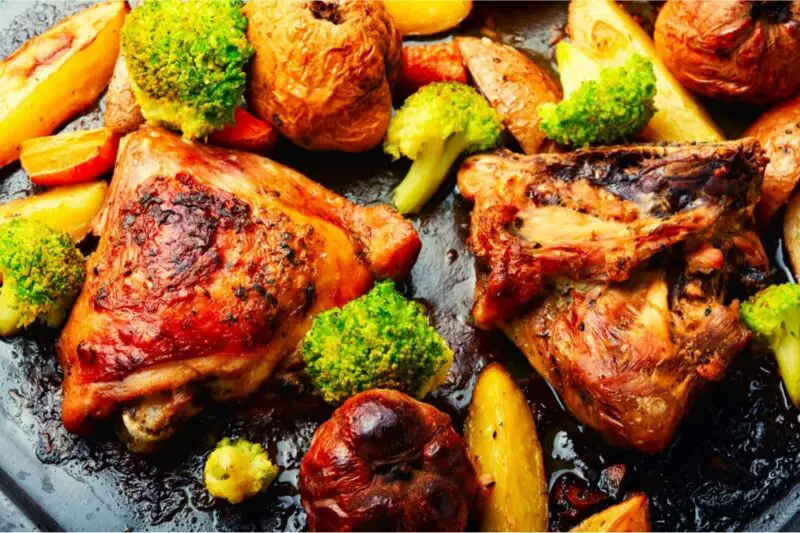 This yummy chicken thigh recipe takes less than an hour to cook from start to finish.
And while it's short on ingredients, it's certainly not short on flavor!
First you make a simple marinade, composed of olive oil, salt and black pepper, shredded garlic, and a sprinkle of Italian seasoning.
You can either make it with the skin on, for an amazing crispy skin, or you can go healthy and take the skin right before baking.
Either way, it comes out lovely & juicy!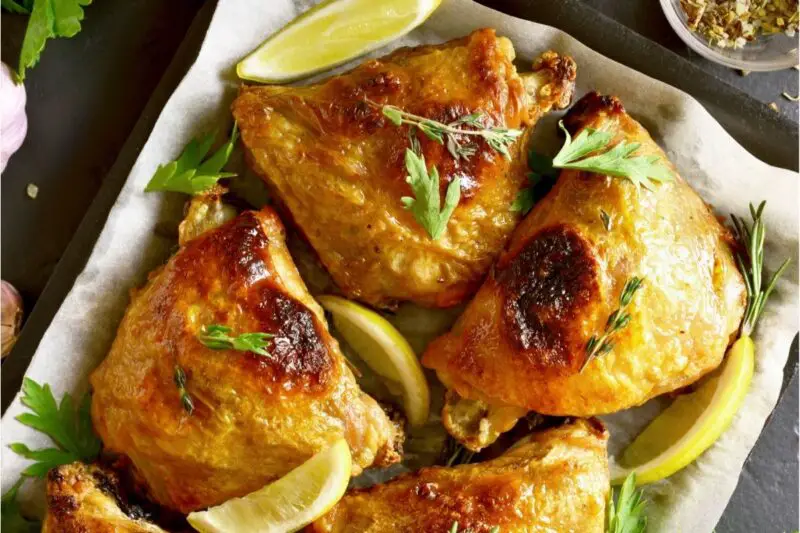 Now, this recipe does have a lot in common with the previous one, in that you get to create a lovely marinade based around olive oil and Italian seasoning.
However, this version has some very welcome additions, including onion powder and paprika, to make it that more flavorful.
But the star feature has to be the addition of brown sugar, which makes the dish that bit more moreish, making it something that the kids will ask for rather than merely tolerate.
It takes just 45 minutes to make in total, and each portion comes to a mere 355 calories.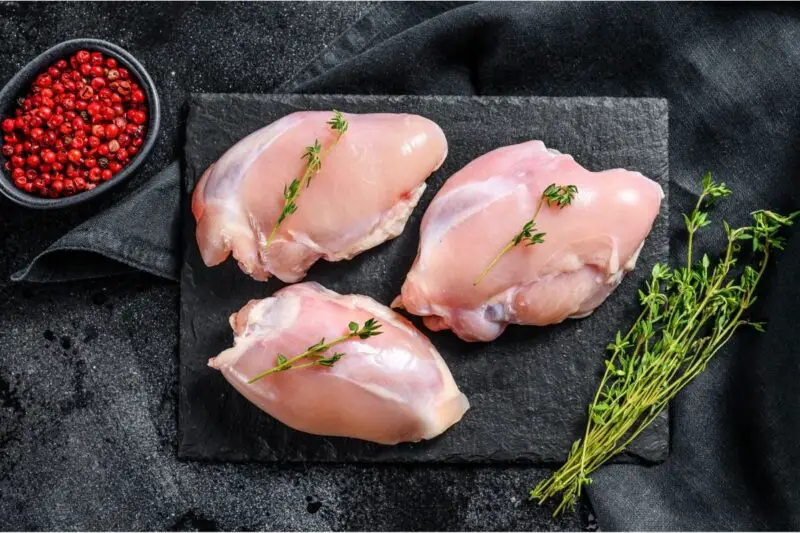 This gorgeous chicken thigh recipe features favored Asian flavors, such as soy sauce, and sesame oil.
These flavors are rather mild, so you can appease even the pickiest eaters with this dish.
You also get to add 4 cloves worth of yummy garlic (either as a powder or shredded), and add some chopped green onions.
It takes a while to make, since you're meant to let it marinade in the refrigerator for at least 30 minutes, but I promise you it's worth it!
Better yet, each portion is a mere 155 calories, so you can really go to town on the accompanying side dishes!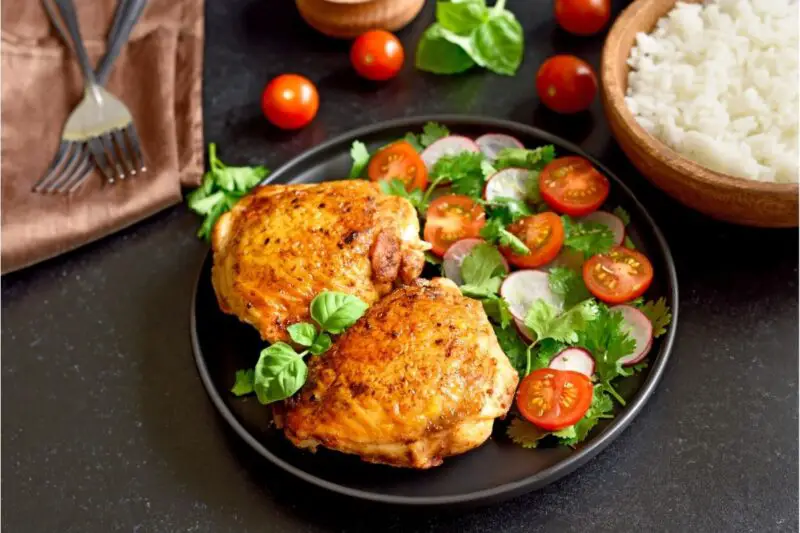 Coming from a website called "On My Kid's Plate" you just know this recipe is going to be perfect for kids and picky eaters.
What's more, this recipe has you baking the chicken thighs in such a way that the end result has an amazing flavorful crispiness and crunch to it.
You could even go so far as to say that it's just like eating KFC at home.
But you don't have to worry about sourcing over 10 herbs and spices – aside from salt and pepper, all you need to add is a teaspoon each of garlic powder and paprika.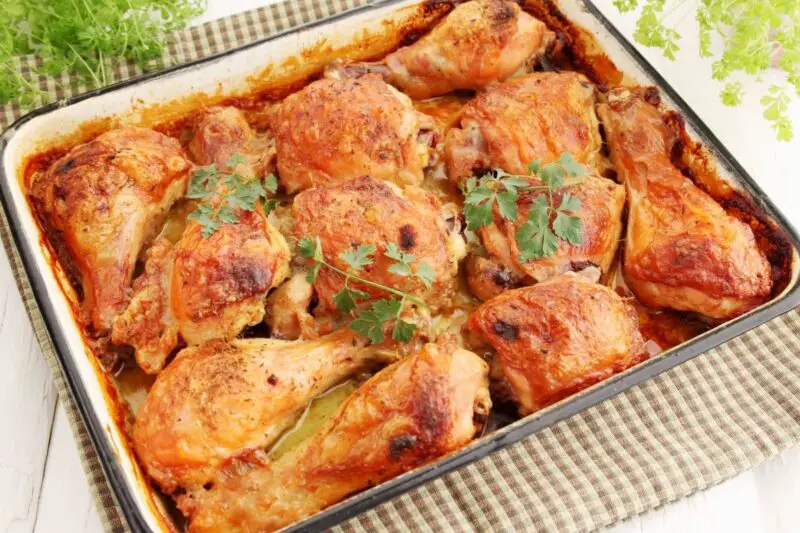 OMG, this recipe is amazing. And it's super simple to make, too.
It does require a marinade before baking, so this means it will take some time before it's ready.
So it's probably better for a weekend treat rather than a week night one.
The citrus marinade is just gorgeous, thanks to the addition of ingredients like fresh orange juice and fresh lemon juice, combined with garlic, paprika and Italian seasoning.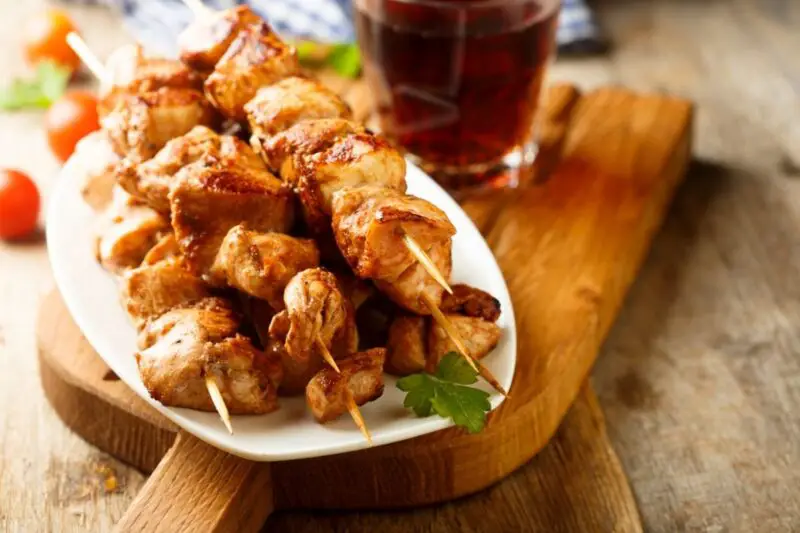 What family doesn't love anything made with creamy natural peanut butter?
This recipe features a luscious marinade that's both sweet and savory, featuring such ingredients as garlic, soy sauce, sesame oil, white vinegar, green onions and ground ginger.
You will, of course, need to remove the chicken meat from the bone to thread the chicken onto the skewers, but you can bake them rather than grill them, and add any veg you like between the chicken pieces.
I recommend serving with a sprinkle of crushed peanuts on top!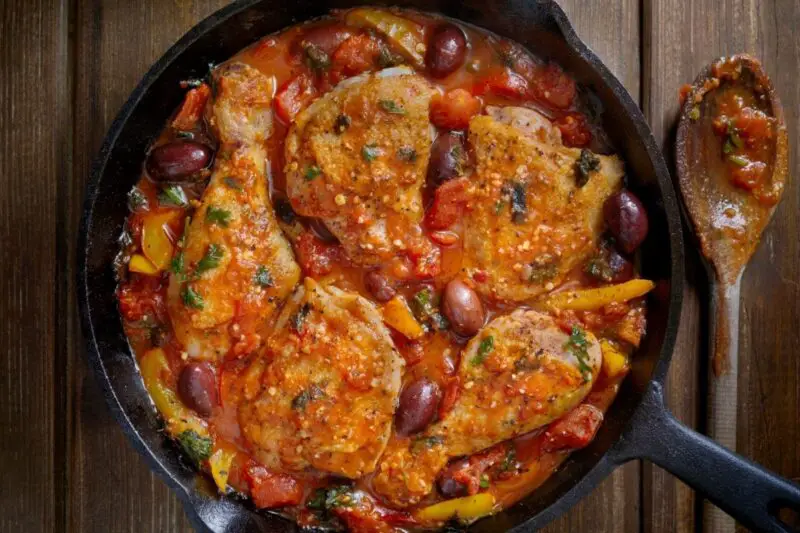 Chicken Cacciatore is a wonderful Italian dish which is a somewhat classic and rustic stew.
Better yet, it's made with ingredients that even picky eater kids can enjoy, such as garlic, onion, and crushed tomatoes, and added flavor from a fresh sprig of rosemary and a bay leaf.
(But you may want to skip the olives.)
The recipe makes enough to serve 4 to 6 people, and it's best served with creamy polenta or roast potatoes.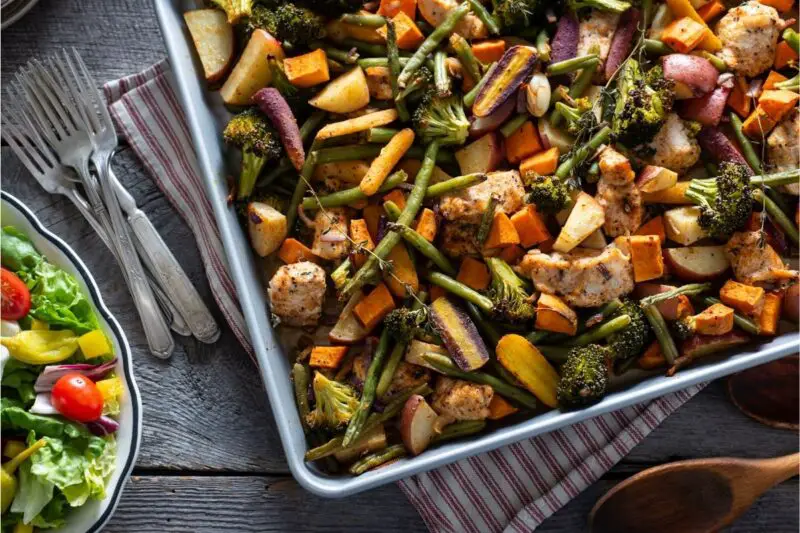 I just love this recipe – tender boneless chicken thighs surrounded by crisp and tender veggies, together with crunchy cashews and an incredible sweet and savory sauce.
It's ready to eat within as little as 25 minutes, so it makes for a great week day meal that the whole family can enjoy.
Sweet ingredients include honey, ginger and hoisin sauce, while the savory ingredients include garlic and toasted sesame oil.
And it's surprisingly low in calories, at 95 calories per serving!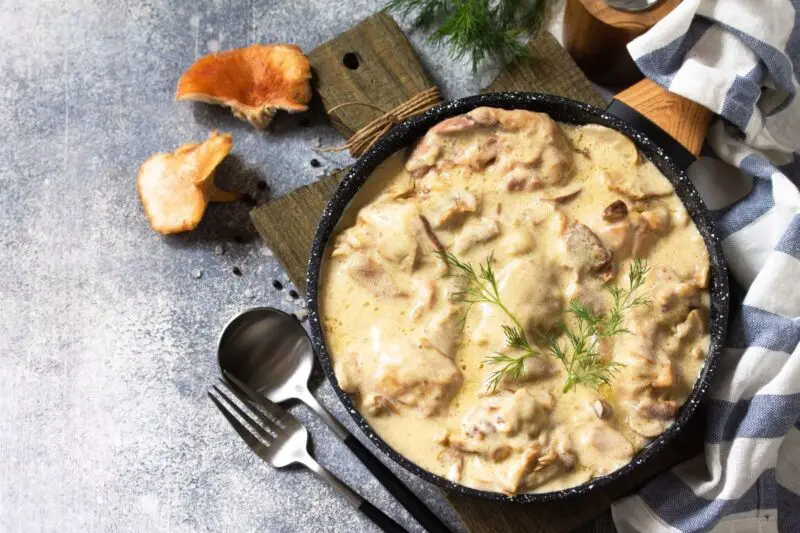 Now, this is a recipe that will please everybody. And it's simple to make because you can leave the bones in and the skin on.
It's gluten-free, and what's more, it's also so low in carbs that you can have it on the Keto diet.
The mushroom sauce is delicious, made with heavy cream, fresh thyme, white mushrooms and chopped bacon – yum!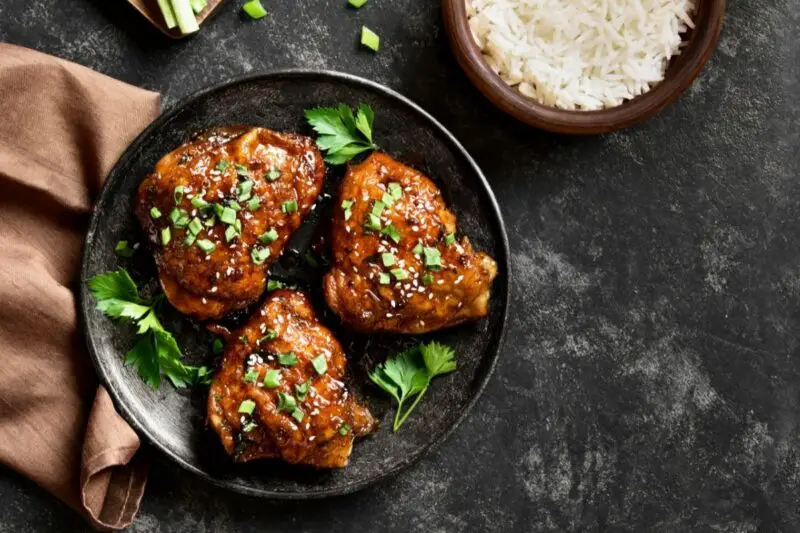 For this Southern Louisiana style recipe, you get to make your very own Cajun seasoning, which is lower in salt than regular store bought Cajun seasoning.
If you make the seasoning beforehand, you can whip the recipe up within a mere 25 minutes.
The recipe uses boneless chicken thighs, serves up to 4 people, comes to 288 calories per serving, and is absolutely delicious!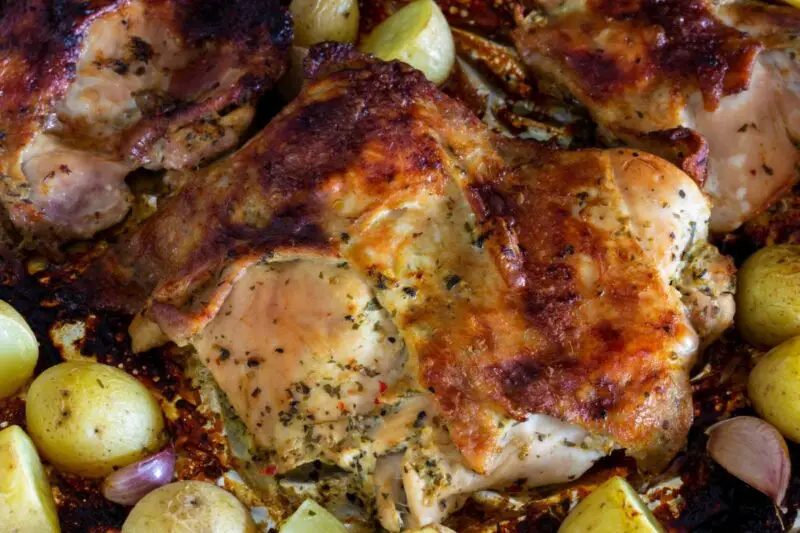 You will love this chicken thigh recipe with its quick and flavorful marinade.
It's really creamy, thanks to being made with full fat Greek yogurt rather than with oil.
And in addition to Italian seasoning, you also add some citrus ingredients for a lift from acidity, including lemon juice and lemon zest.
It's super simple to make, too.
The best way to do it is to let it marinade overnight in the refrigerator, and when you're ready, bake it in the oven for just 20 to 25 minutes.
Each portion is only 353 calories.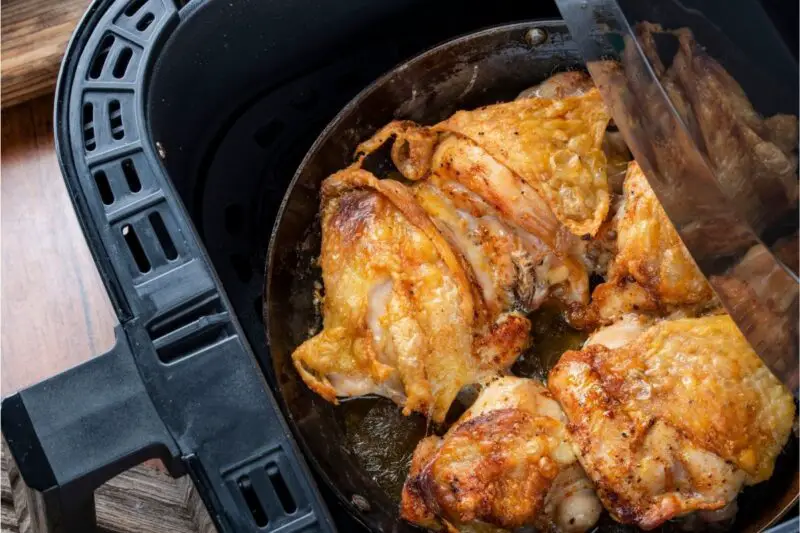 If you're lucky enough to own an air fryer, you can follow this recipe for tasty, juicy, tender chicken thighs.
You can make them bone-in or boneless.
If you leave the bone in, it will take a little longer to cook, but it can still be cooked in 30 minutes or less.
First you make a dry rub, made with such ingredients as smoked paprika, garlic powder, and red pepper flakes.
Once you've applied the dry rub to the chicken thighs, you simply add a little olive oil and flavorful Worcestershire sauce to form a marinade.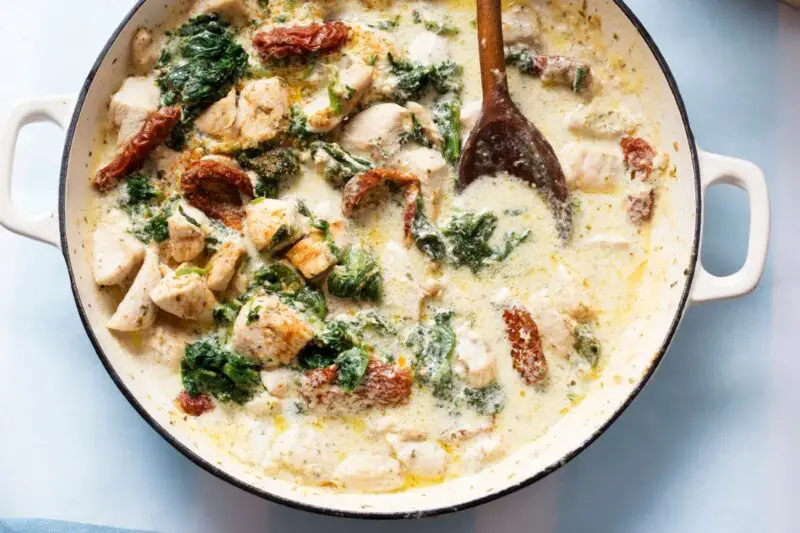 Most Italian dishes always go down well with kids – flavorful without being hot. And this recipe is no exception.
It features a creamy, dreamy, garlicky Parmesan sauce which pairs beautifully with sun dried tomatoes. Yum!
In this recipe, you combine your chicken thighs with some rice all in one pan, so you don't have to worry about making a separate side dish, which is super convenient.
And it means there's less washing up, to boot.
The flavors are amazing, you've got garlic, white wine, paprika, saffron and more in there. Delicious!
Better yet, each serving comes under 500 calories!
Wrap Up
I hope you've enjoyed this quick rundown of great chicken thigh recipes – I'm sure you've spotted at least one or two you want to try out! Bon appétit!