So, you want to make chicken Tocino and need a quick and easy recipe? Well, look no further!
We've got you covered. 
Our Tocino chicken recipe is straightforward and super easy to make. In fact, the cooking process will only take you 15 minutes. 
If you're craving a dish bursting with flavor and love cooking, this one's for you!
What Is Chicken Tocino?
If you've never had chicken Tocino, you're missing out. You can easily make this Filipino dish with either pork or chicken. We'll be using tasty chicken for this recipe! 
Chicken Tocino is a delicious sweet and savory dish marinated in chili sauce, pineapple juice, garlic powder, and brown sugar. Ideally, marinate your chicken for around 24 hours. 
However, our chicken Tocino recipe only requires 4 hours, making it perfect if you want to quickly and effortlessly whip up a tasty meal.
Cooking the Tocino is also incredibly simple. All you need to do is take your marinated chicken and cook it up. It is the perfect main course for lunch or dinner. 
The dish is also quite versatile. You can serve it in different ways, making it one of our favorite Filipino recipes.
The Tocino chicken recipe is also customizable. For example, you could add soy sauce or oyster sauce. You could even switch out the chili sauce for some paprika instead.
The Tocino Chicken Recipe
Our chicken Tocino recipe is one of the simplest around. In fact, we've broken it down into three easy steps – marinate, cook, and pan-fry. 
Overall, it should take around 15 minutes to cook the chicken once you've marinated it. So, it's an effortless meal to make, especially after a hard day at the office. 
This recipe makes four servings of chicken Tocino, so it's perfect for a family dinner. 
So, let's dive in! 
Ingredients
One of the best things about this Tocino chicken recipe is that the ingredients are pretty straightforward. In fact, the hardest thing to find on this list is pineapple juice. 
Please make an effort to get your hands on some pineapple juice, though, because it is the secret to making a delicious chicken Tocino. The juice infuses with the meat, making the meat tender and bursting with flavor. 
Here's what you'll need to make a fantastic chicken Tocino!
1 pound of chicken breast or chicken thighs cut into cubes
⅓ cup of pineapple juice 
3 tbsp of ketchup
3 tbsp of brown sugar
2 tbsp of chili sauce
1 tbsp of garlic powder
1 tbsp of oil 
½ tbsp of salt 
½ tbsp of black pepper
⅓ cup of water
Instructions
Once you've gathered all of your ingredients, it's time to cook! 
Here is our delicious Tocino chicken recipe!
Step 1: Marinate Your Chicken
The first step to any great chicken Tocino recipe, and arguably the most critical step, is to marinate your chicken. But, before you get there, you'll need to clean and cut up the chicken breast first!
After you've cut up your chicken breast into bite-sized pieces, it is time to marinate. 
The marination is pretty simple. The trick here is to marinate for as long as possible. Ideally, marinate the chicken for around four hours. Four hours give the meat enough time to cure, and your chicken Tocino will turn out amazing!
Since life can get hectic, we suggest mixing up the marination before you head off to work. That way, you'll give the meat ample time to soak up those delicious spices. 
Now, let's get on to the marination. 
The process is pretty simple. All you have to do is mix the pineapple juice, ketchup, chili sauce, salt, pepper, sugar, and garlic powder into a bowl. 
Then, all you need to do is add your chicken breast and ensure that the meat is thoroughly coated. Place the chicken marination in a container and store it in the fridge.
Step 2: Cook The Tocino
Once the chicken has marinated for at least 4 hours, you'll want to add it to a cooking pan. Add all the marinade liquid as well. 
Then, bring everything to a boil. 
So, you'll essentially be using your marinade sauce to boil your chicken. Once the sauce has evaporated, add your vegetable oil and pan-fry!
Step 3: Pan-frying
Once you're ready to fry your chicken, add oil to your pan and reduce the settings to medium heat. 
Saute your chicken Tocino until the chicken turns a lovely golden brown, and the marinade is caramelized.
Step 4: Serve And Enjoy!
This dish is pretty simple, and there really isn't a 'correct way' to serve it. 
At Recipe Self, we love to serve our tasty Tocino chicken in any of these fun ways:
Serve it with garlic fried rice and sunny-side-up eggs for a delicious breakfast.
Serve on bread as a tasty midday snack.
Cut the chicken into bite-sized pieces and skewer it on bamboo sticks as a fun party snack.
Add to some stir-fried noodles or rice for a hearty meal.
All that's left now is to enjoy!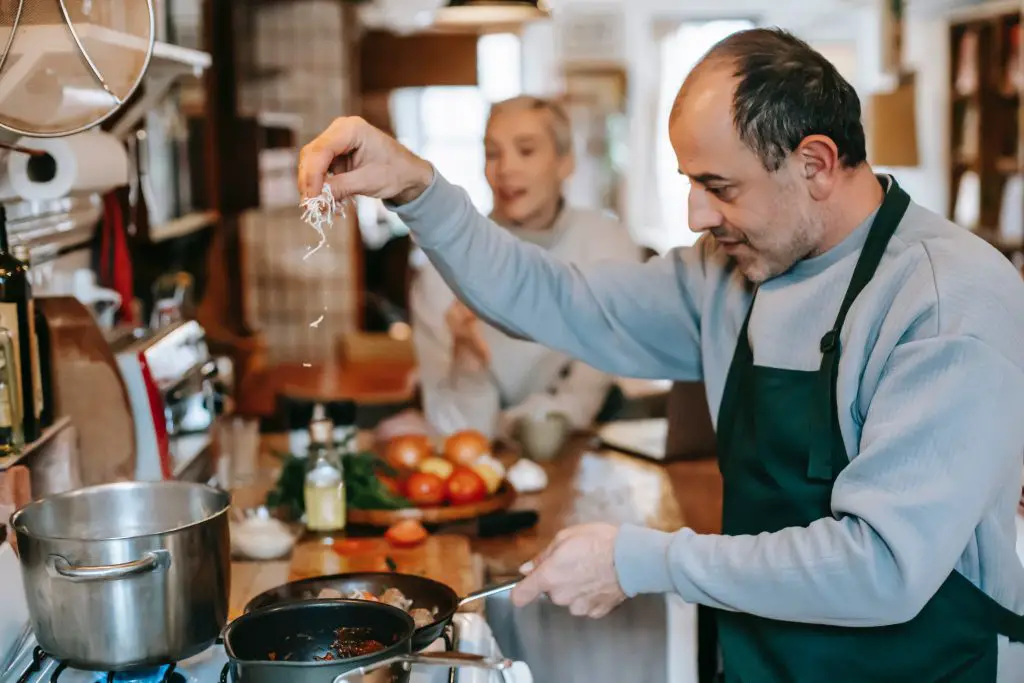 Freezing Your Leftovers
Like we've said, this recipe makes four servings. If you're making it for yourself, you'll need to know how to freeze your leftovers correctly. 
By properly freezing your leftovers, you'll have a delicious meal on hand, especially if you've had a hard day and don't feel like cooking. 
The key is to use resealable bags or an airtight container!
What you'll want to do is keep your marinated chicken in a freezer bag or container and carefully label it with the date you made it. If you marinate the chicken before you freeze it, it should last you a good 3 months!
When you're ready to make some delicious Tocino, take out a package, let it thaw in the fridge overnight, and get cooking! 
Alternatively, you could thaw it in a bowl of warm water. This method isn't our favorite method since the chicken can begin cooking while immersed in water but, it's a great option if you don't have a lot of time for cooking.
Reheating Chicken Tocino
If you've made the entire batch and want to reheat some for lunch the following day, all you need to do is warm it up for around 2 minutes in the microwave.   
Alternatively, you could steam it on the stove in a covered frying pan. To do this, add some water to the pan to prevent the chicken from burning. 
Another tip is to use your oven. Preheat the oven to around 250℉ and bake until warm. 
We don't recommend sauteing your food again. Remember, you've already cooked the chicken to perfection. Sauteing it again could overcook the chicken or ruin the taste.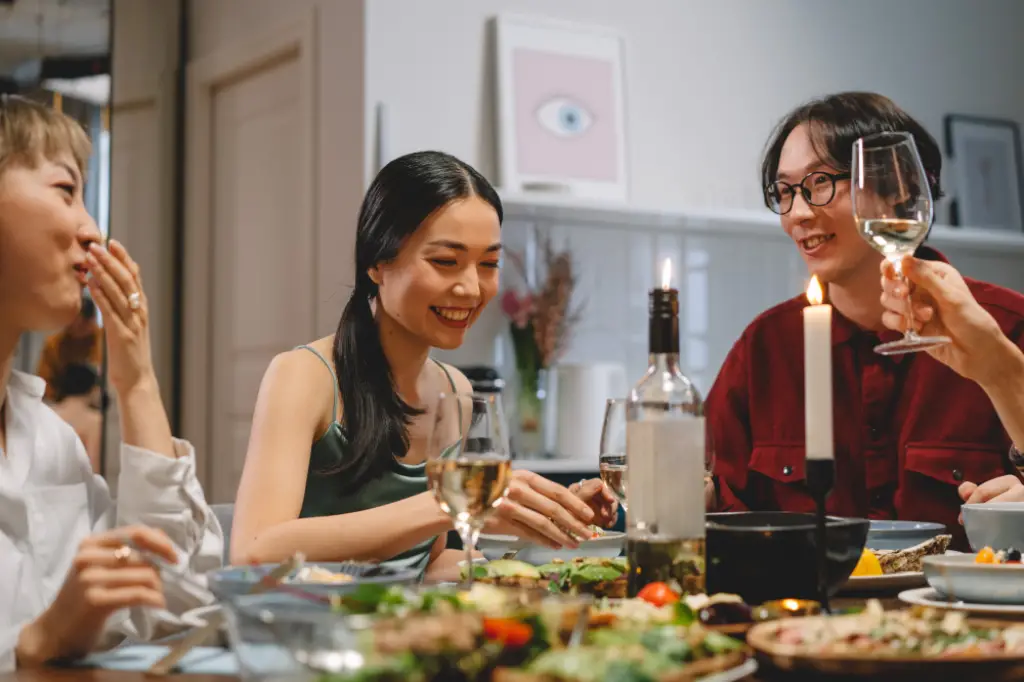 Chicken Recipes to Try Out!
If you love chicken Tocino and are searching for something similar, here are a few of our favorite chicken recipes:
The Wrap-Up!
Trying out a new dish can be daunting, but it doesn't have to be. Our Tocino chicken recipe is both quick and easy. It offers you an explosion of gorgeous flavors without having to work up a sweat in front of the stove. 
All you need to do is gather the ingredients and follow our simple recipe!