Tequilaberry Salad Recipes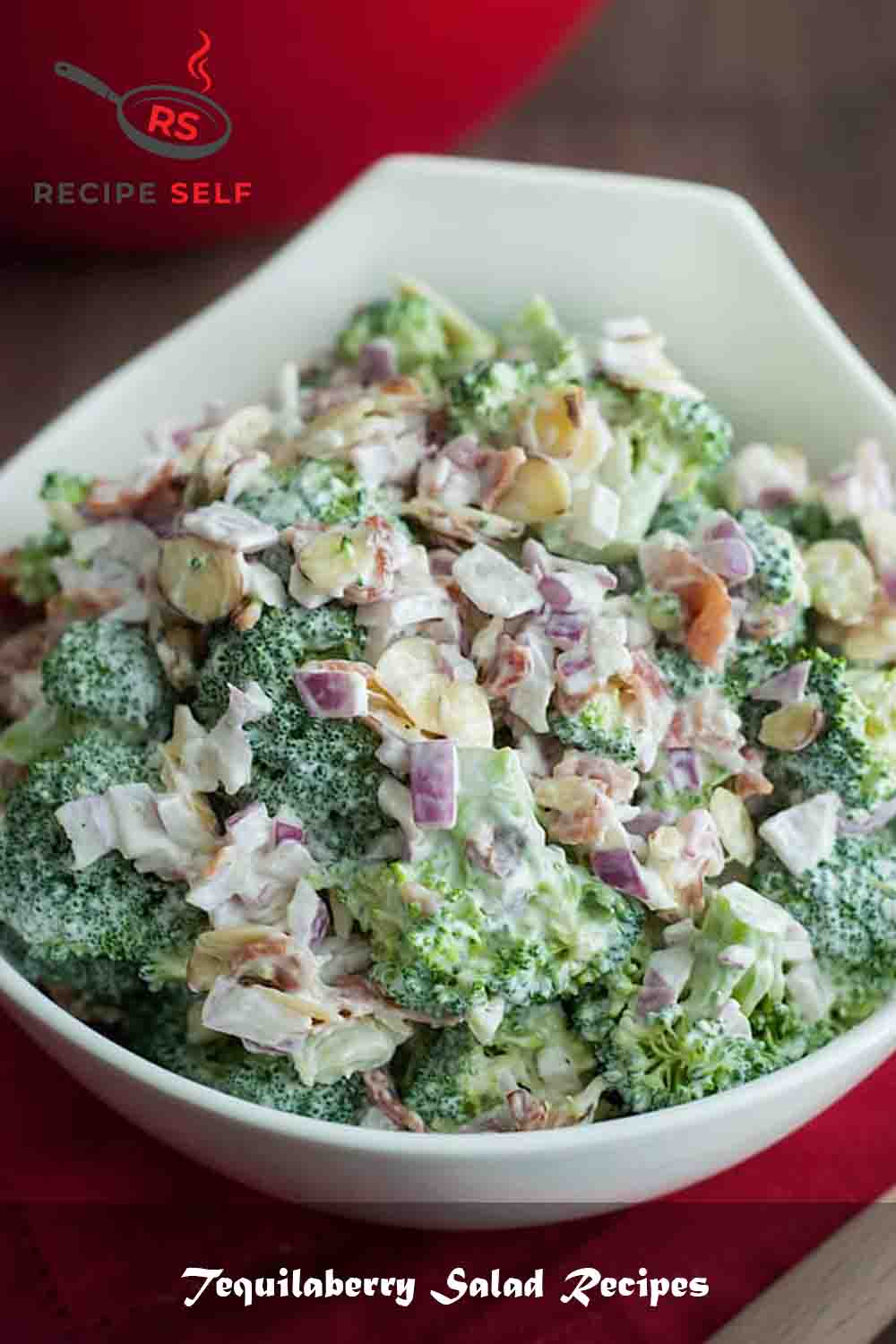 I miss Tequilaberry. It wasn't very far from our home and almost every weekend, me and my brother went there to have their amazing foods. I never forgot the taste of their salad.
A simple salad can be so tasty and growing up I miss the taste. Tequilaberry salad recipes were something else to take them thousands of levels up.
After struggling with myself a lot, I finally decided to make the salad. But recipes were nowhere to be found then. I got lucky and one of my friends told me that she has an old cookbook and some recipes were there.
Finally, I tried the recipes and recreated one. The taste was amazing. If you want to learn them, then check out! 
Tequila salad Recipe
I still can't believe I'm sharing a recipe of the coon rapids food that you can prepare at home. With the perfect dressing the tasteless vegetables become heavenly salad. I bet your children will love them. Let's see how to make it at home. 
Ingredients We Need:
1 Head of Iceberg Lettuce, Finely Chopped
1 Head of Cauliflower, Finely Chopped
1 ½ Lbs of Bacon, Cooked and Crumbled
⅔ Cup of Finely Shredded Parmesan Cheese
For Dressing
2 Tbsp of Apple Cider Vinegar
1 Tbsp of Bacon Grease
¼ Cup of Sugar
1 Cup of Mayo
Methods of Preparing Lettuce Cauliflower Bacon Salad Step by Step:
Step 1: Take a large bowl and add chopped lettuce, chopped cauliflower, 1 ½ lbs of bacon bits and 2/3 cup of finely shredded Parmesan cheese. Combine finely by tossing. 
Step 2: Take out another mixing bowl. In order to prepare the dressing, add 1 cup of mayo and 1 tbsp of bacon grease. Mix entirely with a fork. 
Step 3: Add ¼ cup of sugar and whisk. 
Step 4: Lastly, add 2 tbsp of apple cider vinegar and taste whether you need more sugar or not. 
Step 5: Now, add the prepared dressing to the salad bowl and combine everything properly using a spatula. 
The super delicious salad with tequila salad dressing is ready to enjoy. Collab with your favorite grilled chicken, roasted pork, smoked chicken, beef steak etc. 
Tequilaberry salad recipe with buttermilk:
With buttermilk, the salad becomes more tempting and you also have more Tequilaberry salad calories. For quick night cravings, this is a good option and this recipe is mostly loved by the kids because of the fruity flavour of grape and the bite of almonds. Let's proceed to the recipe.
Ingredients We Need: 
Here's the ingredient list( devided) of what you need to prepare it at home.
For Salad
1 Head of Iceberg Lettuce, Finely Chopped into Small Pieces
½ Head of Cauliflower, Finely Cut into Bite-Size Pieces
1 Lb of Bacon, Cooked and Crumbled
¼ Cup of Toasted Sliced Almonds
1 Cup of Grapes, Halved
1 Head of Broccoli, Finely Cut into Bite-Size Pieces
For Dressing:
¾ Cup of Mayonnaise
1 ½ Tbsp. of Apple Cider Vinegar
3 Tbsp of Sugar
1 ½ Cup of Shredded Parmesan Cheese
¼ Cup of Buttermilk
½ Tsp of Salt or to Taste
¼ Tsp of Freshly Ground Black Pepper or to Taste
Methods of Preparing Buttermilk Tequila Berry Salad Step by Step
Step 1: Bring out a large bowl and add 1head lettuce, ½ head cauliflower, 1 head broccoli, and 1 cup of grapes.
I'm not adding bacon and almonds now. But if you desire, you can add them now. 
Step 2: Whisk together ¾ cup of mayonnaise, 1 ½ tbsp. of apple cider vinegar and 1 ½ cup of shredded parmesan cheese.
The dressing is now too sticky and thick. 
Step 3: Pour ¼ cup of buttermilk and whisk finely for 40 seconds to 1 minute. 
Step 4: Add 3 tbsp of sugar or ½ tsp of salt and ¼ tsp of ground black pepper. Taste and add more or less as per needed.
Step 5: The salad dressing is ready to mix. Finely mix the salad dressing with the prepared salad.
Garnish with cooked bacon and toasted almonds and serve. 
Tips: 
If you prepare the salad ahead of time, then don't mix the dressing with salad. Then it will become wilted and soggy. But you can mix up the dressing with almonds and grape in a separate bowl. Cut the lettuce, cauliflower and broccoli a night before preparing and store in the refrigerator. 
If you bake the bacon in a baking sheet covered with tinfoil, it increases the taste. I don't know why but there is a huge difference.
Conclusion:
These easy and quick recipes from Tequilaberry are so tempting and mouth-watering that they not only satisfy your taste buds but also create some sweet memories with your meal.
From adults to children, no one can deny the amazing taste of these super salads. With these recipes, they are so easy to prepare just within minutes. Do try and bon appetit!
You May Also Like:
Puerto Rican Potato Salad Recipes
Tequilaberry Salad Recipes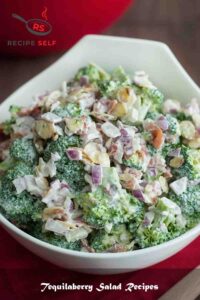 The special tequilaberry salad recipes are back on the track but in a homemade version! Think no more and prepare them at home and enjoy!
Type: Side dish
Cuisine: American
Keywords: Tequilaberry Salad Recipes
Recipe Yield: 2 servings
Calories: 271.9 Calories
Preparation Time: 10M
Total Time: 10M
Recipe Ingredients: Lettuce Cauliflower Bacon Mayo Vinegar Sugar
Recipe Instructions: Add the chopped vegetables with bacon and cheese Prepare the dressing. Add dressing to salad bowl and serve