Jello Recipes With Cream Cheese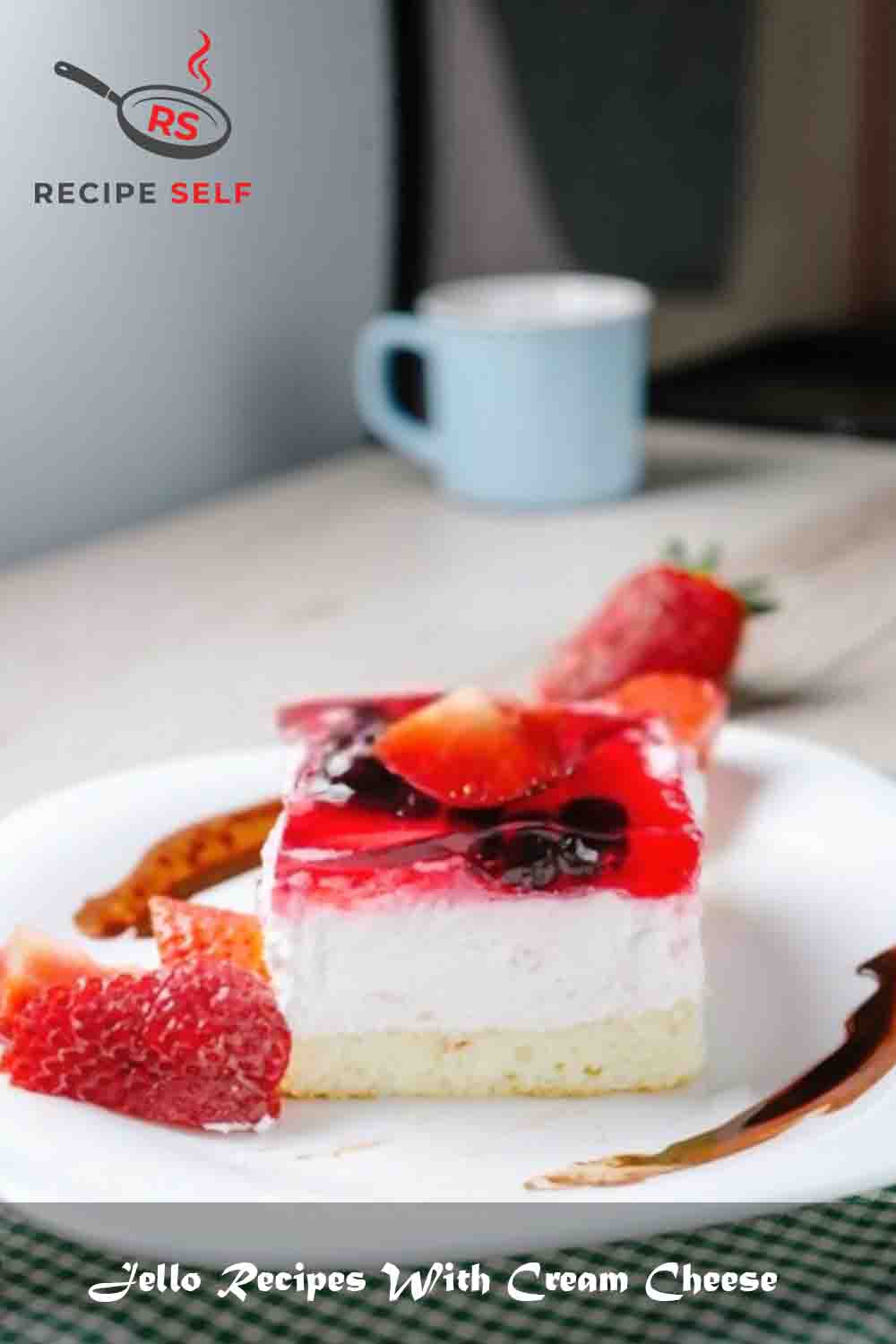 Jello recipes with cream cheese are delicious and fun desserts that you can try to make. It is very popular among toddlers and young people. Gelatin desserts and recipes using gelatin can be traced back to as old as the middle ages.
The method is easy as long as you understand how the core component works and the additional ingredients that go well with it. Jello cream cheese desserts are the type of dishes that you can serve with any main meal. 
How to Make Jello with Cream Cheese
You can make multiple dishes with Jello. Jello is basically gelatin powder that is mixed with water and after it is set, it turns into a jelly-like food. There have been many recipes throughout the years to make creamy Jello dishes. These recipes can help you try dishes that include Jello as an ingredient.
So, let us dive into the recipe.
Ingredients that You Will Need Are:
For the Jello Base:
Two Packages of Cherry Jell-O
Two Cups of Boiling Water
One Can of Cherry Pie Filling or a Flavor of Your Choice
One Can of Crushed Pineapple
For the Topping:
Eight Ounces of Whipped Cream Cheese
Eight Ounces of Greek Yogurt
One-Third of a Cup of White Sugar
One Teaspoon of Vanilla Extract
Half a Cup of Chopped Nuts of Your Choice
Method of Preparing the Cream Cheese Gelatin Dessert Step by Step:
Step 1: Boil some water before you start making this dish. Take a large bowl and pour the cherry-flavored Jello packages into the bowl. Carefully pour the water into the bowl and keep stirring the Jello in.
Make sure the gelatin powder doesn't stick with the bowl. The powder must dissolve into the water completely. 
Step 2: Get the canned pineapple and pie filling ready. This particular recipe uses cherry pie filling but you can use the filling flavor of your choice. Now, mix the pineapples and pie filling with the Jello water mixture. Make sure the stirring is thorough and you don't leave any lumps. 
Step 3: Once you are sure that the mixture is lump-free and smooth, take a baking pan and grease it with some unsalted butter. You can opt for sweetened butter to grease the pan so the taste adds value to the dish.
Pour the Jello mixture into the pan. Smooth the top part and carefully place it in the freezer. It may take 2-3 hours to set properly.
Step 4: Now, you can work on the topping ingredients. Take a large bowl to be cautious of spills. With a hand mixer, beat the cream cheese, Greek yogurt, sugar, and vanilla extract together and form a smooth mix. Beat the mix until the texture is softened yet can hold the structure. 
Step 5: take the Jello base out and lay it flat on the serving dish. Top the Jello base with the whipped mixture with a flat spatula. Spread it evenly. Sprinkle the chopped nuts on the cream layer. Make sure the chopped nuts cover the cream layer somewhat evenly.
Step 6: You may still need to refrigerate it some more if you want. Or, you can serve the dish instantly by cutting it into slices. This dish can also be enjoyed with caramel sauce or ice cream.
Strawberry Jello mold with cream cheese is a different version of this recipe where you can use strawberry-flavored Jello and pour the gelatin mix in molds.
How to Make Jello Salad with Fruit?
This recipe is one of those old-fashioned Jello salad recipes that you may have heard of. It is easy to make and you won't have to run around much to get this done. There are other versions of Jello-based dishes. Here's the recipe for making a Jello dish with fruit mix.
Ingredients that You Will Need Are:
Six Ounces of Jello (Any Flavor)
Eight Ounces of Cream Cheese
Two Cups of Water
One Teaspoon of Vanilla Extract
One Can of Tropical Mixed Fruits
Method of Preparing the Dish Step by Step:
Step 1: Take a bowl and mix the gelatin powder and the warm water together. Stir thoroughly and make sure there aren't any lumps. 
Step 2: Drain the fruit mix liquid from the can and separate the mixed fruits from the liquid. Mix the liquid with the Jello mix to add flavor. Grease a baking pan and pour the mixture into the pan. Refrigerate for 2-3 hours. 
Step 3: Soften and beat the cream cheese. Pour the vanilla extract and beat them with a hand mixture. 
Step 4: Take the Jello out and with a flat spatula, layer the cream cheese evenly on top of the Jello base. 
Step 5: Spread the mixed fruit on top of the cream cheese to create an evenly spread layer. Serve and enjoy.
Conclusion
These recipes are delicious and you will regret it if you don't try these out. These Jello recipes are very popular among children and young teenagers. Jello dishes are highly appreciated during events too. You can make this dish during Halloween, Thanksgiving, or other events.
You May Also Like:
O'charley's Caramel Pie Recipe
Duncan Hines Butter Golden Cake Mix Recipes
Jello Recipes With Cream Cheese
Check out these Jello recipes with cream cheese that you are bound to love. The recipes are very easy and convenient to make. Try these out at home today!
Type: Dessert
Cuisine: American
Keywords: Jello Recipes With Cream Cheese
Recipe Yield: 10 servings
Calories: 323.5 Calories
Preparation Time: 10M
Cooking Time: 3H
Total Time: 3H10M
Recipe Ingredients: Jell-O Water Pie Filling Crushed Pineapple Cream Cheese Greek Yogurt Sugar Vanilla Extract Chopped Nuts
Recipe Instructions: Mix the Jell-O with water, pie filling, and pineapple Grease a baking pan, pour the mixture, and refrigerate Whip the cream cheese, yogurt, sugar, and vanilla extract. Top the Jell-O with cream and sprinkle chopped nuts on it and serve