A fantastic ingredient that can be used in sweet and savory dishes, heavy whipping cream may be used to create everything and everything from rich, creamy pastries to hearty, flavorful soups.
The only drawback is that, frequently, you can discover that you still have a lot of heavy cream on hand after using some of it in a dish.
If you are wondering what you can do with this leftover heavy cream, you're in luck!
Below, we have listed 15 delectable dessert recipes that all call for heavy cream.
We have also listed the other ingredients needed to complete these recipes, so you can easily scan through this article and work out which ingredients you already have at home.
So, let's get started!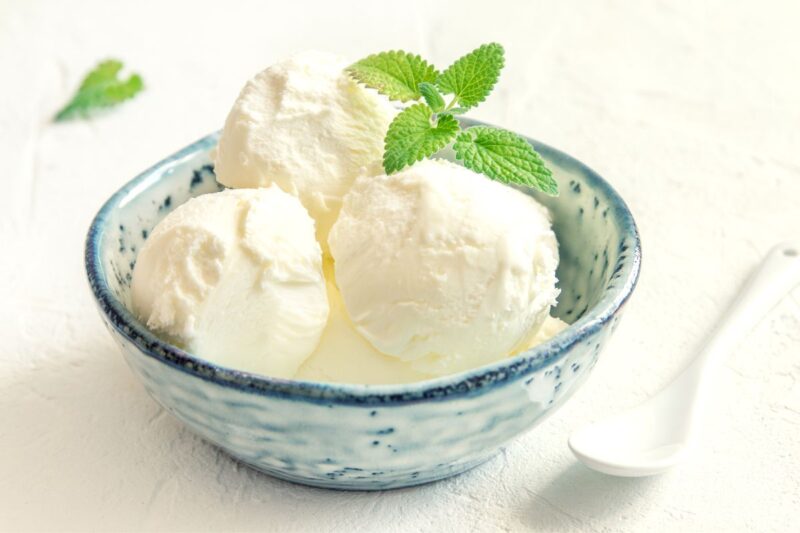 Ingredients Needed
Heavy cream
2% milk
Sugar
Salt
Vanilla bean
Large egg yolks
Whether it is a hot, summer's day, or you're simply craving something cool and creamy, vanilla ice cream is always a great choice for dessert. It is a simple, classic treat that everybody loves!
Since this recipe contains eggs, this is more of a frozen custard rather than an official ice cream. Regardless, this is a sweet treat that is so easy to make, and taste absolutely amazing.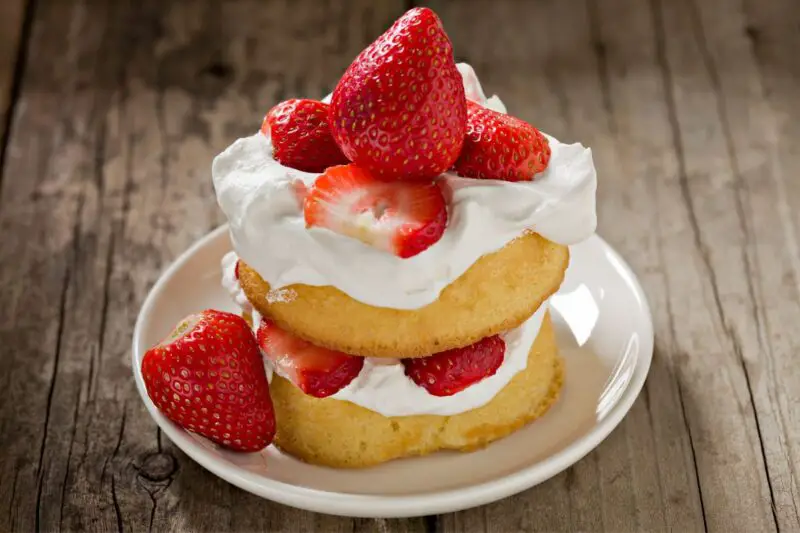 Ingredients Needed
Reduced-fat milk
Butter
All-purpose flour
Sugar
Baking powder
Large eggs
Vanilla extract
Salt
Strawberries
Heavy cream
Powdered sugar
Nonfat vanilla Greek yogurt
If you like strawberry shortcake, and you like cake, then you are going to love this recipe for a strawberry shortcake cake!
With a baking time of less than 30 minutes, you can enjoy this delicacy within no time at all.
This is a soft, sponge cake with a sweet, fruity filling, with a topping of whipped cream and low fat yogurt.
We recommend adding more strawberries for an extra juicy kick!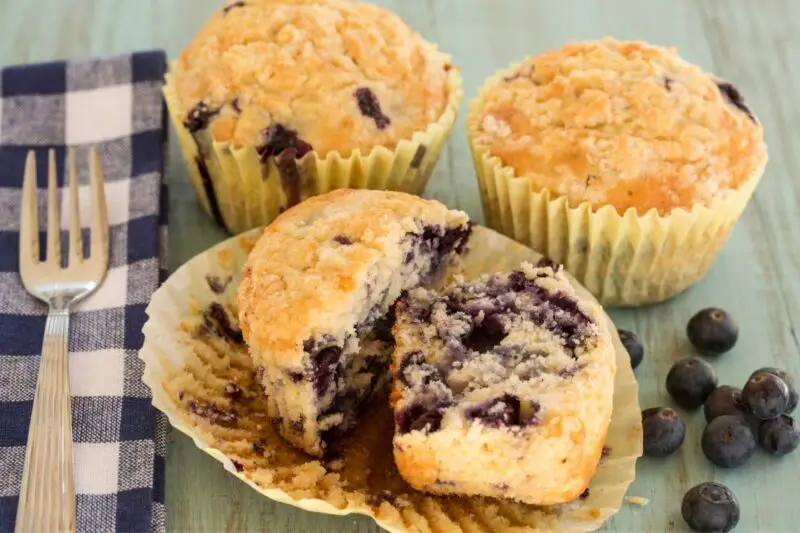 Ingredients Needed
Heavy cream
Canola oil
Large egg
Vanilla extract
All-purpose flour
Sugar
Yellow cornmeal
Baking powder
Kosher salt
Ground cinnamon
Fresh blueberries
Unsalted butter
Blueberry muffins are a popular treat amongst so many, and this take on the recipe – adding a cornbread texture and flavor – takes it to the next level.
The batter is not too sweet, allowing the flavors of the blueberries and cinnamon to really shine through. If you are looking for the perfect bite-sized summer treat, look no further.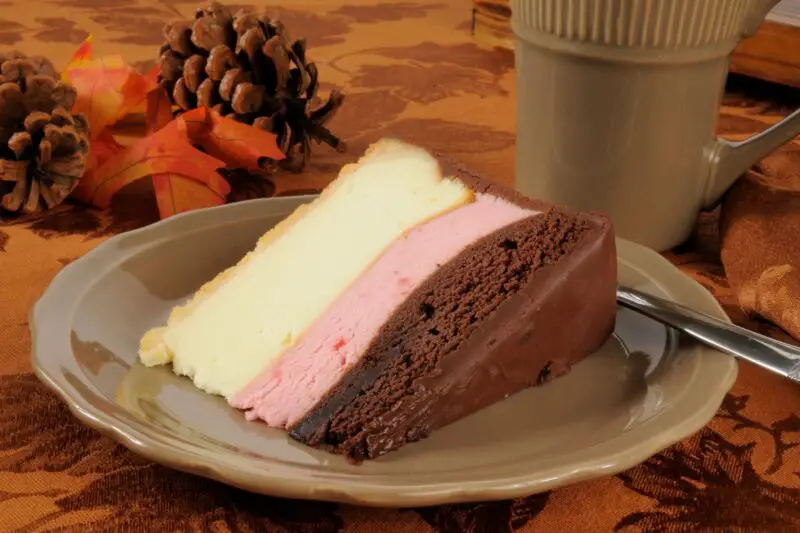 Ingredients Needed
Crust
Oreo cookies
Unsalted butter
Heavy cream
Cream cheese
Powdered sugar
Sugar
Sour cream
Bittersweet chocolate
Unsweetened cocoa powder
Strawberries
Cornstarch
Pink gel food coloring
Vanilla extract
Lemon juice
Who remembers the excitement of opening up a fresh tub of Neapolitan ice cream as a kid?
Whether your favorite flavor was vanilla, strawberry, or chocolate, you can now enjoy all three flavors in the form of a cheesecake.
The best part? This is a no-bake recipe, meaning all you'll need to create the cheesecake is some bowls, utensils, and a freezer to allow it to set.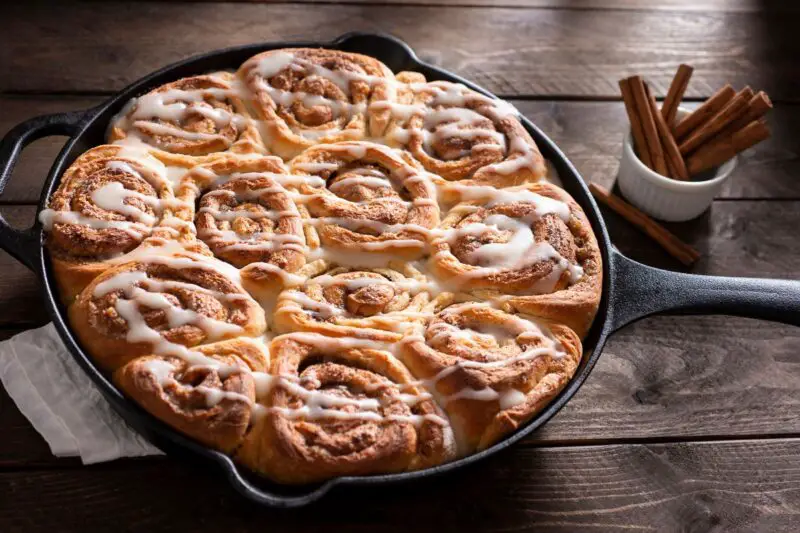 Ingredients Needed
All-purpose flour
Active dry yeast
2% milk
Sugar
Butter
Instant coffee granules
Egg yolk
Vanilla extract
Salt
Ground nutmeg
Chopped pecans
Chocolate chips
Ground cinnamon
Heavy cream
Cream cheese
Powdered sugar
Combining the delicious flavors of coffee and cinnamon, these sweet rolls are the perfect (although, naughty) breakfast snack.
The taste of coffee is spread throughout, from the rolls itself, to the creamy filling, to the sweet, sugary frosting poured over the top.
We recommend eating them warm with a scoop of your favorite ice cream.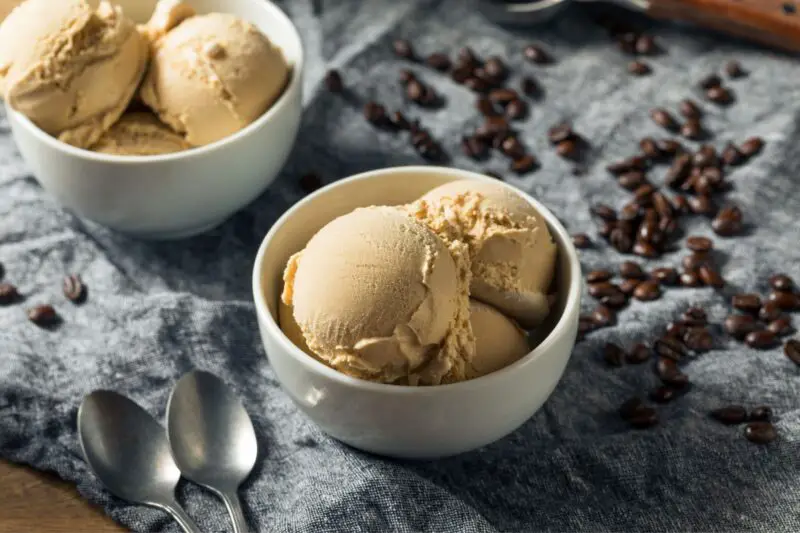 Ingredients Needed
Heavy cream
Condensed milk
Instant coffee granules
Vanilla extract
Salt
Speaking of ice cream, here is another quick and easy recipe to create your own ice cream at home! This time, it is coffee flavored, and it is a no-churn recipe!
Simply combine the ingredients above, and allow the mixture to set for around 6 hours.
Then, you can enjoy your very own homemade coffee-flavored ice cream at home.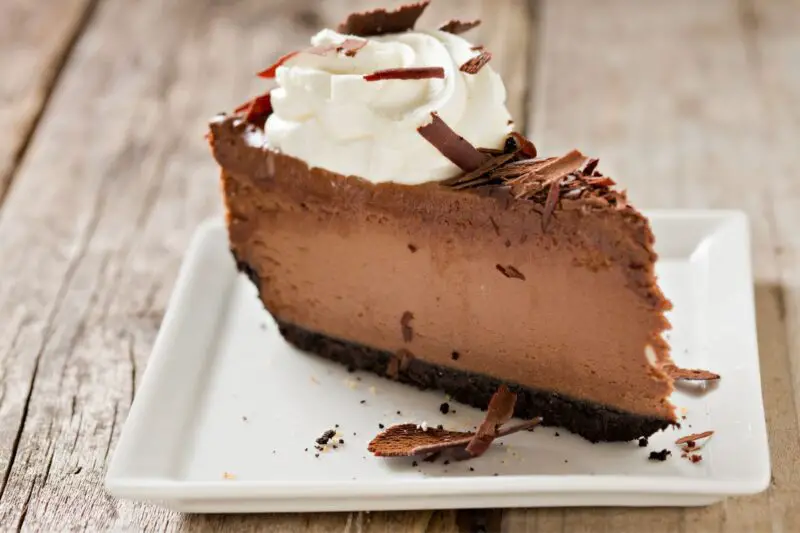 Ingredients Needed
Butter
Sugar
Cocoa powder
Vanilla extract
Large eggs
All-purpose flour
Baking powder
Salt
Cream cheese
Chocolate chips
Heavy cream
Do you love cheesecake, chocolate, and candy bars? Well, in that case, you are going to adore these Triple-Chocolate Cheesecake Bars.
Within less than an hour, you can have these sweet treats to enjoy in the comfort of your own home.
The chocolatey goodness is almost too good… so, you should probably hide them away from your family and friends.
Ingredients Needed
All-purpose flour
White wholewheat flour
Apple pie or pumpkin pie spice
Baking powder
Baking soda
Salt
Large eggs
Sugar
Plain yogurt
Vanilla extract
Canola oil
Apples
Brown sugar
Unsalted butter
Heavy cream
Next up, we have a perfectly moist, sticky apple cake with a yummy brown sugar glazing. This is perfect for apple pie lovers who are looking for a switch-up!
Compared to some other recipes in this list, this apple cake is actually relatively healthy.
However, we do recommend serving warm with a generous dollop of ice cream or whipped cream.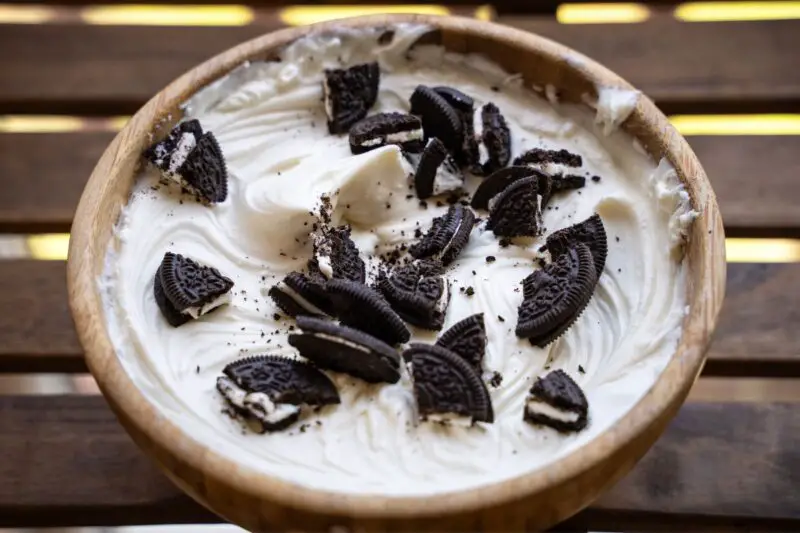 Ingredients Needed
Oreo cookies
Butter
Cream cheese
Powdered sugar
Vanilla extract
Heavy cream
Oreos taste great in all types of desserts, and these cheesecake bites are absolutely no exception. These teeny, bite-sized, creamy treats are perfect alongside a cup of coffee.
It only takes an hour to set, and only 6 ingredients are required to whack it all together. What more convincing do you need?!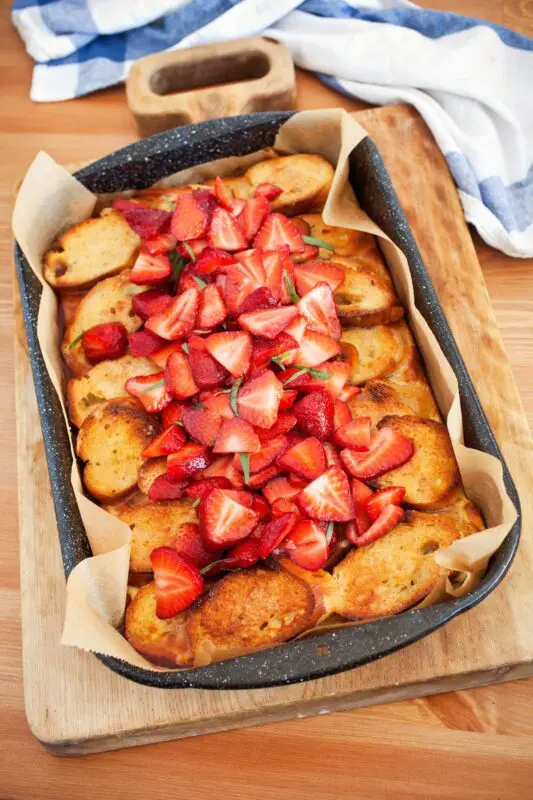 Ingredients Needed
Unsliced French bread
Large eggs
Sugar
Brown sugar
Vanilla extract
Maple extract
Kosher salt
Whole milk
Heavy cream
All-purpose flour
Unsalted butter
Ground cinnamon
Blueberries or raspberries
Powdered sugar
Are you craving something sweet for breakfast? Well, look no further than this tray filled with baked French toast, covered with juicy raspberries and powdered sugar.
Crunchy on the outside, soft on the inside… this is a great dessert for any time of the day, whether you're seeking a sugary breakfast or a naughty midday snack.
It only takes 45 minutes to bake, too!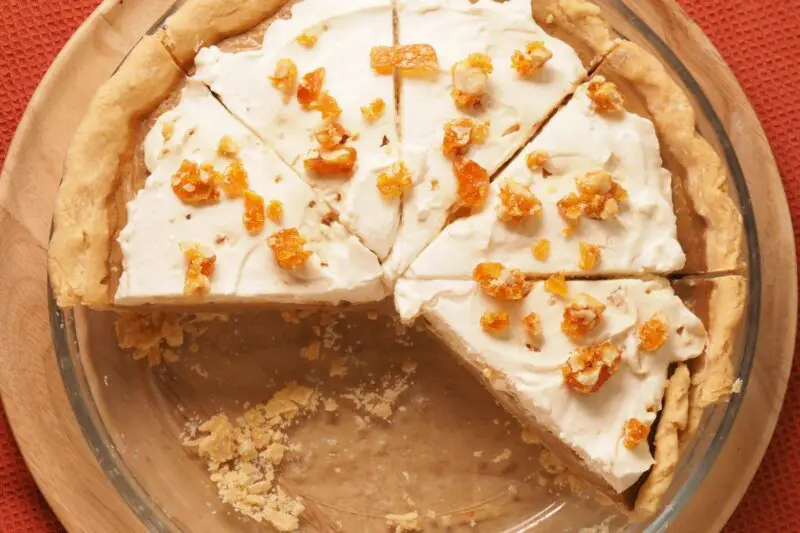 Ingredients Needed
Graham Cracker pie shell
Unsalted butter
Brown sugar
Milk
Heavy cream
Cornstarch
Salt
Egg yolks
Vanilla extract
Powdered sugar
Whipping cream
Butterscotch pie is an all-time classic, and tastes even better with a dollop of sweet whipped cream.
With a prep time of 25 minutes, and a baking time of only 10 minutes, you can sit down with a plate of warm pie within less than an hour. Don't forget to be generous with the whipped cream!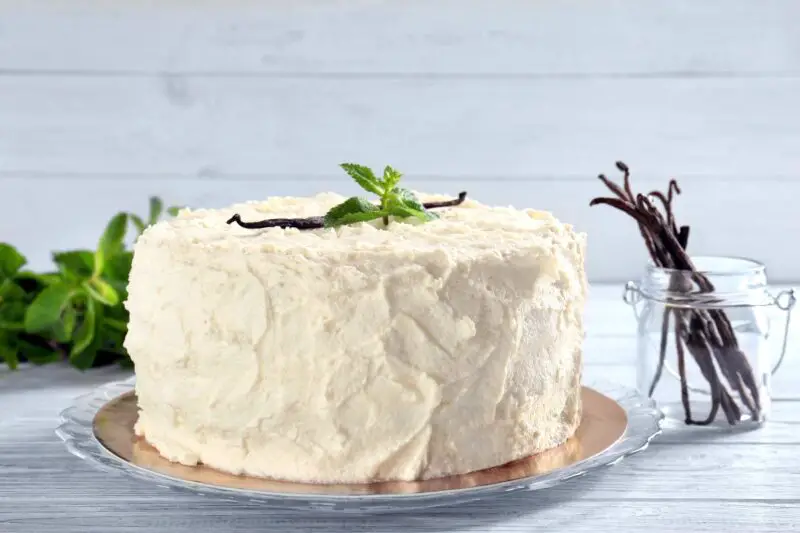 Ingredients Needed
Large eggs
All-purpose flour
Sugar
Baking powder
Salt
Heavy cream
Vanilla extract
This is, perhaps, the most easy recipe to create on this list. A simple white cake, filled and topped with sugary, juicy strawberries and light, delicious cream.
There is not much more comforting than a large slice of cream cake with a cup of coffee, or hot tea. Plus, it only takes 45 minutes to create in total! What are you waiting for?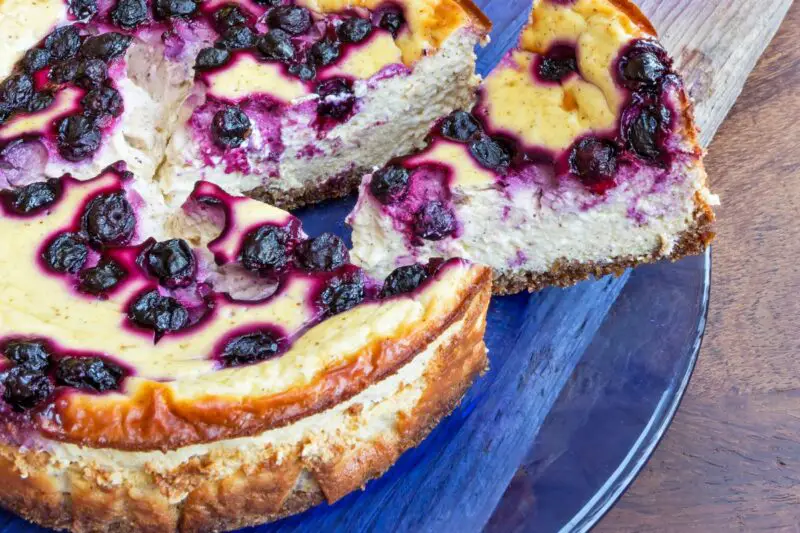 Ingredients Needed
White bread
Cream cheese
Powdered sugar
Lemon
Blueberries
Large eggs
Whole milk
Heavy cream
Sugar
Vanilla extract
Next on this list, we have another naughty, tasty baked treat that the whole family are going to love.
After one spoonful of this blueberry cheesecake bake, everybody will forget that cereal ever existed.
After all, who doesn't want a slice of 'cheesecake' for breakfast?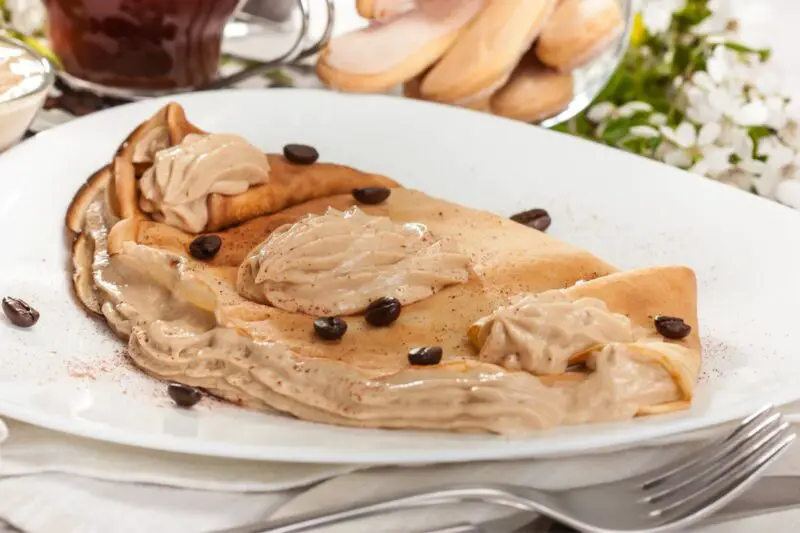 Ingredients Needed
Instant coffee granules
Milk
Vanilla extract
Coffee extract
Large egg
Unsalted butter
All-purpose flour
Brown sugar
Baking powder
Kosher salt
Apple cider vinegar
Chocolate chips
Mascarpone cheese
Honey
Coffee liqueur
Heavy cream
Maple syrup
Cocoa powder
Dark chocolate
Tiramisu is delicious. Pancakes are delicious. Combine the two, and bam – you have one tasty dessert that everybody is going to fight over!
With a combined prep and baking time of 45 minutes, you can sit down with a massive stack of coffee-flavored pancakes within less than an hour. What are you waiting for?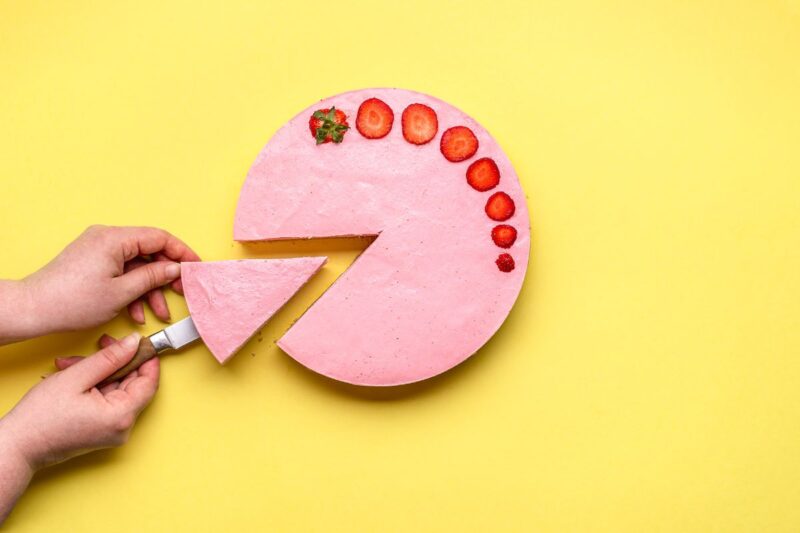 Ingredients Needed
Cookie crumb pie crust
Heavy cream
Powdered sugar
Vanilla extract
Powdered gelatin
Jell-O or jelly cubes
Ice cubes
Last, but certainly not least, we have the perfect pink treat that (almost) looks as great as it tastes.
This recipe combines our two favorite childhood treats – Jell-O and Cool Whip – into one large pie that is so appealing to the eye.
Whether you're a child at heart, or an actual child, we promise that you are going to love this pink Jell-O pie!
Final Thoughts
So, there we have it; those were our top 15 creamy desserts that can be whipped up using a little leftover heavy cream.
Whether you are craving a slice of sponge cake, a stack of pancakes, or a bite of crunchy French toast, there is something for everybody in our list above.
We recommend giving all of them a try at some point… after all, they are all so delicious!
We hope you enjoyed this article.
Happy baking!