Other than being delicious and healthy, chicken is a versatile meat, and you can essentially put anything you want into it. Chicken doesn't have to be boring and the things that you stuff it with will give it that unique flavor and texture that you may have always wanted. 
So, here are 15 tasty stuffed chicken breast recipes that you can make at home! 
Cottage Cheese Spinach Chicken Breast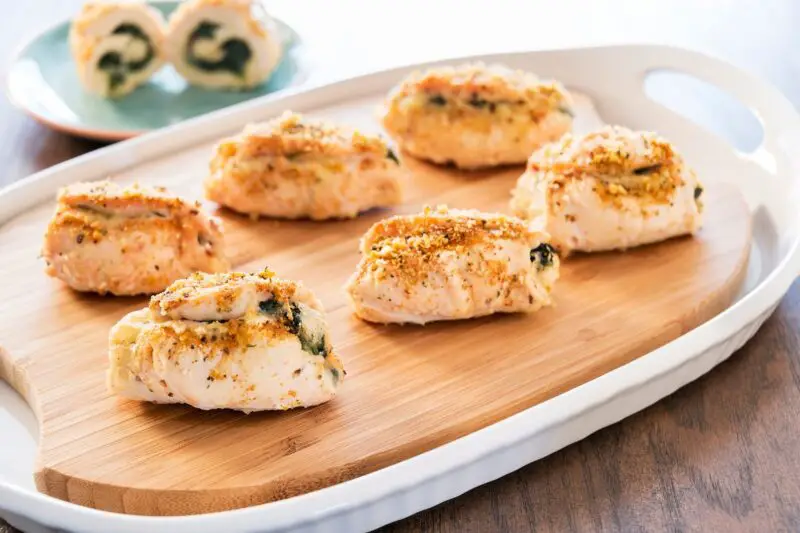 This is a perfect combination of textures as you have the creamy cottage cheese and spinach in the middle with a wonderful tender chicken breast on the outside. You can also serve it with a side salad or roasted carrots for an added crunch if you prefer. 
It is very easy to make and only requires a few steps and a total of 35 minutes of your time which includes prep and cook time. For the final step, you can drizzle some melted butter over the top to make it extra juicy.
Bacon-Wrapped Stuffed Chicken Breast
Wrapping bacon around chicken breasts is something that most of us are familiar with because it is just so good! Any type of cheese is the best way stuffing choice if you are wanting to incorporate bacon as they complement each other very well. 
Another great thing about bacon being wrapped around the chicken breast allows them to stay in neat little packages. However, you will likely see some cheese leak out as they cook away in the oven, but this is normal and will actually add more flavor. 
Goat's Cheese and Thyme Stuffed Chicken Breast
For this recipe, you have the option to wrap it in bacon if you want but it still tastes amazing without it. The best way to serve this dish is with a side of jersey royal potatoes which makes for a very fulfilling, delicious meal – great for cold nights. 
It takes a little bit longer to cook as you are required to put it in the oven to bake for 45 minutes but this is totally worth it as it makes the chicken and bacon nice and crispy. 
Mustard-stuffed Chicken Breast
Mustard may not be actually stuffed into this chicken breast recipe, but it is used as a sauce that you add just before serving.
Not everyone is a fan of mustard, but you may change your mind after this recipe. It is so easy to make and very affordable as all you need is sage leaves, butter, prosciutto, mustard, and of course the chicken breast. 
Therefore, if you are a busy parent of hungry children with 30 minutes to spare, then this recipe is for you. When you serve this meal, it is recommended to cut it up into five diagonal pieces which allows you to see the magic inside. 
Brie and Apple Stuffed Chicken Breast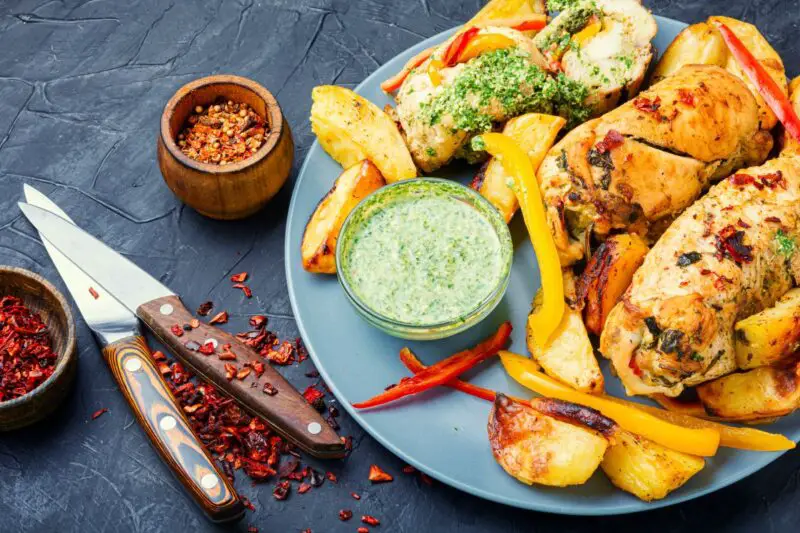 On the plate, this stuffed chicken breast presents itself as a gourmet dish – and it tastes like it too. 
The secret behind this recipe is that you pound the boneless chicken breasts until they are nice and thin. This will leave you with plenty of space for brie and apple. 
You also pair this dish with a tasty pan sauce which is made from some of the fat leftover from the baking tray. You then add apple cider, thyme, and salt.
Spinach and Artichoke Stuffed Chicken Breast
If you are quite a health-conscious person, then you will love this recipe. It is low carb and KETO friendly so you can eat this with peace of mind. It is very delicious, and the creaminess will make you think there is no way that this is healthy, but it is! 
For best results, you need to make sure that you do not add any water as it cooks, even if you think the stuffing looks a little bit too thick – this is how it should be.
Zucchini Stuffed Chicken Breast
This recipe is an excellent way to use up the last of that zucchini you have sitting in the refrigerator. There are less than 400 calories per serving and only takes 20 minutes to prepare it and 25 minutes for it to finish baking in the oven. 
Along with zucchini, the stuffing is also made from peppers, garlic, and onions. This makes for an amazing burst of flavor as you bite into the chicken breast. 
Primavera Stuffed Chicken Breast
Primavera stuffed chicken breast is a new take on the traditional way to stuff a chicken. Instead of cutting the breast in the middle like a baguette, you cut slits in the top of the breast. 
As for presentation, this dish looks absolutely amazing, it is bursting with color as well as flavor. Don't be afraid to experiment a bit with it too as the possibilities are almost endless with what you can put in this chicken breast. 
Jalapeno Popper Stuffed Chicken Breast
This is another stuffed chicken breast dish that requires you to slit the top instead of the sides. It is perfect for those who love a bit of kick in their meals, and you can increase or decrease the number of jalapenos you add to suit your palate. 
As well as jalapenos, this recipe asks you to add bacon and cream cheese. If your mouth is already watering, don't worry because it will only take 35 minutes for this to be on a plate right in front of you.
Crabmeat Stuffed Chicken Breast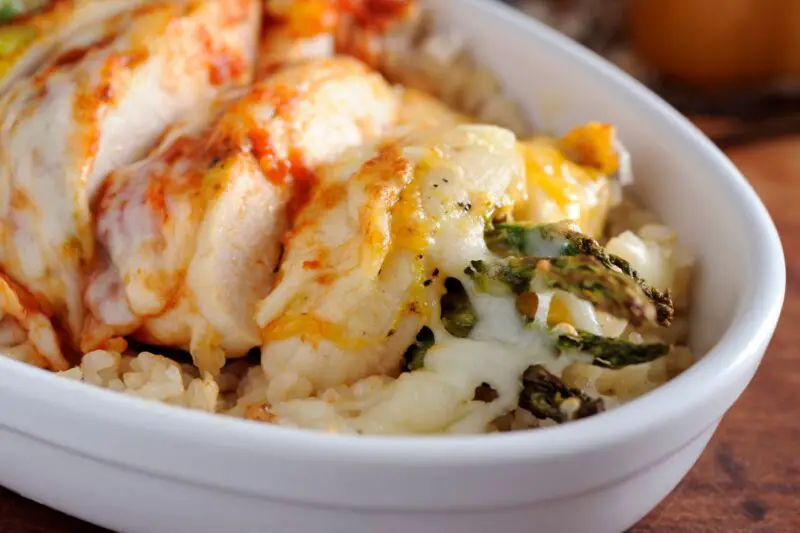 Crabmeat is a favorite for a lot of people, but unless you live right next to the sea where fresh shellfish are in abundance – it can be hard to get your hands on crabmeat. 
However, when you do, you should definitely make this crabmeat stuffed chicken breast. It is paired with a lovely white sauce that consists of broth, milk, and butter which adds a wonderful creaminess.
Onions, mushrooms, parsley, salt, cracker crumbs, and pepper are also added along with the crabmeat.
Fennel Stuffed Chicken Breast
If you fancy stuffed chicken breast but don't want anything too heavy then this recipe is a great option. You use fresh basil along with pine nuts, garlic, fennel, and vegetable broth to make this perfect veggie combo. 
Asparagus Stuffed Chicken Breast
This is probably as easy as stuffed chicken breasts get but this does the finished results will impress any dinner party guests. The only ingredients you'll need for this recipe is chicken breast, asparagus, mozzarella, lemon zest, and some spices which you can add to taste. 
The chicken breast is seared in a skillet before being placed in the oven to bake. The searing is what makes this chicken crispy and satisfying to bite into and allows the spices to really come to life. 
Mushroom Stuffed Chicken Breast
You can use either button mushrooms or chestnut mushrooms for this meal.
All you have to do for this recipe is cook the mushrooms for five minutes, slice the chicken breasts, bash them so that they are nice and thin, then stuff them with the cheesy/mustardy filling and wrap them in parma ham before putting them in the oven for 25 minutes. 
There is no limit to the vegetables that you serve this stuffed chicken breast with. You can use vegetables or new potatoes – or both!
Greek Stuffed Chicken Breast
If you feel that chicken breasts are boring and bland then you should try this recipe. It not only has a lot of colors, but you can almost taste the flavor bursting in your mouth before even having a bite. 
You can use tomatoes, zucchini, lemons, and red onions to stuff the chicken before adding a generous amount of mozzarella and feta on top to make it nice and creamy. 
Do keep in mind though that this dish can be a bit messy so it may not be the best for little kids who are still tending on making a mess at every meal. 
Fajita Stuffed Chicken Breast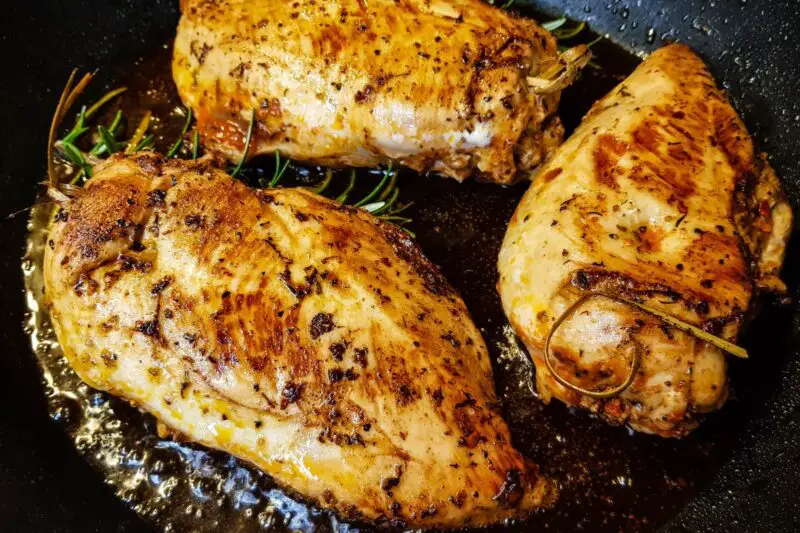 Finally, we have the fajita stuffed chicken breast. It combines everything that we know and love – chicken, bell pepper, cheese, and onion. Be warned though because once you make this dish, you may want to eat it every day and frankly we don't blame you because it is really good. 
You can also be assured that no matter who comes round to yours for dinner, they will love this meal. It can also be served with a selection of dips such as sour cream, guacamole, and salsa which is much like traditional fajitas. 
Summary
That was 15 of some of the best stuffed chicken breast recipes that you can make at home. Remember that this is just a sample of what you can do with stuffed chicken so even if nothing on this list takes your fancy, there is bound to be something out there that you will love. 
The great thing about these recipes is that you can simply use them as a guide before adding and taking away whatever ingredients you like to really make the dish your own.