When it comes to classic, home cooked dishes – nothing says home sweet home than rotisserie chicken. It's one of the most popular additions to a recipe, and that makes perfect sense!
It's incredibly tender, super tasty and can feed an entire family! The thing with rotisserie chicken though, is that you can make so many different dishes with it, it can often be confusing what recipe you should follow! 
Luckily, we've been in the kitchen recently and decided to give you our picks for the top 15 rotisserie chicken recipes that you can make from the comfort of your own home. 
So, fire up the heat and let's get stuck in! 
[1] Chicken Casserole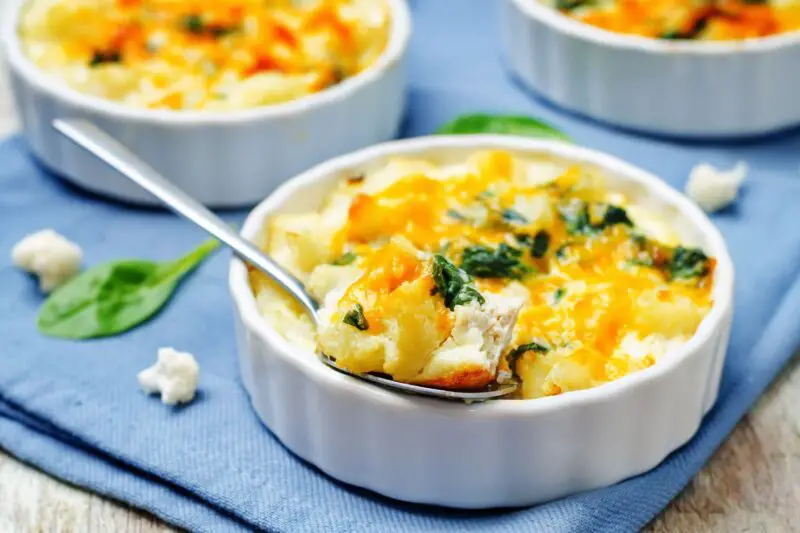 Let's face it, you can never go far wrong with a chicken casserole. Simply remove the meat from your chicken and place it into an incredible broth. 
You will need to prepare some of your favorite vegetables and remember to season the broth with ground black pepper! 
The best way to home-make your broth is by using potato water. Simply boil your potatoes, take the water and add it to pre-made chicken broth. If you leave the carcass of the rotisserie chicken in the broth, all the leftover meat will boil off. 
What you're left with is a super tasty casserole ready to feed your family and even the neighbors! 
[2] Chicken With Baked Pasta 
This is one of the easiest dishes you can make with rotisserie chicken. All you'll need to do is choose your favorite type of pasta, boil it and then bake it! 
Add some melted cheese sauce to the equation and add some of your chosen vegetables. This is one of the best dishes to make during the summer to serve at a barbeque with some great cocktails. 
[3] The Classic Dinner 
Why not take a British spin on things and have a rotisserie chicken dinner? Get your perfectly cooked rotisserie chicken, boil or roast some large Idaho potatoes along with peppers and vegetables. 
Next, make some beef gravy ready to serve over the top of this perfectly crafted roast dinner. Yum! 
[4] Chicken Pot Pie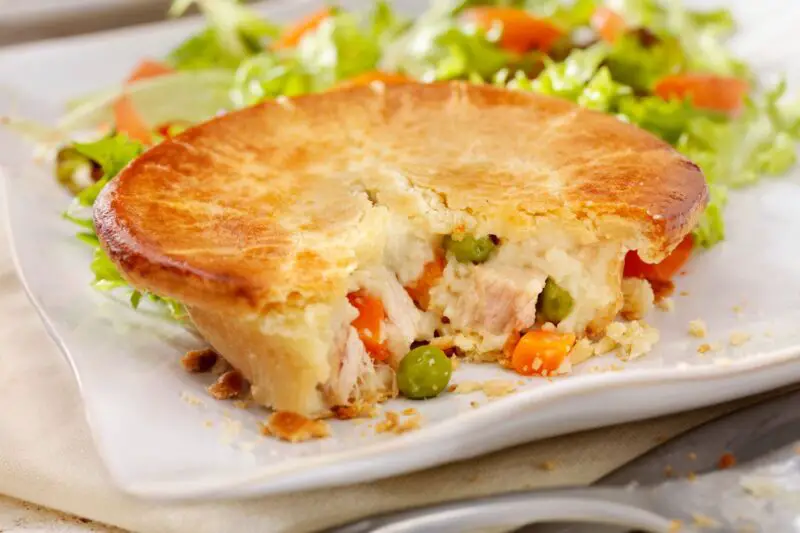 Nothing shouts home cooked meals than a chicken pot pie. Just grab yourself a pie crust from any store, shred your rotisserie chicken and mix it all in with your chosen filling. 
One of the best is chicken gravy mixed with carrots and peas. A perfect dish for when you need a little warming up! 
[5] Chicken Noodle Soup 
Speaking of warming yourself up – ever had a time when you've felt sick and needed something to make you feel normal again? Chicken noodle soup is the answer. 
All you'll need is your cooked chicken, mixed with some freshly boiled noodles and stir fry vegetables and there you have it – a home cooked hug! 
[6] Italiano Chicken Salad 
Another simple dish to create, once you've cooked your rotisserie chicken, you can add slices of it to mixed peppers and onions and throw it on top of toast or pasta – whatever you wish! 
[7] Chicken Panini
One of the tastiest treats you can make at home. Not much required to make this! Grab yourself some flatbread or specially crafted uncooked paninis, place your cooked chicken into a bowl. 
Next, toast your panini bread with butter to add a little bit more texture and taste, place your chicken from the bowl into the bread and add lumps of grated cheese. 
Finally, toast your panini again to melt the cheese and mix the ingredients together, absolutely delicious! 
[8] Spicy Chicken Tacos 
A favorite to make at home – most people enjoy tacos, so why not fill them with your beautiful rotisserie chicken shreds, add hot sauce, jalapenos and peppers – then cover that in cool mint sauce. 
The mint will counteract the heat but still provide it with the kick you're looking for! 
[9] Chicken Skillet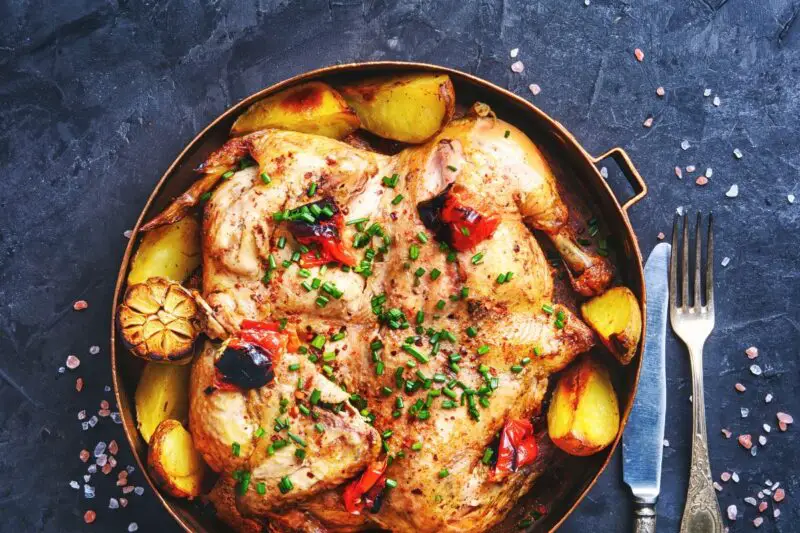 Who says cooking needs to be difficult? When you're looking for food in a hurry, why not bag everything together into your skillet and make an amalgamation of taste! 
Simply add chicken, vegetables, sauce and seasoning into a skillet and cook for around 4 minutes – time to chow down! 
[10] Chicken Fried Rice 
When you're fancying a little Asian cuisine but don't want take out, then why not make it at home? All you'll need to do is use your rotisserie chicken mixed with pre-boiled rice and vegetables. 
Once you've got this, fry them all up in a wok or frying pan. It takes around 10 minutes to fully cook this dish, but it is so worth it! 
Add a little extra by adding soy sauce or spicy hot sauce and give your dish that little kick. 
[11] Chicken Wraps 
When it comes to a simple dish for home cooking, nothing is easier than chicken wraps after you've cooked your chicken! 
Go to the store and buy a pack of wraps, cover them in cool mayo or any other sauce you may wish to add. Slice up some fresh lettuce and peppers, and carefully wrap them all up. 
You can make this better by gently grilling the wraps before serving. 
[12] Chicken Curry 
From time to time, we all like to chow down on a fragrant chicken curry – and it's among the easiest ways to use your rotisserie chicken at home. 
Prepare your curry with curry powder, curry paste and boiled water. Next, add your chosen vegetables – usually you'll have chickpeas and lentils. 
Now add the chicken last whilst the curry is boiling. Once this is up to the boil, turn the heat right down and allow it to simmer for about 10 minutes until cooked through. 
If you're someone that loves spice, choose the most spicy curry paste and powder you can buy – or add a hot pepper like a scotch bonnet to get really adventurous. 
Serve this with rice and a bread side – beautiful! 
[13] Chicken Carbonara 
Carbonara is normally made with bacon, but chicken works just as well. Stores will sell carbonara sauces for Italian dishes – so if you have one of these, simply mix the sauce with your chicken. 
Next, mix in some favorites of Italian dishes like tomato and onion. Prepare your chosen pasta, such as spaghetti or penne – and pour the cooked carbonara sauce over the top. 
[14] Barbeque Chicken Burgers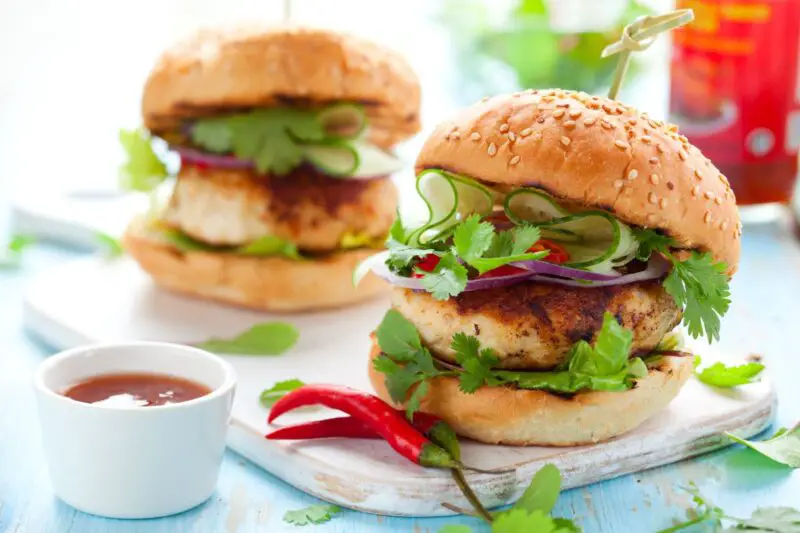 If you're firing up the grill outside and wondering what you can do with all your rotisserie chicken – you can add a little spin on a classic. 
If you've got spare burger buns around, why not prepare them with your favorite barbeque sauce and chopped lettuce, peppers and onions. 
Next, add your cooked chicken to the equation and enjoy – it's not quite a burger, it's not quite a sandwich – but it's a home favorite! 
[15] Buffalo Chicken Flatbread 
Effectively what you're making here is pizza but it's not pizza? It's a strange combination but it works! 
Prepare your flatbread by gently grilling it and adding plenty of cheese. Next, add some base sauce such as tomato puree, chili sauce or barbeque sauce. 
Place your cooked chicken over the top and add some sliced peppers and onions. Next, artfully add some cool mayo or garlic over the top and slice into triangles. 
You've got yourself some mini pizzas that aren't pizzas! 
Why Make Rotisserie Chicken?
Rotisserie chicken is a favorite in many countries and certainly a favorite at home! As we can see from the list, it is one of the most versatile meats you can buy. 
Speaking of buying, it's also one of the most inexpensive meats you can purchase and it lasts for a long time. 
Perhaps one of the greatest things about rotisserie chicken, besides the obvious taste, is how it can be tailored to any type of meal.
As we mentioned, it's very versatile. If you're thinking of a hot and spicy meal – no problem. If you want something that is nice to make you feel better whilst you're sick – you got it! 
If your family is particularly picky, rotisserie chicken can be made into a variety of different meals and tailored to anybody's taste buds, so you have peace of mind knowing you and your family are totally taken care of. 
Is Rotisserie Chicken Good For You?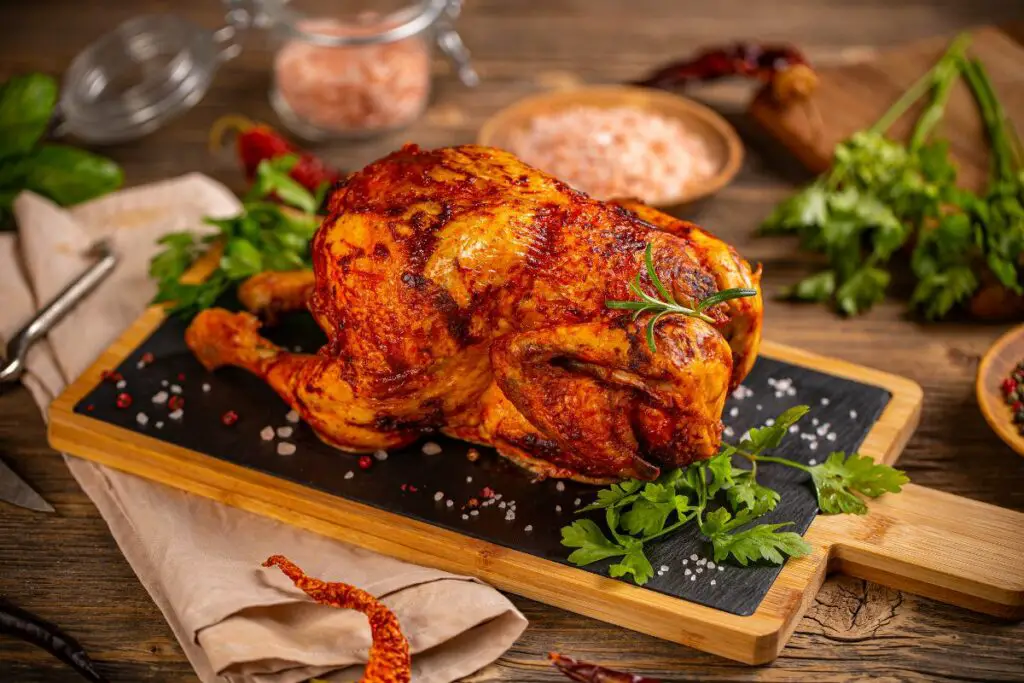 It is! It's one of the healthiest ways to prepare and cook chicken, albeit when you add your own ingredients – it might make things a little less healthy. 
Chicken always works best with fresh vegetables, so you can be sure you're eating healthily. Not to mention it's packed with nutrients and protein! 
The Bottom Line 
Rotisserie chicken, the family favorite! We hope our picks for our 15 home cooking recipes have been useful to you. We bet you've been getting hungry simply reading our choices! 
Good luck with your recipes at home.