Around the Christmas months it is more than likely that you will be having lots of big meals and dinner parties, and usually, for this, there is a Christmas themed or festive dessert expected.
Or since it is the season for giving, desserts and sweet treats are a perfect idea for a batch made gift to give to all your loved ones.
There are some classics that are expected from this season with classic flavors, but there are always new ways to put an unconventional spin on these dishes if you do not want to be serving a stereotypical expected dish.
There are also a few treats included on this list for more global options.
Every country has their own traditional dishes for the Christmas season and while there are too many to include them all here, you will see some.
So if you are in need of some festive inspiration for your next big meal finisher or some sweet treats to use as gifts, read on!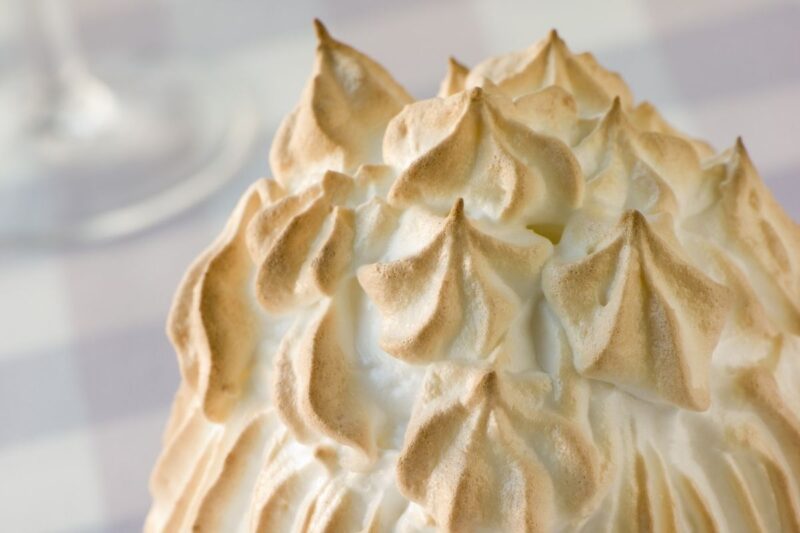 Baked Alaska is a Christmas dessert classic, being a nice big dessert to make for lots of eaters and generally a crowd pleaser.
It is also quite easy to make especially if you buy the ice cream (home making ice cream is fun but incredibly time-consuming), and the meringue never takes too long especially if you have made it before.
This recipe puts a spin on the classic, making the baked Alaska into a traditional Christmas tree shape to make it even more festive!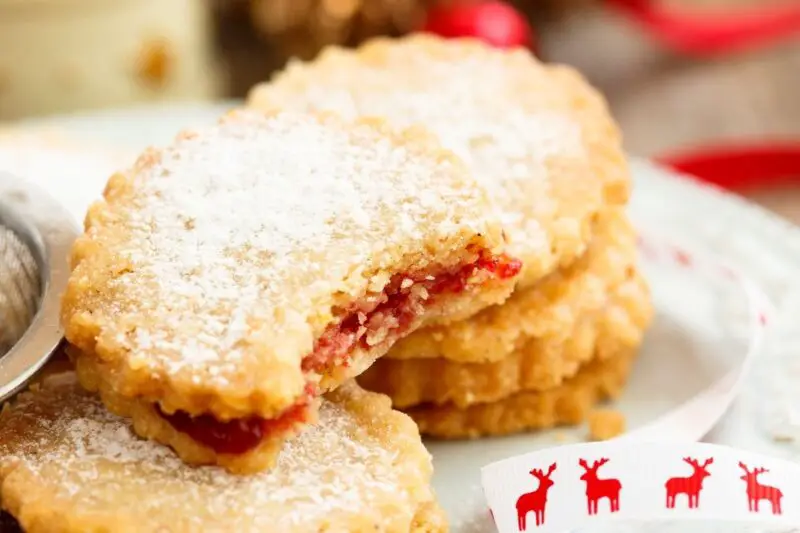 This adorable recipe makes the perfect gift for the festive season. They are a simple but impressive design and are easy to make with kids.
The cookie is composed of two chocolate flavored cookies sandwiching delicious homemade peppermint buttercream and topped with crushed candy canes. 
Making these cookies would be a great festive activity to do with kids to get the little ones in the mood for giving. They are a great treat for any age group with a unique Christmassy flavor.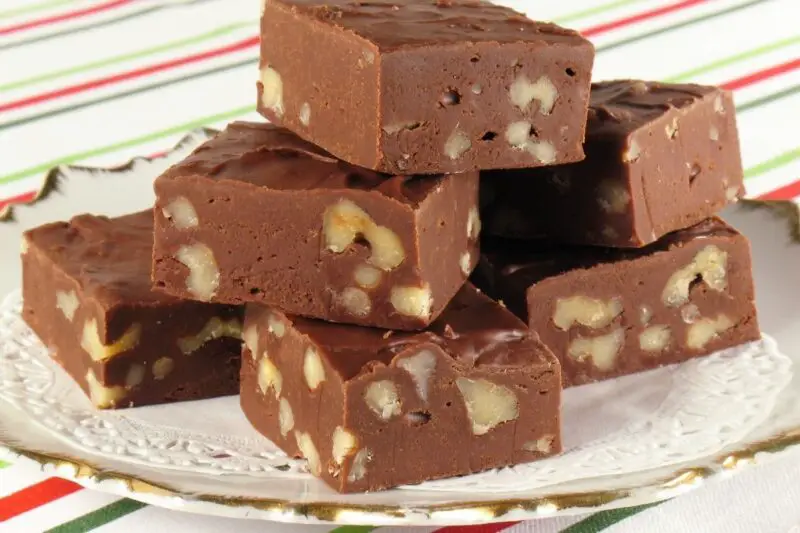 This homemade fudge is easy to make but gets stunning results with the clear distinction between the deep chocolate colored layer and the creamy white chocolate layer imitating the whipped cream on hot chocolate, and the illusion is completed with mini marshmallows. 
While some people think fudge can be hard to make and too much of a challenge for kids, in recent years there have been increasingly simple ways of making fudge discovered like the condensed milk method used in this recipe.
For a deceptively easy recipe, this is a great treat to make with kids.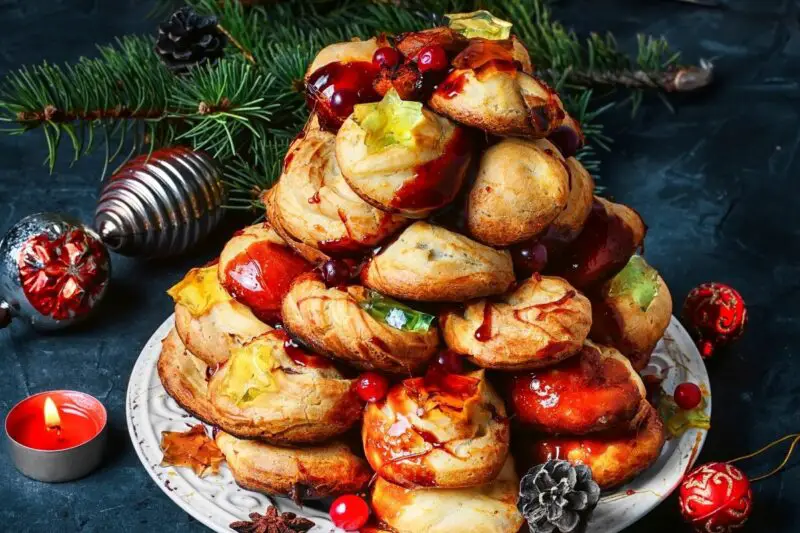 If you are not familiar with this French dessert. Croquembouche is a traditional festive dessert that is essentially a massive amount of cream puffs made from choux pastry either stacked or placed around a mold to resemble a Christmas tree.
They are sometimes decorated with spun sugar or dipped in chocolate, but this recipe takes the traditional dish in an unexpected direction. 
The cream puffs are filled with orange anise flavored cream giving a unique flavor and both flavors are used to decorate the dish giving it a stunning appearance.
This can be quite a challenging dish to pull off but if you are up for the challenge, the delicious and visually spectacular results are well worth it!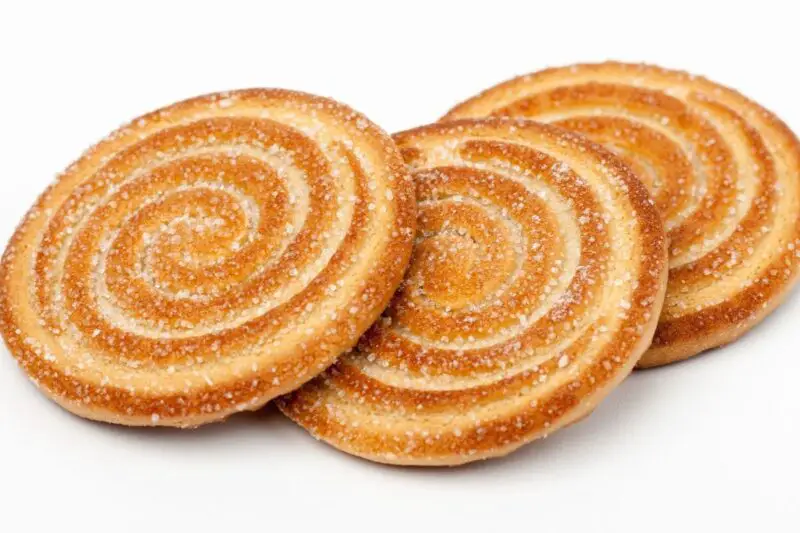 These delicious cookies are absolutely stunning imitating the typical appearance of the complicated crème brûlée on a sugar cookie making them easy to gift, and they keep for a lot longer than traditional crème brûlée.
The cookie itself is quite easy to make, and the cream cheese frosting has a great unique flavor that is easy to make.
The only part of making this that might be challenging is locating a kitchen torch, but if you have one, this recipe can not be skipped.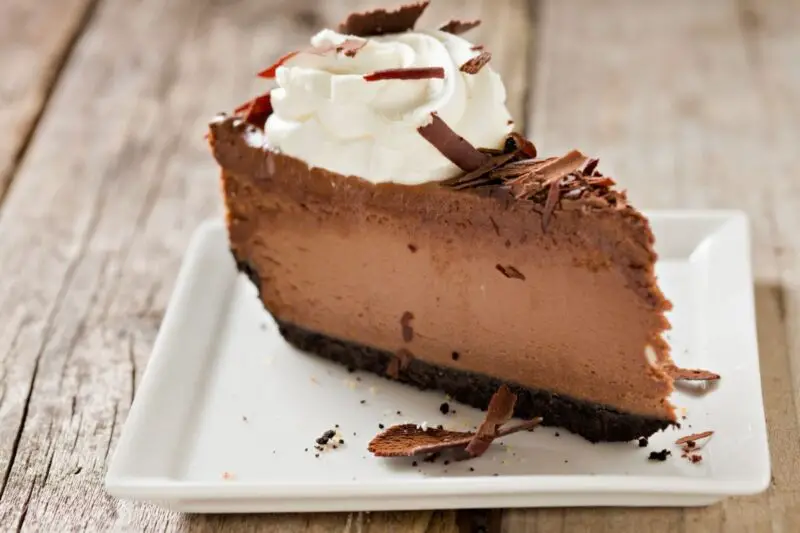 For a showstopping finale to any Christmas meal, cheesecake is a delicious dessert that is as easy to make as it is delicious.
The festive peppermint flavor this cheesecake uses is complimented by the decorational candy canes that top it, but the chocolate flavor still sticks out enough to be noticeable.
The cheesecake also uses an Oreo base to emphasize the delicious flavor of the cake and pleases all the chocoholics!
For a festive Christmas dish this can not be overlooked!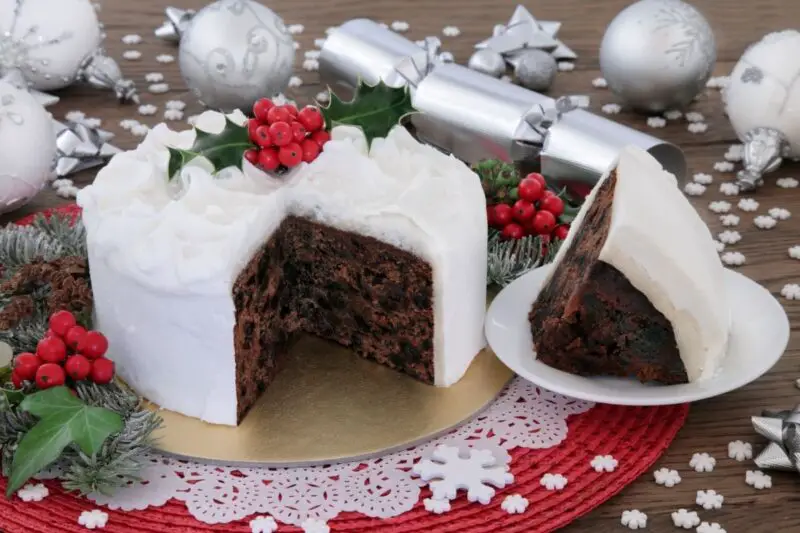 This traditional British recipe is often given as a gift or eaten at the end of dinners on Christmas day.
The cake is a dense but delicious fruit cake that is actually very easy to make, and the messy look of the cake is covered in a layer of marzipan to add more depth of flavor. It is then topped again with a thick layer of fondant. 
This dense sweet slice of Christmas is a great option to make for the end of a big meal, but a lot of people make big batches of smaller cakes to give as gifts to be enjoyed over the Christmas period.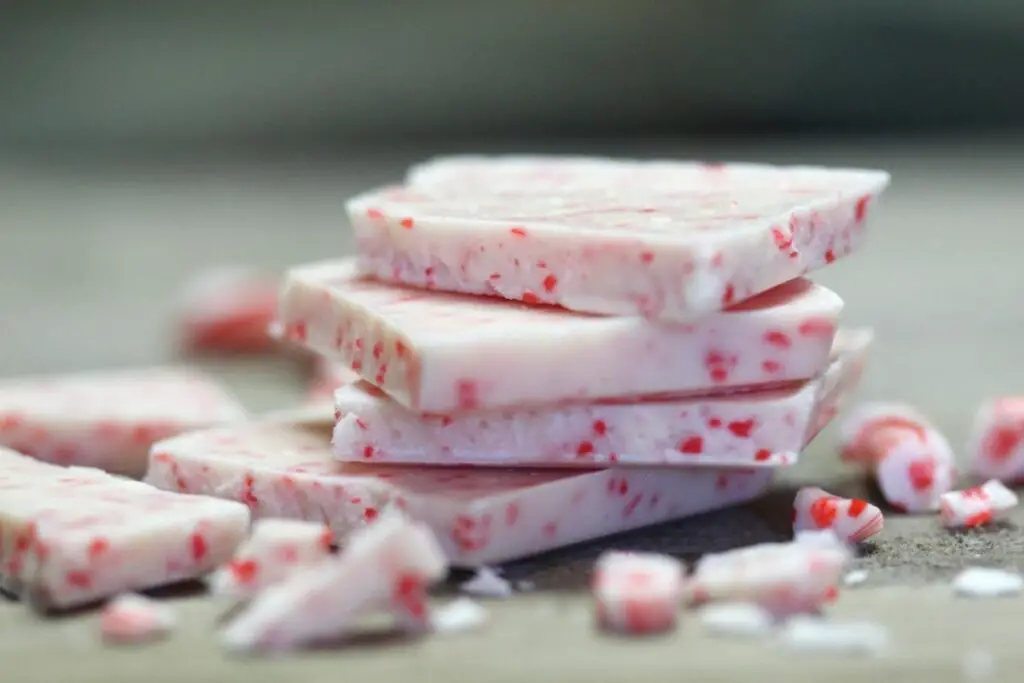 For a unique but delicious gift, this spiced fudge is super easy to make using the simple condensed milk recipe to make this fudge a great last minute gift if you do not have that many ingredients in.
Fudge is also super easy to make with kids and once it has set it is super easy to decorate with chocolate, sprinkles, or any festive edible decorations that are easy to find in the festive season!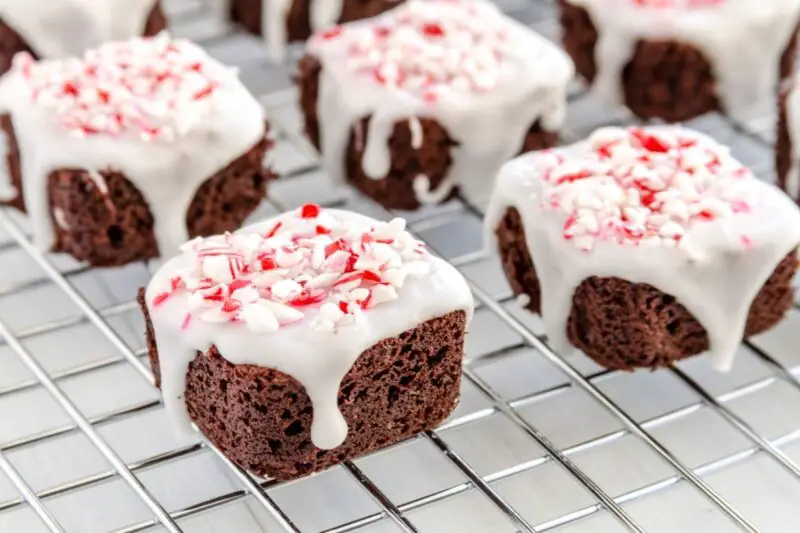 There is arguably no sweet treat as beloved and easy to make as delicious brownies, and this peppermint variety is just as easy to make and puts a festive twist on this classic treat.
The great thing about brownies is how versatile they are. Once they have cooled out of the oven they are easy to cut into different shapes and decorate.
You can also heat up brownies and serve them with ice cream as a great dessert option for dinner parties.
If you want an option that you know most people will love and is easy to make, missing these delicious peppermint brownies would be a mistake.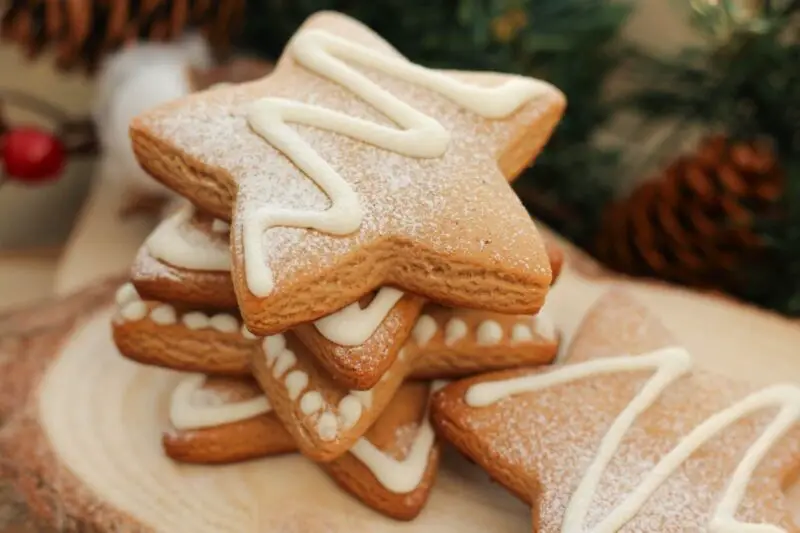 Arguably one of the most typical Christmas sweet treats, gingerbread is a classic for a reason.
The cookie is used to make houses, decorate trees, make gingerbread men, and is of course gifted and served at meals.
The cookie is pretty easy to make and can be made in a variety of different ways, so you can always find a method that you like best.
The spiced flavor makes it super comforting in the winter months and is a favorite for having in cozy evenings.
Another traditional British choice, the Christmas pudding is similar to Christmas cake in that it uses a dense base with lots of delicious spices and fruits, but it stands apart in how it is prepared and served.
Both Christmas cake and pudding can be made up to months in advance and can be marinated in a choice of festive alcohol to intensify the flavor of the pudding.
Right before it is served, Christmas pudding is covered in brandy and quickly lit on fire making a beautiful blue flame.
If you want to try this dessert, be careful but also be prepared for a unique delicious pudding.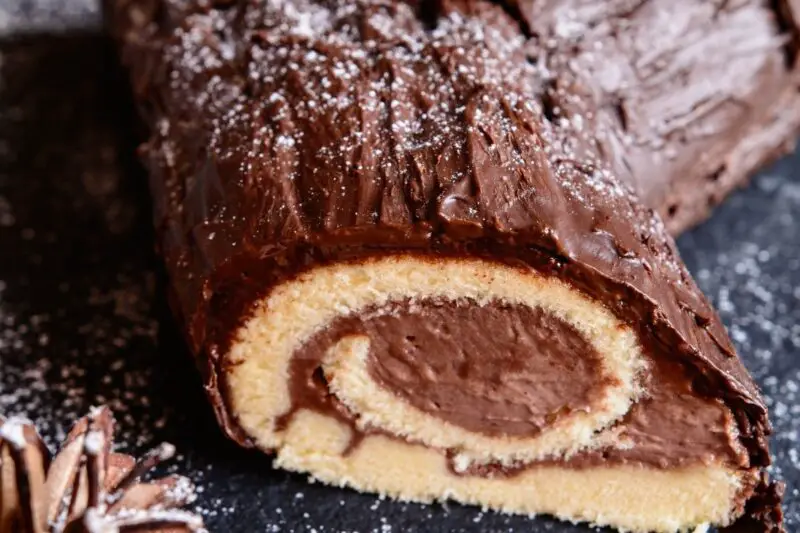 Buche De Noel is another French Christmas dish that has many varieties around the world like the Yule Log in the UK.
The dessert is a rolled chocolate cake decorated and covered in frosting to resemble a festive log.
With the dish being a classic, it is pretty easy to make, and is also traditionally made without flour, making it an easy gluten-free option.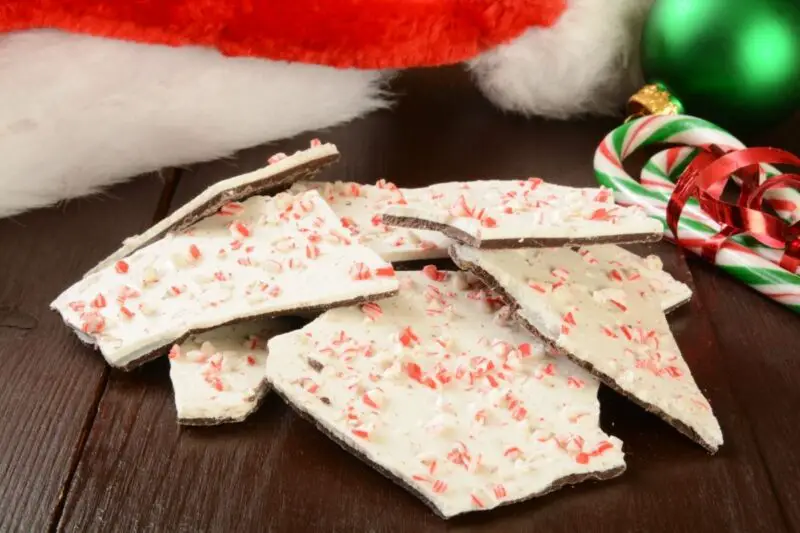 Bark is an easy treat to make and makes a lovely snack or a generous tasty gift to give with presents.
This variety is a layered peppermint flavor with different flavors all in one bark. It is easy to make with kids and is a crowd favorite!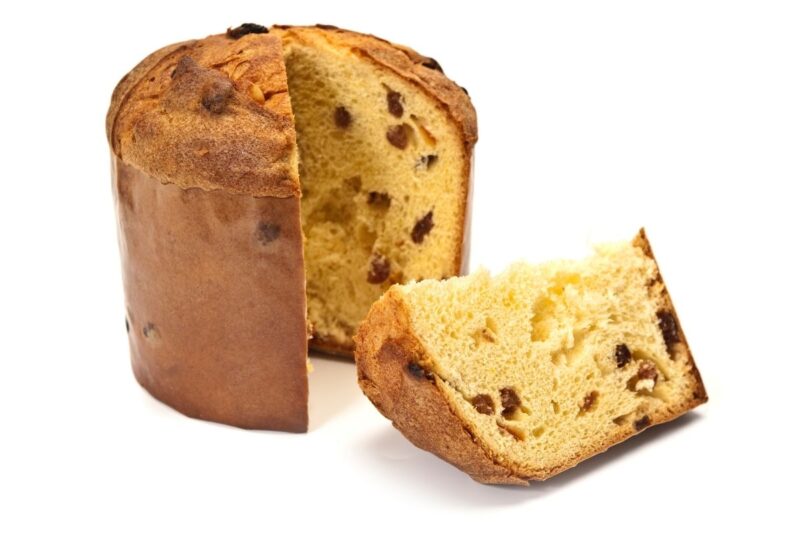 Panettone is an Italian sweet bread that is typically enjoyed around Christmas and is now available worldwide.
But it is not too hard to make yourself if you carefully follow instructions and can be great at the end of a meal or as a gift.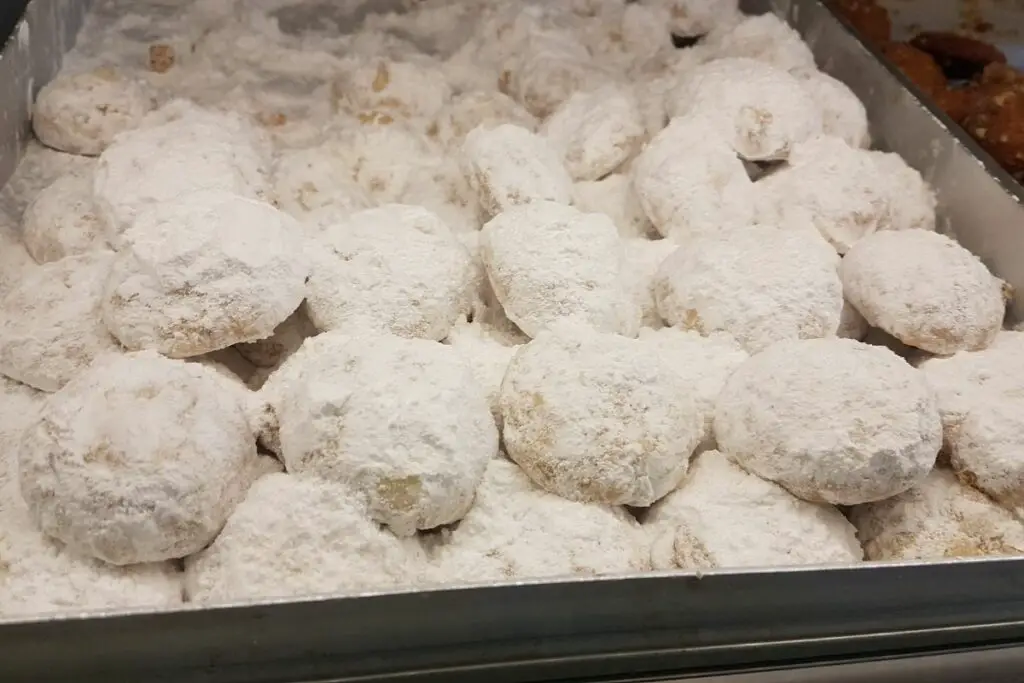 These Greek Christmas cookies are traditionally served in the festive season in Greece and if you want a taste of the culture, they are not too hard to make.
They have a distinctive almondy flavor – a popular flavor choice in the Christmas period – and are covered in powdered sugar, making them a great sweet treat!
Final Thoughts
So that is 15 amazing Christmas sweet dessert recipes you should consider trying to make! Some are easier than others and some require more practice, so make sure to choose something you think you can pull off!