Apple desserts are always a hit at parties or family gatherings. They are also great for breakfast or snacks.
Apples are rich in fiber, vitamin C, potassium, and antioxidants.
The nutrients in these fruits provide health benefits such as reducing cholesterol levels, boosting immunity, and preventing cancer.
Apples are versatile fruits that can be eaten raw, baked, boiled, sautéed, grilled, roasted, or even juiced. In addition, they can be used to create a variety of dishes.
From pies to cakes, apples are a favorite ingredient in many sweet treats.
They add juicy sweetness to any dessert recipe, and there is a sweet apple-flavored treat for everybody to enjoy, whether they prefer pastries or cheesecakes.
Here are some mouthwatering apple desserts you should try today.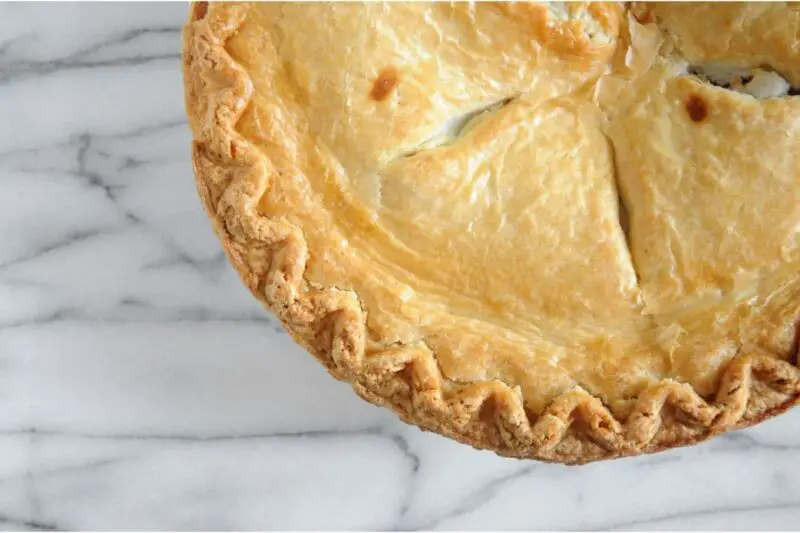 Apple pie is one of the most popular desserts in America, as well as around the world. It's easy to make and very delicious.
This classic American dessert has been around since colonial times and has remained a hit ever since.
Whether you're serving it with ice cream or just eating it on its own, this is an all-time favorite that never seems to go out of style!
This recipe requires the use of three pounds of assorted apples, along with some lemon juice, cinnamon, nutmeg, butter, and all the other ingredients that make a classic apple pie so great.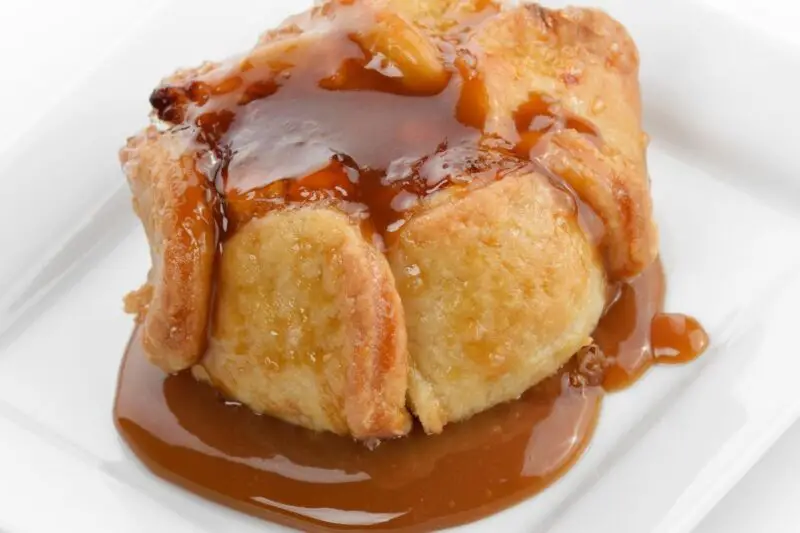 Salted caramel is another flavor sensation that people love. This sweet and salty combination is perfect when paired with apples.
Combine the sweet flavors of salted caramel with some juicy apples to create these delicious bars.
There are three layers to these crunchy bars: the shortbread crust, the creamy apple pie filling, and the crunchy streusel topping.
By making these bars at home, you can take a slice of apple pie straight from your kitchen to eat when you're on the go!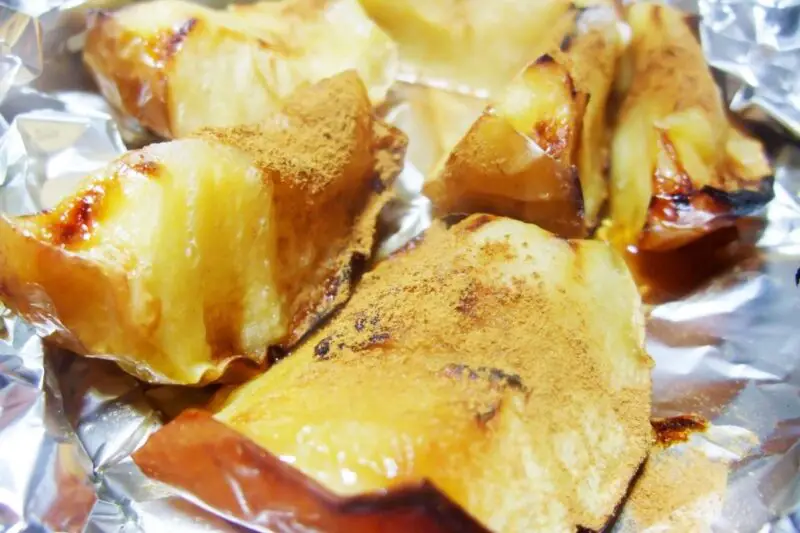 Baking apples is a great way to preserve them before they go bad. You simply bake them until tender, then puree them into a sauce.
You can serve them warm or cold, and they can be eaten on their own, or topped with a dollop of whipped cream or vanilla ice cream!
These gooey, moist baked apples are a wonderful snack or dessert option. Simply cut them up, combine them with some sugar, cinnamon, lemon juice, and more, and bake until the apples are tender and soft. So delicious!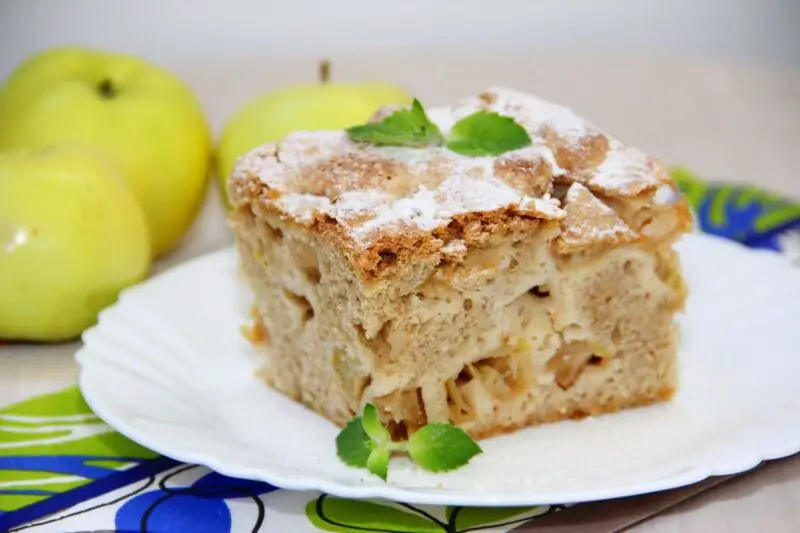 If you want something different from a traditional apple pie, try this fudge instead! This is an easy, no-bake dessert that's sure to please everyone.
Combine all the ingredients in a large saucepan until melted together, and then pour into a greased pan.
Let cool completely, and top with small pieces of cookies. Then, cut into squares, and serve immediately! This is such a quick and simple recipe.
If you love fudge, and you love apple pie, why not combine the two? It will satisfy your sweet tooth.
Cheesecake is yet another decadent dessert that gets everybody excited.
While cheesecakes are often topped and mixed with strawberries, raspberries, and sometimes even blueberries, apple cheesecakes take things to a whole new level.
The addition of apples gives this cheesecake a fresh, fruity taste that makes it stand out.
The base is even made from graham crackers, brown sugar, and cinnamon, giving it that apple pie taste that we've come to know and love.
Anyone who loves cheesecake will adore this unique version. If you're looking for a special treat to impress someone, this is the perfect dessert choice.
Everybody knows that caramel apples are a staple of Halloween celebrations. But, hey, who says you can't enjoy them year-round?
These caramel apples are a fun twist on the classic dish, and they're also incredibly easy to make.
You can top them with your favorite toppings, like white chocolate, rainbow sprinkles, or pieces of fudge to add extra flair.
This is one of those recipes that tastes better after sitting overnight, so plan ahead if you want to make them right away. They'll keep well in the refrigerator for several days.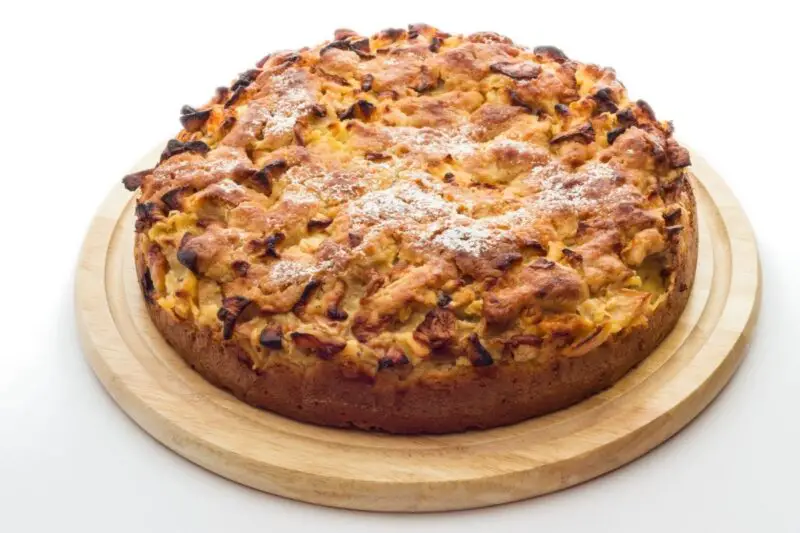 Apple cake is a classic American dessert that has been around since the early 1900s. It's a dense, moist cake that's usually served with buttercream frosting and sliced apples.
This recipe allows you to enjoy that classic combination without having to worry about baking time. Simply mix everything, put it in the oven, and let it cook until done.
It's super simple, but oh so good! When you have an abundance of apples in your house, use them in this tasty dessert.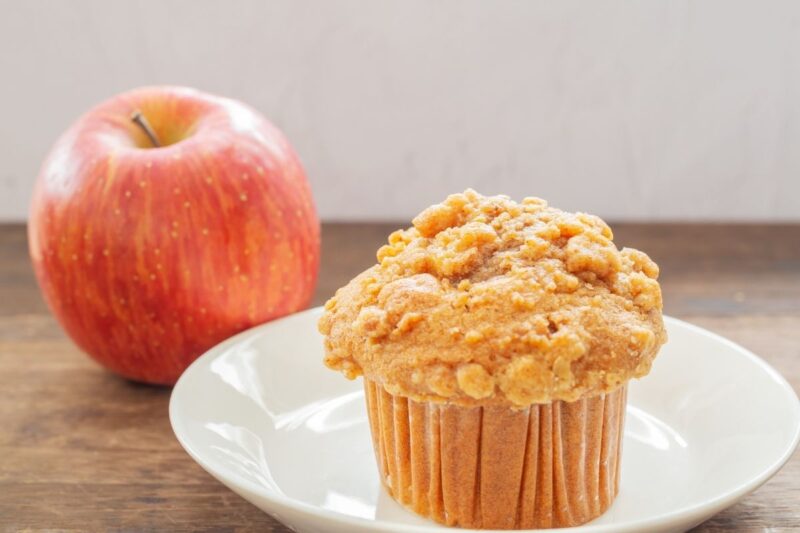 Cupcakes are always popular at parties, especially when there's a theme involved.
These cupcakes are a great way to celebrate fall, pumpkins, and all things spooky!
These fluffy, light cupcakes are filled with apple cider and ground cinnamon, which give them a nice apple pie flavor.
Top them off with a dollop of homemade spiced frosting, and you'll be ready for any party.
Be sure to whip up a whole batch of these cupcakes, because they go fast! And don't forget to decorate them with some cute decorations.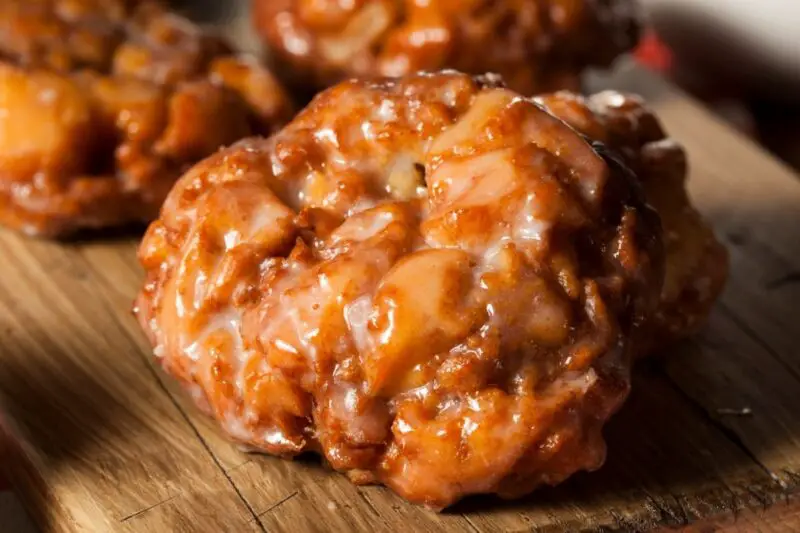 Fritters are delicious finger food that is perfect for entertaining. They're also very versatile, as they can be eaten plain, dipped in honey, or covered in powdered sugar.
Great news for anyone who wants to enjoy dessert, but wants to avoid eating too unhealthily: you can bake the fritters instead of frying them! They will taste just as great, whichever way you decide to cook them up.
Drizzle with some homemade glaze, and you've got yourself a batch of delicious, fluffy fritters for the whole family to enjoy.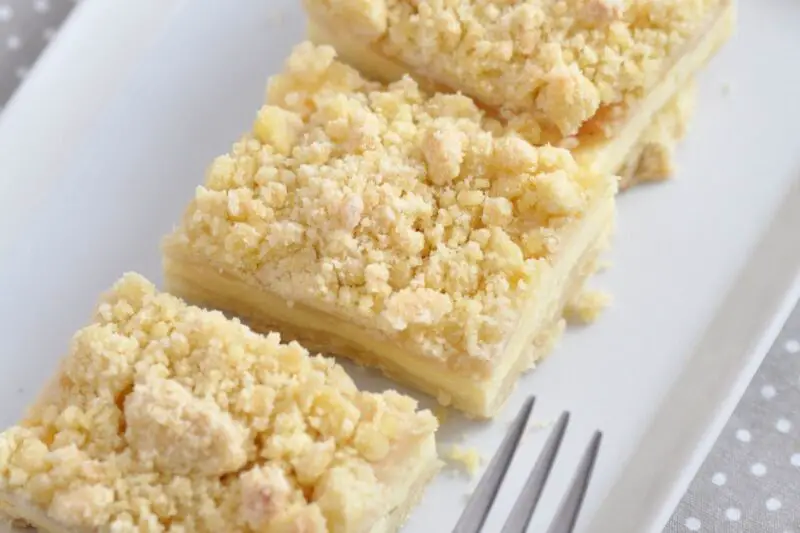 Streusel bars are sweet bar cookies that are often topped with vanilla ice cream.
This version adds a touch of spice by using cinnamon and nutmeg, and you can easily customize it to suit your preferences.
The bars are filled with chopped apple, along with nutmeg, cloves, and cinnamon, and they are topped with a crumbly streusel topping. Then, they get baked until golden brown.
When you're making these, try not to overfill the pan. Otherwise, the streusel topping won't stick properly.
Once the bars come out of the oven, allow them to cool completely before cutting into them. The filling should still be soft enough to cut through!
Everybody loves cookies, and these treats take peanut butter cookies to another level.
These crispy, chewy cookies are packed full of chunks of apple, and they're flavored with cinnamon and ginger.
You can serve them warm from the oven, or let them chill in the fridge for a few hours. Either way, they make a wonderful addition to any gathering.
You could even make your ice cream sandwiches, spreading some vanilla ice cream in between two cookies for a delicious treat!
Apple cobbler is yet another classic American dessert that has been around since the early 1900s. It's usually made with fresh fruit, like peaches and plums, but you can also make this with apples for a luscious autumnal twist.
This recipe calls for baking the apples on top of a crusty biscuit base, then sprinkling them with freshly grated nutmeg.
You can either eat it straight away or store it in the refrigerator for later.
It tastes amazing served hot or cold, so keep an eye on it while it bakes.
If you want to add more flavor, you can sprinkle the apples with lemon juice after they have cooled down. Top with a scoop of ice cream, and dig in!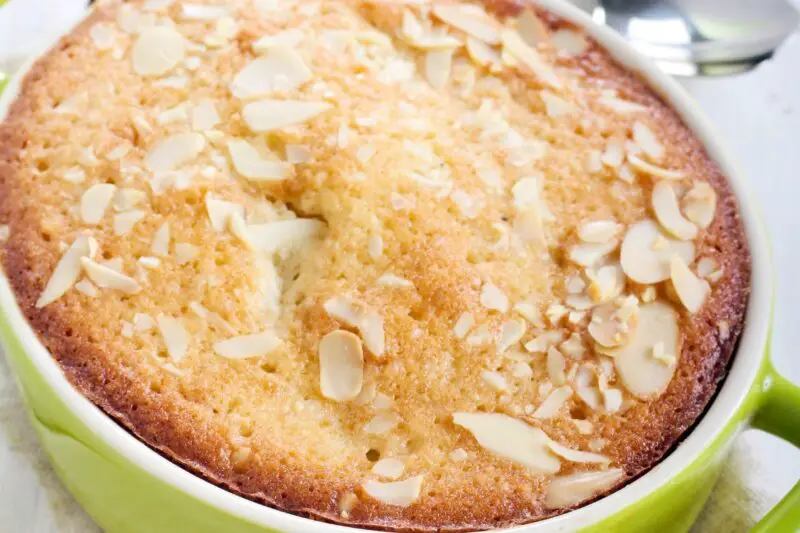 If you love apples, pudding, and cake, then you are going to love this amazing apple pudding cake!
This delicious dessert combines the flavors of juicy apples, cinnamon, and even a hint of orange, thanks to the use of orange juice in the batter. 
The best part? You can bake this cake in a crockpot, saving you time and cleaning up afterward! We recommend that you give this moist, fruity pudding cake a try at home.
This combination of apple cider flavoring with fluffy, light donuts covered in powdered sugar sounds pretty good, right?
Well, it does taste great! The dough for these donuts is very easy to work with, as well as extremely versatile.
You can use whatever kind of apple you'd like, such as Granny Smith or Pink Lady, but we suggest trying different varieties to see which one you prefer most.
These donuts taste best while they're still warm, so waste no time getting started! They'll keep in the freezer for up to three weeks, so you can reheat them whenever you need a quick snack.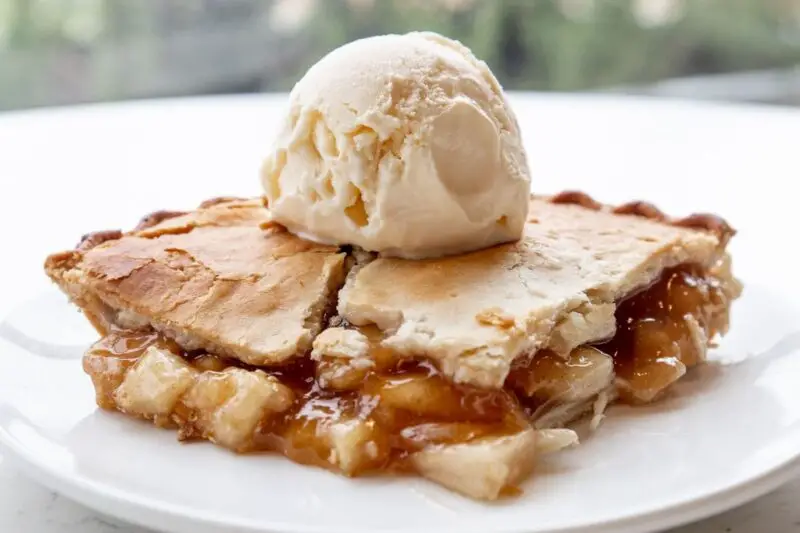 Lastly, if you're looking for something sweet and comforting, look no further than apple pie ice cream! This dessert features homemade whipped cream, and a generous helping of the gooey, sweet apple pie topping.
This recipe is a no-churn ice cream recipe: all you need to do is combine the ingredients, and let the mixture freeze for around six hours.
We recommend pairing this delicious ice cream with a slice of apple pie but feel free to experiment with other desserts too. Try pairing it with one of the desserts listed above!
Final Thoughts
When it comes to making apple desserts, there are many ways to go about it. You can stick with the classics, such as apple pie and apple cobbler, or you can get creative by experimenting with one of the above recipes.
Either way, you're going to end up with a delicious dessert that your friends and family will be sure to enjoy!
We hope you enjoyed our list of 15 mouth-watering apple desserts to try today.
Good luck, and happy baking!