Ready to spice up your life with some 🔥Sabana De Res recipes from Mexico? These hearty beef-based dishes are the ultimate comfort food. And let's be real, who doesn't need a little extra comfort in their life? 
There are so many ways to enjoy this dish, from 🌮tacos to 🥪sandwiches. It's like a culinary choose-your-own-adventure! 🤩So, let's get cooking and explore all the different ways we can enjoy this savory goodness. And don't forget to keep your napkins handy, things are about to get deliciously messy! #sabanaderes
How to Cook Sabana De Res
It all starts with beef sirloin steak, baby! This dish is all about that meaty goodness. So, grab your steak knife and let's get slicing. Thin strips are the way to go for maximum flavor and manageability. And if you really want to impress your taste buds, whip up your own Sabana De Res marinade! 🔥 
Now, it's time to cook that beef to perfection. You have two options: grill or broil. Grilling will give it a smoky flavor, while broiling will make it juicier. 😋But hey, it's all up to you, my friend. The only thing that matters is the end result – a versatile and delicious dish that will have your taste buds dancing the cha-cha. And the best part? It's easy and quick to make! So, let's follow the recipe and get cooking. Get ready to wow your taste buds with some serious Sabana De Res skills! 🤤 #sabanaderes
Ingredients that You Will Need Are:
Two Tablespoons of Vegetable Oil
Twelve Ounces of Thinly Sliced Beef Sirloin Steak
One Tablespoon of Ground Ancho Chili Pepper
One Teaspoon of Kosher Salt
One Cup of Thinly Sliced Onion
One Cup of Thinly Sliced Red Sweet Pepper
One Cup of Sliced Mushrooms
Two Cloves of Minced Garlic
One-Fourth of a Cup of Mexican Beer or Any Beer
Half a Cup of Tomato Salsa
Half a Cup of Reduced-Sodium Chicken Broth
Two Tablespoons of Unsalted Butter
Half a Teaspoon of Freshly Chopped Cilantro
Method of Preparing Beef Sabana De Res Step by Step:
Get ready to cook up some delicious Sabana De Res with these easy steps!
Step 1: Heat up a large skillet over medium heat and pour in a tablespoon of oil. Add beef strips and cook for 30-40 seconds. Add freshly ground ancho chili pepper and kosher salt, and let the beef cook for 3-5 minutes, making sure it's cooked through and not pink. Set aside the cooked beef strips on a plate.
Step 2: Add another tablespoon of oil to the skillet and sauté onions for a minute. Add minced garlic and red sweet pepper, and cook for 3-4 minutes until they're tender. Add sliced mushrooms and cook for 1-2 minutes.
Step 3: Slowly pour in some beer and stir. Add tomato salsa and chicken broth, and let it simmer for 5-6 minutes. Stir well and combine everything.
Step 4: Check the texture and let it cook until the liquid is reduced to half, and the sauce-like consistency is achieved. Gradually add butter while stirring, and watch it melt into the jus.
Step 5: Add the cooked beef strips back into the mixture and let it simmer for 1-2 minutes. Sprinkle some freshly chopped cilantro on top.
Step 6: Serve with cooked Mexican red rice and lemon or lime wedges. Enjoy the delicious and hearty Sabana De Res!
There you have it! A simple and easy-to-follow recipe for making a mouth-watering Sabana De Res dish. So, grab your apron and get ready to impress your taste buds! 😋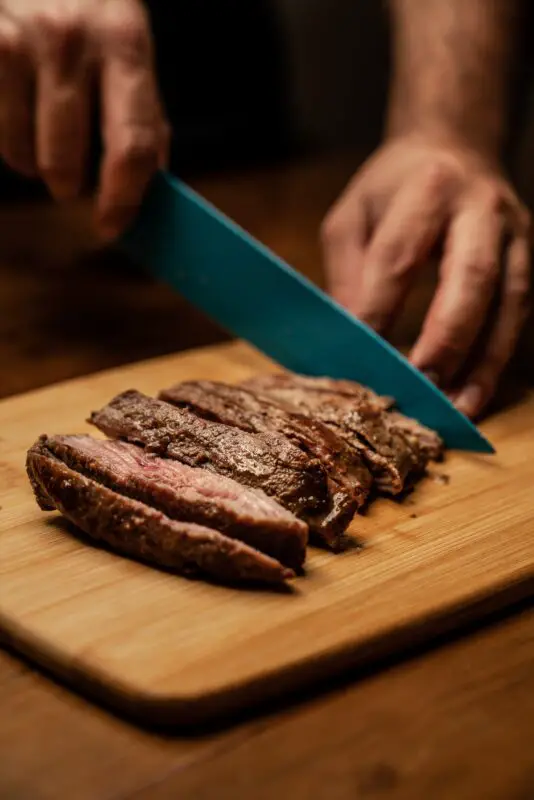 How to Serve Sabana De Res with Other Versions
🍴🤤Ready to take your Sabana De Res game to the next level? Here are some ways to serve and enjoy this delicious dish like a pro!
Option 1: Serve it with Mexican red rice as suggested in the primary recipe. It's a classic combo for a reason, baby!
Option 2: Want to switch things up? Turn your Sabana De Res into a Philly cheesesteak burger or sliders! 🍔 Simply cook the dish as mentioned, and instead of rice, use bread. Cut your sliders in half, lightly toast them, and layer the beef strips with a little thick gravy on top. Add some cilantro and cheese slices, close that slider off, and serve with additional condiments if you want.
Option 3: Feeling adventurous? Try making some Sabana De Res jerky using the same ingredients! 🍖 The process is a bit different from the gravy-like version. Rub the spices into the beef strips and cook them until they're ready. That's how you make the jerky, baby!
Whichever way you choose to enjoy your Sabana De Res, just remember to have fun with it! This versatile dish is perfect for experimenting with different flavors and combinations. So, let your taste buds be your guide and get cooking! 🍴👨‍🍳
Conclusion
Well, that's a wrap, folks! Three versions of Sabana De Res, all in one recipe. And the best part? 
None of them require a lot of time or effort! 🙌 Whether you're in the mood for some classic Mexican red rice, a Philly cheesesteak burger or sliders, or some delicious jerky, this dish has got you covered, baby! So go ahead and get cooking – a heartwarming and fulfilling meal awaits you. 
And who knows, you might just discover your new favorite way to enjoy this versatile dish. 😍 Don't forget to check out other recipes you might like, too! Because let's face it, there's always room for more deliciousness in our lives. 😋 
You May Also Like: