Quaker Steak and Lube Copycat Recipes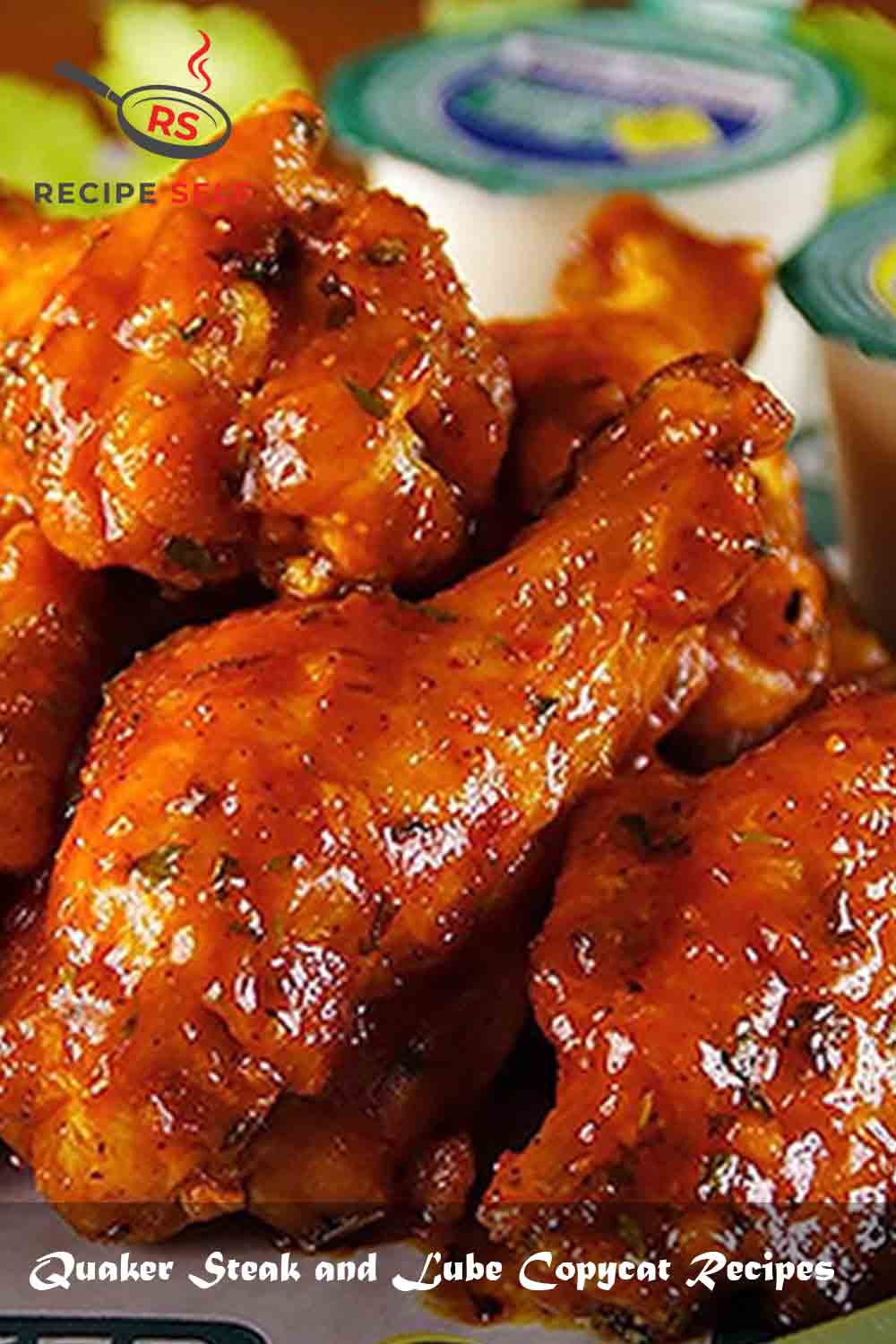 The best way to make your dining table delicious is to serve chicken items. The chicken wings are one of the most popular consumed chicken item to satisfy half of your appetite. These chicken wings recipes have various cooking methods based on the culture of different regions.
So, let's check out some of the best quaker steak and lube copycat recipes. These chicken wings recipes can be cooked in various ways and all of them satisfy the hunger to full. So foodies! No time to delay! Check out the recipes and start preparing. 
Quaker Steak And Lube Hot Wings Recipe:

Preparing quaker steak chicken wings can be mysterious. Because, all you need to do is to fry them properly and mix into the Louisiana lickers very popular hot sauce. So, the recipe seems pretty easy but there is some twist in preparing sauce. I have given the special Louisiana lickers hot sauce recipe, also that can be prepared at home without any hassle.
Ingredients we Need: 
7 large chicken wings, about 1 lb (pre-marinated) 
1 can of Louisiana lickers hot sauce (see the recipe below)
Extra virgin olive oil (for frying)
Instructions for preparing step by step: 
Step 1:
Take a frying pan, and add 1 cup of extra virgin olive oil over medium-low heat. 
Step 2:
Fry pre-marinated the chicken wings finely for 15 minutes over medium-low heat. 
Step 3:
Jiggle in whole of the Louisiana Lickers sauce for 15 seconds.
Serve immediately, and enjoy the super flavourful cracker wings. 
Lousiana Lickers Hot Sauce Recipe: 
With the ingredients and perfect timing of preparing, you can prepare way better hot sauce than the bottled one. Let's see the recipe. 
Ingredients we Need: 
1 1/4 lb. fresh of red chiles, such as cayenne pepper, tabasco pepper, or serrano pepper
4 medium cloves of large garlic, sliced in half and peeled
1 tsp. of fresh basil, finely chopped
1 tsp. of fresh oregano, finely chopped
1/4 tsp. of ground celery seed
½ tsp of Kosher salt  
¼ tsp of freshly ground black pepper
1 cup of distilled white vinegar
Instructions for Preparing Step by Step: 
Step 1:
Locate a rack about 6 inches away from the broiler. 
Step 2:
Now, heat the broiler on high temperature. 
Step 3:
Add 1 ¼ lb of red chiles (I have used tabasco pepper) on the broiler pan, and allow the chiles to broil. Stir and flip constantly as needed until you notice the chiles get blister and black. The whole process won't take more than 5 minutes. 
Step 4:
Removing from the broiler pan, transfer the broiled chilies to a large mixing bowl. 
Step 5:
Covering the large mixing bowl with a plastic wrap, let them cool for approximate 10 minutes. 
Step 6:
Now you need to stem, and peel the skins off the chilies. Though it's quite fine if some skin remains, but do not seed them. 
Step 7:
Take a food processor out, and put the broiled chilies, sliced garlic, 1 tsp of fresh basil, 1 tsp of fresh oregano, ¼ tsp of celery seeds, ½ tsp of Kosher salt or to taste, ¼ tsp of freshly ground black pepper or to taste into the food processor. 
Step 8:
While the food processor machine is running, slowly add the vinegar through the feed tube and process until smooth. It will take 2-3 minutes.
Step 9:
Strain the sauce through a fine sieve and season to taste with more salt. 
Transfer the homespun lubes to bottles. Refrigerate until ready to use. I usually keep it overnight. When it's ready to use, enjoy the spicy lube with cracker wings. 
Quaker Steak Sauce & Wings recipes
Now, let's head towards another recipe containing wings that you can enjoy eating with spicy steak sauce. Here is the full recipe below.
Ingredients we Need:
1 cup of hot sauce (I have used my homemade lubes, but Franks Red Hot is perfect)
1/2 cup of vegetable oil
2 tsp of brown sugar
2 tsp of garlic powder
1/2 tsp of freshly ground black pepper
1/2 tsp of cayenne pepper
1 tsp of Worcestershire sauce
1 egg yolk of a large egg
2 tsp of water
2 tsp of cornstarch
2 dozen chicken wings and drumettes, about 4 lb.
8-10 cups of vegetable oil or shortening, for frying
Instructions for Preparing Step by Step: 
Step 1:
Take a small saucepan, and add up first 7 ingredients: hot sauce, vegetable oil, brown sugar, garlic powder, black pepper, cayenne pepper, and Worcestershire sauce into the saucepan. 
Step 2:
Set the heat over medium-low heat until boiling. In this phase you have to keep stirring often. 
Step 3:
Reducing the heat simmer for 5 minutes.
Step 4:
Remove the spice mixture from heat and allow to cool for 10 minutes.
Step 5:
Meanwhile, combine egg yolk, water, and corn starch in a small bowl and whisk them finely until fully combined and then whisk into chilled sauce.
Step 6:
Now, you have to fry the wings. To do that heat the vegetable oil in a large fryer or stock pot to 350F. 
Step 7:
Slowly add wing pieces and fry for 10-14 minutes or until light brown. 
Step 8:
Carefully remove the pieces from oil and drain on a baking rack or plate covered in brown paper sacks to absorb any extra moisture.
Toss slightly cooled wings in warm sauce. Enjoy the tanginess of quaker steak sauce and wings with your family members. 
Conclusion: 
The mouth-watering combination of the crispy chicken wings with tangy sauce will make your heart melt every time, you have a bite. If you check out quaker steak and lube nutrition, this is definitely a healthy and necessary plan for dinner or lunch, and Bon apatite!
Quaker Steak and Lube Copycat Recipes
To all foodies! Take a look at the quaker steak and lube copycat recipes, super-healthy, super-tasty, and immediately melts your heart with the ultimate savor.
Type: Main Dish
Cuisine: American
Keywords: Quaker Steak and Lube Copycat Recipes
Recipe Yield: 5 servings
Calories: 315 Kcal
Preparation Time: 10M
Cooking Time: 30M
Total Time: 40M
Recipe Ingredients: Lousiana Lickers Hot Sauce Chicken Wings Evoo
Recipe Instructions: Fry the chicken wings,and toast them into the sauce, and serve