Who doesn't love a good drink to complete their meal? It's like the cherry on top, but better because it's a drink, not a fruit.
And let me tell you, the Purple Rain Drink is the best drink to top off your meal. It's like the Prince of drinks, minus the jerry-curl and glitter.
This drink is perfect for Halloween, but honestly, it's perfect for any time of the year. It's like drinking a purple rainbow – which chromatically, isn't a thing. But you get the idea.
And with the purple rain drink recipe, you can make it in just a few minutes. So, whether you're watching a scary movie or just chilling with your friends in the garden, this drink is the perfect beverage to sip on.
Now, this drink was initially known as the Purple Haze. I mean, I don't know about you, but whenever I hear "Purple Haze," I immediately start singing Jimi Hendrix.
But hey, maybe that's just me. Anyway, this drink has the perfect balance of flavors – not too sweet, not too bitter, and not too strong. It's like Goldilocks found her perfect drink. So, what are you waiting for? Give it a try! 🍹💜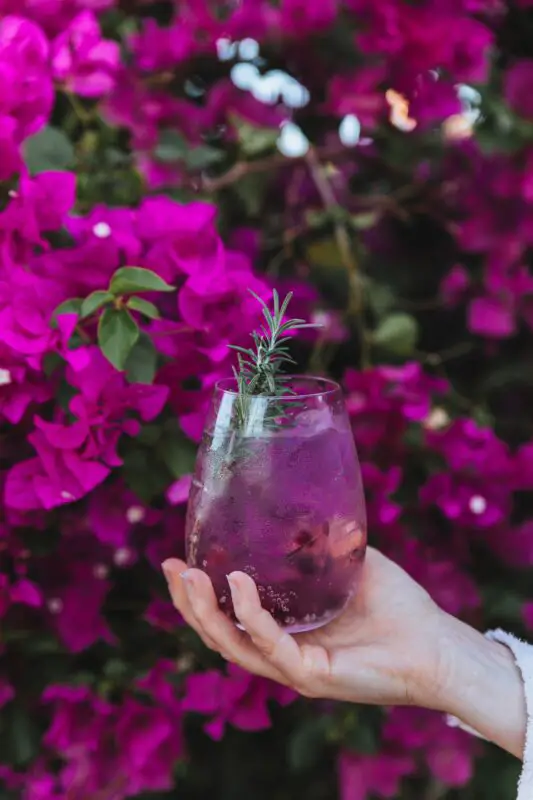 How To Make Purple Rain Drink Mix
That sounds easy enough! All you need is two glasses, a shot glass, and a few special ingredients to whip up the perfect Purple Rain Drink recipe:
1 and ½ shots of soda or vodka
1 shot of blue curacao
1 shot Cranberry juice
1 shot pineapple juice
1 shot grenadine
1/2 shot of fresh lime juice
Ice cubes.
Method of preparing step by step
Step 1: Grab two glasses and a shot glass, and make sure you have 1 ½ shots of vodka, or else you'll be drinking the Purple Sobriety drink.
Step 2: Add 1 shot of Blue Curacao, and now you've got a drink that would make Prince proud.
Step 3: Pour in 1 shot of pineapple juice, and it'll feel like you're on a tropical vacation instead of your couch.
Step 4: Add 1 shot of Cranberry juice and watch as the colors combine to create a mesmerizing, hypnotic purple.
Step 5: The secret ingredient: 1 shot of grenadine, which is like the prince of all syrups. It brings the deep purple color and the raindrop sweetness.
Step 6: Squeeze the juice of half a lime and add it to the mix. This is the perfect balance between sweet and sour, just like your dating life.
Step 7: Give it a good long shake, pour it over some ice cubes, and garnish with a slice of lemon. Now you've got a Purple Rain Drink that's so good, you might just start singing like Prince.
How To Make Purple Rain Cocktails: 
Here we have the fancy version of the purple rain drink, the Purple Rain Cocktail, with an extra layer of purple sugar to make it even more exciting. It's like the drink went to prom and put on a tuxedo!
To make this stunning drink, you will need the following ingredients:
2 spoons of Sugar
1 shot of blue curacao
1 shot grenadine
1 shot of vodka
2 shot of lemonade
Ice cubes full of glass.
½ a piece of lime
Method of preparing step by step: 
Step 1: Take 2 spoons of sugar and add blue curacao and grenadine. You're not making an artisanal cheese board, so mix these ingredients like your life depends on it!
Step 2: Use a slice of lime to rim the edge of the glass so the purple sugar crystals stick to it. This isn't rocket science, but it's close.
Step 3: Fill up the glass with ice cubes. Don't forget the ice, or your drink will be as sad as your love life!
Step 4: Add 1 shot of blue curacao to get a bluish texture in the glass. It's like watching Avatar, but in a glass!
Step 5: Pour grenadine into the glass to make it turn purple. This isn't chemistry, it's art!
Step 6: Pour 2 shots of lemonade into the glass. The taste of this cocktail is so good, you'll be drinking it like it's water in the desert.
Finally, add a cut-lemon piece and a straw to your drink, and let the party begin! It's time to enjoy the refreshing taste of the Purple Rain Cocktail like a boss!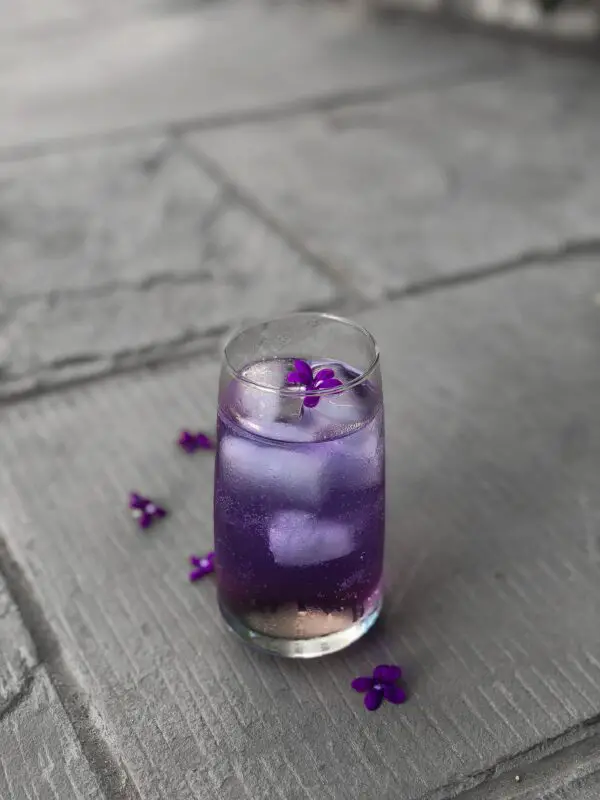 How To Make Purple Rain Drink Vodka:
Who doesn't like a shot of vodka in their fresh drink? (Definitely not the Russians!)It adds extra fizziness and makes the drink perfect to suit on any occasion. I mean, have you seen the Russians? They put vodka in everything! But hey, they produced Tolstoy. And Lenin. Besides, the preparation method of the Purple Rain Vodka is also very easy and time-saving.
The necessary ingredients required to make Purple Rain Vodka are as follows:
Ice cubes
75ml Vodka
75ml Gin
50ml Blue Curacao
50ml lime juice
50ml lemonade
200ml soda water
150ml Grenadine
Method of preparing step by step
Step 1: Grab a shot glass and fill it up with the nectar of the gods – vodka. Russians add vodka to everything, even their cereal. So why not add it to your Purple Rain Vodka?
Step 2: Pour in some gin to make your drink as strong as your desire to impress your friends with your mixology skills.
Step 3: Add a splash of blue curacao to transport yourself to a tropical paradise. Just don't forget to pack your sunscreen!
Step 4: Drizzle in some grenadine to bring on the purple rain. Cue the Prince music!
Step 5: Add a touch of lemonade and soda to give your drink the perfect amount of sweetness and fizz.
Step 6: Squeeze in some lime juice to give your drink a sour kick that'll leave your taste buds begging for more.
Give your mixture a good shake and pour it over ice. Now sit back, relax, and enjoy your homemade Purple Rain Vodka!
Conclusion
Conclusion? Nah, how about "The Grand Finale" instead? Now, let's talk about the Purple-Rain Drink, folks.
This drink is a true gem. It's got everything you need in a drink: sweetness, sourness, and strength, all blended together perfectly.
It's the kind of drink that'll make you feel like you're floating on cloud nine. And the best part?
You don't have to be a mixologist to make it! With easily available ingredients, you can whip up this delightful drink at home in no time.
Trust me, once you try it, you won't be able to resist the temptation of the Purple-Rain Drink's bold freshness and irresistible flavor. So go ahead, give it a shot!
You May Like Also: