Ever notice how everyone says they have the "best" barbecue recipe? Well, the Parker barbecue boiled potatoes recipe is genuinely one of the top dogs in the BBQ world. Seriously, in my family, it's like the Super Bowl of side dishes. People remember where they were the first time they tasted it!
I get these not-so-subtle hints, like, "Hey, remember that potato thing you did last month? Just wondering, no reason…" So, for the sake of family harmony (and a bit of bragging rights), here's how you too can become the Potato MVP.
How to Make Stewed Potatoes?
Some dishes you slave over, and others? They're so easy it feels like cheating. This is the latter. Four ingredients, one pot, and bam! You're in flavor town. Here's your roadmap to the culinary big leagues, my friend.
Ingredients we Need: 
2 Lbs of Potatoes, Finely Peeled and Cut into 1-Inch Cubes
½ Cup of Butter and Margarine
1 Tsp of Kosher Salt
½ Tsp of Freshly Ground Black Pepper
Methods of Preparing Step by Step:
Step 1: In a large saucepan, add 2 lbs of potatoes and fill the saucepan with enough water in order to cover the potatoes. 
Step 2: Sprinkle 1 tsp of Kosher salt, and ½ tsp of freshly ground black pepper. 
Step 3: Add butter and bring it to a boil and then reduce the heat to above simmer or gentle boil. 
Step 4: Cover and let cook for 20 minutes to 30 minutes until the potatoes are tender enough to be pierced easily with a fork. 
Step 5: Then increase the heat to the level of boiling and continue stirring until the liquid has reduced and the potatoes are finely broken to the consistency you desire. This won't take more than 10 minutes. 
After 10 minute, remove the stewed red potatoes from heat and serve hot.

Tips: 
I Always Use Yukon Gold Potatoes and in My Opinion They Show the Best Result for This Stewed Potatoes.
Make Sure You Don't Cook It in Haste, that Won'T Give You the Best Taste. 🙂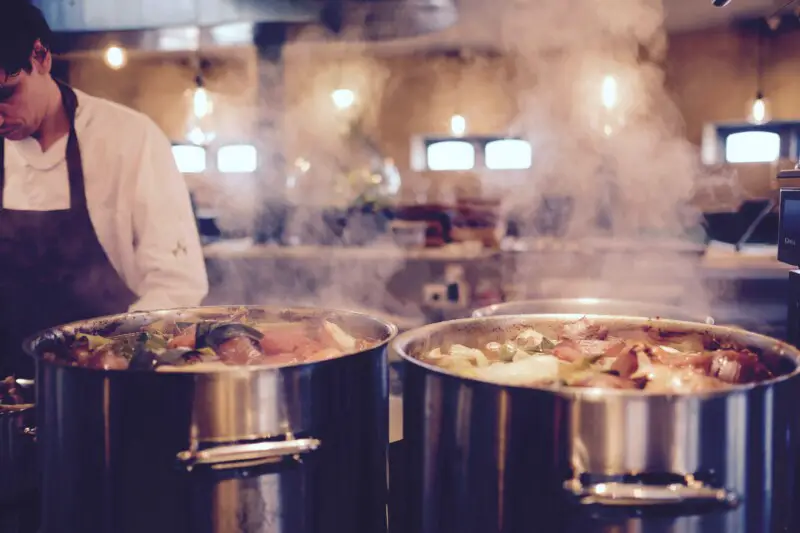 Parker's Bbq Brunswick Stew Recipe
But maybe you're the overachiever type, always looking to one-up everyone at the BBQ. If that's you, then let's kick it up a notch. Ketchup, hot sauce, garlic powder, and a dash of "I'm better than you" attitude. Prepare to be the talk of the grill!
Ingredients we Need:
5 Pounds of Yukon Gold Potatoes, Finely Chopped into Bite Size Pieces
1 Cup of Ketchup or More if Desired to Make the Stew Fine Red
2 Tbsp of Hot Sauce
1/2 Cup of Unsalted Butter
1 Tbsp of Garlic Powder
2 Tbsp of Salt
2 Tbsp of Freshly Ground Black Pepper
1 Tsp of Crushed Red Pepper
Methods of Preparing Southern Bbq Boiled Potatoes Step by Step:
Step 1: Take out a large stockpot and add 5 pounds of potatoes.  Pour water so that water level can cover the potatoes. 
Step 2: Cook over medium heat at first until the potatoes bring to a boil. 
Step 3: Reduce the heat to a simmer and add ½ cup of unsalted butter. Stir! 
Step 4: Now, add 1 cup of ketchup and 2 tbsp of hot sauce. This will make your dishes super tasty. 
Step 5: The potatoes should be tender enough by now. Season with 2 tbsp of salt and 2 tbsp of black pepper. 
Step 6: Lastly add 1 tbsp of garlic powder and 1 tsp of crushed red pepper. Cook for 10 minutes more.
Remove from heat and transfer to the serving bowl.
Note: 
If desired, you may make these ahead of time and refrigerate for 4 hours up to overnight in order to absorb the spice. Just warm next day and serve! 
Conclusion: 
Barbecue boiled potatoes are like that friend who gets along with everyone. Whether you're teaming them up with grilled chicken, roasted pork, or just showcasing them solo, they always shine. Perfect for impressing guests or just a quiet brag at family gatherings. Spread the word, share the love, and maybe, just maybe, become a legend in your own lunchtime.
You May Also Like: