Bourbon is a truly delicious and versatile liquor that can be used in so many different ways.
The countless combinations that can be thrown together at home mean that whether you prefer your bourbon the old-fashioned way or prefer to hop on the new cocktail craze, I can guarantee that you'll find something you'll love.
Check out 15 of our top picks for the best bourbon drinks that you can make from the comfort of your own home.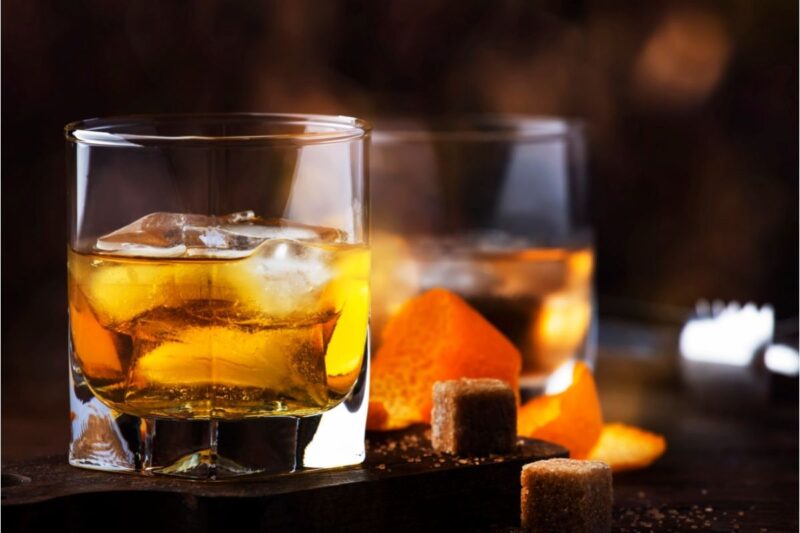 The first recipe I have to recommend is the Bourbon And Berries. If you are a fan of bourbon and want to drink it all year round it's a really great summer option.
Typically bourbon is seen as a rather autumnal liquor and so it's nice to see a recipe that combines this spirit with fruitier sweeter flavors like strawberry and vanilla. 
What's great about this as well is that by tweaking or changing the ingredients you can create loads of new flavored drinks suited to your taste.
For example, you could swap out which berries you use to change the flavor or change the spirit base if you wanted to try something new.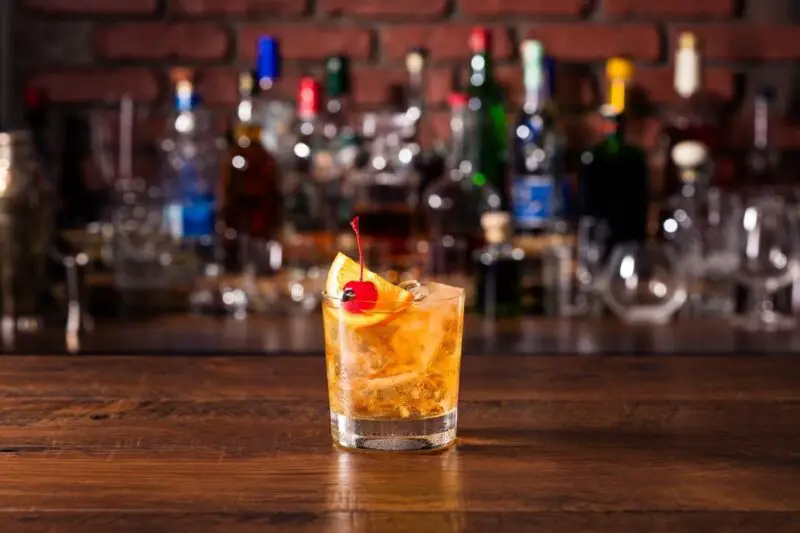 Old Fashioned is an old classic. If you're looking for a drink to stand the test of time, look no further.
You're going to want to make sure you have a decent bourbon base for this cocktail. If you would struggle to sip at it neat as a rule I wouldn't use it in this cocktail. 
Old Fashioned drinkers, however, can be divided on how exactly an Old Fashion should be prepared. So you'll have to pick your team.
A more traditional stance is that you should add a sugar cube or a teaspoon of granulated sugar – this is to keep the integrity of the drink.
You could also add simple syrup, you can make the drink quicker this way but it does add water to the drink so it loses some of the heavy rich texture. 
This is quite a simple drink that lets the bourbon really take center stage; perfect for a real bourbon connoisseur.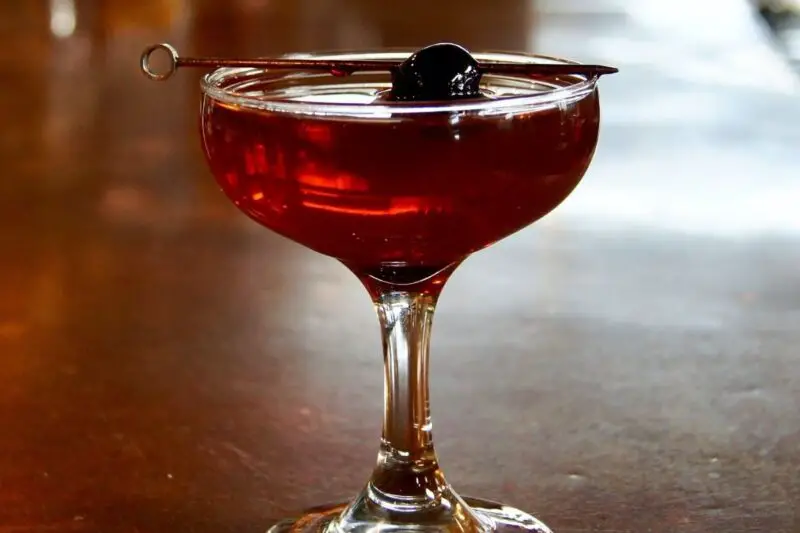 From one classic to another. The Manhattan is an immensely popular bourbon classic that has been around since the 1800s.
It might surprise you to know that it hasn't really evolved since then either – after all perfection doesn't need to be improved. 
You can of course play around with how much of each ingredient you have to make other similar cocktails too, such as the Reverse Manhattan and the Perfect Manhattan.
But of course, classics stand strong through the ages for a reason! 
Try this recipe out for yourself and see which you think is best!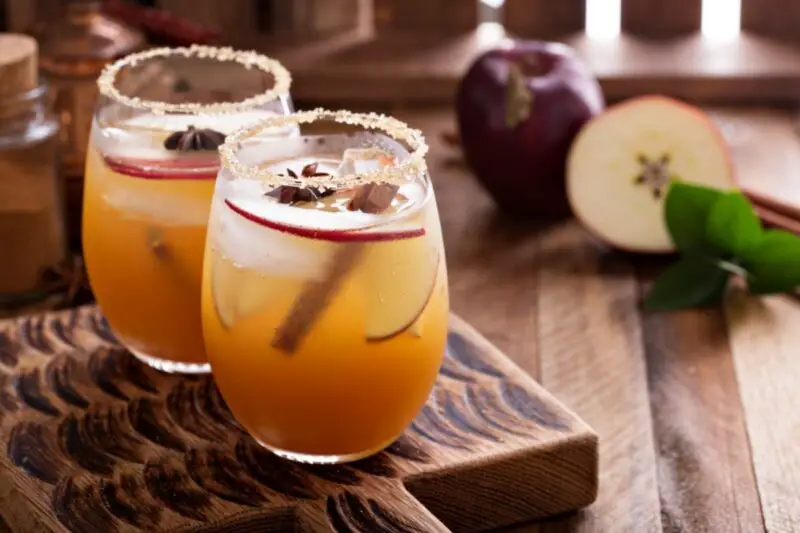 Looking for the perfect Bourbon drink to keep you toasty and warm during the autumn months then look no further than the bourbon apple cider – it's the perfect drink.
However, it does involve a few ingredients so you might have to dig to the back of your cupboards a little for this one. 
Ingredients such as nutmeg, cinnamon, and cider will pair great with your favorite bourbon. I think this is a great cocktail for parties.
It's easy to make in batch so everyone can enjoy it and can be served straight from a slow cooker! 
This is the perfect drink for fall!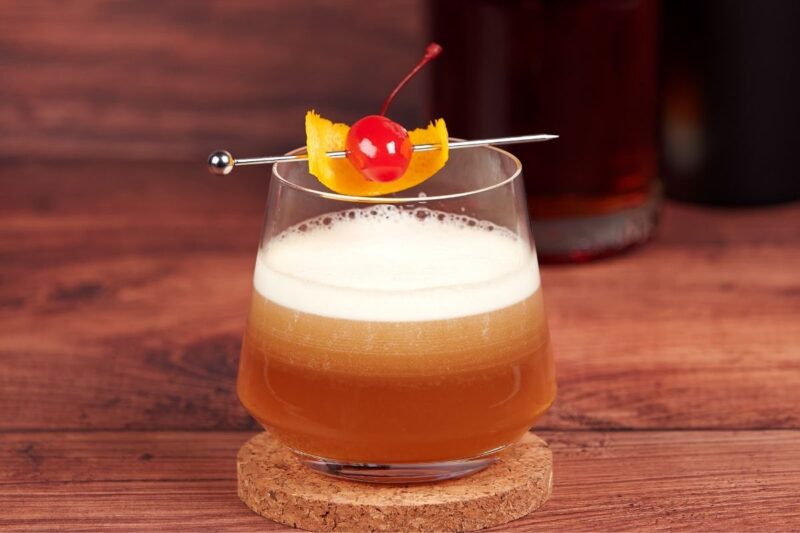 A Bourbon Sour isn't everybody's taste, but it might be yours. This sour drink most people tend to have a love-hate relationship with.
You're usually one or the other but if you like a drink with a bit of a sour punch to it, I think this will be for you.  
There are quite a few versions of the Bourbon Sour, some more complicated than others.
I've gone with a basic recipe here so you can try the simplistic version that has been loved by many. But you can always opt to swap spirits or add a few extra ingredients to taste.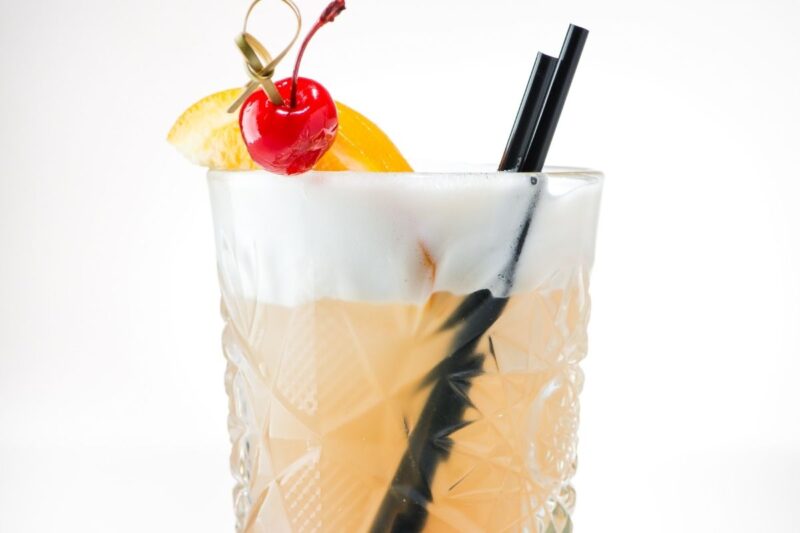 If you're a fan of a Bourbon Sour, you might want to give a John Collins a try.
This cocktail is another sour drink with a lot of the basic ingredients that are used in a Bourbon Sour.
It is a taller more refreshing version though, so if you don't quite like a Bourbon Sour as it's too strong you may prefer a John Collins as the additional soda makes it more diluted and refreshing. 
You can use any bourbon as a base in this drink really, so whatever bourbon you've got left lying around will work great for this one! It also works perfectly for a summery drink in the sunshine.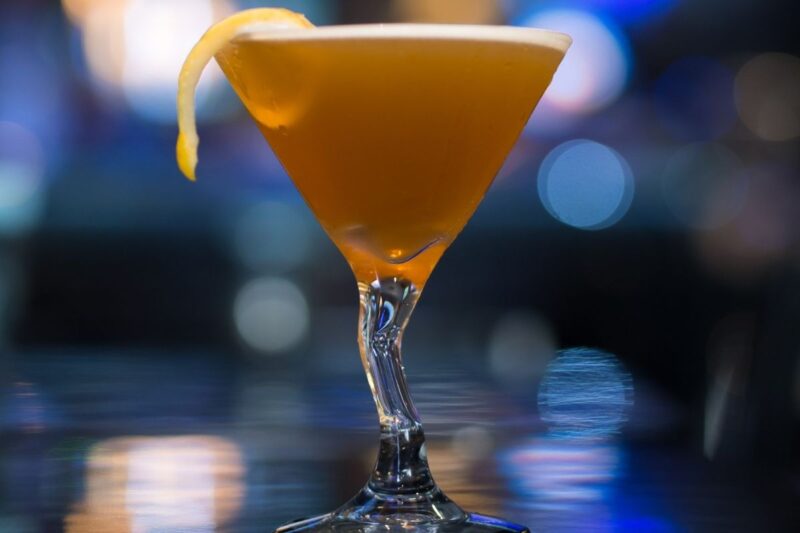 The bourbon Sidecar is a nice twist on the classic Sidecar for those who don't particularly favor brandy.
Instead, we swap out that spirit for bourbon to create a light sour beverage that is perfect for any occasion.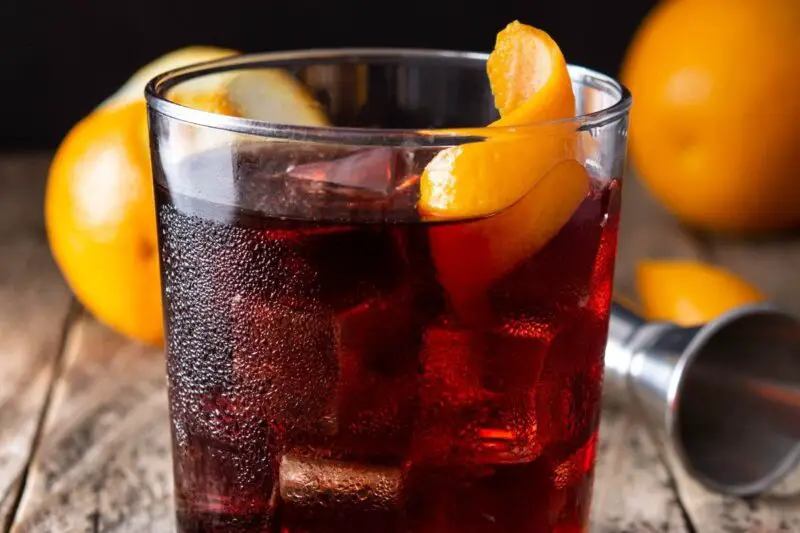 If you're looking for a nice bourbon drink for the cooler winter months then this is the perfect tipple for you. This drink is very rich and warming. 
You'll want to pick a higher-quality bourbon for this drink to really bring it alive.
The bourbon and vermouth are the real showstoppers of this cocktail and you're going to want to make sure they pair together nicely when picking your liquor as it can make or break your tasty drink.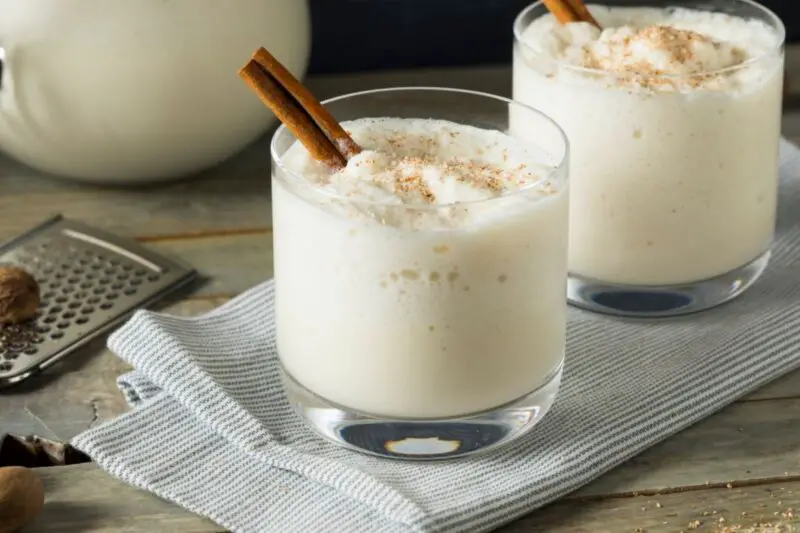 What a great take on a Christmas classic. Any Bourbon enthusiast will love this festive little treat.
You may be wondering if eggnog and bourbon pairs nicely together but I can assure you the answer is yes! Use a 100% proof bourbon in your eggnog this Christmas for a tasty spiked tipple that even Santa himself would be jealous of…you could always leave some out for him Christmas Eve!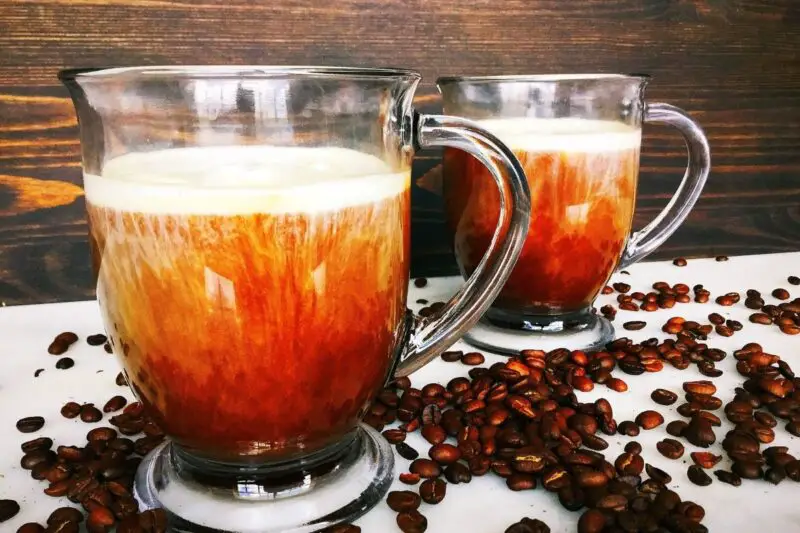 A southern take on an Irish classic here. Perfect for any coffee lover, this caffeine infused drinki will keep you warm during the colder seasons.
If you're a coffee fan but don't want to be up all night long, you can always swap out your coffee for decaff and still enjoy this tasty treat.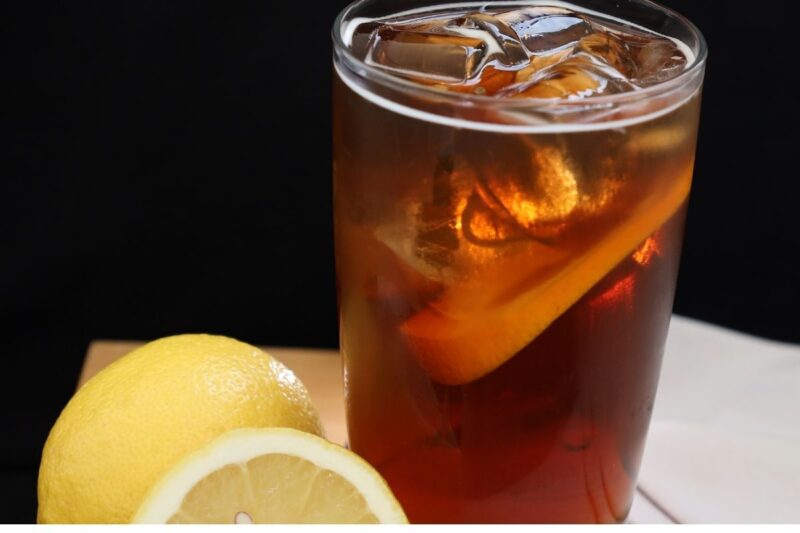 I love this recipe for a nice refreshing summer bourbon drink. It's also really simple to make so if your looking for a low effort great tasting tipple as the seasons get warmer you need this recipe in your life! The mix of lemon liquor, bourbon, and iced tea is such a refreshing taste. It's basically just an alcoholic version of iced tea. 
Try this recipe out for 21 years and over take on a childhood classic summer drink.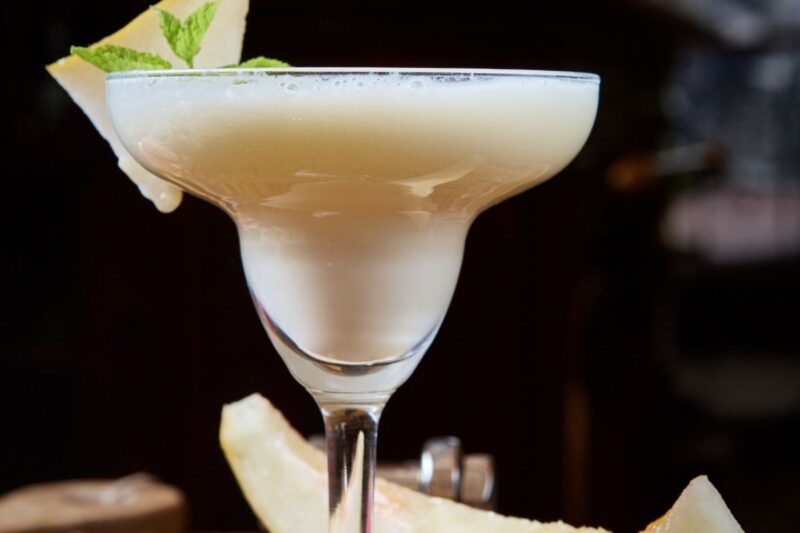 If you're a fan of a sweet alcoholic beverage then a bourbon Melon Splash may be a great shout for you. It's so simple to make, you basically pop all the ingredients together over ice and boom, done. So it's a great cocktail for beginners to make too. 
It's quite a fruity drink and so is a good choice for those who don't want a drink thats going to just taste super strongly of the liquor you're using.
Of course, you can always add more of less liquor to taste. Recipes are only a guide after all, right? 
Yes! Another sour cocktail for those who just can't get enough. This one is for all you wine lovers out there. This sour includes a drop (or two) of dry red wine.
This wine is used because of its aromatic qualities mainly – and then of course for its colour.
Lets face it, who doesn't love a pretty looking cocktail to post online! 
This is a nice dry and fruity flavor so if that seems more your style, give this recipe at home or for a party!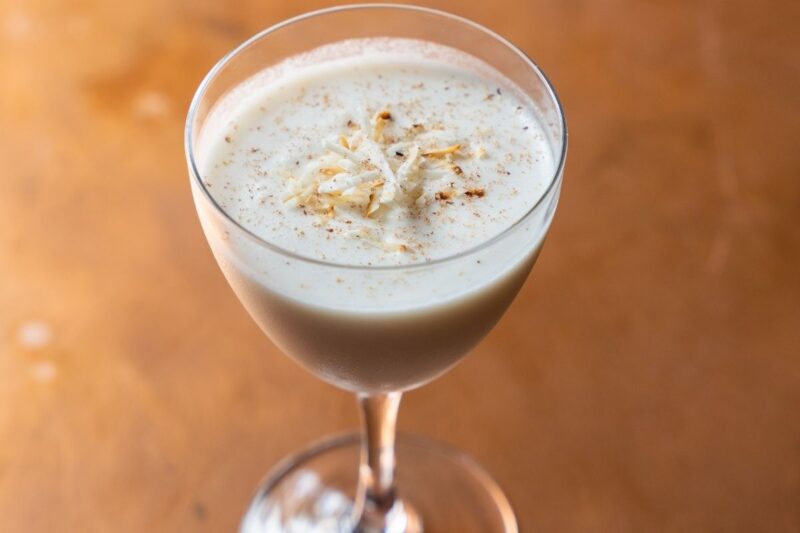 Probably evident by its name, this drink is a great treat for Christmas wintery season.
After all is that not when we get our visit from Santa? With sweet almond and some nice spice notes, this creamy rich cocktail will be popular at any Christmas party.
It incidentally also pairs lovely with a mince pie, if you want to leave one out for Father Christmas!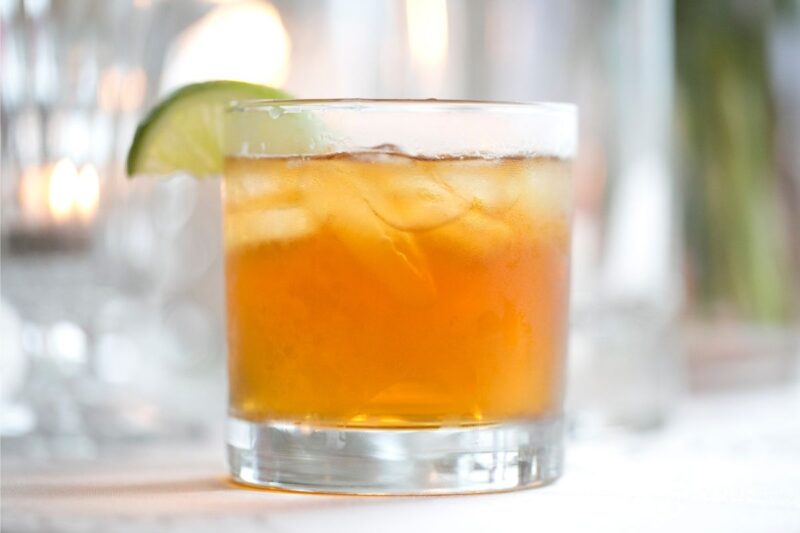 Looking for a nice drink with an aromatic spiced taste, then run don't walk to your kitchen to grab all the bits you need to make this delicious drink.
This drink is inspired by an Iced Chai, so if you like those you're definitely going to enjoy this boozier version. 
Final Thoughts
Bourbon is such a popular spirit and it's certainly not hard to see why.
Whether you like your drinks sweet, sour, aromatic, or spiced there's at least one bourbon cocktail out there for you.
All you need is a few extras, some mixers, and some garnish, and you'll be on your way to drinking delicious cocktails all day long. You'll also be the envy of all your friends at any cocktail party with these great recipes!