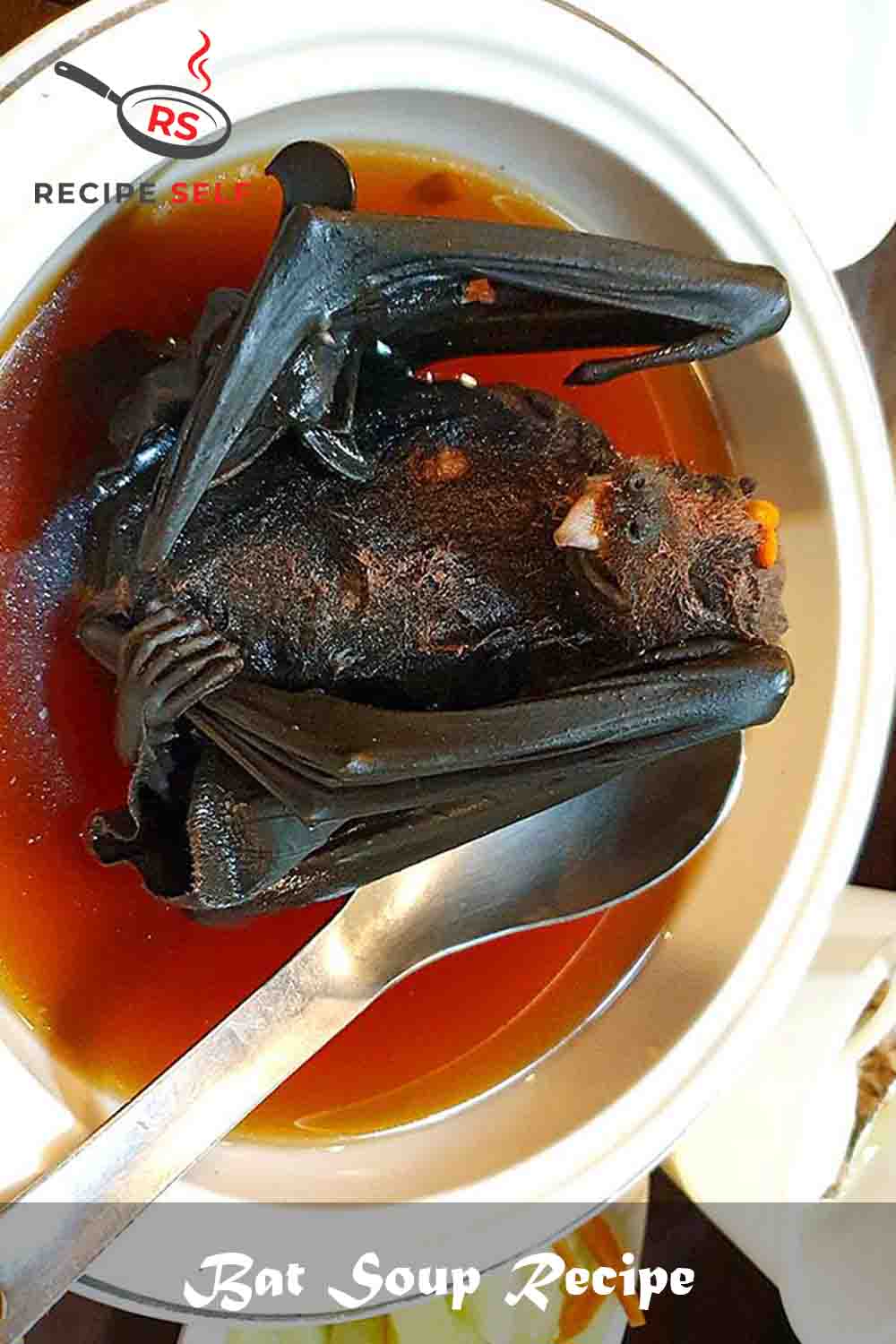 Soups are being loved by everyone. But what if this recipe is slightly different. Well, not for everyone. Anyone who wants to try this bat soup recipe, welcome. Soups become more flavorful when cooked with cream, coconut milk. The flavor is at the zenith, also the perfect gravy ensures the blast of flavor in every sip. Let's see the recipe without any ado. 
Recipe 1: 
In your supermarket, you will find fruit bat. Buy one at home to prepare the famous fruit bat soup with our recipe. Let's jump to the recipe without talking much. 
Ingredients we Need:
1 Large fruit bat, cleaned up completely
2 Medium donni sali (also popular as hot peppers)
1 cup of chopped white onion
3 tbsp of finely chopped garlic cloves
5 tbsp of soy sauce, light one. If you have dark soy sauce then add it 2 ½ tbsp.
1 ½ tsp of Lime juice
2 tsp of Lemon juice
1/3 cup of tomato paste
1 pinch of Kosher salt or to taste
1 pinch of freshly ground black pepper or to taste
2 tbsp of chopped fresh parsley leaves
2 cans of Coconut milk, unsweetened
How to Make Bat Soup Step by Step:
Step 1: Take out a sauce bowl, and add up 2 tsp of lemon juice, 1 ½ tsp of lime juice, 1/3 cup of tomato paste, 5 tbsp of soy sauce, and 1 cup of chopped white onion. Mix up all the ingredients finely so that they make a good coat with chopped onion. 
Step 2: In that sauce bowl, add the chopped Donni Sali. You can add up or cut off some as per your taste. 
Step 3: bring out a large sauce pot, and fill it up with water. Add 3 tsp of salt and 3 tbsp of finely chopped garlic cloves in it, then place the fruit bat.
Keep boiling the bat in the salted boiling water for 2 hours or until its skin gets soft enough to tear through anything. Using chopped garlic eradicates any smell from the fruit bat. 
Step 4: Discard the water, and pour 3 cups of coconut milk to the sauce pot along with a pinch of salt, and a pinch of freshly ground black pepper, or to taste. 
Step 5: Keep cooking it for another 10 to 15 minutes until desired thickness. 
Serve the special bat soup palau with long grain cooked rice, covering the prepared hot sauce above. 
Recipe 2: 
Well, here you should know that bat soup and bat wing soup aren't the same at all. In fact, they are completely different from one another. Let's see the recipe and you'll understand all by yourself. 
Ingredients we Need: 
4 garlic cloves, peeled
2 tbsp of canola oil
2 tbsp of butter, melted
2 tsp of Italian seasoning
4 cans of stewed tomatoes, undrained (14-1/2 ounces each)
1/2 cup of whipping cream
6 slices of bread
Freshly ground pepper, to taste (optional)
How to Make Cream of Bat Soup Step by Step:
Step 1: Take out a large saucepan, and pour 2 tbsp of canola oil over medium heat. 
Step 2: Add the garlic cloves and saute until they are light brown in color and tender.
Step 3: in the bowl of an immersion blender, add the tender garlic, with 4 cans of stewed tomatoes. Make it puree in that blender, dividing into several batches. When done, return then to the saucepan. 
Step 4: Over medium-low heat, bring the soup to a boil. Reducing the heat to simmer, stir in ½ cup of whipping cream. Keep the soup warm; don't boil. 
Step 5: Set the over for preheating at the temperature of 400 degrees F. 
Step 6: Now to prepare the wings, flatten breads on a clean surface using a rolling pin. Cut each and every slice of bread diagonally in halves. Make sure to remove the crusts. 
Step 7: To provide bat wings shape, cut long sides, using scissors. Place them on an ungreased baking sheet. 
Step 8: Brush top of each bread with melted butter. Sprinkle some Italian seasoning. 
Step 9: Place the baking sheet in the preheated oven. Bake for 10 minutes, allow them to toast lightly. 
When done, remove from the oven. Serve the soup in a bowl with wings. Top with sprinkling some pepper. 
So, you see, there is a pretty difference in both dishes. So, if anyone doesn't eat bats, no worries! We have the special soup of bat wings to give a surprise!
Conclusion: 
Preparing these soups is pretty easy and if sometimes the cravings tickle for something savory as well as tomato tangy,  then both of them can be perfect choices for anyone. Bat stew can be prepared at home without any hassle. So, no more delay! Strat experiencing something new.
Bat Soup Recipe
Bat soup recipe! Yes! You have heard it right! Let's prepare this special soup at home without any complications. The detail you will find and realize how tempting it is!
Type: Side dish
Cuisine: Palau
Keywords: Bat Soup Recipe
Recipe Yield: 2 servings
Calories: 87 Kcal
Preparation Time: 10M
Cooking Time: 2H30M
Total Time: 2H40M
Recipe Ingredients: Fruit Bat Coconut Milk Lime Juice Lemon Juice Onion Soy Sauce
Recipe Instructions: Prepare the hot sauce. Boil the fruit bat for 2 hours. Discard the water and add coconut milk along with spices. Cook over 10 minutes. When done, serve with hot sauce covering above.