Tequila is great to shot, sure, but it's also the key component in a number of cocktails. Nothing says good vibes quite like a fruity tequila cocktail, which is the perfect drink for any summer occasion.
You probably immediately think of a sweet margarita, but did you know that tequila is a super versatile spirit that can be used to make a ton of different fruity cocktails?
Whether you're hosting a gathering with friends or simply want to enjoy one on your own, we've got you covered. We've even got a couple squeezed in that are perfect for the colder months, too.
Join us as we run through fifteen of the best fruity tequila cocktail recipes that you can make at home!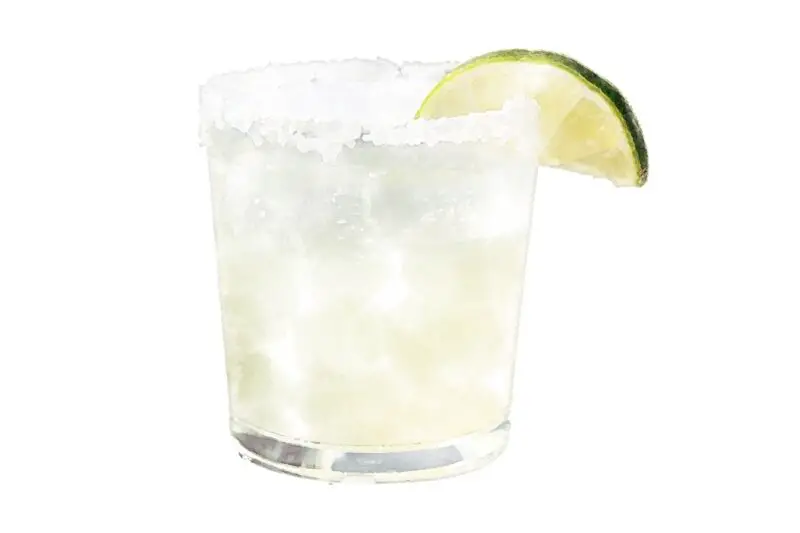 Honestly, where else could we start a list of recipes for fruity tequila beverages but the classic margarita?
Whoever came up with the idea of putting a good quality tequila, fresh lime juice, Cointreau, and salt in the same glass was an unknown hero.
This perfectly balanced margarita is neither too sweet nor too tangy and is instead refreshingly crisp, making it perfect for pairing with some chips 'n' dip.
The 'secret' ingredient is the agave, which helps to take the bite out of what could otherwise be a rather strong cocktail!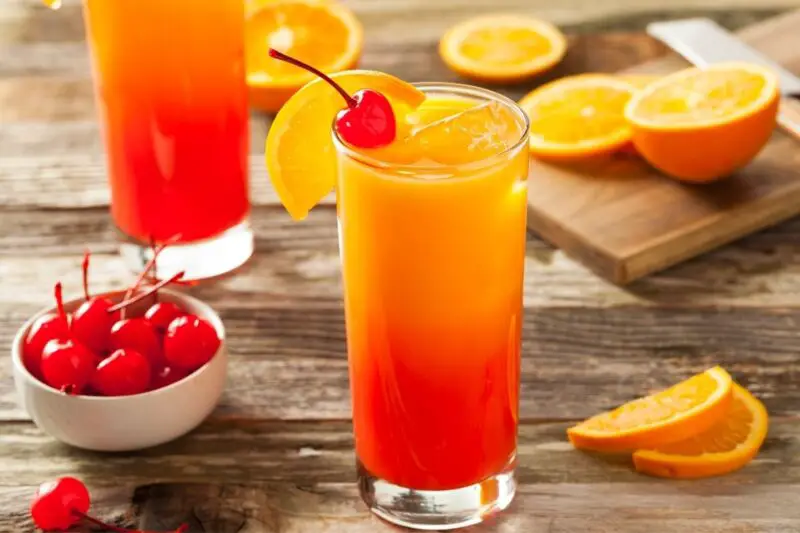 Another absolute classic tequila cocktail, the tequila sunrise is perhaps the ultimate fruity tequila cocktail you can make at home.
It's super quick and easy to make, consisting of just three main ingredients: fresh orange juice, tequila, and grenadine.
Pair this with a little triple sec for an extra kick and serve unmixed for that classic tequila sunrise look, and you've got the perfect summer drink! You can make yourself a glass in five minutes, too!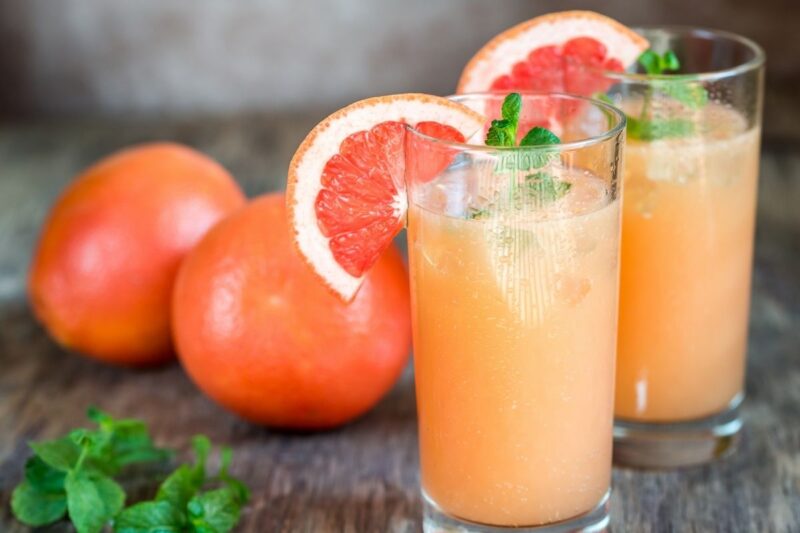 Of the classic tequila cocktail recipes, the Paloma doesn't get anywhere near enough appreciation. Tequila, lime juice, and pink grapefruit juice are a simple yet deceptively tasty combination.
In fact, we don't think there's an alcoholic drink out there that pairs better with pink grapefruit than tequila, which brings out its flavor in a way that gin or vodka simply doesn't!
With a dash of salt on the rim to give it an extra kick, you can't go wrong with this recipe for a classic Paloma!
A tequila-based twist on the classic John Collins, the Juan Collins is the perfect tequila cocktail for a day lounging by the poolside.
Pairing zesty fresh lemon juice with tequila and soda water creates a refreshing citrus drink that is sure to keep you cool in the warm sunshine.
If you enjoy your drinks sweet and sour, then this is the perfect choice for you.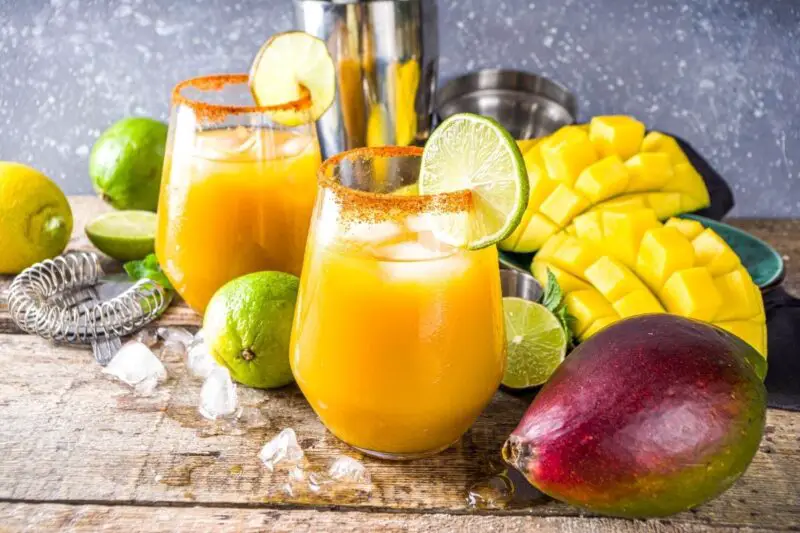 Honestly, we've yet to meet anybody who doesn't absolutely love the sweet, delicious taste of mango, so why not give it a try in a tequila cocktail?
This recipe gives the classic margarita an extra fruity and tropical twist, and makes the perfect quantity (six) for entertaining a small number of guests on a warm summer's evening.
A fantastically flavorsome recipe bound to have your guests begging for more!
The rum-based, minty mojito and the citrusy, lime-infused classic margarita are two of the most quintessential summer cocktails around. But what if you can't decide which to have?
Well then, this beautiful tequila 'mojitarita' might just be the drink for you! Combining the minty kick of a mojito with tequila instead of rum? What's not to like!
This drink is just the right balance of sweet and acidic, making it dangerously drinkable- just make sure you don't get carried away…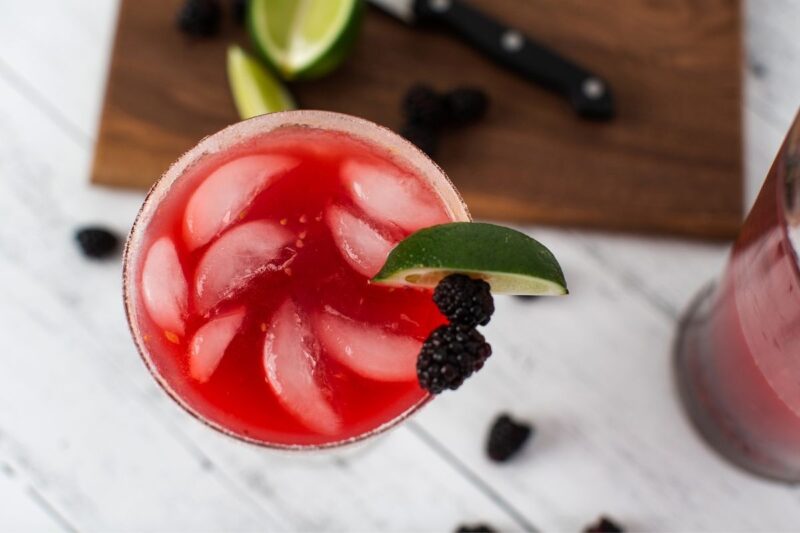 If you're after a real taste of summer, you can make yourself these gorgeous blackberry margaritas. And you know what's really cool about this drink?
In late summer when the blackberries ripen, you can go out and pick your own fresh blackberries!
Blackberries also make the perfect partner for tequila for another surprising reason- Mexico is the world's largest producer of blackberries.
For a taste of summer and a taste of Mexico, look further than these blackberry margaritas!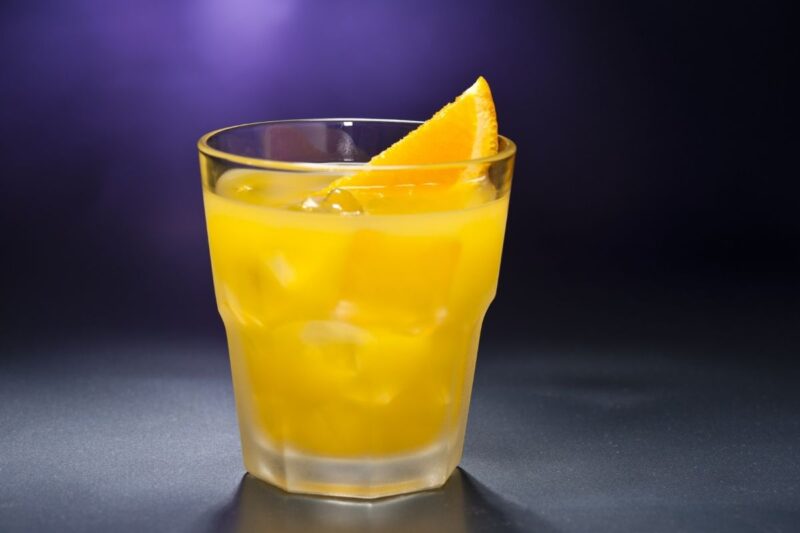 So you've heard of the screwdriver, right? Otherwise known in the U.K. as the humble vodka and orange. It's as simple as the Brits make it sound- vodka and orange juice mixed together in a highball glass.
Well, how about mixing Tequila and orange juice? If there's one thing that this cocktail proves, it's that tequila is more than an able substitute for vodka.
In fact, the result is arguably a tastier drink, with the earthy agave flavor mixing with the sweet, citrusy orange juice perfectly. Sometimes, simple really is best.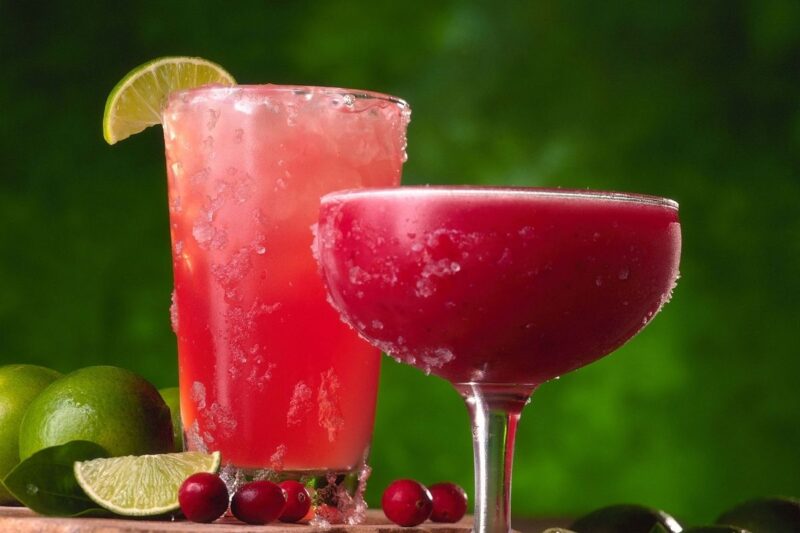 Tequila, coming from the warm and sunny climes of central Mexico, has understandably developed a reputation as a summer drink. Indeed, most of the recipes on this are best enjoyed in the warm sunshine.
But what if you're looking for a tequila-based drink a little more appropriate for the long, dark nights of the festive season?
Look no further than these margaritas, that pair tequila with the classically festive taste of cranberry. Enjoy Christmas with a tasty tequila kick!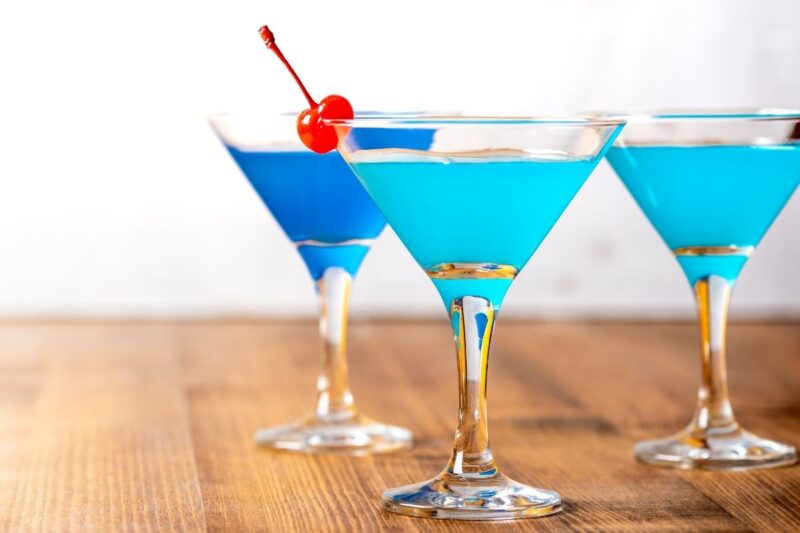 Sometimes you want a cocktail that just looks striking, don't you?
You can make a statement with this aptly named 'envy' cocktail, that finishes its journey from bar to glass as a captivating blue-green beverage.
It's perfect for refills at a summer party because it's so easy to make, containing just three ingredients: blue curacao, tequila, and pineapple juice.
Toss them in the shaker together and hey presto! The perfect tropical-tasting tequila cocktail that'll get heads turning.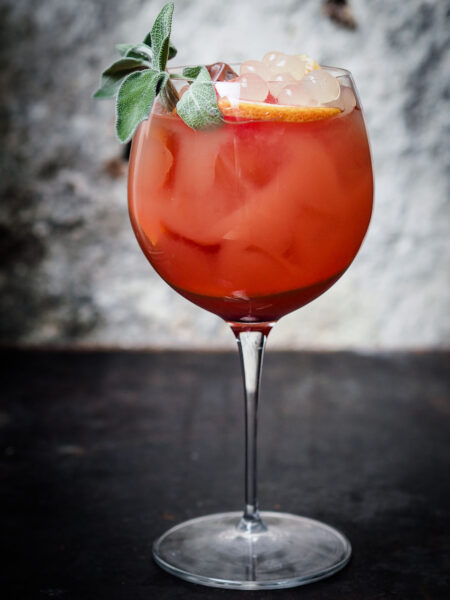 Looking for a tequila-based drink to serve at your Halloween party? Or rather, if you're being authentically Mexican, a tequila cocktail to serve at your Dia de Los Muertos festivities?
Popular in Mexico and considered by some Mexicans to be the national drink, the 'Vampiro' is named after the cocktail's blood red color.
This super-charged bloody mary type cocktail is complex and vibrant, made primarily from tomato passata, tequila, mescal, and lemon and lime juice.
Throw in some Worcestershire sauce, tabasco, and grenadine, and you've got yourself a blood-themed drink that gets the blood pumping, too!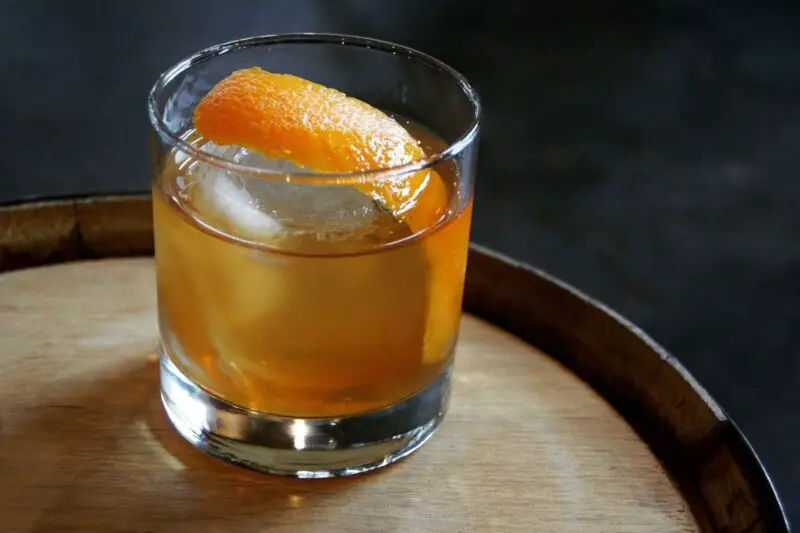 The old-fashioned is one of the most popular cocktails in the US, if not the world.
Mixing whiskey with angostura bitters, sugar, and an orange twist is simple yet incredibly effective- but have you ever wondered what a Tequila version would taste like?
Sure, you could pretty much just swap out the whiskey for tequila, given tequila goes great with orange.
But what we LOVE about this recipe is that whilst it draws inspiration from the old-fashioned it rewrites the script, using cherries, nectarines, and agave nectar to create an extra fruity drink. A great way to try new tequilas!
Let's be honest, the humble kiwi fruit is seriously underrated. If it weren't so plain difficult to eat, we'd all be eating a lot more of them, right?
They're absolutely delicious, and another area where they are seriously underused is in cocktails.
This recipe puts that right, resulting in a cocktail that is oh-so fruity as well as refreshingly minty. It's a mellow drink, too, so perfect for just hanging out on the porch reading a book as well as partying with friends.
Once you've tried this drink, you'll be looking for ways to squeeze kiwi into other cocktails!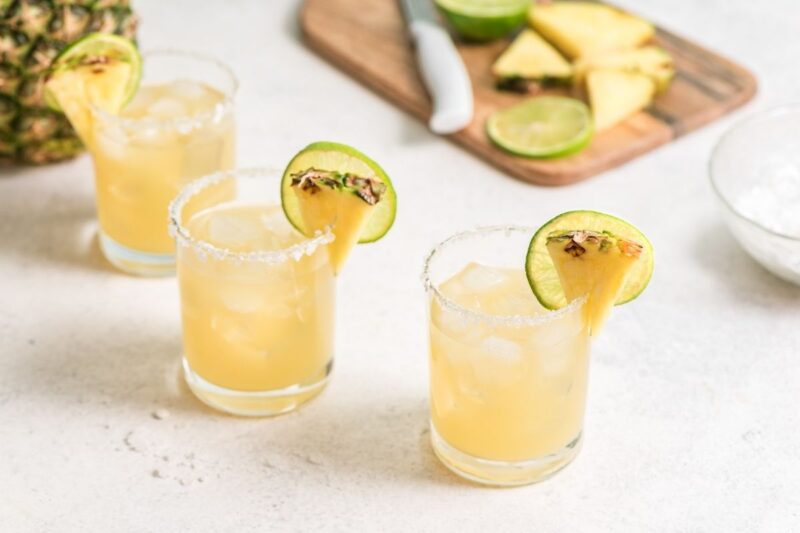 With this recipe, you can at last call off your search for the perfect pineapple margaritas.
Made from just four ingredients (Cointreau, tequila, pineapple juice, and lime) it's also really simple to make, too!
The key to making the perfect pineapple margarita is all in the shaking, so make sure you don't skip that step. And a top tip, too.
Make sure you don't salt the whole rim of your glass. Only salt half, as that way you will avoid spoiling the sweet tropical flavor of the margarita with an overly salty rim.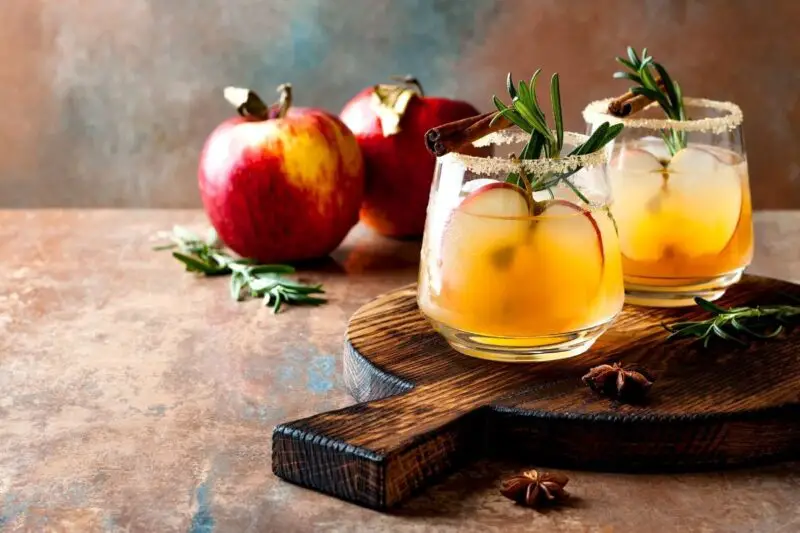 We've said it before, but we all know that margaritas are thought of as a summer drink, to be best enjoyed by the poolside or on the beach, with the warm summer sun beaming down on you, or perhaps with a cooling breeze in the shade?
But what if I told you that a margarita can also be used as a warming beverage in the colder months?
Look no further than this recipe for the perfect fall drink which combines tequila with the most quintessentially fall fruit out there, apples!
You could even visit a nearby orchard to buy locally made, fresh apple cider. Throw in some cinnamon and you've got a great seasonal drink- just make sure you don't use hard apple cider. You'll be on the floor!
Final Thoughts
There we have it, fifteen amazing fruity tequila drink recipes that you can make at home. Whatever the occasion, or even if there's no occasion at all, we hope we've helped find the fruity tequila cocktail for you.